Orlando Brown Jr. is an American football offensive tackle for the Kansas City Chiefs of the NFL. He is the son of a famous NFL player, Orlando Brown, aka "Zeus," who also played for the Baltimore Ravens and Cleveland Browns.
Following his father's footsteps, Orlando Brown Jr. took the same career as his father and is an Oklahoma Sooners alumni.
On March 7, 2022, the Chiefs placed the non-exclusive franchise tag on Brown. Nonetheless, he played as the offensive tackle from Kansas City Chiefs in the 2023 Super Bowl LVII against the Philadelphia Eagles.
Orlando Jr., with his team Chiefs, won the Super Bowl LVII on 12 February 2023 against the Eagles.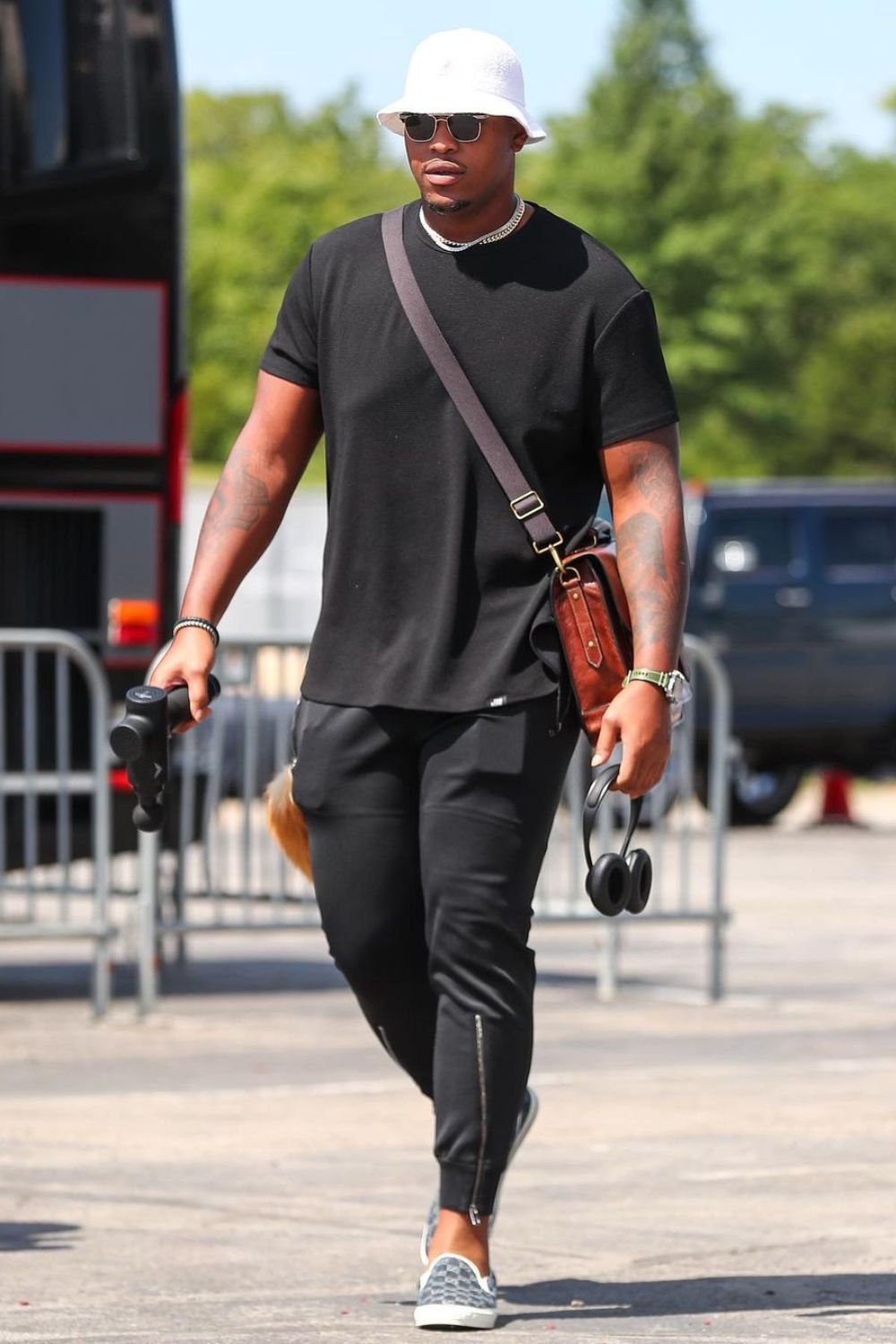 His father, Orlando Brown Sr., played college football for Willie Jeffries at South Carolina State University.
The Cleveland Browns signed Brown Sr. as an undrafted free agent in 1993, where he spent three seasons.
Please read the article for more details on the father and son.
Before going into the details, please check out the facts table below.
Quick Facts
Birth Name
Orlando Claude Brown Jr.
Known As
Orlando Brown
Date Of Birth
May 2, 1996
Birthplace
Baltimore, Maryland, United States
Religion
Catholic
Sexual Orientation
Straight
Father Name
Orlando Claude Brown Sr.
Mother Name
Mira Brown
Gender
Male
Age
26 Years Old
Profession
Professional NFL Player
Famous For
Son Of Former NFL Player Orlando Brown Sr., Offensive Tackle For The Kansas City Chiefs
Nationality
American
Education
Peachtree Ridge High School, University Of Oklahoma
Height
6 ft 8 in / 2.03 m /203 cm
Weight
363 lb / 165 kg
Eye Color
Black
Hair Color
Black
Build
Large
Marital Status
Unmarried
Girlfriend
Holly Luyah
Children
1 (Son)
Siblings
Two Brothers, Two Sisters
Zodiac Sign
Taurus
Played For
Baltimore Ravens (2018–2020), Kansas City Chiefs (2021–Present)
Position
Offensive Tackle
NFL Stats As Of 2022
Games Played: 74
Games Started: 68
NFL Draft
2018 / Round:3 / Pick:83
Roster Status
Active
Career Highlights
4 x Pro Bowl (2019-2022)
Unanimous All-American (2017)
2× Big 12 Offensive Lineman Of The Year (2016, 2017)
2× First-Team All-Big 12 (2016, 2017)
Jersey Number
57
Net Worth
$2 Million
Social Media
Instagram, Twitter
Merch
Rookie Card
Last Update
March 2023
Early Life, Family & Education
Orlando Brown Jr. was born on May 2, 1996, in Baltimore, Maryland, to his father, Orlando Brown Sr., who played an offensive tackle in the NFL. Similarly, his mother is Mira Brown.
Unfortunately, his father was found dead on September 23, 2011, in his townhouse in Baltimore.
According to the state medical examiner, Brown Sr. died of diabetic ketoacidosis.
The NFL player grew up with four siblings; two sisters and two brothers.
As for his education, Brown Jr. went to Peachtree Ridge High School in Suwanee, Georgia.
While there, he played for the Peachtree Ridge High School Lions and was a three-star prospect.
Because of his exceptional performance, Brown Jr. received scholarship offers from several universities, including Auburn, Alabama, Oklahoma, Tennessee, and Arkansas.
He ultimately committed to Oklahoma; before that, Brown had committed to Tennessee.
Age, And Body Measurement
Orlando Brown Jr. was born in 1996 and is 26 years old as of 2023; he falls under the Taurus sun sign.
He stands 2.03 meters tall and has a body weight of 363 lb.
For an athlete like Brown to perform his best on the field, he has to stay in peak physical condition. For this reason, Brown hits the gym daily and tends to work out even in his off-season.
However, during the NFL Scouting Combine, Brown had finished at the bottom of the list among offensive line raising questions about his overall athleticism.
His bench press total was not good in comparison to other NFL players.
Career
The 26 years old offensive tackle for the Kansas City Chiefs, Orlando Brown, played college football for Oklahoma Sooners before being drafted by the Baltimore Ravens in the third round of the 2018 NFL Draft.
Son of former NFL player Brown redshirted his first year at Oklahoma in 2014.
The following year he was named the starting left tackle.
Similarly, he announced he was forgoing his senior year in college to enter the 2018 NFL Draft on January 3, 2018.
Brown entered the combine projected as a first-round pick by the analyst Lance Zierlein; however, his poor performance at the combine workout in Indianapolis made him the slowest among any prospects at the combine.
He improved his timings and drills to the point where Sports Illustrated ranked him as the draft's fourth-best offensive tackle.
After he was picked 83rd overall in the draft, Brown signed a four-year rookie contract with the Ravens.
He played two seasons with the Ravens and recorded an impressive performance. Despite this, he was traded to the Chiefs on April 23, 2021.
In his first season with the team, he was named to the Pro Bowl.
Contract Extension
He signed his franchise tag tender worth $16.7 million on August 2, 2022, as the team and Brown could not reach a long-term contract.
Orlando played 17 games in the regular season in 2022.
The Bengals fans were fuming after the game due to an uncalled holding penalty by Chiefs offensive tackle Orlando Brown during the AFC Championship.
Nonetheless, Kansas City Chiefs won against Cincinnati Bengals, securing AFC Championship on 30th January 2023.
As of that, they faced the Philadelphia Eagles for the Super Bowl LVll championship on February 12 at 6:30 pm Eastern time. It was the first Super Bowl for the offensive tackle, which they won by 38-35 in a win-loss game.
A Short Bio On Orlando Brown Sr.
Orlando Claude Brown Sr., better known on the field as "Zeus," was an American professional football player who played in the NFL as an offensive tackle.
Brown Sr. played college football for Willie Jeffries at South Carolina State University.
In 1993, Cleveland Browns signed Brown Sr. as an undrafted free agent. He spent three seasons with the team.
While his NFL career was going well, a tragedy struck, and he had to sit out of the entire 2000 season waiting for his right eye to heal.
During a game, Jeff Triplette, a referee, threw a flag that accidentally hit him in the eye.
Following that, Cleveland released Brown. Brown sued the NFL for $200 million in damages and later settled for a sum between $20 and $25 million in 2002.
He played 129 games in the NFL with teams such as Baltimore Ravens and Cleveland Browns.
After ten successful years in the NFL, Orlando Brown Sr. left organized football in 2005, and after retiring, he went into the restaurant business. He became the owner of the first Fatburger franchise in Maryland.
Interestingly, he was arrested and charged with destruction of property and third-degree burglary in September 2009; both charges were dropped later.
Net Worth & Contracts
On May 16, 2018, Orlando Brown Jr. signed four years, $3,491,720 rookie contract with the Baltimore Ravens.
According to the contract, Brown received $865,720 as a signing bonus, $872,930 annual average salary, and $865,720 guaranteed at the signing.
However, he was traded to the Kansas City Chiefs midway through the contract.
On May 7, 2022, he signed a 1 year $16.662 million franchise tag by Kansas City.
This deal includes $16.66 million guaranteed and an average annual salary of $16. 66 million.
In 2022, Brown will earn a base salary of $16.66 million while carrying a cap hit of $16.6 million and a dead cap value of $16.6 million.
Brown Jr. has earned $23,533,945 from NFL from five overall seasons with two teams.
This includes a $21,903,000 salary, an $865,720 signing bonus, and $765,225 incentives.
Regarding his net worth, Orlando Brown Jr. has an estimated $2 million as of 2023.
Interesting Facts
Orlando Brown Jr. was named to his second Pro Bowl in 2020.
Brown's girlfriend Holly Luyah's favorite food is Mexican cuisine. She also loves banana pancakes. Similarly, her favorite drinks are espressos from her Nespresso machine and Mai Tais.
Kansas City Chiefs placed the non-exclusive franchise tag on Brown Jr. on March 7, 2022.
Relationship
Orlando Brown Jr. has been romantically involved with a beautiful lady named Holly Luyah and has a kid with her.
Talking about his girlfriend, Holly Luyah was born in Portland, Oregon, on 15 November 1991. She is a social media influencer, an American celebrity stylist, and an Instagram model with over 3.4 million followers.
She has worked with brands such as Fashion Nova, Good American, Oh Polly, Pretty Little Thing, and many more.
As a celebrity stylist, she has styled celebrities such as Darya, Karrueche, Lucy Hale, and much more.
There are rumors that Holly has done plastic surgery to minimize her waist and enhance her curves, but she has never addressed those rumors.
Brown and Holly often share their cute pictures together. Aside from their pictures, the Kansas City native Holly frequently shares her design and culinary tips through her Gram.
Moreover, the social media influencer has been dubbed one of the Top 10 fashion influencers by Forbes.
Luyah and Orlando share an adorable son named Orlando Claude Brown III.
In 2018, Holly launched her own clothing line Luyah by Holly Luyah.
Social Media Presence
Orlando Brown Jr. has over 105k followers on his Instagram, considerably less than his baby mama @HollyLuyah.
He is active on the platform posts about career, family and other venture.
View this post on Instagram
Jr. is available on Twitter. He has over 72.7k followers on the platform. And his love for his father can be observed in the bio on his Twitter, which begins with R.I.P. Dad.
Popularity Graph
Orlando Claude Brown Jr. is an offensive tackle for the Kansas City Chiefs of the NFL.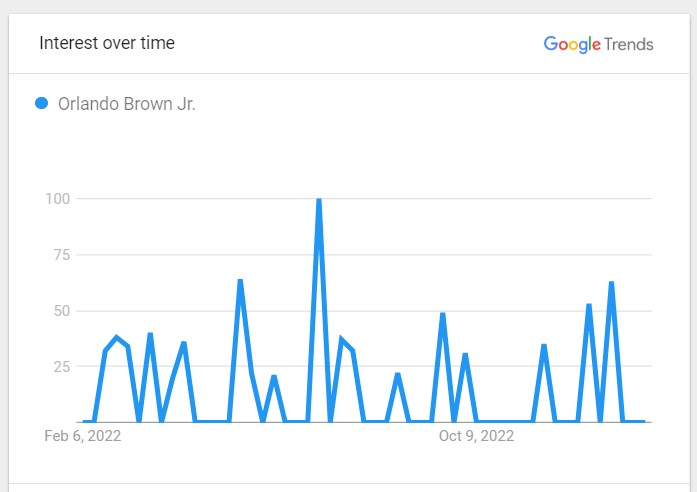 The above graph shows Brown's popularity over the past twelve months.
Frequently Asked Questions (FAQS)
What happened to Brown Sr. Orlando Brown Jr. father?
Orlando Brown Sr. passed away at the age of 40 due to complications from diabetic ketoacidosis.
Why did Chiefs put franchise tag on Orlando Brown Jr.?
Brown and the Chiefs reportedly disagreed on the five-year, $91 million extension proposed by the Chiefs, which is why the team placed a franchise tag on Brown this year.
What is the expectation of Orlando Brown Jr. from Kansas City Chiefs?
According to some reports, Brown wanted a $40 million signing bonus and full guarantees at signing beyond that, along with a real annual average of $25 million.