Serge Ibaka is a prominent Congolese-Spanish professional basketball player for the Milwaukee Bucks of the NBA. Despite being from the Democratic Republic of the Congo, Ibaka is a member of the Spanish national team.
Ibaka, the African basketball sensation with the most seasons in the NBA, is in his 16th year at the top of his game.
The Congolese-Spanish center, whose family fled heavy fighting in Congo-Brazzaville when he was seven years old, is not only a well-known player but also involved in many charitable endeavors.
Ibaka, who is already considered one of the best players in the NBA, wants to use his basketball platform to impact off the court positively.
Moreover, he particularly provides aid for the kids of the Democratic Republic of Congo and the Republic of Congo, his mother's birthplace.
Ibaka won his first NBA championship in 2019 as a member of the NBA's Toronto Raptors. Ibaka has one NBA title under his belt, but he still has a lot left in the tank and a lot to prove.
Quick Facts
Full Name
Serge Jonas Ibaka Ngobila
Known As
Serge Ibaka
Nickname
Air Congo & Serge Protector
Birth Date
September 18, 1989
Birth Place
Brazzaville, PR Congo
Residence
Not Available
Religion
Christianity
Nationality
Congolese/Spanish
Ethnicity
N/A
Education
N/A
Zodiac Sign
Virgo
Father's Name
Desiree Ibaka
Mother's Name
Amadou Djonga
Siblings
Igor and Rachina Ibaka
Age
33 years old
Height
6'10"
Weight
235 lb (107 kg)
Eye Color
Brown
Hair Color
Black
Body Type
Athletic
Profession
Basketball Player
Marital Status
In a relationship
Girlfriend

Pearl Thusi

Children

Ranie Ibaka (daughter)

Active since
2006–present
Teams

Inter-Club
L'Hospitalet
Manresa
Oklahoma City Thunder
Orlando Magic
Toronto Raptors
Los Angeles Clippers
Agua Caliente Clippers
Milwaukee Bucks

Achievements

NBA champion (2019)
3× NBA All-Defensive First Team (2012–2014)
2× NBA blocks leader (2012-13)

Net Worth
$12 million
NBA Draft Pick
2008 / Round: 1 / Pick: 24th overall
Position
Center and Power Forward
League
NBA
Merch
Notebook
Social Media
Instagram, Twitter
Last Update
March 2023
Early Life
In 1997, Serge Ibaka, 7, and his family were fleeing heavy gunfire and bombings in Congo-Brazzaville as the civil war erupted around them.
His Spanish adventure began thanks to Pera Capdevilla, a Catalan sports agent who had already recognized the talented young Congolese boy thanks to his victories on his national youth team and at basketball camps across Europe.
Ibaka was a diamond in the rough for Pera. Serge, now based in Spain, signed with the Manresa club, which loaned him to L'Hospitalet, a team in a Barcelona suburb.
People also like to read about Donovan Mitchell: NBA, Charities & Salary>>
The player shared a small apartment with four other players who were attempting to break into the professional league.
This early traumatic event in Serge's life would become one of the events that shaped the Milwaukee Bucks center's personality.
Amateur Career
At 17, Ibaka moved to France and joined a second-division basketball team before moving to Spain and self-teaching Spanish.
He quickly became a member of CB L'Hospitalet, a second-division basketball club in Spain. He shot 55 percent and averaged 10.8 points and 8.2 rebounds.
In 2008, he competed in several international showcases, winning the MVP award at the Reebok Eurocamp and attracting NBA scouts' attention.
"Athletically, he's off the charts—no, there's telling how good he can be," an NBA scout at one of the camps said.
NBA Draft
The Seattle SuperSonics selected Ibaka with the 24th overall pick in the 2008 NBA Draft.
Serge became the first player from the Republic of Congo to be selected in the draft, despite the Oklahoma City Thunder agreeing to keep him in Europe.
The Thunder paid the buyout and agreed on him to a two-year contract with two more seasons optional in July 2009.
Professional Career
After being drafted, Serge Ibaka chose to stay in Spain to improve his game and learn how to play professionally in the best European league, the ACB.
He spent the 2008-2009 season with Bàsquet Manresa, where he was the league's youngest player at 18 years old. With them, he put on a great show and even won the ACB Dunk Contest.
In the summer of 2009, he relocated to Oklahoma City to begin his NBA career with the Thunder. Serge showed his tantalizing potential as a rookie, averaging 5.4 rebounds, 6.3 points, and 1.3 blocks per game despite only playing 18.1 minutes per game.
In the 2012-2013 season, Ibaka had a breakout season, averaging 13.2 points, 7.7 rebounds, and 3.0 blocks per game, finishing third in the Defensive Player of the Year voting.
Ibaka was a three-time NBA All-Defensive First Team selection with the Thunder, as well as a three-time league leader in blocks and a participant in the 2011 NBA Slam Dunk Contest.
He demonstrated himself as a valuable member of a top Western Conference team, reaching the Western Conference Finals in 2016 and the NBA Finals in 2012.
Serge was traded to the Orlando Magic in the summer of 2016 after seven seasons with the Oklahoma City Thunder.
He was traded again in February 2017, this time to the Toronto Raptors. He chose to stay in Canada as a free agent in July 2017, signing a three-year contract with the Raptors.
Olympics
Ibaka also naturalized as a Spanish citizen while with the Thunder, allowing him to compete in the London 2012 Olympic Games.
Spain took silver, Ibaka's second medal with the national team after winning gold at the EuroBasket tournament in 2011.
Due to a lack of fitness, he would miss Spain's bronze-medal performance in Rio 2016, and he was not a member of the gold-medal-winning 2019 Basketball World Cup squad.
Ibaka represented the Republic of Congo at the youth level. He led all players in rebounds and scoring at Durban's 2006 FIBA Africa Under-18 Championship, averaging 18.6 points and 13.8 rebounds.
You might like to read about Zaza Pachulia: Early Life, Career & Family>>
Body Measurements
Serge was born on September 18, 1989. It's hard to believe Serge, a tall, powerful basketball center and occasional power forward, is only 33 years old.
Serge still has some of his best years ahead of him, but one thing has remained constant throughout his career: his bond with the Republic of the Congo, where he was born.
Ibaka stands at 6'10" tall. His weight is 107 kilograms. He is athletically built. Serge has dark brown eyes and black hair, too. His other body measurements are being examined in greater detail.
Serge Ibaka: Family
Serge was born into an 18-child family. Despite the daily violence that surrounded him and his family, his father, Désiré, and his mother, Amado, both former basketball players who shone in the country during their youth, instilled in him a deep love for the game.
Another tragedy marred serge's childhood: his mother died when he was nine. He wears the number 9 as a tribute to his mother.
His family sensed escalating tensions in Brazzaville. Désiré's father decided to relocate the family to Ouesso, in the country's northwestern corner, away from the gunfire.
There was no easy access to water in this small town in the middle of the forest, on the border with Cameroon, and electricity was also intermittent.
On the other hand, Serge was a hard worker who quickly adjusted to the situation and concentrated all of his efforts on school and basketball.
His uncle, who was already settled in the Tours region of France, assisted in bringing him over to try out for some clubs in Paris and the rest of France. Despite his obvious talent, Serge was not chosen.
However, this temporary setback did not deter the basketball player, who set his sights on breaking through somewhere else, further south, on the other side of the Pyrenees.
Charity Works
Serge Ibaka is dedicated to helping those in need outside of basketball through the Serge Ibaka Foundation. Ibaka's experiences growing up in an insecure and war-torn Republic of Congo shaped him significantly.
Ibaka hasn't forgotten his roots, and he wants to use his NBA platform to help his homeland and the rest of the world.
He is a UNICEF ambassador in the Congo, where he developed a project to renovate one all-boys orphanage and one all-girls orphanage in the Republic of Congo and the Democratic Republic of Congo, respectively.
The Serge Ibaka Foundation's projects include continuing UNICEF's work and collaborating with other organizations such as the Starkey Hearing Foundation, with whom he partnered in the summers of 2014 and 2016 to provide hearing aids to children in Brazzaville.
Projects
The Foundation's current projects in Congo and the Democratic Republic of Congo are focused on health and education for orphans.
Ibaka received the Kia Community Assist Award in April 2014 for his extensive service and charitable efforts, and he attended the Clinton Global Awards in September 2014.
In the spring of 2017, Ibaka was invited to join the NBPA (Players Association) Foundation alongside Chris Paul and LeBron James, and in September of that year, he partnered with Global Citizen to become a global health advocate.
He spoke to thousands of people at the Global Citizen Festival in New York's Central Park, sharing his story and the organization's message.
Serge Ibaka: Net Worth
Serge Ibaka has a net worth of $12 million. Furthermore, according to Spotrac, his career earnings through the 2020-21 season total $127,417,830.
During the 2020 offseason, Ibaka became a free agent and signed with the Los Angeles Clippers, which was a surprising move.
According to ESPN's Adrian Wojnarowski, he signed a two-year deal with the Los Angeles Lakers worth $19 million.
The second year was a player option that he accepted in the off-season of 2021, allowing him to remain with the Los Angeles for another year. In the 2021-22 season, he will earn $9,720,900.
Ibaka is an Adidas athlete who has worn various Adidas sneakers throughout his career. He most recently wore the 'Adidas Mad Bounce' during his Raptors tenure, and he's also worn the 'Adidas Explosive Bounce.'
Lifestyle
Serge Ibaka enjoys fashion and music when he is not playing basketball or helping others.
Whether it's participating in fashion editorials and photoshoots or just developing his personal everyday style, he enjoys every bit of his work beyond the court too.
Buiding a music level or singing Congolese music with friends, these personal interests, like playing basketball and helping others through charity, are what make him "Mafuzzy."
He goes by the moniker Mafuzzy Chef and cooks African dishes for celebrities from the worlds of sports and television, including NBA stars Kevin Durant and Kawhi Leonard, as well as actress Tiffany Haddish.
Don't miss out on Kevin Durant Girlfriend: Career, Net Worth & More>>
Serge Ibaka: Music
Ibaka's most recent major project is in the realm of music.
Serge stepped up a gear after collaborating with Dadju on the track "Mafuzzy style" in 2018, releasing the track "Champion" with Ninho a few months ago (13 million views on YouTube at the time of writing).
Moreover, he also released "LEGGO" with Tayc (5 million views) and "Rumba" with Guy2BezBar (1 million views).
Who is Ibaka's Girlfriend?
Ibaka has had romantic relationships with a number of high-profile figures in the entertainment industry, including Pearl Thusi, a well-known South African actress.
Rumors of the couple dating first surfaced in June 2018, when the actress traveled to Barcelona, Spain, where Ibaka was also present.
Although there were few signs of their romance at the time, more 'evidence' that she and Ibaka were dating kept appearing as Pearl was content to be seen cheering him on at basketball games.
She was seen holding a ticket with Ibaka's face on it during one of these games. When she was noticed inside Ibaka's house in videos she posted on her Instagram stories, the dating rumors were confirmed.
Ibaka's Instagram posts also confirmed that they were dating, as he shared the same food and room as Pearl's Instagram stories.
Despite the fact that the couple hasn't spoken about their relationship, it's safe to assume they're dating. It is unknown whether they are married or planning to marry.
Relationship with Keri Helson
Serge Ibaka was in a committed relationship with Keri Hilson, a popular American singer and songwriter, before meeting Pearl Thusi. The couple first met in 2012 and began dating.
Their relationship was widely publicized, and the couple appeared together at numerous public events. The couple separated in 2016 and went their separate ways.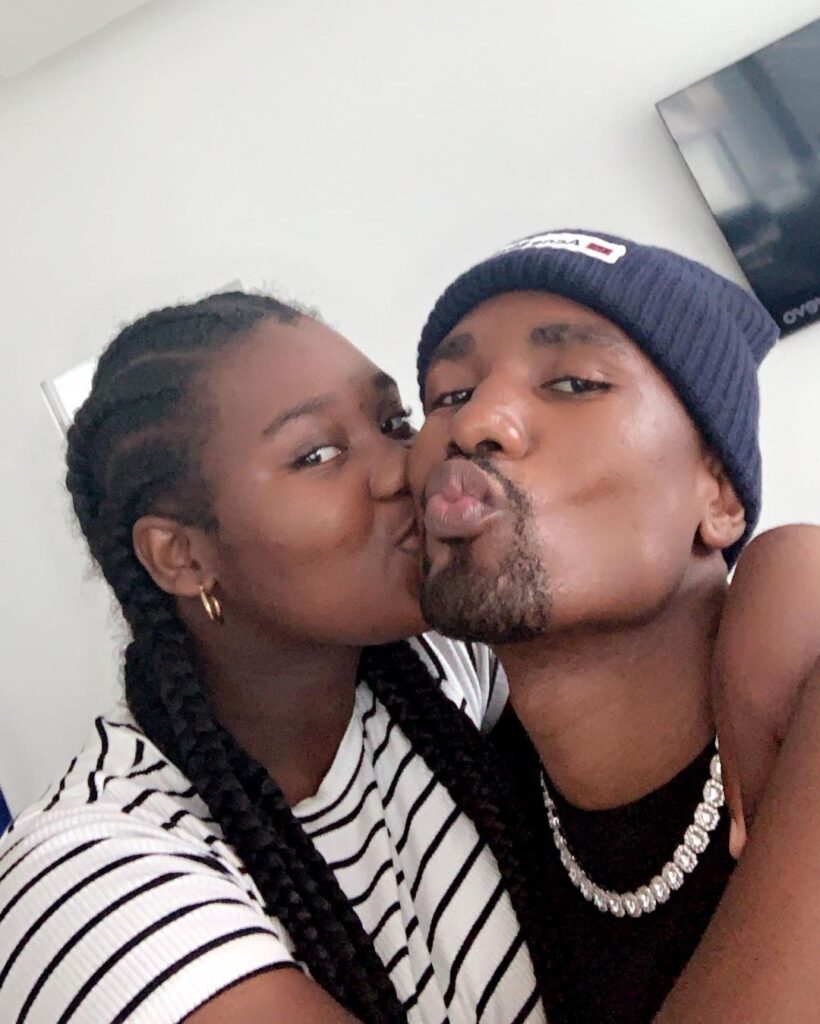 Moreover, Ranie, Ibaka's daughter, was born when he was still a teenager, not long after he fled the Republic of Congo.
Ibaka's father and Ranie's mother raised her; the father and daughter did not meet until she was three years old, and the duo met for the first time when she was five years old.
Social Media
Below is the link to his social media accounts (note: No of followers as of April 2022):
FAQs
Is Serge Ibaka good at defense?
Ibaka, on the other hand, can play every position on defense. His pick-and-roll coverage was exceptional, his ability to switch on the perimeter was critical, and his shot-blocking abilities were unrivaled.
Ibaka used to rack up double-digit swatted shots in his prime routinely.
Did Serge Ibaka get traded?
Serge joins the Milwaukee Bucks in a four-team trade with the Los Angeles Clippers. In a four-team trade that also included the Detroit Pistons and Sacramento Kings, the Milwaukee Bucks acquired center Serge Ibaka from the Los Angeles Clippers.
Is Serge Ibaka injured?
Ibaka suffered a left calf injury in a series-clinching win over the Los Angeles Clippers in the conference semifinals and was expected to miss the rest of the 2014 playoffs.
Serge returned in Game 3 of the Conference Finals against the San Antonio Spurs. Ibaka was named to the NBA All-Defensive First Team for the third year in a row.