Patrick Lavon Mahomes is an American former professional baseball player who played in Major League Baseball (MLB) as a pitcher from 1992 to 2003.
Not all fathers on this earth have the honor of being known by their son's name. Back in the day, he was recognized for being an MLB player.
But now, he is known as the NFL's star quarterback, Patrick Mahomes' dad. Indeed, it is the proudest moment for all parents. Pat was present at the 2023 Super Bowl, where his son lifted the Vince Lombardy trophy for the second time.
This article is about the quarterback's old man, and we will talk more about Patrick Mahomes Sr.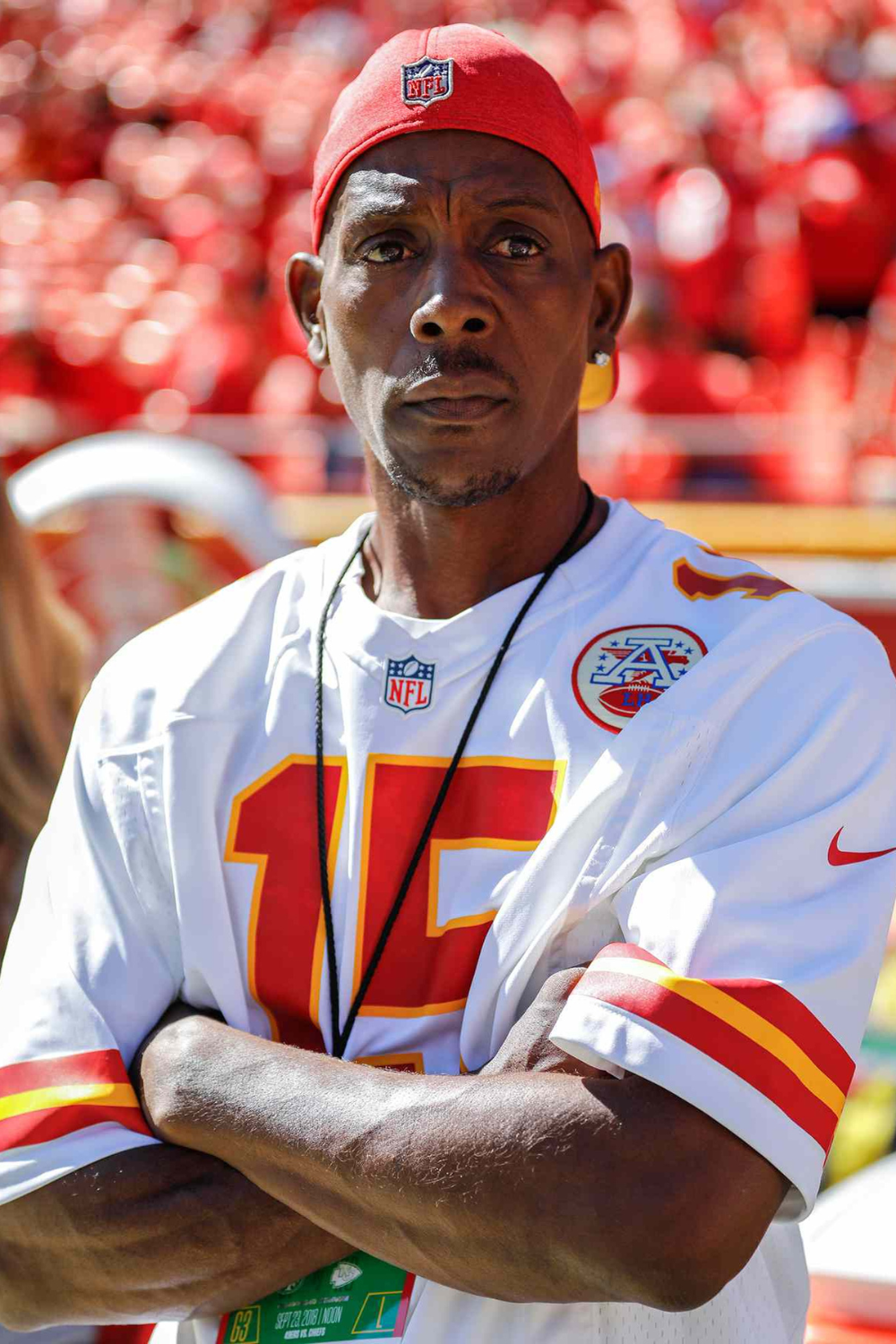 During his professional career, he played for teams like Minnesota Twins, Boston Red Sox, New York Mets, Texas Rangers, Chicago Cubs, and Pittsburgh Pirates.
Pat also played for the team Yokohama Bay Stars in the Japanese league, Nippon Professional baseball, in 1997 and 1998. He was inducted into the Sioux Falls Canaries Hall of Fame in 2019.
Come, let's dive into his story and look for some untold details about the veteran pitcher Pat Mahomes. But before that, getting a glance at the quick facts table is mandatory.
Quick Facts
Full Name
Patrick Lavon Mahomes Sr
Birth Date
August 9, 1970
Birth Place
Bryan, Texas
Nick Name
Pat
Religion
Christianity
Nationality
American
Ethnicity
Black
Education
Lindale High School, University of Arkansas
Horoscope
Leo
Father's Name
Jonny Mahomes
Mother's Name
Cindy Mahomes
Siblings
Not known
Age
53 Years Old
Height
6'1″/1.85 m/185 cm
Weight
79 kg/174 lb.
Playstyle
Batted: Right and Threw: Right
Hair Color
Black
Eye Color
Black
MLB draft
1988
Marital Status
Divorced
Spouse
Randi Mahomes
Position
Pitcher
Profession
MLB Player (former)
Net Worth
$10 Million
Kids
Patrick Mahomes, Jackson Mahomes, and Zoey Mahomes
Daughter-in-law
Brittany Matthews
MLB debut
April 4, 1992
Jersey number

20 (Minnesota twins)
23 (New York Mets)

League
MLB
Playing Tenure
1992 to 2003
Social Media
Twitter
Merch
Signed Cards
Last Update
November 2023
Early Life, Family, & Education
Starting with the basics, Pat was born on August 9, 1970, in Bryan, Texas, to Jonny and Cindy Mahomes. He grew up with two other siblings, whose details are not known.
Pat always believed in "Players make the play," which is why he always enforced himself in the games from the very beginning.
Growing up, he played football, basketball, and baseball at Lindale High School in Texas. He began pitching only in his senior year of high school.
Pat refused both football and basketball scholarship offers from Division I programs to enroll at the University of Arkansas to play baseball.
Collegiate stats were proven useless for him as he easily got drafted in the sixth round of the 1988 MLB Draft by the Minnesota Twins.
And the selection made him forgo his college career and full-ride scholarship. A topic that we cannot skip.
Now, let's thoroughly read about Pat's career in a nutshell.
Professional Career
Early Minor League Career
He started his playing career with the Elizabethton Twins in 1988 as a starting pitcher.
Playing for a few years, he raised his gaming profile through the Twins farm system. He made it to Triple-A in 1991 with the Portland Beavers.
Major League Career
Minnesota Twins
Pat made his major league debut with the Minnesota Twins in 1992, after four years of his draft.
He formed the team out of spring training and pitched officially against the Texas Rangers on April 12, pitching six innings and getting a no-decision. He clinched his first major league wins on April 21 against the Seattle Mariners.
He played for the Twins until the 1996 season, after which he got traded to the Red Sox on August 26 in place of Brian Looney.
Overall, he showed up in 144 games (51 starts) in five seasons and recorded a 5.828 ERA with 217 strikeouts in 366 2⁄3 innings.
Boston Red Sox
Pat played in 21 games (all in relief) for the 1996 and 1997 seasons, with Boston recording a 6.85 ERA with a 3-0 record and 11 strikeouts. He was then released on June 27, 1997.
Yokohama BayStars
He signed for the Yokohama Bay Stars of Nippon Pro Baseball in the mid-season of 1997 and played through 1998.
New York Mets
Pat made his return to the MLB. He joined the Mets in December 1998 and made a record of 8-0 in the 1999 season during 39 relief appearances and helping the Mets in the playoffs.
Mahomes then showed up for four relief appearances during the postseason, registering a 2.25 ERA in eight innings pitched while striking out four.
However, the Mets lost to the Atlanta Braves in the NLCS IN 2000.
Pat managed a record of 5-3 in 53 appearances (five starts). And when the Mets reached the 2000 World Series, he was left off the playoff roster.
Overall, for his two seasons with the Mets, Mahomes made 92 appearances (five starts) in the regular season with a 4.74 ERA, 13-3 record, and 127 strikeouts.
After his contract expired with the Mets, he became a free agent in December 2000.
Texas Rangers
Pat agreed to a contract with the home-state team Texas Rangers, in January 2001.
He made 56 appearances (4 starts) with a 5.70 ERA, and after a season with the Rangers, he again became a free agent in November 2001.
Chicago Cubs
Mahomes joined the Cubs in January 2002 and made 16 appearances (2 starts), registering a 3.86 ERA and a 1-1 record.
Pittsburgh Pirates
After Mahomes became a free agent in October 2002, he was signed by the Pirates in January 2003.
He appeared for nine-game with the Pirates during the 2003 season, registering a 4.84 ERA and 13 strikeouts. Well, this was his last season in MLB.
In his eleven seasons in MLB, he made a total of 308 appearances (63 starts) in regular seasons, with a 52-39 record, 5.47 ERA, and 452 strikeouts in 709 innings pitched.
Minor league journey
Pat played for the Pittsburgh Pirates AAA affiliate, the Nashville Sounds, in 2003 and made nine appearances.
In 2004, he divided the season between three teams, including the Edmonton Trappers in the Montreal Expos farm system, the Albuquerque Isotopes in the Florida Marlins system, and Nashville at the end of the season.
Pat joined the Las Vegas 51s in the Los Angeles Dodgers organization. He switched to the independent leagues and played with the Long Island Ducks of the Atlantic League.
He also moved to Kansas City Royals in August but was released a month later. His minor league journey did not end up here.
Mahomes also showed up for Sioux Falls Canaries, Toronto Blue Jays, Syracuse Chiefs, and Southern Maryland Blue Crabs.
In 2019, he was inducted into the Sioux Falls Canaries Hall of Fame.
Personal Life
About his personal life, we all must know about the two times Super Bowl champion Patrick Mahomes II, Pat's son.
Patrick Lavon Mahomes got married to Randi Mahomes in the late 90s, and together share two children.
But Hold On, Are They Still Together?
Unfortunately, NO!! Their marriage did not last long. They parted their ways lawfully in 2006. However, the separation was quite a friendly one, and they even called themselves their best friend.
Although they have separated as a couple, they are always spotted together when parenting. Do you want to know why? Here it is.
Both of them regularly attend Patrick's games and NFL events to shower their love and support.
And why not? Patrick as a son, has worked hard to make his parents proud and happy.
Pat and Randi welcomed their granddaughter in February 2021 and grandson on November 28, 2022.
Patrick Sr. was present at the Super Bowl LVII, witnessing his son lift his second Super Bowl trophy and also the Final MVP.
Pat's Second-Child, Jackson
Well, we cannot let the Super Bowl champion take away all the limelight as Pat's second-son Jackson is also making his mark on TikTok.
Jackson Mahomes, 23, is the second child of Pat and Randi.
Despite belonging to an athletic family, Jackson chose to make his career in entertainment.
Randi also has a daughter, Mia Randall, from another man whose identity still remains away from the public.
On the other hand, Pat has dated other women after his divorce from Randi. As per fabwags.com, Mahomes has another daughter, Zoey Mahomes, with Anika Cooper.
Pat Mahomes On His Son Patrick's Game
As aforementioned, "Players make the plays" was the principle he believed in, and he led the same ingrained in his kids too.
That's their thing, and no matter what, his son chooses to play. The Chiefs quarterback at the Super Bowl showed his determination as he continued to play with a sprained ankle till the end of the game.
There was news that Pat wanted his son to choose baseball over football as football was much more brutal, maybe a fatherly instinct.
But the love for football did not let the Chiefs quarterback pursue other sports as his career, as he was destined to become one of the greatest quarterbacks of all time.
Net Worth
Talking about his net worth and salary details, there is no such precise number on the internet.
But yes, rumors were highlighted in the media that his son earns more salary in a year than he did in his 11 years of MLB career.
But who cares? No matter how much Pat made, he gave a star quarterback to NFL.
Moreover, in his days, the amount of money he made must have been of high value. It was not easy for anybody to stand there and make a name in MLB.
As per the online sources, Pat Mahomes earned $109,000 in his first season in the major league.
When he played for the New York Mets in the 2000 season, his salary hiked up to $7.50 million. He almost made around $2,658,000 out of his MLB career.
As of 2023, the former baseball player has an estimated net worth of $10 million.
Social Media Presence
It seems like Pat is not a social media guy. He likes using the internet, but until and unless it is for some official use.
However, he is available on Twitter under the handle @PMahomes.
Twitter: 25.4k followers
Awesome RT @coachbruceweber: I think this might be the definition of the JOY of Christmas ! And the POWER of @PatrickMahomes ! pic.twitter.com/KTsJuuxaD7

— pat mahomes (@PMahomes) December 26, 2022
Popularity
Pat earned several fans through his professional baseball career, and now he is even more popular as the father of two-time Super Bowl champion Patrick Mahomes II.
The above graph shows brief information about the popularity of Pat Mahomes, a former MLB player, based on Googles searches in the US over a year.
Frequently Asked Questions (FAQS)
What does Pat Mahomes Sr. do as of now?
Well, after scanning over several internet pages, we happened to find out that Pat coaches an elite boys' baseball team in Texas. No wonder some passions stick with you forever, no matter in what way you carry over.
What is Patrick Mahomes's middle name?
Patrick Mahomes' middle name is Lavon.
What are Patrick Mahomes' passing yards and rushing yards?
The NFL player's passing yard is 24,241, while his rushing yard is 1,547.
What nationality is Pat Mahomes Sr.?
Pat Mahomes Sr. is American by nationality and belongs to the Afro-American ethnicity.
What is Pat Mahomes' career statistic like?
Pat Mahomes made his NPB professional debut on July 15, 1997, for the Yokohama BayStars. Well, he had his last appearance in the league on September 9, 1998, for the Yokohama Bay Stars. During his NPB career, he maintained a win-loss record of 3–8, 5.34 ERA, and 66 strikeouts. Likewise, he had his professional debut for MLB on April 4, 1992, for the Minnesota Twins. Later, he had his MLB's last appearance on September 27, 2003, for the Pittsburgh Pirates. During his MLB career, Pat maintained a win-loss record of 42–39, 5.47 ERA, and 452 strikeouts.
Did Patrick Mahomes sustain a knee injury?
Yes, the player sustained a knee injury in 2020 where his medial patellofemoral ligament was damaged.
Who is Patrick Mahomes' father?
Patrick Lavon Mahomes Sr. shortly Pat Mahomes is the father of Patrick Mahomes.
What is Patrick Mahomes' haircut name?
The football player's haircut name is Mohawk fade.
Is Pat Mahomes Sr.'s son engaged?
Patrick Lavon Mahomes Sr.'s son Patrick Mahomes got engaged to Brittany Matthews on August 1, 2020, and got married on March 12, 2022.