Chicago BlackHawks' trusty right-wing, Patrick Kane, has a net worth of $28 million.
Patrick Kane is a professional Ice Hockey Player and Alternative Captain for the Chicago Black Hawks at NHL.
Kane is one of those rare NHL players who have scored more than 1,000 points. Moreover, Kane is a three times Stanley cup winner and the winner of Conn Smythe Trophy in 2013.
Also called 'showtime' by fans, Kane was named one of the '100 greatest NHL Players' in 2017.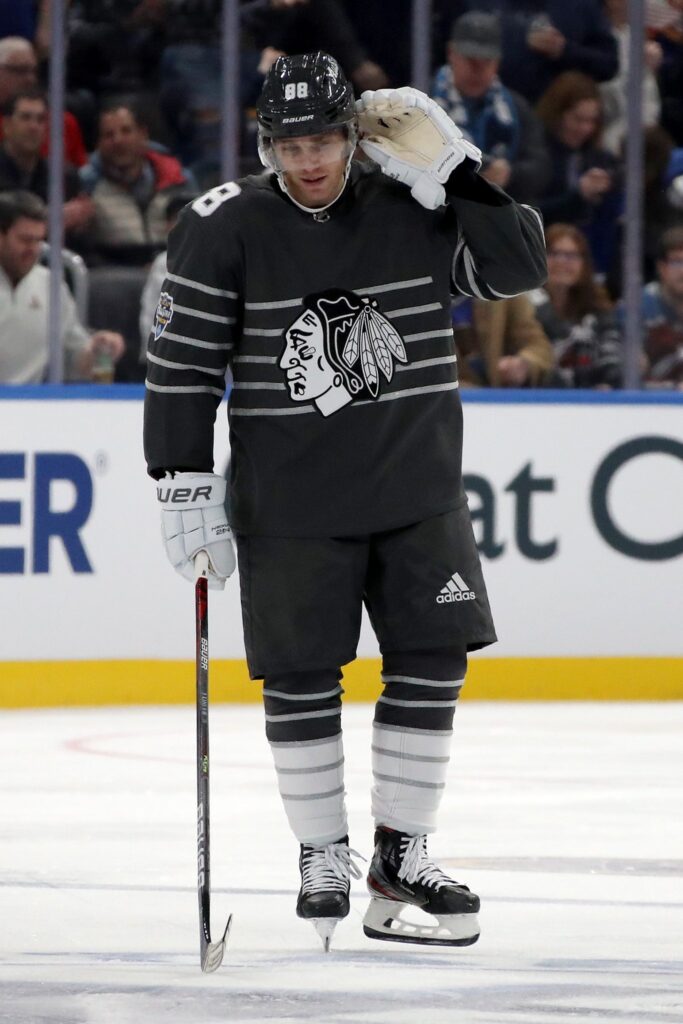 Patrick was introduced to hockey by his father, who himself is a big hockey fan. He played a successful minor and junior career before turning professional in 2007.
Likewise, Kane was the first overall pick by the Chicago team in the 2007 NHL draft. He continues to play for the team to date.
No wonder Kane has made millions from his successful career. So how did he earn this money, and how does he spend it? Let's figure it out in this article:
Patrick Kane: Quick Facts
| | |
| --- | --- |
| Full Name | Patrick Timothy Kane II |
| Common Name | Patrick Kane |
| Nick Name | Showtime |
| Birthdate | November 19, 1988 |
| Age | 35 years old (as of July 2021) |
| Zodiac Sign | Scorpio |
| Mother's Name | Donna Kane |
| Father's Name | Patrick Kane Sr. |
| Siblings | Three Sisters, Erica, Jessica, and Jacqueline |
| Birthplace | Buffalo, N.Y. |
| Home Town | Buffalo, N.Y. |
| Citizenship | America |
| Residence | Chicago, U.S |
| Religion | Christianity |
| School | Detroit Country Day School |
| College | N/A |
| Education | Discontinued |
| Height | 5′ 10″/1.79 m |
| Weight | 177 lbs/80 Kgs |
| Eye Colour | Brown |
| Hair Colour | Brown |
| Shoe Size | 12 |
| Martial Status | Unmarried |
| Partner | Amanda Grahovec |
| Ex-Wife | N/A |
| Children | One Son |
| Profession | Professional Ice Hockey Player |
| NHL Draft | 2007 (Chicago Blackhawks) |
| Current Team | Chicago Blackhawks, U.S National Team |
| Position | Forward, Right Winger |
| Shoot | Left Handed |
| Jersey Number | 88 |
| Total Points | 1,056 |
| Status | Active |
| Net Worth | $28 million |
| Hobbies | Party, Travel |
| Affiliated with | Bauer Hockey |
| Social Media | Twitter, Youtube |
| Website | N/A |
| Merch | Jersey, Figurine, Autographed Items |
| Last-Update | November, 2023 |
Patrick Kane Net Worth: Income and Salary
Patrick initially signed a five-year contract with the Blackhawks, which was worth $31.5 million. In 2014, he signed an extension that lasts for eight-year.
This deal promises him an annual cap hit of $10.5 million. Moreover, he was paid a signing bonus of a whopping $44 million with a guaranteed $84 million. Currently, he is known as the highest-paid Blackhawk ever.
It is estimated that no. 88 has earned around $101 million on the fourteen seasons since 2007. And this is just his hockey earnings. Additionally, he earns extra millions from his brand deals and endorsements with Bauer and Chevrolet.
Patrick Kane Net Worth: House and Cars
The mansion located on the shores of Lake Erie was a perfect summer gateway for the athlete. But he hardly stayed in that house as he owned other spaces in different places.
He bought a condominium on the 33rd floor of Trump Tower in 2008, which cost him a whopping $2.06 million. He continues to own this space to this date.
In 2017, he listed his Hamburg house on the market for $3.2 million. After three years in the market, it was finally sold for $2.5 million.
On April 2-019, Patrick brought a new apartment unit to a luxury building called No.9 Walton. This building is located at 9 W. Walton St, Chicago, and is also the home of Patrick's teammate Jonathan Toews and Jason Heyward.
This four-bedroom, 4,776 sq. foot condominium cost him $6.4 million. His unit is on the 25th floor of the building and features four and a half baths, a fireplace, and a dining room.
The unit was initially listed for $5.8 million, but new upgrades resulted in a higher price.
Cars
Patrick Patrick has a range of cars that include a spacious Hummer H2, a white SUV, and a Black Chevy Truck.
>>>Lindsey Vecchione: Girlfriend of Jonathan Toews, Husband & Net Worth>>>
Patrick Kane Net Worth: Investments and Business
A good investment choice is essential for any athlete to have long-lasting financial security.
Besides splurging his millions in homes and cars, he also invests in small and big businesses to keep that money coming.
Patrick Kane Net Worth: Endorsements
Most of Patrick's income comes from his salary and contract. NHL pays him enough for him to live a lavish life. But being a top player in the league comes with lucrative endorsement opportunities that are hard to turn down.
He has endorsement deals with Bauer, a company that manufactures ice hockey equipment and apparel, and Chevrolet Cars. So most of his equipment is from Bauer, and he drives a Chevrolet truck as well.
Besides that, he has appeared in advertisements for McDonald's and Gatorade.
In the age of social media, a brand value of a person depends on their social media engagement. Kane stays away from social media platforms and only has a barely active Twitter account.
If he boosts his social media presence, it is sure that more offers will come his way.
Patrick Kane: Lifestyle and Vacations
Patrick barely gets any time to go out on tour besides his crazy schedule of practices and games. Nevertheless, he has been far and wide in the course of his international games.
Patrick and his girlfriend Amanda like to take short breaks from their busy life to travel together. Since the birth of their son in 2020, they have started to spend more time at home.
Patrick is a fun guy who likes to party and have fun once. When he was younger, his party lifestyle was no secret to any fan.
Not to mention, his social media used to be filled with pictures of him drunk in a bar. Kane has matured over time.
Kane has also been in controversies from time to time. In 2009, he was arrested for punching a cab driver over a minor dispute.
Moreover, few sexual assault claims have also been made against him. Though he has not faced any legal repercussions yet, hockey fans can never forget those allegations.
Workout Routine
Patrick Kane is quite serious with his workout and doesn't follow the old routine of strength maintenance workouts. He has refined his movements through combined Tai-Chi, yoga, and other practices.
Most of his workouts are based on body movements and focuses on increasing muscle elasticity.
Diet Plan
Alongside working out daily and in a specific way, Patrick Kane is equally focused on his diet. After waking up at 8:30 am, Kane munches two eggs boiled over medium with sweet potatoes, spinach, and berries.
Following it, he completes his breakfast with a glass of healthy green juice. Furthermore, he has his lunch till noon. It usually includes grilled chicken with sautéed asparagus and gluten-free pasta.
As for dinner, Kane stated that he likes his dinner after the completion of his games. Therewith, the time may go around the midnight.
Anyways, his dinner is steak, and as per him, he could eat steak as the only food for his life.
>>>Keith Yandle: Hockey, Stats, Wife, Contract & Net Worth>>>
Patrick Kane Net Worth: Charities
In July 2020, when the fight against racism was on the rise in America, Kane showed his solidarity through actions and words.
In a lengthy Twitter thread, the star explained that even though he won't fully understand the consequences of racism as a white male, he believes that racism must end for good.
He announced his support to the 'My Block, My Hood, My City' charity based in Chicago and the Chicago chapter of 'All-stars project.'
At the same time, he also encouraged people to get educated about systemic racism and support impactful organizations.
Besides his professional hustle, Kane regularly participates in charity games. In 2016, he participated in Denis Savard Charity Golf Tournament.
Similarly, in 2012, he had participated in the 'Champs for Charity game. The game raised $3,23,000, which went to the Ronald McDonald House of Charities of Chicagoland and Northwest Indiana.
In 2018, Patrick and the Blackhawks participated in another charity Ice hockey game to raise money for Special Olympics. The game was watched by hundreds of spectators and raised a total of $50,000.
Patrick Kane: Career
Patrick was taught the basics of Hockey by his father, who himself was a big fan of the sports. By the age of 14, Kane was already a regular at the USA bobcat, and he even earned an MVP there.
Next, he played for the Honeybaked AAA midget team in the midwest Elite Hockey league till he was 17 and even gave up his studies for hockey.
Following that, he played for U-18 National Team Development Program and later at London Knights.
His professional career began in 2007. He was the first overall pick for Chicago Blackhawks. He signed the three-year contract that July and has been with the Blackhawks since then.
Besides that, he also has played for the US national hockey team.
The US team won a silver in the 2010 Inter Olympics. In the 20018 IIHF world championship, he was the team captain and the lead goal scorer of the tournament. They went on to win bronze.
Awards and Achievements
Some of his awards and achievements to date are listed below.
OHL Rookie of the Year (2007)
CHL Rookie of the Year (2007)
Calder Memorial Trophy (2008)
Stanley Cup champion (2010, 2013, and 2015)
Conn Smythe Trophy (2013)
Art Ross Trophy (2016)
Hart Memorial Trophy (2016)
Ted Lindsay Award (2016)
Ice Hockey World Championship MVP (2018)
>>>Pavel Datsyuk Bio: Carrer, Awards, Net Worth, Love Life>>>
Patrick Kane: Social Media Presence
The only Social Media Patrick is active in is Twitter. Furthermore, he has only sent 230+ tweets to date and uses the platform only to share important updates.
If you like to see more of him or the Chicago Blackhawks, you can subscribe to their youtube channel, where exciting videos are posted regularly.
On March 9, 2021, on the eve of his 1,000th NHL game, Kane posted a video of him counting from 1 to 1000. The video titled 'Patrick Kane counts to 1,000 to help you fall asleep' was loved by fans.
Twitter: 758K Followers
You can also follow his activities on Youtube.
Patrick Kane: Three Interesting Facts
Patrick loved sports growing up! His favorite color was black, so his father spray painted all of his equipment in black. Furthermore, Patrick played dolls with his sister to make them play sports with him. Patrick was so good at games during childhood that the parents in the league didn't want him to compete as there was no chance for other kids!
The champion is a bit superstitious too! Patrick gets the number 716 written on the bottom of his hockey stick. He believes this number brings him good luck because this is his New York area code!
Patrick also has a fascination with the number 88. It is well known that he wears jersey number 88. It represents his birth year and might be another way to bring him good luck during his games.
Quotes
"I've always prided myself on being myself and trying to stick true to who I am and how I was raised."
"I want to be someone who can be a role model to kids – and everyone, for that matter."
"I think you grow up every year, every day. You learn something new and try to worry about what's important in life."
Patrick Kane: Frequently Asked Questions
Who is Patrick Kane Dating?
Patrick is in a relationship with Interior Designer Amanda Grahovec. They have been dating since 2010, and they welcomed their firstborn, a son, in 2020.
When did Patrick Kane win Stanely Cup?
Patrick Kane has won the Stanely cup thrice with Chicago Blackhawks in 2010, 2013, and 2015.
What is Patrick Kane's career statistic like?
To date, Patrick Kane has played 1,029 games in regular games, 136 matches in playoff seasons, and 18 matches and 40 matches in the International arena as junior and senior, respectively. Likewise, he has had 404 goals in the regular season, 52 in playoff season, and 29 in the international arena.
During the regular season, he maintains 684 assists with 1,088 points. In a playoff season, he depicts 80 assists with 132 points. In the international arena, he has 53 assists with 82 points.