Amanda Grahovec is an American interior designer who has attracted public attention for her striking beauty and romantic involvement with pro ice hockey player Patrick Kane.
Patrick Kane, who was named one of the 100 Greatest NHL Players in 2017, is often seen cozying up to Amanda during events and parties. Obviously, they are open about their relationship and feel comfortable showing affection in front of the camera.
Grahovec gave birth to their first child together in November 2020, and the couple is delighted to share their love with the baby.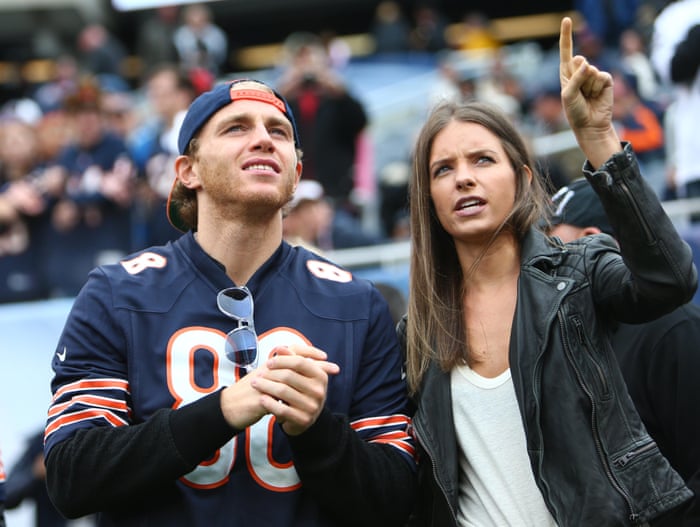 Her chic fashion sense and attractive features are definitely worth fawning for, so we are not surprised that hockey fans are intrigued by her.
So how did Patrick and Amanda meet? What does she do? Let us get to know Amanda Grahovec better through this article; keep reading to find out more.
Patrick Kane Girlfriend: Amanda Grahovec | Quick Facts
| | |
| --- | --- |
| Full Name | Amanda Grahovec |
| Nick Name | Amanda |
| Birth Date | October 28, 1987 |
| Birth Place | Chicago, Illinois |
| Residence | Hamburg, New York |
| High School | Rosary High School |
| University | Harrington College of Design |
| Nationality | American |
| Ethnicity | Italian-American |
| Religion | Christianity |
| Zodiac Sign | Scorpio |
| Mother's Name | Linda Grahovec |
| Father's Name | Joseph Edward Grahovec |
| Siblings | Nicholas, Ashley, Eddie, Andrew, and Kevin |
| Age | 34 |
| Height | Not Available |
| Weight | Not Available |
| Hair Color | Light Brown |
| Eye Color | Blue |
| Marital Status | Unmarried |
| Partner | Patrick Kane |
| Children | Patrick Kane III |
| Profession | Interior Designer |
| Net Worth | $100k |
| Salary | Not Available |
| Social Media | Patrick Kane's Twitter |
| Patrick Kane's Merch | Jersey, Gear |
| Last Update | September, 2022 |
Amanda Grahovec: Early Life, Family, and Education
Amanda Grahovec was born on October 28, 1987, to Linda and Joseph Edward Grahovec. Linda has Italian roots, so Amanda is Italian-American. Her family lived in Yorkville before moving to Chicago, Illinois.
She has five siblings. She has an older brother, Nicholas, an older sister, Ashley, and three younger brothers, Eddy, Andrew, and Kevin. Andrew and Kevin are twins.
Nicholas, who has worked as an athletic trainer, has four daughters. Likewise, Ashley was also an athletic trainer and had two daughters.
There are not many details on Eddy and Kevin, but Andrew has a degree in Sports Management and Marketing. He was interned with the Blackhawks.
Grahovec attended Rosary High School, an all-girls, college preparatory, Catholic school in Aurora, Illinois, and graduated in 2005. After that, she went to Harrington College of Design, where she studied interior design.
Amanda had a religious upbringing, so she is a devout Christian.
You may also like: Stephen Curry Mother: Sonya Curry Bio & Family >>
Amanda Grahovec: Career
Grahovec is an interior designer. After she graduated from college, she worked as a design intern at Horn Design Architecture in Chicago. She also worked at Bull and Bear, a restaurant in Chicago, for a while.
Currently, there is very vague information on her career, but it is rumored that she works at a private firm.
Amanda Grahovec: Relationship
Amanda and Patrick started dating in 2012, but her first public appearance as his girlfriend happened a year later. It was the year Kane's team, the Chicago Blackhawks, won their second Stanley Cup.
Likewise, Amanda has a great relationship with Patrick's mom, Donna, and they went to Europe together in 2013. The couple and their family attended the Olympics the following year.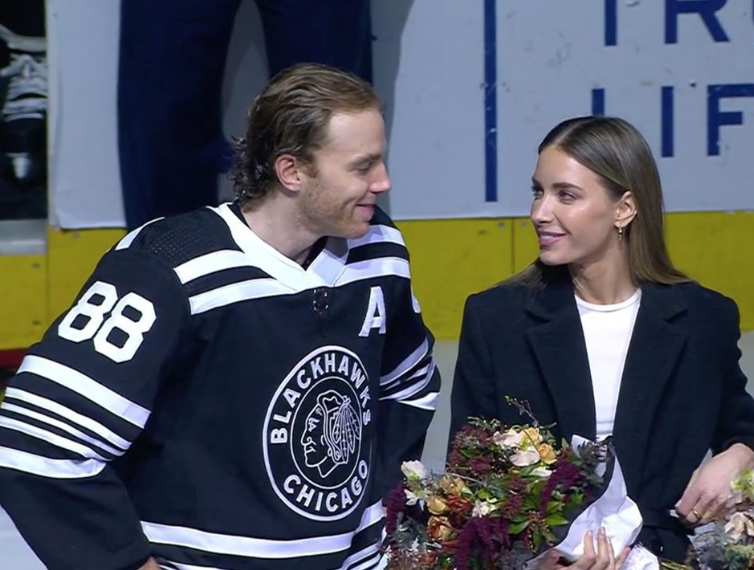 Grahovec is highly supportive of her boyfriend and attends his games whenever she can. They are very fond of each other, and they are not afraid to openly show their affection.
The two even recite the prayer of St. Francis together, and if he's away for work, they will do it over FaceTime. This further proves that they share a strong bond, one that goes beyond time and distance.
The two got engaged in 2019, but it is unclear when they plan on exchanging their wedding vows. The engagement was a private affair, so it is safe to say they will not share the wedding date.
Amanda Grahovec: Kids
Grahovec and her boyfriend, Patrick Kane, have a child together. Their son, Patrick Timothy Kane III, was born on November 12, 2020. Kane, the father of Amanda's firstborn, was more than happy to share the news on Twitter.
Amanda likes bringing along their son to Patrick's hockey games. It seems the couple is more than willing to allow their firstborn to follow in his father's footsteps.
If Patrick Timothy Kane III wants to take on another sport, his parents will still accept it. They absolutely adore their child and want the best for him.
Patrick is overjoyed with the way things have panned out. He looks forward to returning home after work because being a father has been a fun experience.
Patrick Kane Girlfriend: Net Worth and Salary
Interior designers make an average of $50-60k annually, so we can assume that Amanda Grahovec makes a similar amount of money from her job. However, we are unsure about her real income because her professional life remains undisclosed.
Her estimated net worth is $100K.
Grahovec lives in a $2.68 million mansion with her boyfriend, Patrick. As a renowned ice hockey player, he makes a handsome earning, so Amanda and their son are sure to live a comfortable life.
Amanda Grahovec: Social Media
Like most other celebrity girlfriends, Amanda Grahovec doesn't enjoy being scrutinized by the media for too long. As a result, she doesn't have a public social media account.
It is not easy to go about your daily life when fans and followers constantly pressure you to act a certain way online.
Therefore, other than sports-related public events, Grahovec chooses not to share her personal life with the rest of the world.
It is a shame though, Amanda Grahovec has a great sense of style, and we would have loved to see more of her polished looks on social media.
Recommended: Tom Brady's Wife: Gisele Bundchen: Modeling & Net Worth >>
Patrick Kane: Why is he famous?
Patrick Kane, 32, is a professional ice hockey player for the Chicago Blackhawks of the National Hockey League (NHL). The Chicago-based team selected Kane with the first overall pick in the 45th NHL Entry Draft.
Today, Patrick Kane is one of the most sought out names in ice hockey. He is the right-winger and alternate captain for the Blackhawks. Since his NHL debut on October 4, 2007, he has won the Stanley Cup in 2010, 2013, and 2015.
In 2013, Kane won the Conn Smythe Trophy, typically awarded to the most valuable player (MVP) during the NHL's Stanley Cup playoffs. Likewise, he received the Hart Memorial Trophy as the MVP in the 2015-16 NHL season.
Patrick Kane is also the first American-born player awarded the Art Ross Trophy for leading the league with the highest points in the 2015-16 season.
The young American has represented the United States twice in the Winter Olympics (2010 and 2014), and his team returned home with a silver medal in the 2010 event.
Patrick Kane: Early Life, Family, and Education
Patrick Timothy Kane II was born to Donna and Patrick Kane on November 18, 1988, in the lively city of Buffalo, New York. He has three siblings, Erica, Jessica, and Jacqueline.
Kane went to Detroit Country Day School but did not graduate because he wanted to focus more on hockey. Since he was so interested in hockey, his parents fully supported him and encouraged him to chase his dreams.
Patrick was 14 when he joined the junior hockey team for the USA Bobcats. He then went on to play for the Honeybaked AAA hockey club for three years in Michigan. During that time, he was living with former ice hockey player Patrick Verbeek.
In the 2004 Ontario Hockey League (OHL) Midget Draft, the London Knights selected him in the fifth round with the 88th overall pick.
He played for the Knights for the first time in the 2006-07 OHL season, and he was named the OHL Rookie of the Year and received the Emms Family Award in April 2007.
Patrick Kane: Net Worth and Salary
Patrick Kane made the highest salary of his career in the 2016-17 and 2017-18 seasons, receiving $13.8 million. However, in the 2020-21 season, he received only $7 million since the NHL decided on a 56-game season instead of 82 because of the COVID-19 pandemic.
Kane has worked with well-known names like McDonald's and Gatorade. The New York-born also has an endorsement deal with an ice hockey equipment manufacturing company named Bauer Hockey.
his estimated net worth is $28 million.
In 2012, Kane bought a $2.68 million residence in Hamburg, New York, and he lives there during the offseason. The mansion is located on the shores of Lake Erie.
More about him: Patrick Kane Net Worth: Contract, Salary & Endorsements >>
Patrick Kane: Social Media
The three-time Stanley Cup winner has a Twitter account to share moments from his games, brand deals, and all kinds of sports-related content. He even notified his fans about the birth of his son on Twitter.
Kane doesn't have Instagram, so we don't get as many adorable baby pictures of his son as we'd like. But you can always follow the Chicago Blackhawks for updates on Kane's ice hockey journey.
Instagram: 1.5m followers
Twitter: 755k followers
Amanda Grahovec: FAQs
Who is the mother of Patrick Kane's son?
Patrick Kane's longtime girlfriend, Amanda Grahovec, is the mother of his son. She is an interior designer from Chicago, Illinois. The two met through a friend at a party in Dallas and started dating in 2012.