Patrick Rodgers is soon going to be the father of two kids. The golfer with his wife, Jade Gordon, welcomed his first kid in 2020.
For Harry Potter fans, Jade Gordon might be a familiar name. She was a stunt coordinator for the famous series and also acted in the last installment.
But more famously was involved in a romantic relationship with the Harry Potter actor Tom Felton. The couple broke up in 2016 and has clearly moved on in their lives.
With Patrick, Jade's relationship began in 2017, and the couple tied the knot two years later. Their first son Rafi was born in 2020, and their second child will be born in the fall of 2023.
The 31 years old will compete alongside world no.1 Scottie Scheffler and world no.2 Jon Rahm at the Memorial Tournament. Rodgers is yet to have a memorable victory in his career, and maybe he could make the coming tournament his best.
Patrick Rodgers Wife Jade Gordon Is A Stunt Coordinator
Patrick Rodgers's wife, Jade Gordon, has exclusively worked as a stunt coordinator for several years in the movie industry. But it was her role in the Harry Potter series that caught the eyes of many movie-goers.
Jade, 36, is five years older than her husband, Patrick, and first found fame portraying Astoria Greengrass, Draco Malfoy's wife, in the last installment of the Harry Potter series.
The role came in 2011, but Jade had already begun her Hollywood career five years prior. She started in Tinseltown as a part of the stunt department in the movie United 93 and has worked in 12 films.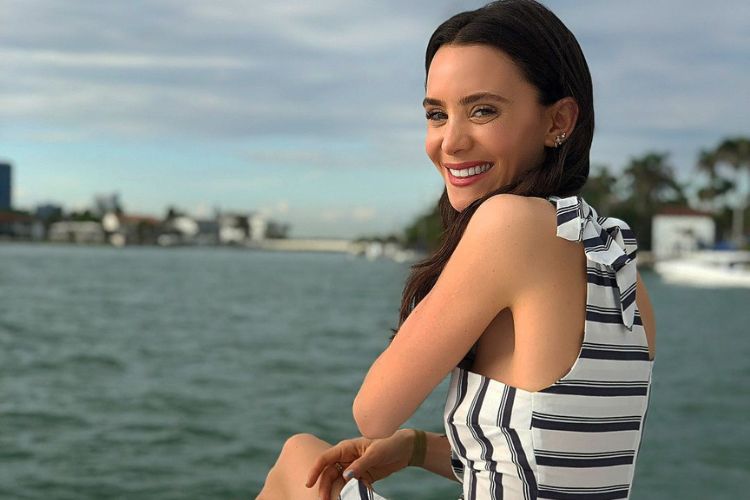 One of her last roles came in 2019 in Avengers: Endgame as an additional crew playing assistant Ms.Olsen.
Jade is the only daughter of Kim and Steven Gordon. She has two brothers, Josh and Scott Gordon. Josh Gordon is the co-founder of the real estate developer GS8.
Jade is available on Instagram with the username @jade__rodgers and has a sizeable following of 75.1K.
The stunt coordinator is seen sharing photos of her family outings, and it seems she has taken a break from work.
Patrick Rodgers And Jade Gordon Relationship Timeline
Patrick Rodgers and Jade Gordon's relationship began in 2017, a year after Jade broke up with her on-screen husband, Tom Felton.
The former couple met on the sets of Harry Potter and dated until 2016 before going their separate ways. A year after they broke up, Jade found her partner for life in Patrick Rodgers.
It was Patrick who first featured Jade on his Instagram handle. The golfer shared a Polaroid picture of Jade and of him with his friends, giving subtle hints of their brewing relationship.
A few weeks later, Patrick confirmed his relationship with Jade sharing a couple of her photos on her birthday. Jade followed suit and went Instagram official with Patrick on his birthday in June.
And since then, the couple has displayed their relationship publicly to thousands on the internet.
Patrick And Jade Are Engaged Within A Year Of Dating
For Patrick and Jade, it must have been love at first sight, as by the end of the first year they met, the couple announced their engagement.
On December 29, 2017, Rodgers took to his Instagram to share the news of his engagement with Olivia. The golfer proposed to his wife in a dramatic fashion that is in the middle of the ocean. Literally.
He went down on one knee during their yacht trip in Miami, Florida. The couple also had a post-engagement photoshoot which Jade shared on her Instagram.
Rodgers And Gordon Tie The Knot In 2017
The couple's wedding ceremony kicked off in March 2019, with Jade's friends arranging a bachelorette party. One of the party organizers was the Hollywood star Elizabeth Olsen.
Two months after the party on May 26, 2019, the couple tied the knot at Vizcaya Museum and Gardens. One of the videos shared by Jade shows her walking down the aisle with her dad, who then hands her over to Patrick.
The clip that started on an emotional note ended in a fun one with Steven shaking his leg with his son-in-law at the after-party.
Patrick And Jade Are Parents To A Baby Boy
The couple announced the news of Jade's pregnancy in her eighth month. She shared a Polaroid picture of her cradling the baby bump as Patrick took the photograph.
Rafi Fox Rodgers was born on December 31, 2020. Patrick and Jade shared the picture of Rafi right after his birth assuring fans everything was alright.
Like his parents, Rafi is a fan of the London-based soccer team, Arsenal. He could've witnessed Arsenal lifting the Premier League title this past month, but too bad that Mikel Arteta's men couldn't get the job done.
On May 14, 2023, Jade shared a video of Rafi kissing her stomach, signifying that Rafi was soon going to be a big brother.