Payne Haas parents and family are widely recognized as the troublemakers who have run-ins with the law time and again.
Payne Haas was born on December 2nd,1999, in New South Wales, to Uiatu "Joan" Taufua and Gregor Haas.
Haas has a younger brother named Zeda Haas, who is also involved in various cases.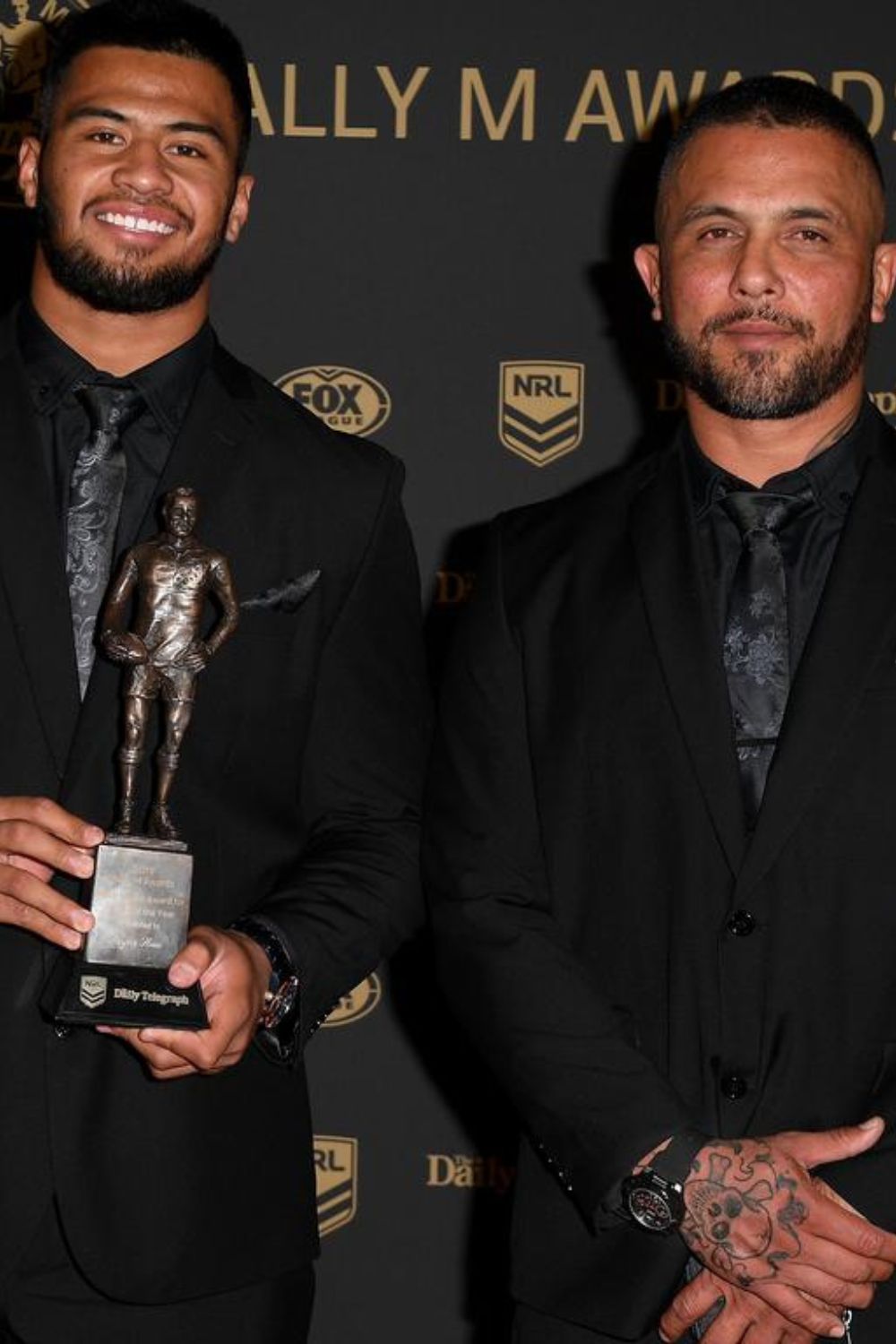 Payne Haas is a professional rugby league football player. Currently, Haas is playing as a prop for the Brisbane Broncos in the NRL.
Moreover, the player is also committed to the Australian national team at the international level.
Additionally, Payne has represented New South Wales in the State of Origin series as well as in the Prime Minister's XIII.
Furthermore, the prop was the winner of the State of Origin series in the years 2019 and 2021.
Despite his great skills, Haas is infamous for various controversies. He was charged with using offensive language to police at Tweed Heads.
Also, Haas was involved in a drunken fight with his teammates, and so on.
Payne Haas Parents Joan And Gregor
Payne Haas was born to his parents, mother Uiatu "Joan" Taufua and father Gregor Haas on December 2, 1999.
Gregor and Taufua have been married for over 25 years. They were parents to 10 children, including two adopted sons, aged 20 and 19.
Sadly, their son named Chace, who was left wheelchair-bound by a car accident in 1999, died unexpectedly of respiratory failure in August 2020.
The couple are now parents to 9 children, and six of them are school-aged.
Joan, Payne Haas's mother is currently on remand facing charges over a fatal car crash that killed three people at Bonogin, on the Gold Coast, in December 2022.
She was previously placed in the Southern Queensland Correctional Centre. But, after an alleged altercation with inmates, she was recently relocated to Brisbane Women's Prison.
Because of this, Gregor is currently looking after the family. Gregor visits his wife once a week. He has shared with the media about the emotional difficulties he is currently going through.
The family's struggles have not been isolated from public attention, but they have tried to shield themselves from the negativity of social media, recognizing that online platforms can be harsh and critical.
Payne Haas Mother Is Currently In Jail
Uiatu "Joan" Taufua is charged with three counts of manslaughter, as well as charges of dangerous operation of a motor vehicle, evading police, driving without a license, and mid-range drink-driving.
The horrific crash took place on December 30, 2022. Due to the crash, Susan Zimmer, 70, her partner Chris Fawcett, 79, and Ms. Zimmer's daughter Steffanie,35, lost their life. Taufua was the sole survivor.
However, the fatal crash was not the first time Joan was in trouble with the law. Taufua was jailed for assaulting two security guards at the Star Casino in May 2022. She was later found guilty and sentenced to nine months in jail for the assault.
But, Taufua was granted parole after serving a month behind bars. Even during the fatal crash, she was on parole.
Taufua's next court mention is on September 14.
Payne's Brother, Zeda, Got Arrested
Payne Haas's brother, Zeda Haas, was arrested this Tuesday on accusations of attempting to bring $1 million worth of the drug ice from Queensland into New South Wales.
Ice, commonly known as crystal meth, is a type of methamphetamine that is similar to speed but purer. It can be extremely addictive and harm people's health, especially if used repeatedly.
Zeda, 19 years old, along with Kaharau Beer, was arrested in Beresfield, 22km west of New Castle. Both of them were stopped on Apprentice Close in a Beresfield industrial area, where police reported finding about $1.1 million worth of the drug.
Haas and Beer appeared before Maitland Local Court on Wednesday and both of them were refused bail.
A few months prior to this incident, Zeda was taken to Gold Coat Hospital in critical condition for an overdose of drugs with his friends.
One of his friends, Jeremiah Lolohea, died shortly after arriving at the hospital due to a drug overdose.