Payton Pritchard, an NBA player, is currently a point guard for Boston Celtics ever since the team picked him in the 2020 NBA Draft.
Despite having minimal time in the main rotation, he has become a fan favorite with his electrifying performances on the court.
Pritchard is on a four-year rookie deal with Boston Celtics that runs through the 2023-24 season.
With the Celtics, he played in two post-season games (2020 & 2021), including an NBA Finals loss to the Warriors.
His career-high is 28 points which came in his rookie year on April 27, 2021, when they lost to City Thunder.
Born and raised in Tualatin, Oregon, Pritchard honed his basketball talents early and became a standout player in high school. It's all thanks to his parents, who had an athletic background.
The player then went on to play for the University of Oregon, where he achieved numerous accolades, including being named a Consensus First-Team All-American and Pac-12 Player of the Year.
Join us as we delve into the journey of this talented point guard and explore the highlights of his career so far.
Quick Facts
| | |
| --- | --- |
| Full Name | Payton Michael Pritchard |
| Date of Birth | January 28, 1998 |
| Birth Place | Tualatin, Oregon |
| Age | 28 years old |
| Nationality | American |
| Religion | Christianity |
| Zodiac Sign | Aquarius |
| Chinese zodiac | Tiger |
| Height | 6 feet 1 inch/ 1.85 m/ 185 cm |
| Weight | 88 kg/ 195 lbs |
| High School | West Linn High School |
| University | University of Oregon |
| Father's Name | Terry Pritchard |
| Mother's Name | Melissa Pritchard |
| Siblings | Two Sisters (Taylor and Lexie) |
| Tattoos | None |
| Girlfriend | Emma MacDonald |
| Children | None |
| Profession | Basketball player |
| League | NBA |
| Position | Point Guard |
| Playing Career | 2020-present |
| NBA Draft | Round: 1, Pick: 26th overall, 2020 (Selected by the Boston Celtics) |
| Current Team | Boston Celtics |
| Jersey Number | 11 |
| Net Worth | $2 Million |
| Social Media | Instagram, Twitter |
| Merch | Signed Photo Frame |
| Last Update | December 2023 |
Both Parents Were Athletes!
Born on January 28, 1998, in Tualatin, Oregon, Payton Pritchard is the second of three children to athlete parents: Terry Pritchard and Melissa Pritchard.
Payton grew up with his two sisters: Taylor and Lexie.
His father Terry is an Oklahoma native who played football for the Sooners. Currently, he works as a developmental manager for Bieri Brokerage (May 2022- now).
Moreover, Terry is the owner & head coach at the basketball academy F.A.S.T.
The NBA player's mother, Melissa, a former gymnast at the University of Oklahoma, now works as a corporate consultant at Thomson Reuters (October 2002- now).
Both his parents are active on Instagram; his dad goes by @terry_pritchard, while his mom goes by @pritchfam6.
As reported, Pritchard's aunt Lisa Griffith played college basketball at Arizona.
His success on the court is a source of great pride for his family, who continue to support him in all his endeavors.
More On Siblings
The Celtics point guard has an elder sister named Taylor Forward and a younger sister named Lexie.
His elder sister Taylor is married to Robert Forward since December 2022 and shares two sons: Jagger and Brooks.
Payton's other sister Lexi, who is three years younger than him, is also into basketball like him.
She completed high school at West Linn High School and then enrolled at Santa Clara University, where she played as a guard from 2018 to 2022.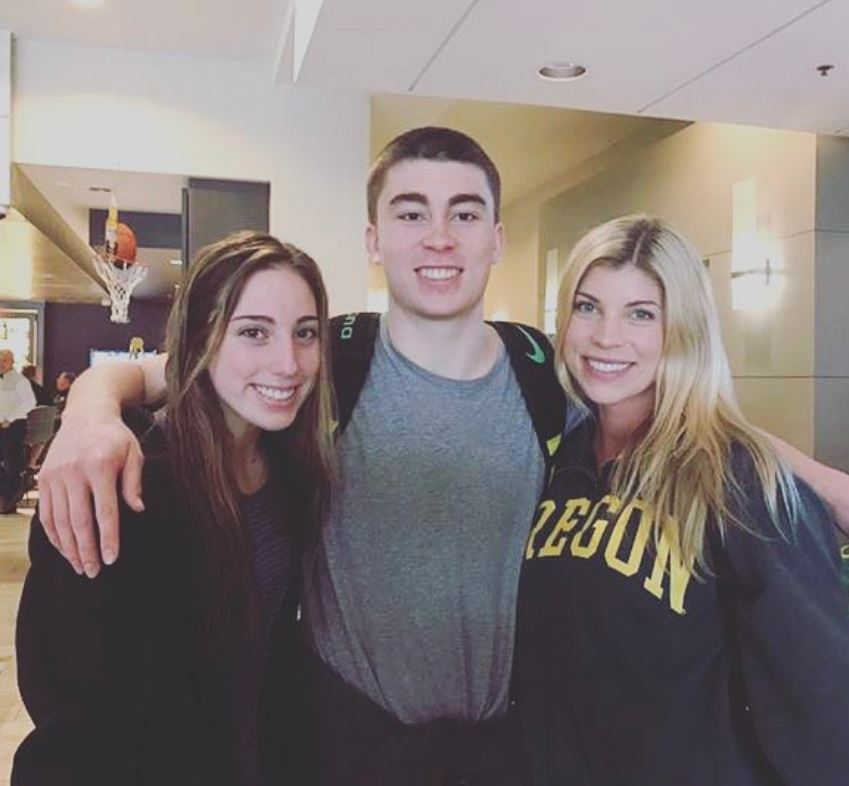 Lexie, 5 feet 10 inches (1.77 m), averaged her best in her junior year (202-21) with 6.2 points, 2.2 rebounds & 2.0 assists per game.
As a senior year, she played only four games before going down with an injury.
Off the court, Lexie is interested in business, particularly sales and marketing. She plans to major in business and enjoys spending time with friends and watching.
Brotherhood Beyond Blood
Although not related by blood, Payton Pritchard and Anthony Mathis share a deep bond akin to a real brotherhood.
Mathis grew up with a single mother and decided to stay in West Linn when his family moved to Wyoming. He became a part of the Pritchard family, with Payton's parents serving as his guardians.
The two basketball players won a couple of state championships together at West Linn, and their friendship has endured beyond their high school days.
Despite not being blood-related, some online sources refer to Anthony Mathis as Payton Pritchard's brother due to their incredibly close bond.
NBA Journey
An attendant of West Linn High School, Payton Pritchard played collegiate basketball at the University of Oregon, where he averaged 13.5 points, 3.8 rebounds & 4.6 assists per game.
In the 2020 NBA Draft, Pritchard became the first-round 26th overall pick of the Boston Celtics, joining Aaron Nesmith (14th overall pick) in the team.
Some notable picks in the draft were Anthony Edwards (of the Timberwolves), James Wiseman (of the Warriors), LaMelo Ball (of the Hornets), and Patrick Williams (of the Bulls).
Despite facing a "rookie wall" mid-season, Pritchard persevered and continued to improve his game. He scored his career-high 28 points against the City Thunder on April 27, 2021.
Moreover, with the Celtics, he played his first-ever playoffs in the 2021 NBA playoffs but lost to the Brooklyn Nets in the first round.
In the 2021-22 regular NBA season, Payton averaged 8.2 points, 3.9 rebounds & 2.0 assists per game.
He even saw himself playing in the 2022 NBA playoffs finals against the Warriors but lost by 2-5 in a seven-game series.
Career With National Team
Pritchard has also represented the US national team, playing at the 2015 FIBA 3×3 Under-18 World Championship.
Likewise, Payton also played at the 2017 FIBA U19 World Cup, where he helped lead the team to a bronze medal and was named to the All-Star Five.
Career Highlights & Awards
2020 Lute Olson Award
2020 Bob Cousy Award
2020 Consensus first-team All-American
2020 Pac-12 Player of the Year
2020 First-team All-Pac-12
2018 Second-team All-Pac-12
2019 Pac-12 tournament MOP
Who Is Payton Pritchard's Girlfriend?
The Celtics player is currently in a relationship with Emma McDonald.
The two came forth about their dating via an Instagram post on Valentine's Day of 2023 when Pritchard shared a picture with McDonald. In the comment, Payton's girlfriend replied with the comment, "so much love for you."
However, there are no details about when & how their relationship began.
Emma MacDonald is an Instagram influencer (with more than 261K followers) and a YouTuber with 367K subscribers on her channel @EmmaMacDonald.
She runs a weekly podcast, "Love ya Bye," along with her sister Maggie MacDonald.
On the podcast, they discuss turning social media into careers and what it's like being sisters and roommates. Emma also runs a closet on Poshmark (@ecm9).
Past Relationship With Lucy Charter
Prior to his current girlfriend, Emma, the NBA player was in a relationship with his then-lover, Lucy Charter, an alumnus of the University of Oregon.
Payton and Lucy met during their college days in Oregon & began dating, though the insights into their courtship remain under wraps.
As reported, the now-former couple's relationship began in 2019.
It was Charter who first opened up about their love story after sharing pictures of the basketball player in July 2019. Then, in August of that year, Payton began to post pictures with her.
However, the pictures are nowhere to be found on their social media profiles.
No reports of their break-up ever came; rather, the two unfollowed each other on Instagram & deleted the pictures quietly.
It is not known what caused the fallout of their relationship.
Net Worth & Contracts Of Payton Pritchard
Payton Pritchard has a net worth of approximately $3 million as of 2023.
The majority of his income came through his NBA contracts, while his endorsement deal with Nike (signed on April 27, 2021) earned him a considerable sum.
On November 24, 2020, he signed a four-year rookie contract worth $10.45 million with the Boston Celtics, which averaged an annual salary of $2.61 million.
In the 2020-21 & 2021-22 seasons, Payton earned a paycheck of $2.035 million & $2.135 million, respectively.
His salary for the 2022-23 season is $2.239 million after exercising an option deal, while the Celtics' power forward Jayson Tatum tops the list of highest-paid in the team with $30.35 million.
On October 29, 2022, the Boston Celtics exercised Payton on a $4.04 million option for the 2023-24 season.
By the end of his four-year deal with the Celtics, his career earnings will be $10.44 million, with a qualifying offer of $5.95 million as he becomes a free agent in 2024.
Age & Body Measurements
Pritchard, 28 years old, is a skilled basketball player who stands at 6 feet 0.5 inches (1.84 m) without shoes and 6 feet 2 inches (1.88 m) with shoes.
The player weighs around 206 lbs (93 kg) and has an athletic build.
Payton has a wingspan of 6 feet 4 inches (1.93 m) and a standing reach of 7 feet 11 inches (2.41 m).
Payton's other distinct features include short black hair and black eyes, and he is usually seen with a clean-shaven face.
Desire To Play More & Potential Trade Rumors!
Payton Pritchard, the Boston Celtics' reserve guard, expressed his desire for more playing time and suggested he was open to a change of scenery on January 31, 2023. This happened just before the NBA trade deadline on February 9, 2023.
The Celtics reportedly explored a potential trade involving Pritchard but ultimately decided to keep him.
After the win over the Memphis Grizzlies on February 12, 2023, Pritchard clarified that he is happy to still be with the Celtics and wants to help the team in any way possible to win a championship.
While Pritchard's minutes haven't been where he'd like them to be, he continues to provide clutch shooting off the bench for Boston.
Likewise, Celtics president of basketball operations Brad Stevens has made it clear that Pritchard has an important role on the team and can go in a playoff game and change it.
Frequently Asked Questions
What jersey number is Payton Pritchard?
Payton wears jersey number #11 with the Boston Celtics.
Is Lucy Charter Payton's girlfriend?
Lucy Charter is the ex-girlfriend of Payton Pritchard. They were college-time sweethearts & began dating in 2019 before breaking up quietly. Currently, the NBA player is in a relationship with Emma MacDonald.
Has Pritchard won any NBA championships?
No, Payton Pritchard is yet to win any NBA title, but with the Celtics, he has made two visits to the playoffs. In the 2022 NBA Finals, they lost to the Golden State Warriors with a 2-4 win-loss in a seven-game series.