Aaron Nesmith, an uproar in the NBA, plays small forward for Indiana Pacers (2022- now), having played two NBA seasons with Boston Celtics.
The Charleston-born basketball star was the 14th overall pick by the Celtics in the 2020 NBA Draft. With his now-former team, he had a promising start with two back-to-back NBA playoff appearances.
In the 2022 NBA playoffs, Nesmith got to play in his first-ever NBA Finals for the Celtics but lost to Golden State Warriors.
After the Celtics traded him to the Pacers on the third year of his four-year rookie contract, the latter team exercised him an option deal for the 2023-24 season.
There is no denying that Aaron has what it takes to become a star in the league.
Ever since fifth grade, he has been passionate about basketball, which followed excellence at high school & then at Vanderbilt University. And the NBA star has no signs of slowing down.
Probably, you are curious to learn more about Aaron Nesmith's family, relationship & net worth. There you go!
Quick Facts
Full Name
Aaron Joshua Nesmith
Date of Birth
October 16, 1999
Age
23 Years Old
Birth Place
Charleston, South Carolina
Nationality
American
Religion
Christianity
Zodiac Sign
Aquarius
Chinese zodiac
Ox
Height
6 feet 5 inches/ 1.96 m/ 196 cm
Weight
98 kg/ 215 lbs
High School
Porter-Gaud high school
University
Vanderbilt University (2018-2020)
Father's Name
Benard Nesmith
Mother's Name
Erine Nesmith
Siblings
Eddie Nesmith
Girlfriend
Jordan Smith (Apparent)
Children
None
Profession
Basketball player
League
NBA
Position
Shooting guard / Small forward
Team

Boston Celtics (2020-22)
Indiana Pacers (2022- now)

Jersey Number
23
NBA Draft
Round: 1, Pick: 14th overall, 2020 (Picked by Boston Celtics)
Net Worth
$3 Million
Social Media
Instagram, Twitter
Last Update
March 2023
All About Aaron Nesmith's Parents & Brother
Born on October 16, 1999, in Charleston, South Carolina, Aaron Nesmith is the youngest of two to Erine Nesmith and Bernard Nesmith.
The detail on Nesmith's parents or their background is not out in the media.
Aaron has an elder brother named Eddie Nesmith, who, unlike his NBA star brother, sought a career in medicine.
According to Eddie's LinkedIn profile, he currently lives in San Fransico & is pursuing a Doctor of Medicine degree at the University of California, San Francisco (2021- graduates in 2025).
Eddie attended Porter-Gaud High School, where his younger brother Aaron would enroll later.
After high school completion in 2016, he went to Harvard University & graduated with a Bachelor's degree in Molecular and Cellular Biology in 2020.
Gifted A Car To Mother
Even if the Indiana Pacers' small forward may not have featured his family on social media frequently, he is pretty close with them.
On June 10, 2021, Nesmith posted a video on Instagram, where he surprised his mother with a Kia car.
The player captured her priceless expression of joy & showed his gratitude to his mom & wrote, "THANK YOU MOM!! For all you do. My brother and I never take what you do for granted".
A Basketball Prodigy From School Days
Aaron Nesmith attended Porter-Gaud High School, where he quickly became a standout player & was on the varsity team in eighth grade.
He led his school team to three Class 3A state championships titles.
Despite being a four-star recruit & 2nd ranked shooting guard in South Carolina, Nesmith didn't receive any scholarship from major NCAA Division I programs until his senior year.
In 2018, Nesmith enrolled at Vanderbilt University, joining fellow basketball figure batchmates Darius Garland & Simisola Shittu.
Collegiate Career & Injury
While at Vanderbilt, Aaron Nesmith averaged 11.0 points, 5.5 rebounds & 1.4 assists per game as a freshman.
On November 6, 2019, in his sophomore year debut, he made seven three-pointers & totaled 25 points in a victory over Southeast Missouri State.
On January 4, 2020, Nesmith's college career-best came with eight three-pointers, scoring 29 points in total, in a loss to SMU Mustangs.
However, in a loss to Auburn on January 8, 2020, he had a foot injury that required surgery, thus keeping him out for the rest of his sophomore season.
Aaron then declared for the NBA draft forgoing his remaining two years of college eligibility.
NBA Journey & Achievements
In the 2020 NBA Draft, Aaron became the 14th overall pick of the Boston Celtics, joining fellow picks of the team: Desmond Bane, Payton Pritchard & Yam Madar.
On November 24, 2020, Nesmith signed a four-year rookie contract with the Celtics with options for the third & fourth years.
Aaron's rookie season (2020-21 season) averaged 4.7 points, 2.8 rebounds & 0.5 assists per game.
In the 2021 NBA playoffs (his debut playoffs), the Vanderbilt alumnus lost to the Nets in the first round with a 1-4 in the 5-game series.
Aaron Nesmith's 2021-22 season saw him 3.8 points, 1.7 rebounds & 0.4 assists, including his Celtics-high 18 points in a 135-87 win over the 76ers on February 15, 2022.
With Boston Celtics, he made his first-ever NBA Finals appearance in the 2022 NBA Playoffs, but the team lost to then-champ Golden State Warriors (by 2-4 in the game series).
In Which Team Does Nesmith Play Now?
On July 9, 2022, the NBA small forward Aaron was traded from Celtics to Indiana Pacers in exchange for Malcolm Brogdon.
From the trade, the Pacers acquired Daniel Theis, Malik Fitts, Juwan Morgan, Nik Stauskas, and rights for the 2023 first-round pick.
Did you know? On November 19, 2022, Aaron Nesmith slipped on a wet floor during a postgame interview after a 114-113 win over Orlando Magic.
Aaron Nesmith's Relationship & Girlfriend
For Nesmith, a young & promising basketball talent, queries regarding his relationship are frequent guests.
Even though the NBA star didn't answer it officially, his pictures with track & field athlete Jordam Smith did give a hint.
Online sources cite that Aaron & Jordan are dating, but currently, no pictures of them are on either of their social media. Though the two still follow each other on Instagram.
There are claims that the duo could have broken up.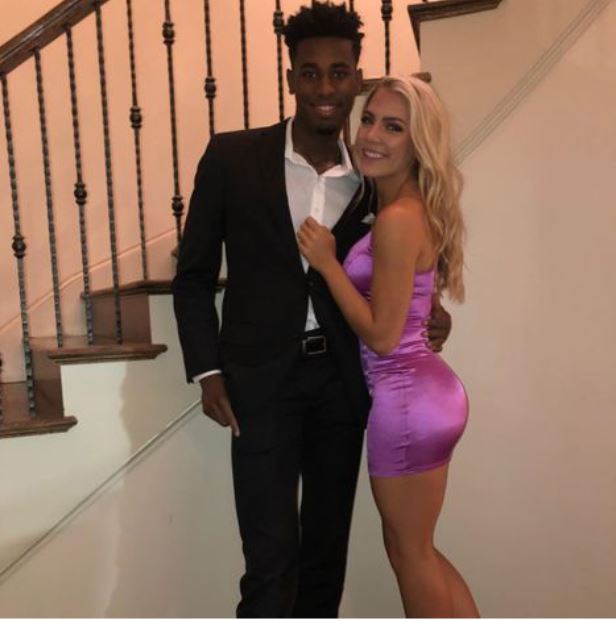 Both Aaron & Jordan are attendants of Vanderbilt University, enrollees of 2018.
Their common interest in sports & athletism led them together. The two allegedly began dating in 2020.
While Nesmith went for NBA Draft forging his college years, Jordan Smith graduated with BA in Communications in 2020 from Vanderbilt.
Then, she went to the University of Georgia to pursue a Master's degree in Sports Management (August 2022- May 2023).
More On Jordan Smith
Jordan Smith, a native of Suwanee, Georiga, is the daughter of Ralph Smith, a partner at Orion Development Group, and Janet Young Smith, a teacher at Sharon Elementary.
She has an older sister named Lindsay Smith.
At Vanderbilt University, Jordan was a track & field athlete specializing in 4×400 relay. She even set ten school records in five track events and was also part of a nationally-ranked relay team.
As of this writing, she has more than 10.3K followers on her Instagram (@jordannnsmithhh).
Net Worth & Contract
The NBA player Aaron Nesmith has a net worth of approximately $3 million as of 2023.
The player signed a 4-year, fully guaranteed $16.53 million rookie scale contract with the Boston Celtics on November 24, 2020. The contract included a team option for the third and fourth years.
On November 1, 2021, the Celtics exercised their team option to retain Nesmith for the 2022-23 season at a salary of $3.8 million.
However, on July 9, 2022, Nesmith was traded to the Indiana Pacers.
Then, the Pacers exercised their team option to retain Nesmith for the 2023-24 season on October 12, 2022, at a salary of $5.63 million.
After the 2023 season, if the Pacers won't sign him a new deal, Aaron will become an unrestricted free agent with a qualifying offer of $7.83 million.
Aside from NBA contracts & salary, the player bagged a decent sum through endorsement; on April 26, 2001, he signed a multiyear footwear deal with New Balance.
Frequently Asked Questions
What number is Aaron Nesmith?
Aaron Smith wears jersey no. 23 for the Indiana Pacers. Previously, the player wore no. 26 for the Boston Celtics.
How much Nesmith earns?
Aaron Nesmith's salary for the 2022-23 season is $3.8 million. With the Pacers, he signed an option deal worth $5.63 million for the 2023-24 season.