Penei Sewell is happily married to his wife, Isabella Swell. The couple has been together for many years.
Penei and Isabella are proud parents of a child. Their beautiful journey into parenthood started with the arrival of their son, Malakai.
Continue reading the article and dig into Penei Sewell's family life, highlighting his life partner and the wonderful times they enjoy as parents.
Penei Sewell is an American professional football offensive tackle who was born on October 9, 2000, in Malaeimi, American Samoa.
When he was 12 years old, he and his family relocated to St. George, Utah. He enrolled at Desert Hills High School and started playing football.
Sewell played in the US Army All-American and Polynesian Bowls during his senior year in 2018. He then enrolled at the University of Oregon college football for the Oregon Ducks.
As he immediately started playing in his freshman year, he impressed everyone with his exceptional skills in the initial seven games.
However, he missed six games due to his high ankle sprain. In 2019, he made a grand comeback and won the Morris and Outland Trophy.
Penei entered the 2021 NFL Draft after deciding not to play the 2020 college football season due to the COVID-19 pandemic.
He finally made his NFL debut after the Detroit Lions witnessed his potential and selected him as the 7th overall pick in the first round of the 2021 NFL Draft.
Penei Sewell Girlfriend Turned Wife: Isabella Sewell
Penei Sewell has been happily married to his wife, Isabella Sewell. The two lovebirds have been together for over three years, and their bond has only grown stronger.
Penei and Isabella are one of those couple who highly values their privacy. The couple had never been outspoken when they first met and started their relationship.
Their dating news was confirmed after they uploaded their first picture as a couple on Instagram in 2020. Since then, they frequently appear on each other's social media.
On April 18, 2023, Penei uploaded a photo on his Instagram where he held Isabella's hand, and she was flaunting her beautiful ring.
He also added a caption writing, you + me, always & forever. After their engagement, they welcomed their child and eventually got married in a private ceremony.
Talking about the NFL star's wife, Isabella, was born on February 13, 2000. She is a fitness fitness enthusiast.
Isabella Sewell is active on Instagram under the user name @itsisabellesewell, with more than 4k followers.
Moreover, she also helps her husband, Penei, run the non-profit organization, The Sewell Strong Foundation.
Shares A Child With Isabella Sewell
Penei Sewell is married and has started his own family with his wife, Isabella. They have been leading a beautiful and happy family.
Penei and Isabella's life revolves around their adorable son. They share their happiness as parents after the birth of their son, Malakai Sewell.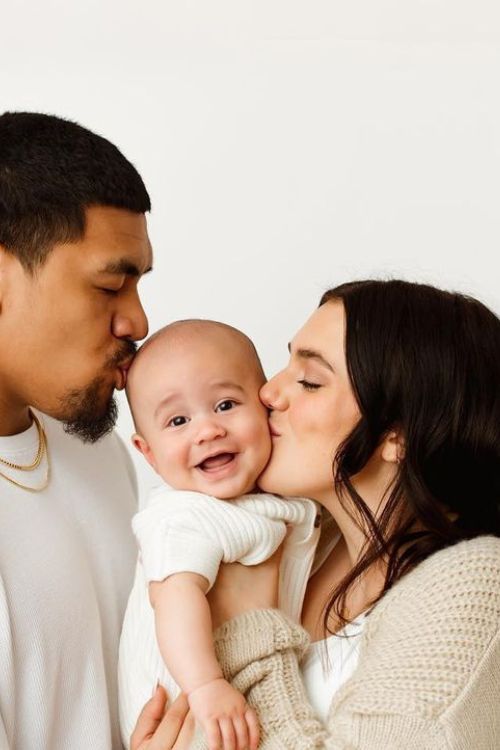 The couple were so happy with the arrival of their first child. They announced the birth of their only kid via their Instagram on November 4, 2022.
Like every parent, Penei Sewell is obsessively in love with their son. Their official social media contains their adorable son, Malakai's pictures and videos.
Detroit Lions offensive tackle lives a blissful life in Detroit, Michigan, with his life partner and son.