Phil Bickford is a well-known name in American Baseball, where he fulfills the role of a pitcher for the Los Angeles Dodgers in the MLB League.
From an early age, he showed signs of excellent quality. Accordingly, he has fulfilled the expectations establishing himself as a versatile player.
Likewise, he has a powerful right hand and the physiques required to execute powerful pitches. Despite the setbacks, he has had an inspiring journey to the top.
Throughout his career, he signed with various teams. But his most notable serving was with Milwaukee Brewers.
In this article, you will find more information regarding the player. So, let's dig deeper into Phil Bickford's early life, height, weight, and other information.
Also, here are some quick facts about the player before we head any further into the details.
Quick Facts
Name
Phil Bickford
Birthname
Phillip Roger Bickford
Nickname
"Phil"
Birthdate
July 10, 1995
Birthplace
Ventura, California
Age
28 years old
Zodiac sign
Cancer
Chinese Zodiac
Pig
Nationality
American
Body type
Athletic
Hair color
Brown
Skin
Fair
Height
6'4″/1.93 m
Weight
200 lb/90 kg
Education
Oaks Christian School (High School)
California State University
College of Southern Nevada
Profession
Baseball Player
Specialization
Pitcher
Throwing
Right
Batting
Right
First Draft
2015, San Francisco Giants, Round: 1, Overall Pick: 18
Career History

San Francisco Giants (2015)
Milwaukee Brewers (2016)

Highest League
Major League Baseball
MLB Debut
2020
Parents
David Bickford
Barbara Bickford
Siblings
Five (Four sisters & One brother)
Relationship status
Single
Social Media
Twitter
Gender
Male
Hobbies
Television & Radio Shows
Net Worth
$1 Million – $5 Million
Merch
LA Dodgers Jersey, LA Dodgers Baseball
Last Update
November, 2023
Phil Bickford | Early Life and Background
On July 10, 1995, Phil Bickford was born in Ventura, California, in the United States of America. He was grown and brought up in the same coastal town.
Phil was born to David and Barbara Bickford in a family of five siblings. He has one brother named Robert and four sisters: Tiffany, Sarah, Monique, and Sandra.
So, he had a fun childhood growing up around a big family.
However, there is not much to talk about the personal lives of his parents and brothers. Also, his source of inspiration and passion for picking up baseball isn't clear.
But Phil picked up baseball when he went to Oaks Christian School. It was located near his hometown in Westlake Village, California.
Learn more about Devon Cajuste, a star tight end who retired early in his career. Devon Cajuste Bio: Father, NFL, Girlfriend & Net Worth >>
Education
Before moving on, he had to hit a target low and away ten times. This was his way of practice at the beginning.
Consequently, before his junior year, Bickford noticed an improvement in his fastball.
After taking three months off after the Area Code Games, he was committed to Cal State Fullerton. He developed his skills further during his time here.
There was a time when more than 25 professional scouts would surround the practice. They would be eager to see senior right-hander Phil Bickford warm up.
Hence, it was clear Phil was a huge prospect from an early age. The Pitcher would later go on to play in Major League Baseball.
Phil Bickford | Professional Career
Rise to the top: High School and MLB Draft
Bickford's amateur start can be traced back to his high school. He was coached by Tim Penprase for four years on the varsity team during his time here.
Furthermore, he led the Lions to the CIF Southern Section Division IV championship. Phil and his team recorded an 18-strikeout effort in a 4-0 shutout of El Rancho High School in 2013.
In 2012, Bickford was a Milwaukee Brewers Area Code Team member as a junior at Oaks Christian. He finished the year with a 2.42 ERA, an 8-3 record, seven complete games, one shutout, and two saves.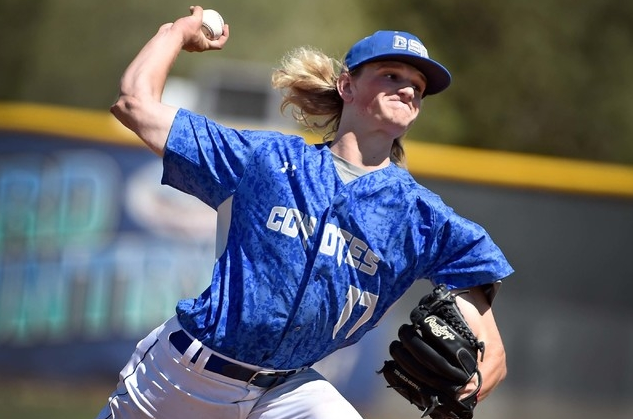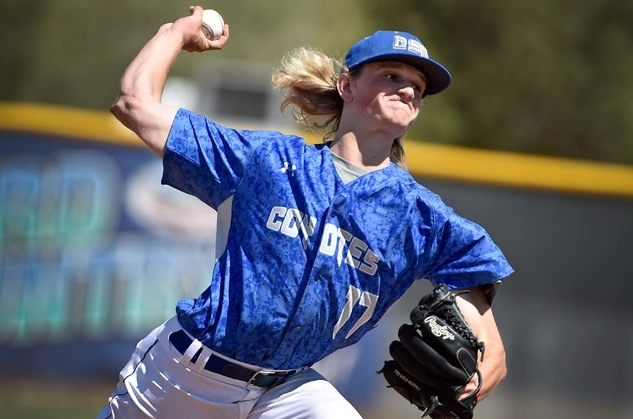 Similarly, in 72 and 1/3 innings, he struck out 107 batters and kept opponents to a .201 average. Hence, Phil was named the Tri-Valley League Most Valuable Pitcher.
During his time, Phil Bickford was considered a top pick already as an amateur player. As a result, his baseball career took off from the 2013 Major League Baseball Draft.
Despite being the 10th overall selection, Phil could not reach an agreement with the Toronto Blue Jays. Consequently, he did not sign the contract with them.
Rise to the top: Freshman Year
For his freshman year, he enrolled at California State University, Fullerton. Without delays, he was part of a freshman season in 2014.
He appeared in five games in conference play and started posting a 2-1 record and a 2.20 ERA. In 16 and 1/3 innings, he struck out 11 batters.
On March 2, he earned his first career win in a relief appearance at No. 9 Oregon, allowing just two hits while striking out seven batters, including six in a row.
On March 29, he set a career-high with nine strikeouts against Wichita State.
Final steps towards Professional scene
After his successful freshman year, he played collegiate summer baseball. He was a regular for the Yarmouth–Dennis Red Sox of the Cape Cod Baseball League.
He posted a 1.63 earned run average with 44 strikeouts over 27.2 innings pitched. Consequently, he helped lead the Red Sox to the league championship.
Hence, he was named the league's Outstanding Pro Prospect. Also, he started planning for the next draft.
Accordingly, he moved to the College of Southern Nevada before his junior year. His primary motive was to be eligible for the 2015 draft.
The San Francisco Giants picked him with the 18th overall selection in that draft. Therefore, this marked the beginning of his professional career.
An engaging career
Bickford signed with the Giants for $2,333,800. He was assigned to the AZL Giants, where he pitched the entire season, going 0-1 with a 2.01 ERA in ten starts.
Additionally, in June, he was promoted to the San Jose Giants. However, he had started the 2016 season with the Augusta GreenJackets.
The dawn of the new season was packed with trades and transfers. Will Smith, a reliever for the Brewers, would cost the Giants many money.
But Smith was a significant target for the Giants. On August 1, 2016, the Giants traded Bickford and Andrew Susac to the Milwaukee Brewers.
Accordingly, Milwaukee assigned him to the Brevard County Manatees, where he finished the season.
Similarly, he struck out 135 batters in 120 combined innings between the three clubs. Hence, he was quickly recognized as a prospect in the baseball scene.
Achieving the MLB Dream
Owing to a 50-game suspension for drug abuse and a fractured wrist, Phil only pitched 17 innings in 2017. He was with the AZL Brewers during this time.
This setback was harsh, but he learned from his mistakes. As a result, Phil secured a dominant comeback in the year of return.
Phil was drafted 18th overall by the Giants in 2018. He quickly rose to become a top 50 prospect, though he was yet to pitch above Single-A.
Consequently, Bickford was called up to the major leagues for the first time on September 1, 2020. He made his MLB debut that night.
Los Angeles Dodgers
Bickford joined the Los Angeles Dodgers on May 3, 2021. While playing with the Dodgers, he recorded his first career MLB win against the Colorado Rockies.
Likewise, he pitched in three games in each of the 2021 NLDS and 2021 NLCS, allowing four hits but no runs in six total innings.
You might be interested in Top 16 Most Popular Sports in the World >>
Phil Bickford | Failed Drug Test
Phil had completed the 2016 season with "Brewers' Class A Advanced Brevard County Club." According to MLBPipeline.com, Bickford was the 12th best right-handed pitching prospect.
But controversy surrounded him after he was found using drugs. It seemed he was guilty as investigations followed.
However, this wasn't the first time he failed a drug test. Bickford had tested positive before the 2015 draft too.
Since failure to pass a drug test in Major League Baseball has serious consequences, he was handed a fifty-game suspension for this breach.
Furthermore, authorities warned him of suspension if he failed another one for the entire season. Consequently, repeated failed tests could also mean rules imposing him a lifetime ban.
He was with Milwaukee Brewers during this time. His suspension saddened the team. However, they endorsed the verdicts of the Baseball Drug Prevention and Testing Program.
Nonetheless, Phil recognizes that he did not follow the required guidelines. All his friends and colleagues are confident that he will learn from it.
You can check the MLB stats and career highlights on the Foxsports site.
Phil Bickford | Career Stats
Furthermore, you can check Phil's college stats and game log in Basketball.Reference site and ESPN site, respectively.
Is Phil Bickford Married? | Know About His Marital Status
According to several sources, Phil is not married or is in a relationship with anyone. Despite having a calm personality, it is hard to believe that the athlete is single.
As a rising star, Phil still has a bright baseball future. But, as a result, he might be concentrating on his job rather than putting effort into love or marriage.
Besides, Bickford loves to spend quality time with his colleagues and play games on his PS4.
Phil has kept a clear separation between his professional and personal lives. As a result, unlike his professional career, little is known about his personal life.
Phil Bickford | Age, Height, and Personality
Phil Bickford is an MLB athlete, and he has a body to prove it. He has a muscular body with remarkable flexibility and strength in his hands.
When writing this article, Phil is currently 28 years of age. He still looks fresh and fit enough to compete in the MLB scene.
Moreover, the athlete weighs around 200 lb (90 kg) and stands at an astonishing height of 6'4″ (1.93 m).
Additionally, he is a right-handed thrower and batter. Hence, he dedicates himself to exercises that enhance his attributes in these areas.
From his pictures, it is clear that Phil has kept himself fit per the professional league's standards. However, his exact body measurements are unknown.
Bickford's engaging personality is another remarkable character. He is well-liked by both teammates and rivals.
He credits these valuable life lessons to his parents, which he hopes to remember.
Phil Bickford | What are his hobbies?
When Phil is away from baseball, he loves to enjoy various leisure activities. Since he grew up with five siblings, he's always had an added dimension for hobbies.
Firstly, he considers himself a computer gamer. Hence, he loves playing games on the PS4 gifted by his mother for Christmas.
Additionally, Bickford also identifies as a foodie. He enjoys going out to eat if he is not cooking by himself.
Furthermore, he likes spending time with his teammates after practice. He enjoys getting to know them outside of baseball as close friends.
Similarly, he has appreciated various television and radio shows since his childhood. Phil recalls binge-watching the first three seasons of Breaking Bad.
Other favorite includes House of Cards, Family Guy, and Parks and Recreation. He is a huge enjoyer of the film industry in general.
Phil Bickford | Net Worth & Earnings
Phil Bickford accounts for much of his net worth as a professional baseball player. Despite debuting a year back, he has signed with various teams over the process.
Phil signed with the Giants for $2,333,800 in 2015. This figure gives a rough estimate of his earnings throughout with different teams.
Similarly, his biggest portfolio signing would be his NFL Debut with Milwaukee Brewers. Therefore, we can assume that Phil could accumulate a lot of earnings during his time here.
However, Phil Bickford's expenditures are not well-documented. Accordingly, it's a rough estimate and could range between $1million and $5million.
Phil Bickford | Social Media
Twitter: 143 Followers
You might check: Top 10 Best Baseball Players of All Time >>
Queries on Phil Bickford
What jersey number does he wear for Milwaukee Brewers?
Phil Bickford is seen wearing the Milwaukee Brewers – No. 32 for the team.
Did Phil Bickford have children?
No, he does not have any children since he is not married or in a relationship with anyone.
What happened to Phil Bickford?
Bickford suffered from arm soreness right before the opening of the spring training camp. Dodgers manager Dave Roberts spoke regarding the news that he will not be ready to join the camp after the injury.