In the professional world of WWE, the pro wrestlers' costumes make the wrestler's character. The pro wrestler persona has always been over-the-top and larger than life.
The costumes add to their persona and add up to their unique personality. We have seen wrestlers wearing flashy, colorful costumes to some very wild prints.
Meanwhile, some of the costumes worn by the wrestlers have dark gothic looks and some downright bizarre ones. Throughout pro wrestling history, we have seen plenty of terrific costumes.
These over-the-top costumes have also inspired pro wrestling fans for Halloween costumes. And it is not just the kids who get the kick out of this. Therefore, today we bring you some terrific pro wrestlers' costumes.
Let us look at some of the most iconic pro wrestlers' costumes without delay.
12 Terrific Pro Wrestlers Costumes
The list has been prepared from some of the trusted sources around the internet, like Bleachrreport.
Before diving into the details of the lists, let us take a quick peek at the take below.
| | |
| --- | --- |
| Wrestler | Career |
| 12. The Boogeyman | 2005 – present |
| 11. John Cena | 1999 – present |
| 10. Bret "Hitman" Hart | 1970 – 2010 |
| 9. Sgt. Slaughter | 1972 – 2014 |
| 8. Rowdy Roddy Piper | 1969 – 2011 |
| 7. The Undertaker | 1987 – present |
| 6. Ultimate Warrior | 1985 – 1998 |
| 5. Goldust | 1988 – present |
| 4. Ricky "The Dragon" Steamboat | 1976 – 1988 |
| 3. Hulk Hogan | 1977 – 2012 |
| 2. Macho Man Randy Savage | 1973 – 2004 |
| 1. Ric Flair | 1972 – 2012 |
12. The Boogeyman
Let us start our list of terrific pro wrestlers' costumes with one of the weirdest looks in pro wrestling history. No one can pull off a demonic look with a fake heart around their neck like The Boogeyman.
With his iconic red and black face paint, a clock, and a stick as a prop, The Boogeyman is one of the iconic pro wrestlers. His real name is Martin Wright; his dark gimmick further evolved into a monster face.
Although retired as a professional wrestler, The Boogeyman is currently signed under the WWE legends contract. His costume would make one of the terrific costumes for Halloween and costume parties.
Click here to read about Lisa Guerrero's Bio: Early Life, Career, Net Worth & College.
11. John Cena
The champ is here! Next on our list is the champ himself, John Cena. He made his debut in professional wrestling in 1999 while his unofficial debut for WWE on a SmackDown in 2000.
Cena gimmicks a white rapper embracing the hip-hop culture. He wore a jersey, backward hats, and a chain with a padlock around his neck when he first debuted.
His costume evolved to reflect the current fashion but styling within the hip-hop culture. Then after his movie "The Marine" was released, Cena's styling became more military-related with camouflage shorts, dog tags, a marine soldier caps, and his WWE-produced shirt.
Cena's costume is one of the iconic costumes in WWE. His t-shirt with his trademark lines like "You Can't See Me," "Never Give Up," and "Cenation" is popular mainly among the young audience.
When it comes to terrific costumes of pro wrestling, you cannot unsee John Cena's costume.
10. Bret "Hitman" Hart
Bret "Hitman" Hart is a second-generation wrestler who has been credited with changing the perception of mainstream North-American professional wrestling. He is regarded as one of the greatest wrestlers of all time.
Aside from his technical in-ring performance, Hart made pink a masculine color. During the 1980s and 90s, the pro wrestlers had a macho image. Hart paired pink tights with sunglasses and leather jackets, making them look cool.
Hart's shade of pink became his signature color during his entire career. The tag team's tie as The Hart Foundation was nicknamed "The Pink and Black Attack."
Additionally, the shades that Hart paired with his attires were also iconic. Every kid who sat at the ringside wanted to be the ones Hart would put his shades on before his match.
His overall style gave a fashionable vibe not just at that time but even today. It is one of the iconic looks in the history of pro wrestling.
Hart's fashionably terrific costume of his signature pink shade will always be "The best there is, the best there was, and the best there ever will be."
9. Sgt. Slaughter
Sgt. Slaughter never served in the military, nor was he a drill sergeant. But he put on a compelling gimmick that made people question if he wasn't one. His gimmick was a former U.S. Marine who fought in the Vietnam War.
However, Sgt. Slaughter's gimmick did cause quite a controversy at times. But his Vietnam War-era military combat costume that he paired with dark sunglasses and a campaign hat was iconic.
His military outfit gave the audience the impression of the good guy, and he did play that role very well. St. Slaughter's military costume was also his staple costume in his entire career in WWE.
His character and costume were so iconic that in the 1980s, an alternate version of the Sgt. Slaughter's character was incorporated into the G.I. Joe: A Real American Hero toy line. The alternate version was also included in its animated series and comic books.
Sgt. Slaughter is currently signed to WWE in the ambassador program. However, the audience will never forget him for his gimmick and terrific costume choice.
Click here to read about Matt Ryan's Net Worth: Lifestyle, Charity, Endorsement & Jets.
8. Rowdy Roddy Piper
Rowdy Roddy Piper is our eighth rank of the terrific pro wrestlers costume. Although he was a Canadian, his heritage traces back to Scotland.
That is where his signature costumes come from. His outfit consists of his signature kilt and a bagpipe entrance pipe. Piper's signature look is his homage to his Scottish heritage.
Although his opponents often mock it as a skirt, Roddy proudly showed his costume. He earned "Rowdy" and "Hot Rod" nicknames for displaying his trademark Scottish temper and quick wit.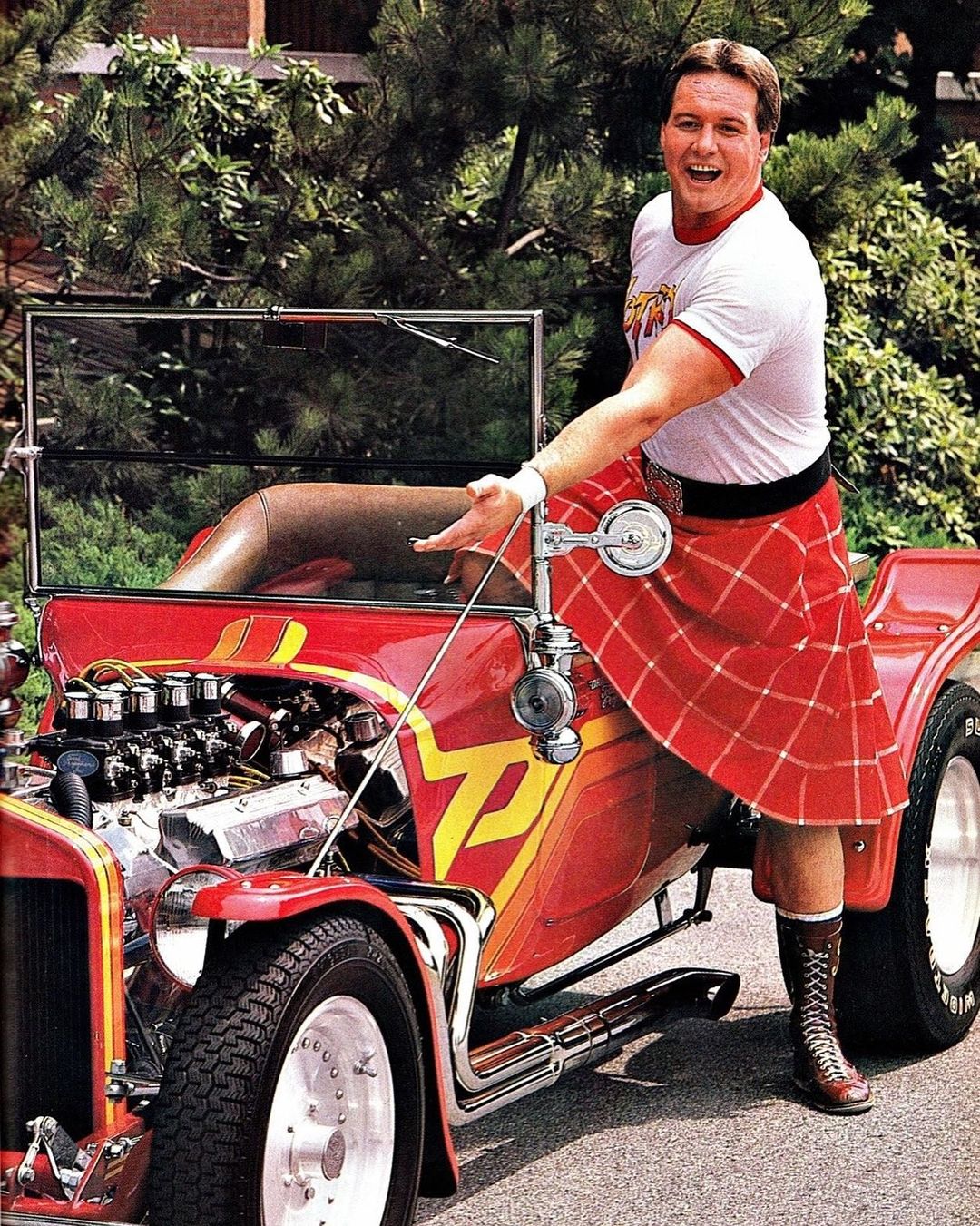 Considered the most gifted entertainer in pro wrestling history, Roddy passed away at 61 on July 31, 2015.
Remembered to be one of the most outstanding and most bombastic performers in WWE, Roddy's signature kilt costume is one of the terrific pro wrestlers' costumes.
7. The Undertaker
When it comes to rocking the gothic, tough guy, American badass biker costumes in the pro wrestling, no one could do it better than The Deadman, The Undertaker.
The Undertaker is famous for his horror, macabre gimmick. His outlandish and freakish trick is notable, along with his chilling theatrical entrances, casket matches, and almost supernatural persona.
During the 2000s, The Undertaker incorporated an all-American badass biker gimmick complete with a Harley motorcycle he rode to the ring.
Since the gimmick was more accurate to his authentic self, he transitioned into a biker persona for a few years. At that period, he rocked leather jackets, completing the look with a bandana and shades.
Then in 2004, he again resurrected his horror gimmick as a Deadman. The Undertaker's dark, macabre, funerary costumes have been his signature look throughout the rest of his career in pro wrestling.
However, in 2020 WrestleMania 36, The Undertaker returned to his biker character when he rode a motorcycle in a Boneyard Match.
6. Ultimate Warrior
Next on our list is one of the legends of pro wrestling, The Ultimate Warrior.
His entire gimmick screamed energy, and his distinctive face paint design and colorful knee pads match his overall character. Similarly, he wore colorful tassels around his biceps and legs to add more to his persona.
The tassels and his long hair blew during the match whenever Warrior made his customary sprint to the ring. His colorful kneepad and blowing tassels all added up to the visual.
Warrior made a massive impact in the WWE. He is one of the most recognizable wrestlers who could draw power from the "WWE Universe." Warrior is one of the greatest legends of his era.
Sadly, Warrior passed away at 54 on April 8, 2014. But, like his energy inside the ring, his visually appealing costume is something the fans will remember forever.
5. Goldust
We have another pro wrestler with a bizarre costume on our list. Goldust is one of the flashy and the name-suggested golden wrestlers in pro wrestling history.
Born Dustin Patrick Runnels, the son of the WWE Hall of Famer Dusty Rhodes. His gimmick as a Goldust is one of the confusing ones in WWE. He presents himself as an androgynous character with a love for gold color.
Goldust's signature look includes painting his face with gold and black paint. Similarly, he wears a gold and black bodysuit and a platinum wig. His every costume is colored gold, which matches his gimmick name.
After Goldust embraced his character, he started mimicking fellow wrestlers with surfaces like Chynadust, Dust Lovedust, Dustydust, Marilyn Mansondust, etc.
Goldust is on our fifth rank of terrific pro wrestlers with his golden persona and all gold and black costumes.
Click here to read about All About Hall of Fame Swimmer Jenny Thompson!
4. Ricky "The Dragon" Steamboat
What could we expect from someone named Ricky "The Dragon" Steamboat? A flashy gimmick with equally dazzling human-dragon costumes, of course. Terrific is just the word for Ricky's choice of outfits.
When Ricky first made his debut, he had jacket-and-trunks attire which was later replaced by a keikogi (uniform worn for training in Japanese martial arts) and long tights. His Japanese heritage from his mother's side was crucial for his "Dragon" gimmick.
Steamboat's costume and style evolved throughout his career. However, he kept his nickname "The Dragon" and gimmicked the same throughout his career. However, his costumes got flashier with wings and tails with time.
Ricky was pretty serious about his "The Dragon" gimmick, and his costume screamed his seriousness all too well. But, of course, there was an occasional fire-breathing show as well.
His flashy winged dragon costumes could be one of the inspirations for your next Halloween outfit.
3. Hulk Hogan
Hulk Hogan is a wrestling superstar and is one of the most popular wrestlers in pro wrestling. When he first debuted, he had that persona of a heroic all-American.
Red and yellow were Hogan's signature colors, and who could forget his blonde Fu Manchu mustache. His facial hair was the best part of his gimmick. That was until he decided to go through a career renaissance.
After the renaissance era, Hogan adopted the villainous persona of "Hollywood" Hulk Hogan. The only thing that did not change with his look was his mustache, but he did dye the rest of his beard black.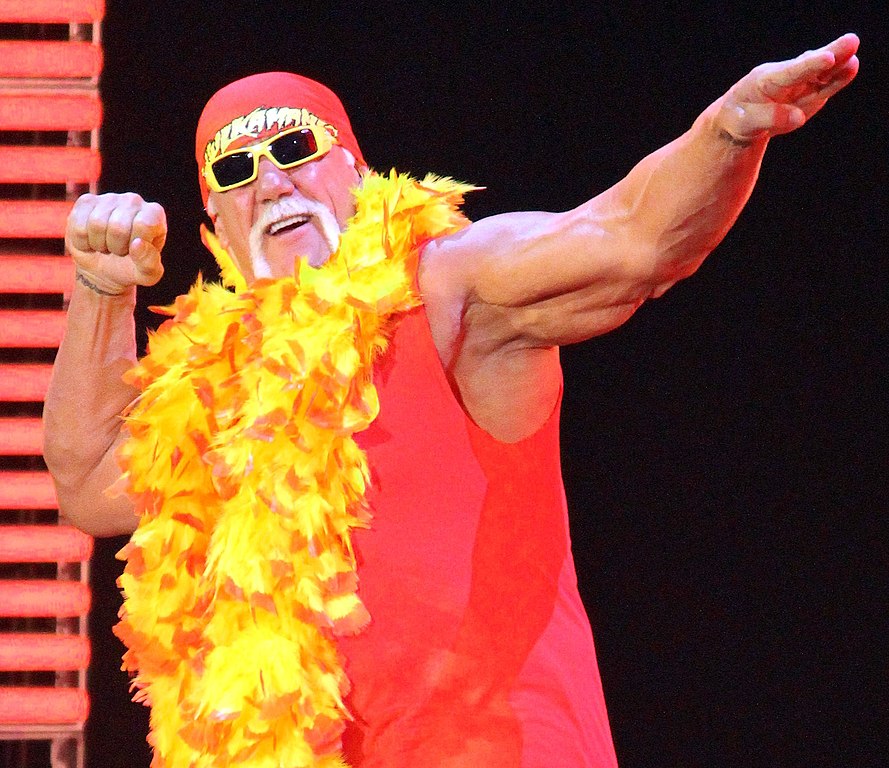 Hulk's signature red and yellow colors were replaced by black and white. His transformation into looking like a bad guy was very also very successful. Hogan performed his gimmick to the T.
Hulk Hogan's signature yellow and red costume look is still considered iconic in pro wrestling. Additionally, with his larger-than-life persona and costume to match, Hogan's outfit is one of the terrific costumes in pro wrestling.
2. Macho Man Randy Savage
Regarding some of the striking looks in pro wrestling history, no one can beat the Macho man, Randy Savage. Considered one of the greatest pro wrestlers, Randy put on one of the best flashy gimmicks.
Randy's over-the-top persona, distinctively deep and raspy voice, and "Pomp and Circumstance" entrance music are all too recognizable by the wrestling fans.
His flashy attire and the intensity he exhibited inside and outside the ring made him fans all-time favorite. Not only that, but Randy's attire also made him a fixture in the 1980s and '90s pop culture.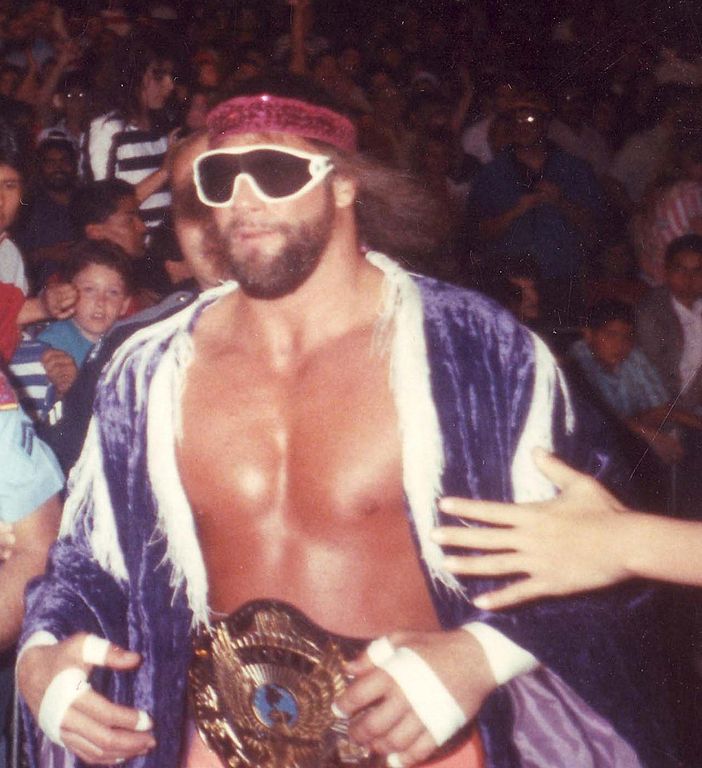 The Macho man wore the most colorful costumes he paired with sunglasses and similar colorful headbands. Indeed living up to his name, he made the animal prints look macho.
Randy kept his gimmick as a striking style wrestler staple throughout his career in pro wrestling. Unfortunately, this legend passed away on May 20, 2011, at just 58.
Click here to read Glenn Gronkowski's Bio: Early Life, Net Worth, Team & Career.
1. Ric Flair
We are at the end of our list of the terrific costumes in pro wrestling. We will be closing off our list with Ric Flair, the "Nature Boy." There could be no better pro wrestler than Flair regarding terrific pro wrestlers costumes.
Flair is one of the greatest professional wrestlers and had a career span of almost 40 years. In addition, his flashy and stylish robes made him one of the most elegant pro wrestlers in the industry.
Aside from his gimmick as the "Nature Boy," his signature platinum hair and stylish robes remained his staple look in his entire career as a pro wrestler. Flair even became a part of hip-hop culture.
One of his famous sayings was his classic promo where he described himself as a "limousine-ridin', jet-flyin,' kiss stealin', wheelin' dealin', son-of-a-gun." And who can forget his signature "Wooo!"
The chant has been used throughout pop culture. Many rappers have paid Flair homage by name-dropping in songs like Offset's "Ric Flair Drip" and Killer Mike's "Ric Flair."
Ric Flair ranked first on the 101 greatest wrestlers of the all-time list published by Sports Illustrated.
Conclusion
These pro wrestlers took on a gimmick and played their part to perfection. The costumes added to their larger-than-life, over-the-top persona.
So if you are a pro wrestling fan and having a costume party or running out of ideas for Halloween costumes, why not try these terrific pro wrestlers' costumes?