Glenn Gronkowski is a former professional football player who played in the National Football League (NFL).
He is the winner of Super Bowl LI with the New England Patriots.
Moreover, the footballer is famous as the brother of an NFL player Rob Gronkowski, former NFL players Dan and Chris Gronkowski, and Minor League Baseball player Gordie Gronkowski Jr.
Furthermore, Gordon Gronkowski Sr., is also a former football player.
He played high school football for West Seneca West and college football at Syracuse University.
Despite having offers from the Canadian Football League, he didn't pursue a football career.
Instead, he opened a G&G fitness equipment store with his brother, still up and running.
Besides the football world, Glenn is very well known in the business world, having a Business Administration and Management degree.
Almost all of his brothers help out on their father's high-end business that has expanded to many states.
Like his father, he, including his brothers, is also into businesses like Gronk Fitness, Ice Shaker, Herd Chew, etc.
Glenn served as a fullback for the Buffalo Bills and the New England Patriots.
Although the youngest Gronkowski brother is no longer playing in the NFL, he is still very much attached to the sports world.
Before getting into details about the NFL footballer's life, here are some quick facts about him.
Quick Facts
| | |
| --- | --- |
| Full Name | Glenn Thomas Gronkowski |
| Birth Date | March 25, 1993 |
| Birth Place | Buffalo, New York |
| Nick Name | Goose |
| Religion | Christian |
| Nationality | American |
| Ethnicity | White |
| Education | Kansas State University |
| Horoscope | Aries |
| Father's Name | Gordon Gronkowski |
| Mother's Name | Diane Walters |
| Siblings | Four Brothers; Gordie, Dan, Rob, Chris |
| Age | 30 Years Old |
| Height | 6 feet 3 inches |
| Weight | 234 lbs (106 kgs) |
| Hair Color | Black |
| Eye Color | Green |
| Build | Athletic |
| Profession | NFL Player |
| Former Team | New England Patriots |
| Position | Fullback |
| Active Years | 2016-2017 |
| Marital Status | Unmarried |
| Wife/Girlfriend | None |
| Kids | None |
| Net Worth | Between $500,000 – $1 million |
| Social Media | Instagram, Twitter |
| New England Patriots' Merch | Books, Jersey & Poster |
| Last Update | March, 2023 |
Glenn Gronkowski | Early Life, Family, and Education
Glenn Gronkowski was born in Buffalo, New York, the United States, to Gordon Gronkowski and Diane Walters.
The pair were married for a long time before getting divorced in 2008. Nevertheless, they maintain a cordial relationship for the sake of their children.
Both of them are very close to all of their sons.
Gordon owns a fitness equipment store, G&G Fitness, that he opened in the 90s with his brother Glenn.
Even now, the business is a huge success and has expanded to many states. Diane Walters resides in Fort Myers, Florida, as of now.
Her fourth son, Rob, is quarantining with her.
Rob recently revealed his mother to be one of the main reasons for retiring and joining the Tampa Bay Buccaneers.
He shared how she lives two hours away and can attend most of his games. Glenn is the youngest son of the Gronkowski brother clan.
He grew up in an athletic environment and was naturally pushed towards the sports world.
As a young kid, he played basketball and football.
Nevertheless, he was more interested in football and played high-school football at Williamsville North High School and college-level football at Kansas State University.
He graduated from college with a bachelors' degree in Marketing and Business Administration, and Management.
Gronkowski Brothers
Named after his father, Gordon, Gordie is the oldest of the Gronk brothers. As a kid, he used to play golf, basketball, and baseball in high school.
After that, he attended Jacksonville University, where he played collegiate-level baseball.
After his graduation, the oldest son was drafted into the Minor League Baseball, playing for six years before retiring.
As of now, Gronk Jr. is into family businesses with his brothers and father.
You Might Be Interested In Former MLB Player, Sammy Sosa Bio: Wife, Net worth, Kids, Skin Tone Wiki.
Dan Gronkowski
Dan is the second oldest Gronk brother.
Furthermore, he is a former NFL player who served as a tight-end for well-known teams like Detroit Lions, Denver Broncos, New England Patriots, and Cleveland Browns.
He played from 2009 until 2012, when the Browns waived him.
Besides that, he has a bachelor's degree in Marketing and a master's degree in Business and Administration. Like his older brother, Dan is also into the family business.
Moreover, he is the founder of Herd Chew, aiming to replace tobacco in locker rooms and sports fields.
Chris Gronkowski
Chris is the third child of Gordon Sr. and Diane. Like his older brother, he is a former NFL player.
Growing up in an athletic family, he was influenced and encouraged to pursue a career in sports.
The middle child played for teams like Dallas Cowboys, Indianapolis Colts, Denver Broncos, and San Diego Chargers.
Moreover, Chris is famous for his Ice Shaker idea that he pitched in an episode of Shark Tank's business reality television series.
Mark Cuban and Alex Rodriguez invested in the idea, and now the company has over 3 million sales. Besides that, he is involved in others.
Rob Gronkowski
Rob is the fourth Gronkowski of the Gronk clan. Currently, he serves as a tight end for NFL team Tampa Bay Buccaneers.
He is the most successful NFL player among the four NFL brothers and is a three-time Super Bowl Champion.
Initially, he retired after his career with the New England Patriots, but in 2020 he came out of retirement to play for Tampa.
In college, the fourth child was a pre-business major. But, like his brothers, he is involved in family businesses and has invested, promoted, co-owned, and co-founded some of them.
Check Outer NFL Player, Reggie Wayne Age, College, Stats, Hall of Fame, Patriots, Miami, Contract, Net Worth, Wife.
Glenn Gronkowski | Age, Height, and Weight
The footballer is in his 20s and recently turned 30 on March 25, 2023. Being an athlete, he prioritizes his fitness and health.
Gronkowski weighs around 234 lbs, approximately 106 kgs, and is 6 feet 3 inches tall.
Professional and Business Career
School and College Career
Goose played high-school football for Williamsville North High School. He was a good athlete overall and shined in his senior year.
The footballer made 53 catches, 762 yards, 11 touchdowns and was honored with Section VI Class AA North Co-Offensive Player of the Year.
After that, he attended Kansas University to play collegiate-level football.
He was a First-team Academic All-Big 12 selection, First-team Academic All-District 7, and First-team Academic All-Big 12.
He became the first player with the Kansas State team who wasn't a quarterback to throw a touchdown pass since Daniel Thomas in 2010.
Goose had a pretty exceptional career with the Wildcats and appeared in all 13 games during his college career.
NFL Career
After college graduation, Glenn failed to get drafted into the 2016 NFL draft. So, being an undrafted free agent, he signed a deal with the Buffalo Bills. He assisted them in the 2016 season by playing only one game.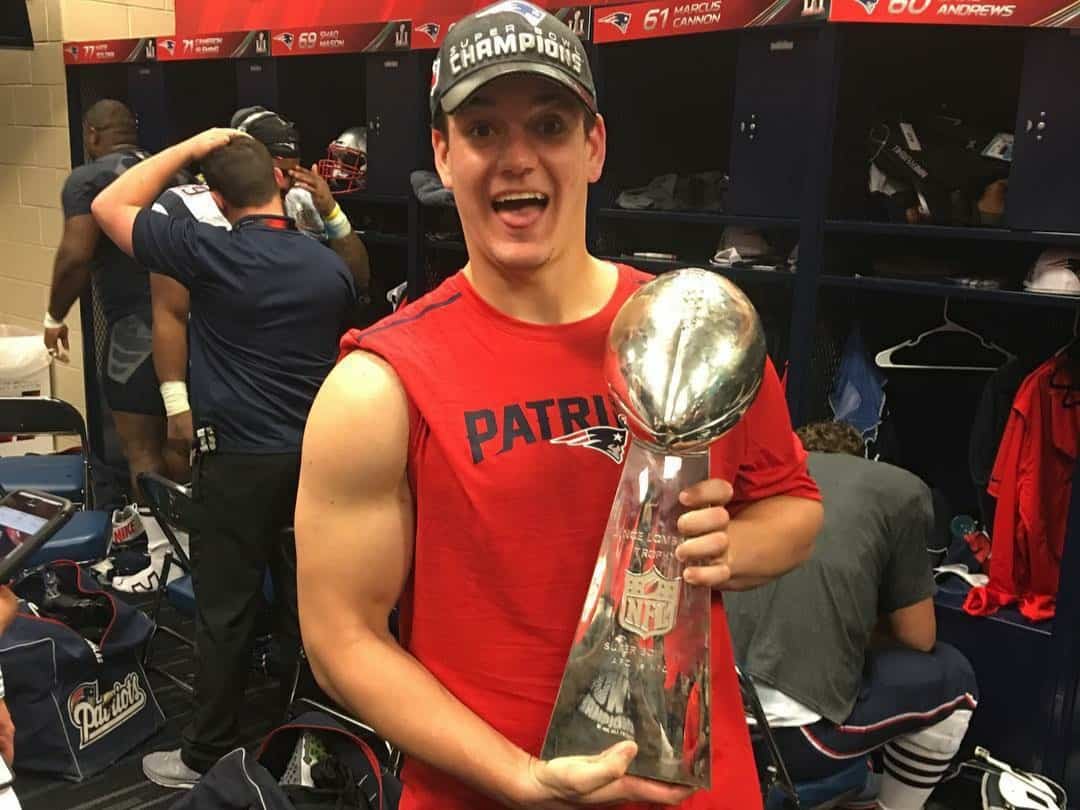 Then, he was taken in by the New England Patriots in their practice roster. However, he was released less than two weeks later.
Nevertheless, the New Yorker was re-signed and released a few times before he was finally re-signed again on December 2, 2016.
He won Super Bowl LI the same year, with the Patriots defeating the Atlanta Falcons.
Although the Patriots signed the youngest Gronkowski brother for the 2017 season, he was later waived.
Learn More About Former Buffalo Bills Player Cam Newton Bio: Age, Career, Social Media, Net Worth.
Business and Other Career
At this instant, Goose is working as a Director of Business Development for Complex Sports and Entertainment.
Moreover, he serves as a Marketing Manager for The Cut company, which helps create brand partnerships with high-profile athletes.
The footballer is also the co-owner of Stadium Blitz with his brothers and sales executive for Chris' Ice Shaker brand.
Furthermore, the youngest Gronkowski is involved in family businesses with his brothers and fathers.
The family owns multiple businesses and is very well-known for it.
Some of their company and brands are Gronk Fitness, G&G Fitness, Herd Chew, GronkNation.com, The Official Gronk Bus, Gronk Bros Show, etc.
You can check the Draft Profile and career stats of Glenn here.
Rob's Reaction to Glenn Joining Bills
Glenn Gronkowski, a fullback from Kansas State and brother to Patriots tight end Rob Gronkowski, came to the Bills as an undrafted free agency.
Not only does that make Glenn the fourth brother in the Gronkowski family to sign with an NFL team, but it also means that the 23-year-old Buffalo, New York, but native also gets to stay close to home.
True to his social form, Rob tweeted his reaction shortly after that in the Gronkiest way possible, congratulating his younger sibling.
For making it to the bigs, staying close to home, and doling out some big brotherly wisdom … before concluding with a shoutout to his own team.
The 6-foot-2 and 239-pound Glenn Gronkowski had 16 rushes for 51 yards and a touchdown in three seasons at Kansas State.
Glenn Gronkowski | Relationship and Kids
The footballer is relatively private about his personal life. Although he was linked to a former model, the pair never confirmed their relationship.
Nevertheless, he is not seeing anyone and is assumed to be single.
To sum up, Goose is unmarried and willfully single. Furthermore, he does not have any kids.
Net Worth and Salary
Following his fantastic career in the NFL and the business world, he has an impressive amount of wealth. However, the tight end's exact net worth is not estimated.
Nevertheless, the assumption is that Glenn is worth somewhere between $500,000 to $1 million.
But as he is the co-owner of Stadium Blitz, Director of Business for Complex Sports and Entertainment, works for Ice Shaker, and marketing and advertising company The Cut, he is expected to be worth even more.
Besides that, the footballer is also involved in other family businesses such as G&G Fitness, Gronk Fitness, The Official Gronk Bus, etc.
Furthermore, his older brother Rob Gronkowski's net worth is $40 million, and he earns over $9 million in salary.
Apart from that, Gronk also earns from his family businesses, endorsements, appearances, and sponsorships.
Net Worth of Glenn Gronkowski in Different Currencies
Here is the net worth of Glenn Gronkowski in different currencies, including the cryptocurrency and BitCoin.
Currency
Net Worth
Euro
€

441,823

– €

883,645

Pound Sterling
£

376,719

– £

753,438

Australian Dollar
A$

697,156

– A$

1,394,311

Canadian Dollar
C$

636,375

– C$

1,272,750

Indian Rupee
₹

37,858,750

-₹

75,717,500

BitCoin
฿

10

-฿

20
Social Media Presence
Common Queries:
Is Glenn Gronkowski related to Rob Gronkowski?
Yes, Glenn and Rob are related as they are siblings.
Rob is Gordon Sr. and Diane's fourth son, while Glenn is the fifth and youngest son in the Gronkowski family. They were part of the New England Patriot team in 2016 that won the Super Bowl.
What team is Glenn Gronkowski on?
Glenn Gronkowski is not playing for any team in the NFL after the Patriots waived him in 2016. However, he has previously played for the Buffalo Bills and New England Patriots.
Who is the youngest Gronkowski?
Glenn is the youngest Gronkowski, son, and brother. He was born on March 25, 1993, and is 30 years old as of 2023. All of his older brothers are in their 30s now.