His short name, Kawhi Leonard, also know as Kawhi Anthony Leonard. He was born on June 29, 1991. He was also an American professional basketball player for the Los Angeles Clippers of the National Basketball Association (NBA). Leonard played the entire two seasons of college basketball for the San Diego State Aztecs. After this tournament, he has named a consensus second-team All-American as a sophomore.
Similarly, he got selected by the Indiana Pacers with the 15th overall pick and later patronized to the San Antonio Spurs. He also won an NBA championship and the Spurs in 2014 and was named the Finals Most Valuable Player. His contract with the Clippers as a free agent was in July 2019.
Likewise, he has been a four-time All-Star with two All-NBA First Team selections whereas Numerous works and achievements made one of the famous players in the history of basketball. You might find the following 86 quotes by Kawhi Leonard inspiring.
"I want the kids to know that it's not a myth that somebody from their city plays and wins in the NBA. I just want to influence them to work hard and do whatever they want to do in life, whether it's to be a basketball player or scientist… if they believe in themselves, they can do anything."― Kawhi Leonard
"I like being the underdog so they don't expect what's going to happen. It pushes me to work harder and do the things I'm not doing better."― Kawhi Leonard
"I just try to play every game like it's Game 7 of the NBA Finals."― Kawhi Leonard
"I'm just here to play basketball and have fun and try to win another championship."― Kawhi Leonard
"I rarely eat breakfast because of our schedule, actually. If I do, though, I'll try to do an egg-white omelet with some bell peppers and mushrooms. Maybe a side of a bunch of different fruits."― Kawhi Leonard
"I'll never try to win an award. I'm out there just playing for my team."― Kawhi Leonard
"My dad leaving my life. That's the biggest thing that happened to me. I just remember what he tells me, the memories, and try to move on forward each day, knowing that he's still here, looking down on me."― Kawhi Leonard
8th of 86 Kawhi Leonard Quotes
"I'm just living in the moment, trying to win every game. That's all I'm focused on."― Kawhi Leonard
"As long as you give your best effort, I feel like that's all you can do."― Kawhi Leonard
"I like the old-school muscle cars."― Kawhi Leonard
"Winning is motivation."― Kawhi Leonard
"That's how I grew up. Just play defense – and make a basket."― Kawhi Leonard
"Not all water is great for you. I drink a lot of water during the day, but I stay away from certain waters because their pH levels are low. Stick to alkaline waters with a higher pH. Trust me."― Kawhi Leonard
"I'm always trying to come down with a win. That's what matters to me and my squad."― Kawhi Leonard
"I just want to keep improving, to keep getting better."― Kawhi Leonard
"I'm just a low-key guy."― Kawhi Leonard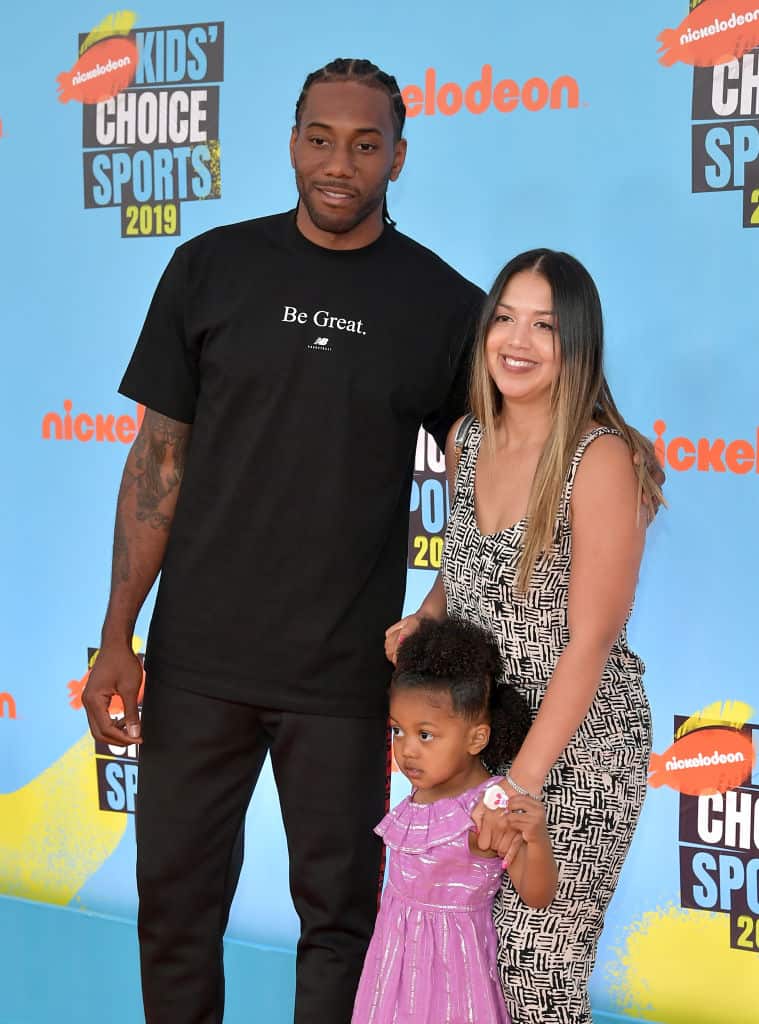 "You just go out there and try to compete and try to make a play for your teammates."― Kawhi Leonard
"I'm just trying to pass Tim Duncan in championships if I can one day. That's my motivation; that's what I strive for. Tim is one of the greatest players who has ever played, so if I could get close or reach that plateau and have my name on that list."― Kawhi Leonard
"I just have to move forward and keep working on my game and getting better."― Kawhi Leonard
"It's just a great feeling, once you have a child."― Kawhi Leonard
"I could have gone to a bigger school. I use it as motivation going to a school that loved me. I wanted to put them on the map and show everyone that you don't need to go to a top school to make it in the NBA."― Kawhi Leonard
"I don't eat the same meal or at the same time every single day. You get tired of that real quick. I just try to make sure whatever I'm eating is fresh and clean and good for my body. That's about it."― Kawhi Leonard
23rd of 86 Kawhi Leonard Quotes
"When I'm away from basketball, I hang out with my friends, chill, and that's about it."― Kawhi Leonard
"I don't like to bring attention to myself. I don't like to make a scene."― Kawhi Leonard
"I look at film, but more than watching individual players, I'm trying to watch a team's whole offensive scheme. I'm trying to know their tendencies so I can… guess. That's what it comes down to, really, making the best guess."― Kawhi Leonard
"I try to come in with a focus to stop my man and win the game. I'm always trying to be ready to catch them off their strides by being physical enough without getting fouls."― Kawhi Leonard
"It's just the game itself that drives me. I just want to be able to compete at a high level."― Kawhi Leonard
"People in the NBA are just as athletic as you. That's the game. You have to have the change of pace. You have to change speeds to get around people."― Kawhi Leonard
"Whoever I'm playing against, I go in and try to stop their best scorer and try to get myself going on the offensive end."― Kawhi Leonard
"I work all summer and throughout the whole season to be prepared for the challenges that I have to face."― Kawhi Leonard
"I don't care about winning an MVP – the MVP doesn't mean you're the best player in the league."― Kawhi Leonard
"I'm just the same guy… I don't need to be a celebrity or a superstar."― Kawhi Leonard
"At the end of the day, we all know what the Jordan logo means, and you can't take anything away from that. But it's pretty cool to have my own logo on a Jordan shoe."― Kawhi Leonard
Top 22 Quotes by Branch Rickey
"I'm just happy that I get the opportunity to do the things on the court that I do in practice."― Kawhi Leonard
"I love the game of basketball, and as long as I can do that, keep playing and try to get some more championships with the organization, I'll be happy."― Kawhi Leonard
"I've always liked home-cooked meals."― Kawhi Leonard
"I definitely don't like to eat a lot before I play. I don't like to play on a full stomach. Sometimes, if I'm feeling hungry before a game, I'll eat one of those protein bars, but that's it."― Kawhi Leonard
38th of 86 Kawhi Leonard Quotes
"I could be on the court for two hours, and it felt like 10 minutes. It made time go by."― Kawhi Leonard
"It's all mental. I just have to worry about my game."― Kawhi Leonard
"My motivation wasn't really to get a $95 million contract, you know?"― Kawhi Leonard
"I'm not out here just for the money. I want to be a great player."― Kawhi Leonard
"You definitely see a difference in some guys' games when they do get paid. I'm trying to make sure I'm not that player."― Kawhi Leonard
"I'm trying to see what way I could lead so when the opportunity comes, it won't just hit me in the face."― Kawhi Leonard
"Oh man, I like Chevys."― Kawhi Leonard
"I'm never trying to break a career high out there."― Kawhi Leonard
"Coming to a team like the Spurs, you're automatically going to learn how to play the game the right way."― Kawhi Leonard
"I'm trying to be one of the greatest players, so whatever level that consists of is where I want to take my game."― Kawhi Leonard
"Everybody in the NBA works on their game. I just tried to follow that lead when I was in high school, college – and now."― Kawhi Leonard
"I'm just happy that people like the way I play."― Kawhi Leonard
"When I was growing up, I didn't have a hometown hero."― Kawhi Leonard
"I played basketball when I was little because it was fun for me. It still is now. I just love it. I have a passion for it."― Kawhi Leonard
"It's how I've been playing my whole life, guarding the best player on the other team."― Kawhi Leonard
"My hands make me a little longer, and that's always a good thing."― Kawhi Leonard
"People always want to compare their hands to mine. Pretty much everywhere I go."― Kawhi Leonard
"Coming in, I wanted to be a great player, and right now at the beginning of my career, I'm showing some slight sunshine that I can be the player I want."― Kawhi Leonard
"The Spurs are a great organization."― Kawhi Leonard
"I know people are going to put the main focus on stopping me, so I need to learn how to make my teammates better by passing and creating opportunities for them."― Kawhi Leonard
"I'm just playing basketball. I just want to be a great player. That's it. That's all I'm thinking about. If the other stuff comes, it comes, but I'm just fortunate to play in the NBA Finals and just to play basketball, period."― Kawhi Leonard
"I want to play against the best, and that's what I'm doing, just going out there and being focused, just competing every possession."― Kawhi Leonard
60th of 86 Kawhi Leonard Quotes
"I was good. I probably could have gone to the NFL. I just hated practice."― Kawhi Leonard
"Playing football helped me a lot. Just reading the quarterback's eyes and reading receivers, figuring out what they want to do."― Kawhi Leonard
"I always wanted to play both ends of the floor. I never wanted to be one-dimensional."― Kawhi Leonard
"Everybody plays back-to-backs."― Kawhi Leonard
"There's nothing to be scared of. We're playing basketball. The only thing that could happen is you failing. But as long as you're going hard, there's nothing to be scared of for me. I don't know what there is to be scared of."― Kawhi Leonard
"I don't watch ESPN, don't listen to the radio. I just go home and deal with my family."― Kawhi Leonard
"Obviously, I like guys that can defend other positions. Draymond Green is doing a great job with Golden State and Jimmy Butler brings it every night when I'm out there."― Kawhi Leonard
"Tony Allen is a good defender, very smart."― Kawhi Leonard
"It was a great feeling to be named an All-Star starter, to know that my hard work is paying off and fans around the world are recognizing that."― Kawhi Leonard
95 famous Quotes by Magic Johnson
"I remember being a teenager and watching 40-year-old Michael Jordan compete in his final All-Star game."― Kawhi Leonard
"My mindset is the same every game."― Kawhi Leonard
"I didn't work out with Kobe. I don't know where that came from. I wish I could have."― Kawhi Leonard
"I can't be impatient. It would show on the floor, and I won't compete if I'm thinking about getting the ball."― Kawhi Leonard
"I'm just going out there to do my role, the same role – defense first – and then see how the ball turns out on the offensive end."― Kawhi Leonard
"It's definitely fun when you're able to translate your practice into the game. It's fun, and you know that your hard work paid off."― Kawhi Leonard
75th of 86 Kawhi Leonard Quotes
"The bigs are there on the help-side if the guy goes by me, and I'm able to switch to other offensive players."― Kawhi Leonard
"I just think repetition and getting the game reps shooting the ball in games really helps, rather than just practicing. You can get game timing."― Kawhi Leonard
"If I get noticed for my individual performance, that's what happens. Other than that, I'm just trying to win the game."― Kawhi Leonard
"If I can get back and win a championship, that's what I'm trying to do."― Kawhi Leonard
"I'm not one of the guys in the league for the fame. I'm here so I can take of my family, my mom, my friends and take care of myself."― Kawhi Leonard
"People would ask what college are you going to, and I'd say, 'San Diego State.' And they'd say, 'Why?'"― Kawhi Leonard
"When I'm on the court, I feel all problems go away."― Kawhi Leonard
"Everything outside doesn't matter when I'm on the court; it's just me and nothing else. Family problems, school, what happened to my father, all the stress goes away."― Kawhi Leonard
"It's an honor to have been considered for the team, and I hope that in the future, I will have the chance to represent my country by playing for U.S.A. Basketball."― Kawhi Leonard
"I believed I could play in the NBA."― Kawhi Leonard
"I've been working hard to be one of the focal points in the NBA, one of the top guys."― Kawhi Leonard
"I've got to learn how to create shots for others."― Kawhi Leonard