The Tampa Bay Rays baseball outfielder Randy Arozarena is a doting father to three kids.
He frequently shares heartwarming moments with his children on Instagram, showcasing his deep love and affection for them.
His posts are filled with pictures that capture the special bond with his kids.
Randy Arozarena was born in Cuba on February 28, 1995, to parents Jesus Arozarena and Sandra Gonzalez.
He was raised with two younger siblings named Ronny and Raiko Arozarena.
Presently, Raiko serves as a goalkeeper for the Tampa Bay Rowdies, while limited information is available regarding his other brother, Ronny.
How Many Kids Does Randy Arozarena Have With Wife Cenelia?
Randy Arozarena is a doting father of three girls, including a stepdaughter from his wife's previous relationship.
He and his wife, Cenelia, have one biological daughter, Alaia Arozarena.
From his previous relationship, Randy has one daughter. In September 2018, he became a father for the first time, but he has never disclosed the identity of his first daughter, Lia Antonella's mother.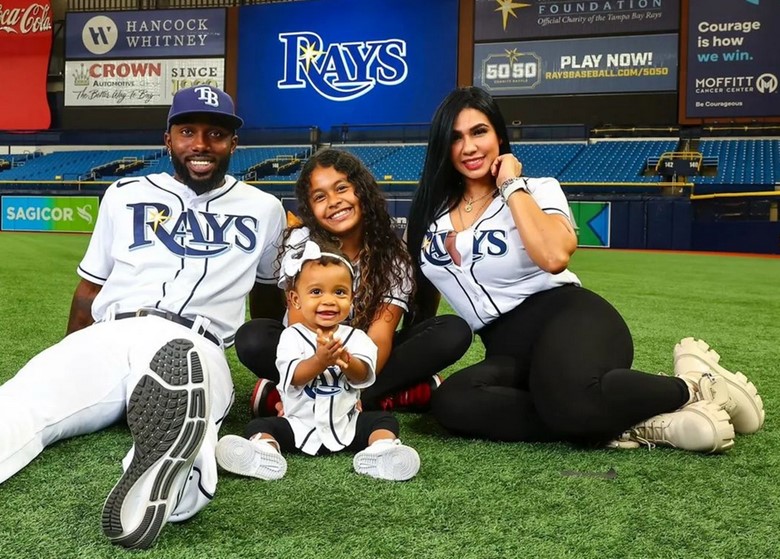 He frequently shares pictures of his daughters, emphasizing his immense love for them.
Randy and Cenelia Arozarena welcomed their first child, Alaia Arozarena, on September 9, 2021.
Randy commemorated the occasion by posting a video of the newborn on his Instagram account.
Wife: Cenelia Pinedo Blanco
Cenelia, who is originally from Colombia, confirmed her relationship with Randy Arozarena on Facebook in February 2020.
Randy Arozarena's wife, Cenelia Pinedo Blanco, attended National Open University in Bogota.
Cenelia was the one who initially revealed their romantic involvement by posting an affectionate picture of herself and Randy on Facebook, accompanied by a heartfelt caption expressing her love for the baseball player.
The couple publicly announced their marriage on November 6, 2020, at Kantoyna Ranch, nine months after making their relationship known.
Cenelia has always been a strong support for her husband and regularly attends his matches.
On March 12, 2023, she shared photos on Facebook of herself and her family members attending various stadiums to show their support for Team Mexico and Randy.
Additionally, Cenelia has shared a few pictures on her Facebook account, revealing that she has a daughter named Luna from a previous relationship.
Both Cenelia and Randy never forget to wish each other birthdays on social media.
On March 2, 2022, Randy posted photos from his birthday celebration, including Luna and Alaia.
On January 24, 2023, Randy posted on Instagram wishing her beloved wife, Cenelia's birthday.