Ray Allen is a retired professional basketball player from the United States. Ray is widely regarded as one of the best three-point shooters.
Moreover, Allen held the record for most three-pointers in a career until Stephen Curry broke it in 2021.
Likewise, the player has a long record of individual honors. Critics appreciated Allen's portrayal as Shuttlesworth, and the nickname was adopted as Allen's basketball nickname.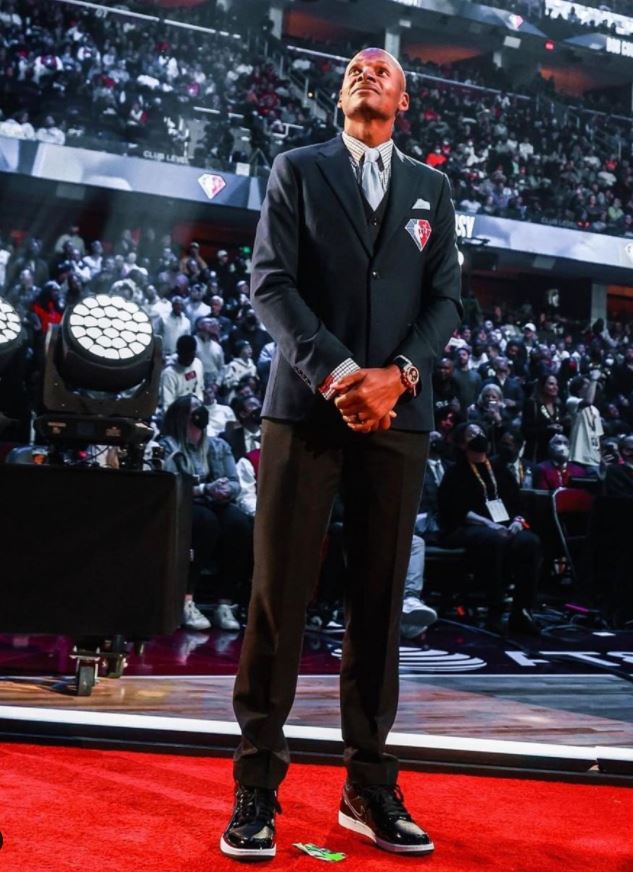 Today, we've compiled everything of Allen's information, including his NBA career, retirement, real estate, net worth, and more.
Please read the article all the way through. Firstly, let's start with some basic information on the player.
Quick Facts
Full Name
Walter Ray Allen Jr.
Birth Date
July 20, 1975
Birth Place
Merced, California
Nick Name
Ray
Religion
Christianity
Nationality
American
Ethnicity
Black
High School
Hillcrest High School(Dalzell, South Carolina)
College
University of Connecticut
Playing Career
1996-2014
Zodiac
Cancer
Father's Name
Walter Sr.
Mother's Name
Flora Allen
Siblings
Kim Allen, Kristie Allen, John Allen, Talisha Allen
Age
47 years old
Height
6 ft 5 in
Weight
93 kg
NBA Draft
1996, Pick: 5th overall, Round: 1, (Selected by the Minnesota Timberwolves)
Chinese Zodiac
Rabbit
Eye Color
Black
Career Highlights and Awards

2× NBA champion
UPI Player of the Year, etc.

Build
Athletic
Marital Status
Married
Wife's Name
Shannon Walker-Allen
Position
Shooting Guard
Profession
Basketball Player
Net Worth
$100 Million
Salary
$10 million
Retired in
2014
League
NBA
Active Since
1996
Social Media
Facebook, Instagram, Twitter
Merch
Biography, Trading Card
Last Update
May, 2023
Ray Allen | Early Life & Education
Ray was the third of five children born at Castle Air Force Base in Merced, California, to Walter Sr. and Flora Allen.
As a military child, he grew up in Saxmundham, Suffolk, England, Altus, Oklahoma, Edwards Air Force Base in California, and Germany.
After years of traveling and relocating, his family arrived in Dalzell, South Carolina, where he would attend high school for the next four years.
Due to the accent he developed throughout his formative years in Britain, the young Allen was frequently made the odd-man-out, whom youngsters often picked on when he first arrived.
Ray Allen | Career
College Career
After being selected by assistant coach Karl Hobbs, Ray attended the University of Connecticut from 1993 to 1996.
He was selected USA Basketball's Male Athlete of the Year in 1995 at UConn. Likewise, Ray was a first-team All-American and Big East Player of the Year in his last college season, 1995–96.
On February 5, 2007, people recognized Ray's name and number during the "Huskies of Honor" ceremony at halftime of the men's basketball game versus the Syracuse Orange at Connecticut's Gampel Pavilion.
The University of Connecticut announced on December 7, 2018, that Allen (together with women's player Rebecca Lobo) would be the school's first player to have his number retired.
Professional NBA Career
Ray was selected fifth overall in the 1996 NBA Draft by the Minnesota Timberwolves. However, shortly after being picked, Allen and Andrew Lang were traded, and he ended up with the Milwaukee Bucks.
Both were acquired in exchange for Stephon Marbury. Regardless of his start in the league, Allen had a fantastic rookie season and was chosen to the NBA All-Rookie Second Team.
The player scored 32 points against the Phoenix Suns in one memorable game.
Allen has played for a variety of NBA clubs, including the Milwaukee Bucks (1996–2003), the Seattle Supersonics (2003–2007), the Boston Celtics (2007–2012), and the Miami Heat (2012-2014).
Allen tied the NBA Finals record with seven three-pointers in a Celtics victory (131–92 over the Los Angeles Lakers).
Likewise, the player assisted the Celtics in adding another banner to their rafters while earning his first NBA championship ring.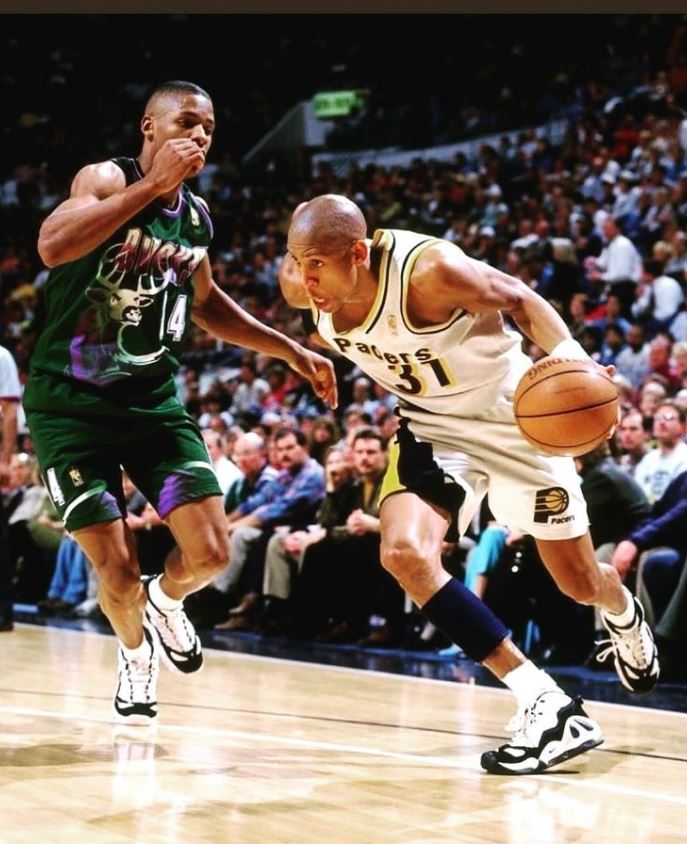 Allen also contributed significantly as a shooter/scorer for the Miami Heat, where he played with Dwayne Wade and LeBron James.
Similarly, the player memorably sank a game-tying 3-pointer with only 5.2 seconds remaining in the contest, forcing a vital overtime situation.
Allen's clutch shot helped the Heat defeat the San Antonio Spurs (103–100), forcing a game seven.
The Heat won game seven of the 2013 NBA Finals 95–88. This gave Allen his second ring and the Heat their second consecutive championship victory.
Ray Allen | Retirement
Allen became a free agent in the 2014 offseason.
Despite considerable speculation that he might return at some point during the 2014–15 season, the player revealed his intention to sit out the season and concentrate on 2015–16.
However, he did not end up joining a team for the 2015–16 season.
Allen began considering a comeback in July 2016, admitting he was "intrigued" by the prospect of fighting for another title.
The following month, Allen discussed a possible return with the Boston Celtics and the Milwaukee Bucks. However, he ultimately opted to retire on November 1, 2016.
Allen was inducted into the Naismith Memorial Basketball Hall of Fame in September 2018. The player took part in the NBA All-Star Celebrity Game in February 2019.
Likewise, he was also chosen to the NBA's 75th Anniversary Team in October 2021, recognizing him as one of the league's best players.
Want to know more about Antonio McDyess? Click to find out all about his Career, Net Worth & More!
Ray of Hope Foundation
Ray Allen started the Ray of Hope Foundation in 1996 as a non-profit organization.
The foundation aims to assist with sports-related, community-based activities and to give doors of opportunity for our youngsters to "hope" to fulfill their full potential.
The foundation has collected more than $500,000 with the support of beautiful contributors and sponsors.
The donations have allowed the foundation to design and implement programs and work with charity groups around the country to achieve their purpose of assisting children in need.
The foundation conducts diabetes research to offer safe and productive activities for children in low-income regions. It also assists assisting young students in developing stronger self-esteem.
Further, the foundation is also committed to continuing its beneficial work and being a constructive influence in the lives of the children. Some of the donations conducted by the foundations are:
Computer Lab
Ray Allen and his Ray of Hope Foundation, along with Acer Education Technology Initiative and CDW Corporation, donated a new computer lab to the Boys & Girls Clubs of Miami-Dade County on September 27, 2019.
Donations to the Students
In May 2018, the Ray of Hope Foundation, in collaboration with Mack Cycle & Fitness and Giant Bicycles, presented 25 bicycles, helmets, and locks to students at Homestead Middle School in recognition of their academic achievements.
Further, the University of Miami BikeSafe Program created a curriculum and teaching points for the event to encourage safe cycling.
Ray Allen | Acting Career
Allen co-starred as high school basketball sensation, Jesus Shuttlesworth in Spike Lee's 1998 film He Got Game with Denzel Washington.
Roger Ebert commended his performance, saying Allen "is that rarity: an athlete who can act,"
Likewise, New York magazine called him graceful and swift in the basketball moments while delivering a somberly effective minimalist performance.
His position as Jesus Shuttlesworth earned him the moniker "Jesus Shuttlesworth" from teammates and supporters.
Moreover, Allen also appeared in the 2001 film Harvard Man as Marcus Blake. The player co-starred as Walt in the fourth installment of "Uncle Drew."
It was a series of Pepsi Max ads created and produced by Irving, starring Kyrie Irving, Baron Davis, and J. B. Smoove in 2015.
Ray Allen | Wife & Children
Ray Allen has been married to Shannon Walker-Allen since August 16, 2008. They have four children altogether.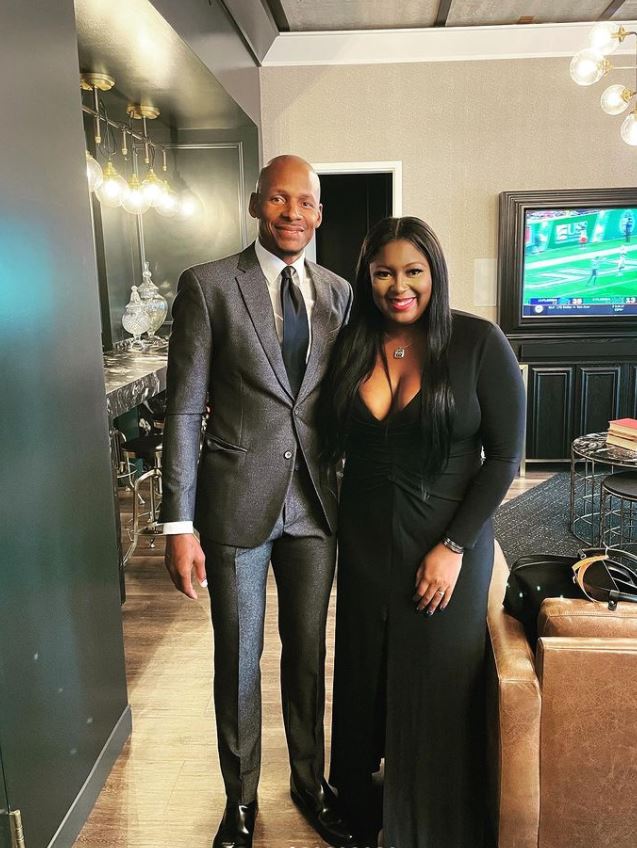 Their first child, Walter Ray Allen III, was born in 2004. Similarly, Walker was born in 2006. Likewise, they welcomed their third child Wynn in 2009.
Lastly, their fourth child Wynstan Ryan Allen was born in 2012.
Moreover, the retired NBA star also has a daughter named Tierra Allen. The player had Tierra with his ex-girlfriend Rosalind Ramsey.
Ray Allen | Autobiography
The former NBA player published his autobiography, "From the Outside: My Journey Through Life and the Game I Love," in 2018.
"From the Outside" can be understood portrait of a gifted athlete and a serious man with a well-defined philosophy about the game and how we should play it.
A philosophy that, at times, sets Ray apart from colleagues and coaches while inspiring so many others.
The philosophy also led to the most pivotal shot of his career: the unforgettable 3-pointer in the final seconds of Game 6 of the 2013 NBA finals against the San Antonio Spurs.
Throughout the book, Allen emphasizes that success in basketball is as much about what occurs off the court as what happens on it.
Moreover, in the book, the player highlights that dedication and commitment are the fundamental core of the game and life itself.
Ray Allen | Age, Body Measurements & Fitness
The basketball player, Ray Allen, was born in the year 1975. So, he is currently 47 years old.
Ray was born in the Rabbit year, according to the Chinese calendar. It is the fourth year of the 12 months Chinese zodiac calendar.
Talking about Ray's physical appearance, he has athletic and looks very healthy. He is also slim and has a maintained body.
Further, the American player stands at 6 feet 5 inches tall and weighs around 92 kg. Ray's additional physique measurements are, unfortunately, unknown. We will provide you with measurements as soon as possible.
Likewise, Ray does not have any visible tattoos on his body. Further, Allen looks smart with his black and dense eyes. The player's nationality is American, and his ethnicity is black.
Ray Allen is a role model for many people. Since his days in the NBA, he has amassed a sizable fan base. Even after he retired, he still has a large following. On his social media, he occasionally posts quotations and encouraging phrases.
Ray's zodiac sign is Cancer. Sapiens born under the sign of Cancer are compassionate, nurturing, and cheerful. Similarly, they are also born leaders with exceptional leadership abilities, and he is no exception.
Diet Plan and Work Out Routine
Allen established a new diet and training program after ankle surgery in 2007.
His new activities helped him strengthen his core, condition his joints, and improve his lower body.
Every move represents a position that is used to mimic game action. The player started to focus on his glutes by leaping resistance bands and balancing on one foot while throwing a medicine ball for balance.
Ray Allen | Catfishing Case
In 2017, the retired NBA player claimed to be a victim of catfishing and requested a judge to dismiss a case in which he was accused of stalking someone he met online.
Allen filed an emergency request in Orange County, Florida, one day after Bryant Coleman told the court that the 10-time All-Star and two-time NBA champion was stalking him.
According to Ray, Coleman was the one who was stalking him.
The motion filed on Allen's behalf stated that Coleman purported to be several attractive ladies interested in Ray Allen. Hence, Ray thought he was speaking to and communicating with these ladies.
The word became popular after the 2010 documentary "Catfish" and subsequently in an MTV show that investigated internet dating.
In a statement, Allen's attorney, David Oscar Markus, stated that Ray initiated legal action to halt threats against him and his family.
Moreover, Ray was also the victim of an internet attempt to extract money and shame him by someone who looked unstable.
Coleman wrote about Ray's wife, Ray's children, Ray's house, Ray's dog, Ray's wife's restaurant, and a variety of other personal topics.
Moreover, the stalker would not only post about these things, but he would do so while physically present inside Allen's wife's restaurant in Orlando.
Additionally, the stalker would make sure they were aware of it by tagging Ray and his wife in those posts.
The player requested that the court order Coleman to stop "cyber-stalking." It was unclear whether Coleman had a counsel, and no phone number for him could be discovered.
Find out more about Jeff Green: NBA, Net Worth, Wife, Kids & More>>
Ray Allen | Other Interesting Facts
Allen was named to the United States Holocaust Memorial Council by President Barack Obama. Moreover, the player has long been a fan of the Holocaust Memorial Museum and frequently brings teammates and friends to the museum.
Likewise, Ray was also chosen as the NBA Spokesperson for the Jr. NBA / Jr. WNBA program and as the NBA Spokesman for the Thurgood Marshall College Fund.
Ray injured himself in a catastrophic bicycle collision on July 18, 2021. The retired player credits his bicycle helmet with saving his life.
Additionally, Allen took a position as the director of boys' and girls' basketball at Gulliver Preparatory School on August 20, 2021. At Gulliver, Ray will also serve as the head coach of the boys' varsity basketball team.
Further, apart from basketball, the retired player is interested in cycling and golf.
Ray Allen: Social Media
Ray Allen: Net Worth
The former NBA player Ray Allen has a net worth of $100 million and an annual salary of $10 million.
Allen formerly made up to $19 million each year. During his 15 years in the NBA, Allen has made approximately $180 million in salary alone.
Frequently Asked Questions
What is Ray Allen most famous for?
The former basketball player, Ryan Allen, is well renowned for being one of the finest three-point shooters of all time. He is also one of the most accurate free-throw shooters in NBA history.
Did Ray Allen play for the National Team?
Yes, Ryan represented the USA in the 2000 Summer Olympics held in Sydney. He successfully secured an Olympic gold medal there.
Moreover, Ray was also a member of the United States men's basketball team in 2000.
What was Ray Allen's Jersey number?
Ray Allen wore the Jersey no. 20 and 34.
Does Ray Allen have OCD?
Yes, the player has admitted to having OCD, resulting in a few minor disputes with teammates.
Further, Allen mentions that he has occasionally felt uneasy when he watches other players who have discrepancies in their routines or are just seated in a different seat on the plane.