Raymond Daniels, AKA The Real Deal, relates to the saying, 'It is never late to pursue what you have been dreaming for a long time.'
He had an exciting career, from serving as a police officer to being the Bellator Kickboxing Welterweight Champion.
Further, the champion has set a record of 35 wins in a total of 38 Kickboxing. Also, he has won two out of four MMA battles as of 2020.
Not only this, but Raymond has a history of being the two times NASKA Champion (2002 and 2004), eight times NBL Champion (2003-2010), and nine times Irish Open Grand Champion (2005-2014). Also, he was 2015's W.A.K.O. World Champion.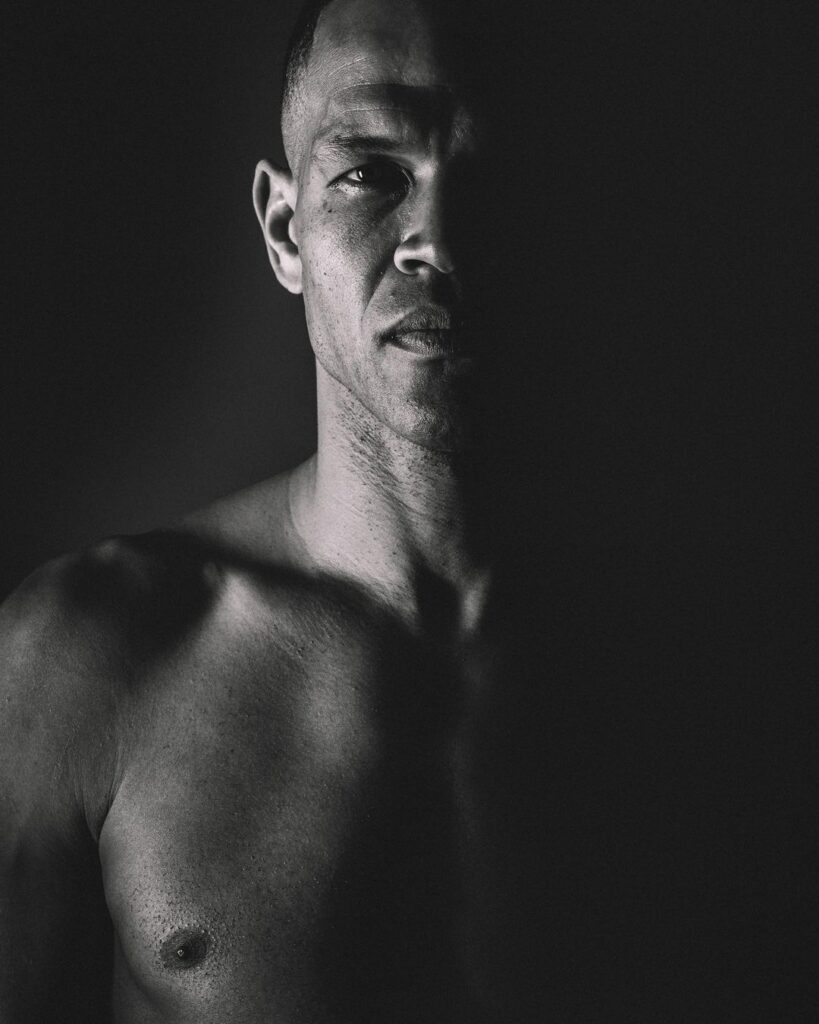 Similarly, Raymond, who is from an athletic background, has more to get in the upcoming days.
The already legend is still determined towards his profession like he was at a young. So, eager to know his early life? If so, then let's begin.
Quick Facts about Raymond Daniels
| | |
| --- | --- |
| Full Name | Raymond Lee Daniels |
| Nick Name | The Real Deal |
| Age | 42 Years Old |
| Height | 6 feet 2 inches (1.88m) |
| Weight | 78kg |
| Horoscope | Tauras |
| Date Of Birth | April 29, 1980 |
| Birth Place | Sun Valley, Los Angeles, California, United States |
| Gender | Male |
| Sexual Orientation | Straight |
| Religion | Not Available |
| Nationality | American |
| Ethnicity | African-American |
| Hair Colour | Black |
| Eye Colour | Black |
| Skin Colour | Black |
| Marital Status | Married |
| Wife | Colbey Northcutt |
| Kids | None |
| Father's Name | Frank Daniels |
| Mother's Name | Not Available |
| Siblings | One Older Brother |
| High School | Not Available |
| University | Not Available |
| Graduated Year | Not Available |
| Profession | Mixed Martial Artist |
| Feat | Bellator Kickboxing Welterweight Champion |
| Current Weight Division | Welter Weight |
| Active from | 2006 |
| Rank In Welterweight Kickboxing | Fourth (As of June 1029) |
| Team | Los Angeles Stars, Team Paul Mitchell Karate, World Champion Karate, and Classic Fight Team |
| Total Kickboxing Record | 41 years (As of 2021) |
| Total MMA Record | 4 (As of 2020) |
| Popular For | Viral Knockout |
| Net Worth | Under Review |
| Salary | $30k (2017) |
| Social Media | Instagram, Facebook, Twitter |
| Last Update | March, 2023 |
Raymond Daniels Love-life | Wife
Raymond is living happily with his elegant wife, Colbey Northcutt. They have been together since 2019.
Dating-Wedding Reception
Raymond and his then-girlfriend and now-turned-wife started seeing each other in early 2017. They haven't kept their relationship private from the start.
After being in love for almost four years, Raymond and Colbey took their story to a new level. The couple announced their wedding one month before, in July 2019, through their social media.
Similarly, Raymond and Colbey exchanged their wedding vowed on August 23, 2019. The auspicious ceremony took place at Wilson Creek Manor, Temecula, California.
Many high-profile people and their closest friends and relatives attended the ceremony.
Likewise, the marriage was officiated by Bobby Schuller.
At the wedding, Colbey looked stunning in a white knitted fish-shaped David Bridal dress. She left her hair half clipped, which matched her style perfectly. At the same time, Raymond wore DBH's suits.
Details On Children
Raymond and his better half, Colbey, don't have a child together until now. However, they are parents to the son, Ray Jay.
Likewise, his son was born in 1999. At the time, Raymond was only 19 years old. The fighter has not disclosed the birth mother to date.
Who Is Colbey Northcutt?
Raymond's sweetheart, Colbey, is also an MMA fighter and the Sport Karate World Champion. Until now, she has fought various battles. Also, Colbey has been a supportive partner for him.
Often, the lady fighter takes the medium of her Instagram account to motivate and express love for Raymond.
Similarly, Colbey is also known for being the sister of a famous mixed martial artist, Sage Northcutt.
Raymond Daniels Wiki | Age, Early Childhood, And Family
The mixed martial artist Raymond celebrates his birthday every April 29. He was born Raymond Lee Daniels in 1980 in Sun Valley, Los Angeles, California, United States.
His zodiac sign is Taurus. As of writing the article, he is 40 years old.
Discover The Early Life Of Another Fighter | Tatiana Suarez Bio: UFC, Cancer, Net Worth & Boyfriend >>
Talking about Raymond's childhood, he had an easy life, as his family was well enough. Though the champion was born in Sun Valley, he grew up in Palmdale, California, and his big brother.
Family
Raymond is the son of his father, Frank Daniels, and an unnamed mother. Frank was the Karate instructor at the Americano Kenpo.
At the same time, his mother's information is out of reach. He is very close with his mother, though.
Similarly, Raymond has a special bond with his father in terms of both professional and personal. For instance, Frank trained him in Karate when he reached five.
The fighter also received a black belt in karate from his supportive father at the age of 12. So, it is evident that Frank is the person behind Raymond's successful career.
Likewise, a boxing champion, Raymond is the grandson of the renowned fighter. His grandfather, Frankie Daniels, is a former professional boxer and a Korean War veteran.
Plus, Frankie is the recipient of the prestigious military award, Purple Heart. So, it is crystal clear from where Raymond got energy and strength.
Raymond Daniels | Education
Talking about Raymond's educational qualifications, he attended high school in his hometown. But, the name of his school is not disclosed.
Likewise, the same goes for his college's identification.
Raymond Daniels Body Measurements | Height And Weight
Raymond, AKA The Real Deal, is decently tall. He has a measuring height of 6 feet and 2 inches (1.88m). Similarly, his listed weight is 78kg.
You May Want To Discover This Article | Khabib: UFC, Career, Early Life, Net Worth & Wife >>
However, the size of the chest, waist, and hips are out of reach as of now.
Similarly, the tall kickboxer possesses black hair and dark brown eyes.
Raymond Daniels | Personal Information
The mixed martial artist Raymond holds an American nationality. Now, you might be in thought about his ethnicity. Well, he belongs to an African-American ethnic group.
How Rich Is Raymond Daniels?
Raymond, in the MMA world, is regarded as one of the best kickboxers in terms of power and techniques. Raymond sure had collected a net worth in a million figures since his debut in 2014.
However, Raymond Daniels's net worth is not surface out officially.
Yet, the fighting association has disclosed Raymond's earnings. As per the report publicized by the California State Athletic Commission to MMA Fighting 2017, his salary was $30k leaving besides his bonus.
Similarly, most of the fighting and athletic commission tends to keep the candidates' salaries out of the public. So, real earnings cannot be found easily.
But without a doubt, Raymond earns more than $30k in his present days, as of 2020.
Besides, Raymond serves as the instructor at World Champion Karate in Orange, California. Plus, he owns a personal training and nutrition institute, ICE Martial Arts.
As a result, he earns considerably huge income besides his professional career as a kickboxer.
Property
Raymond being a wealthy fighter possesses various vehicles and a mansion. For instance, he owns a training center named ICE Martial Arts.
Next Wealthy Fighter | Joanne Calderwood Bio: Career, UFC, Boyfriend & Net Worth >>
Also, Raymond, being able to generate vast income from various sources, lives a luxurious life. However, the accurate information on his entire personal belongings is out of reach.
Raymond Daniels | Professional Life (Career Highlights)
Digging deep into Raymond's journey, you might be thrilled to know that he was a cop. Yes, the world boxing champion served at the Long Beach Police Department by fulfilling his duties as the responsible officer.
After spending almost seven years at the station, he retired to make his career in mixed martial arts.
Also, Raymond was into Karate while he was still in his police officer's job.
For instance, he has a record of competing at the NASKA world championships, World Pro Taekwondo Championship, World Association of Kickboxing Organizations, and more.
Plus, the champion has battled with many renowned boxers, including Stephen Thomson, Peyton Russell, Michael Page, and more.
Back in 2016, Daniels defeated the kickboxing star Stephen "Wonderboy" Thompson in a technical knockout. At that time, Thompson was suffering from a knee injury.
Bellator Kickboxing | Mixed Martial Artist
Raymond shone in the W.A.K.O. Champions, NASKA World Championship, and National Blackbelt League for almost a decade. So, his next target was for Bellator kickboxing.
The champion commenced his Bellator Kickboxing journey in April 2016 by defeating his opponent, Francesco Moricca.
From the beginning, Raymond successfully maintained his record of zero losses in all his eight battles.
After having a furious bout with Zakaria Laaouatni at Bellator Kickboxing 11 at the end of 2018, Raymond made a comeback at the Mixed Martial Artist. He had his first MMA fight on May 4, 2019, and won.
In 2020, Raymond faced the fighters like Jason King and Peter Stanonik.
Joseph Valtellini vs. Raymond Daniels
Daniels fought with Joseph Valtellini after replacing Marc de Bonte in the Glory 13: Tokyo – Welterweight World Championship Tournament. The tournament was held on December 21, 2013, in Tokyo, Japan.
Daniels was defeated by Valtellini in his very first kickboxing loss. It was at the semi-finals of the competition.
Daniels initially shined in the octagon, causing troubles for Valtellini via his unorthodox karate style.
But by round two of the bout, the situation altered with Valtellini hurting Daniels with low kicks.
Valtellini then knocked Daniels out in the third round by a high kick.
Nieky Holzken Vs Raymond Daniels
Daniels was defeated by Nieky Holzken in third-round TKO at Glory 23 in 2015. The bout happened at Hard Rock Hotel and Casino in Las Vegas.
Holzken then established himself as the new Glory welterweight champion.
Learn more about Raymond's MMA stats on Sherdog.
Raymond Daniels | Viral Knockout
Raymond Daniels received massive popularity in May 2019 because of his spinning punch that finished his Bellator MMA debut against Wilker Barros in Birmingham, England.
Daniels, with calm, caught his range and calculated the movements of his opponent in the first few minutes of opening. He then exploded with massive energy in the final minute of the round.
Daniels firstly greeted his opponent with a body kick. He then went for a 720-degree right hand, knocking out Barros long before he could hit the canvas.
The knockout received enormous attention, with sports enthusiasts and fans all repeatedly playing the reel on social media.
Daniels said that he was not carried away with the attention he grabbed after the bout went viral.
On the other hand, he was not surprised to see the bout getting directed towards such a conclusion.
He is of the belief that one should not run behind the hypes. He handled the situation like it was nothing more than his regular office day.
Head Kick KO with Tony Fugerson
Back in 2021, Sean Strickland answered some of the fans' Twitter questions, during which he revealed some alleged incidents that happened in the gym.
Right then, Sean had never sparred with Tony Ferguson but instead claimed that "El Cucuy" was badly hurt by current Bellator Kickboxing champion Raymond Daniels.
Raymond Daniels – Gloves
Daniels' signed gloves are pretty popular among his fans. You can purchase them on amazon.
You can see an overview of Raymond Daniels' career on the website of Sherdog.
Raymond Daniels | Social Media Presence
Facebook: Raymond Daniels
Instagram: rd_goat
Twitter: rd_goat
Exciting Facts About Raymond Daniels
Raymond's reach is 74 inches (190cm).
Likewise, Raymond's fighting style is Taekwondo, Kickboxing, and Karate.
The trainer, Tyler Wombles, trains him.
On June 1, 2019, Raymond Daniels ranked in 8th position as the Welterweight Kickboxer in the world. Combat Press evaluated the ranking system.
Raymond holds the sixth-degree black belt in Shotokan and American Kenpo.
Plus, he has a fifth-degree Kukkiwon black belt in Tae Kwon Do.
As of December 29, 2020, Raymond has about 118k followers on his Instagram account. Also, he has shared 689 posts.
Raymond had his son, Ray Jay, while he was a student at high school.
His stage name is The Real Deal.
Raymond became a police officer at the age of 21. It was his boyhood dream.
Common Queries About Raymond Daniels
How old is Raymond Daniels?
Raymond Daniels was born on April 29, 1980. So, he is 41 years old as of writing the article.
Where is Raymond Daniels from? What is his glory record?
The Champion, Raymond, is from Sun Valley, California.
Well, Raymond Daniels maintains a glory record of 4-3-0 (4 KO) with an average fight time of 4:40. Furthermore, he has a knockout ratio of 8:5 and a striking accuracy of 44.64%.
How tall is Raymond Daniels?
Raymond is 6 feet and 2 inches (1.88m) tall.
Are Colbey Northcutt and Raymond Daniels together?
The lovebirds Raymond and Colbey are living their married life happily. Indeed, they have been together for several years. The couple tied their knot on August 24, 2019.
Is Raymond Daniels the owner of Necker Island?
He is one of the three owners of Necker Island.
Which college did Raymond Daniels go to?
The fighter Raymond's educational background is still out of reach. As a result, the college's name is unknown until now.
How much is the worth of Raymond Daniels?
Raymond Daniels has piled up a net worth between $1-$5 million.
Who was Raymond Daniels' last fight?
The fighter's last fight was on April 16, 2021, against Peter Stanonik at the Bellator 257 event. Raymond won the fight by unanimous decision.
However, the fight had a bit of controversy when Daniel accidentally kicked Stanonik in the groin while attempting a roundhouse kick.