Rebecca Lobo is an American television basketball analyst and former women's basketball player in the WNBA from 1997 to 2003. She is a reporter and color analyst for ESPN, focusing on women's college basketball and WNBA games.
Lobo is known as the most active advocate for women's basketball. The former WNBA player has done a lot for the league and, in return, has garnered the fame and riches she enjoys now.
The Hall of Famer is also a spokesperson for the Lee National Denim Day fundraiser, which raises money for breast cancer research.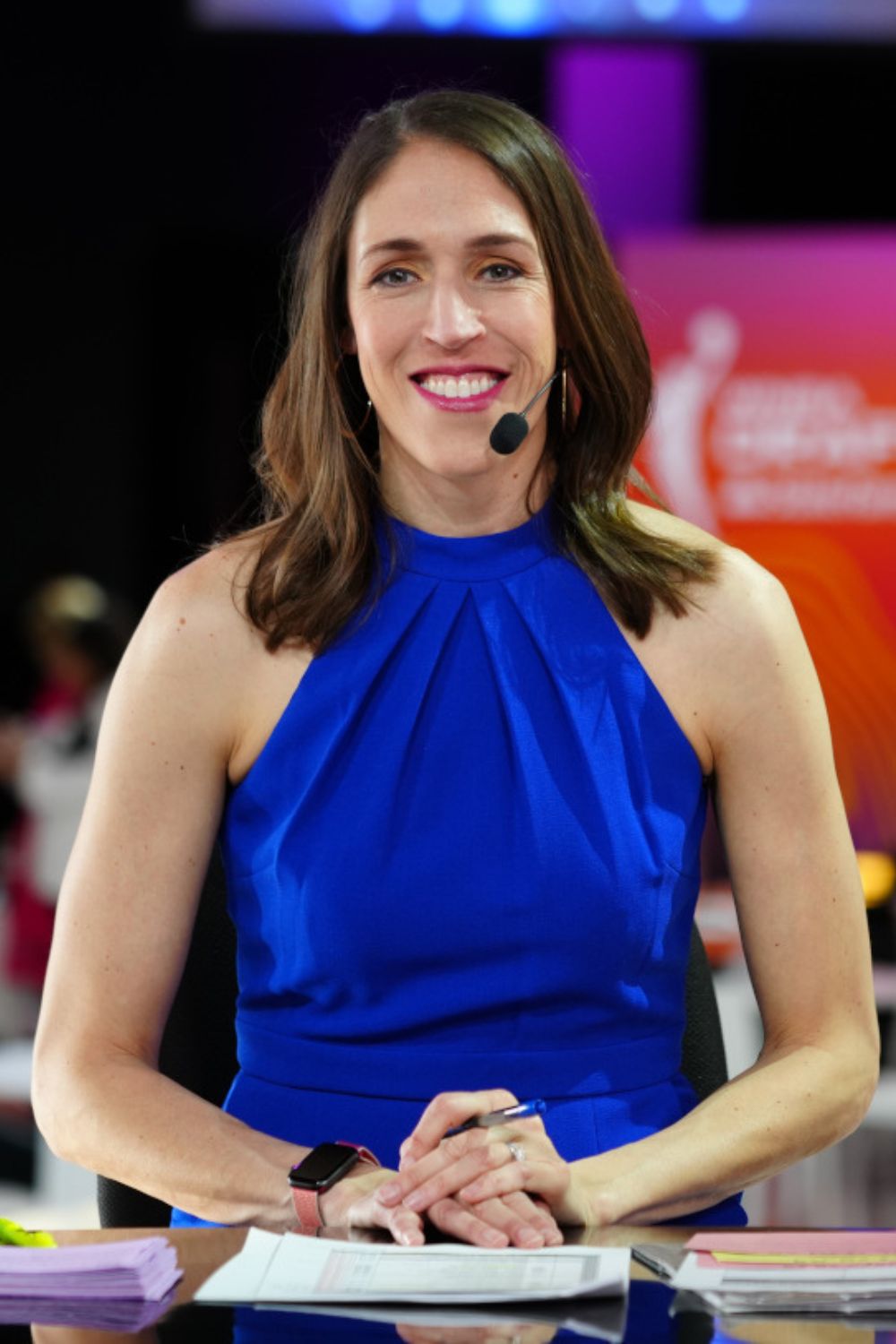 On top of that, the mother of four campaigned to raise awareness of knee injuries in women to help others with the same injury that ended her playing career.
She was inducted into the Women's Basketball Hall of Fame (2010) and the Naismith Memorial Basketball Hall of Fame (2017).
As of 2023, Rebecca Lobo's net worth is $1.5 million.
In this article, you will learn about Rebecca's professional playing career, hall of fame induction, and family.
So let's start with some quick facts first.
Quick Facts
Name
Rebecca Rose Lobo-Rushin
Known As
Rebecca Lobo
Birthdate
October 6, 1973
Age
50 Years Old
Birthplace
Hartford, Connecticut, U.S.A
Father Name
Dennis Lobo
Mother Name
RuthAnn
Siblings
Yes (2)
Horoscope
Libra
Weight
185 lb / 84 kg
Height
6 ft 4 in / 1.93 m / 193 cm
Education
Southwick Regional Public High School In Southwick, Massachusetts
University Of Connecticut
Profession
Former Basketball Player
Basketball Analyst (Current)
Position
Center
Forward
College Basketball
UConn Huskies Women's Basketball team
WNBA Teams
New York Liberty
Houston Comets
Connecticut Sun
Net Worth
$1.5 Million
Marital Status
Married
Spouse
Steve Rushin
Children
4 (3 Daughters and a Son)
Daughters' Name
Siobhan Rushin, Maeve Rushin, And Rose Rushin
Son's Name
Thomas Rushin
Merch
Trading Cards
Social Media
Instagram, Twitter
Last Update
November 2023
Early Life, Family, & Education
Rebecca was born Rebecca Rose Lobo-Rushin to parents Dennis Lobo (father) and RuthAnn (mother) on October 6, 1973.
Dennis is of Cuban descent, while her mother has German and Irish heritage.
Both parents of Lobo were teachers. Besides teaching, her father, Dennis, also coached basketball, track, and field.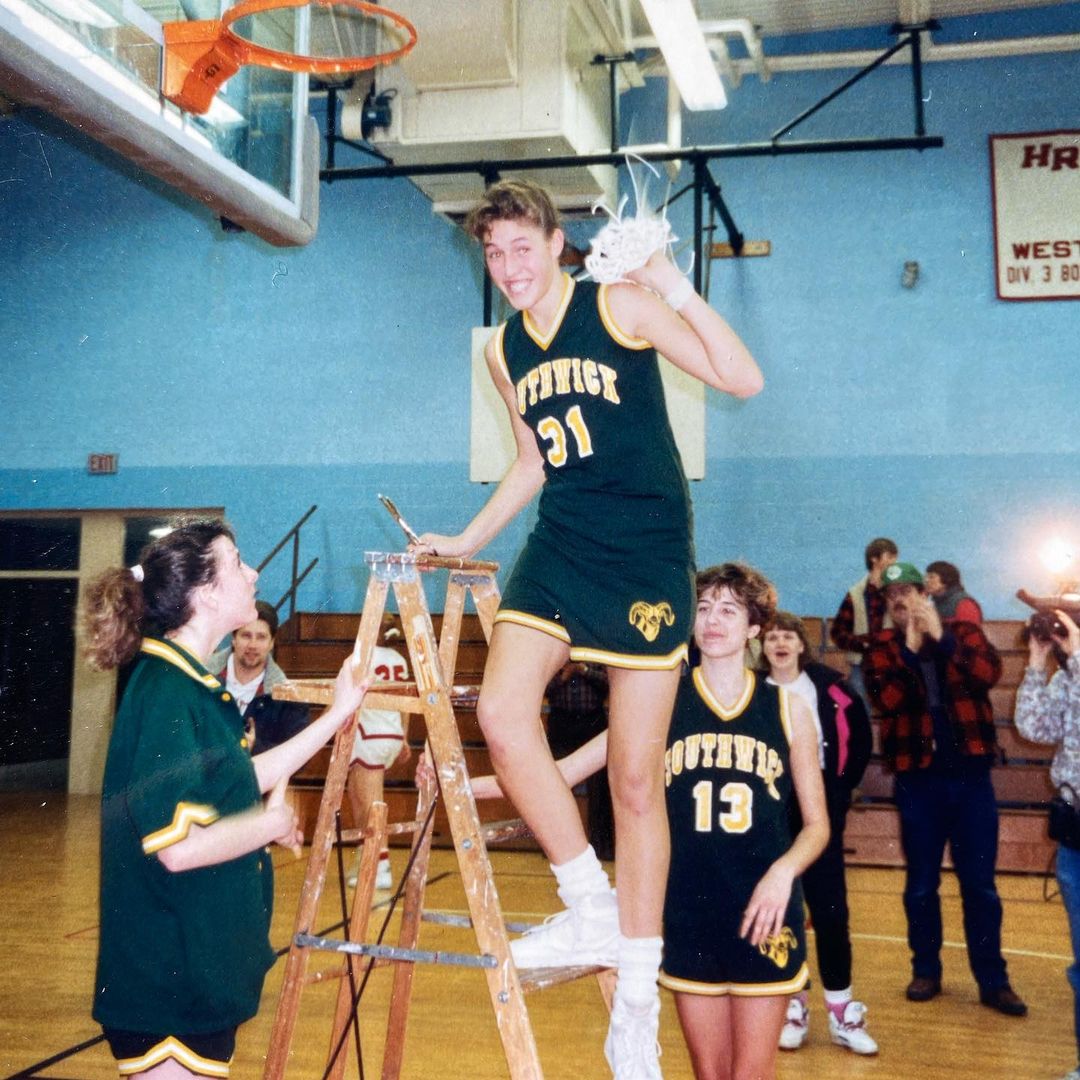 Likewise, she has one brother and a sister. Her brother Jason played basketball at Dartmouth College, and her sister Rachel played basketball at Salem State College.
Other information regarding Lobo's siblings is still not available to the public.
Talking about her educational qualification, she attended Southwick-Tolland Regional High School in Southwick, Massachusetts.
After graduation, she studied at the University of Connecticut and also played basketball.
College Career
After joining the University of Connecticut, she joined the college basketball team. She led the Huskies to the 1995 National Championships with an undefeated 35–0 record.
With her excellent performance in the tournaments, she was awarded various prestigious awards during her college days.
Also, Lobo was named 1995 Sportswoman of the Year by the Women's Sports Foundation and was the first player in the Big East Conference ever to earn first-team All-American honors for both basketball and academics.
The basketball player was also named to the USA U18 team (then called the Junior World Championships Qualifying Team).
WNBA Career
The WNBA and Lobo's professional careers started the same year, in 1997. The Olympic gold medalist signed for the newly formed New York Liberty.
The same year, Liberty reached the WNBA final with the help of Lobo. But, unfortunately, they lost to the Houston Comets.
In 1999, the Connecticut native got selected to play in the inaugural WNBA All-Star team. However, she could not participate in the game due to an anterior cruciate ligament injury.
The following years were full of ups and downs for the mother of four. But, during that time, Lobo was one of the best players in the WNBA.
Rebecca remained held back by the gruesome injury she suffered in 1999. As a result, the mother of four ended her playing career prematurely in 2003.
Hall Of Fame
The 50 year-old was inducted into the Women's Basketball Hall of Fame in the class of 2010.
Rebecca received recognition for her contributions on the basketball court and her sacrifices off the court.
During the induction ceremony, Geno Auriemma, Lobo's college coach, said, "No one in all the years that I've been there has had the impact on the court and off the court that Rebecca has had and has continued in the WNBA."
The influence that the Connecticut native has on the younger generation of female basketball players is evident.
Moreover, her work as an ESPN reporter and analyst has further propelled the WNBA amongst young girls.
As a result, the number of female basketball players grows steadily each year. And who knows, someday it might reach the popularity of their male counterparts.
ESPN's College GameDay at Start Farm is set to occur on 26 February 2023 between No. 2 Indiana and No.7 Iowa, which marks the first-ever visit to Carver-Hawkeye Arena for the GameDay franchise.
The show host will be Elle Duncan alongside Andraya Carter, Rebecca Lobo, Carolyn Peck, and Holly Rowe. They will provide analysis, interviews, and features ahead of the Big Ten showdown.
Lobo and Rowe will be joined by Dave O'Brien on the game call at 2 pm on ESPN.
The best rivalry in all women's college hoops will be renewed on the same day as No. 5 UConn travels to Knoxville to play against Tennessee in Thompson-Boiling Arena.
On this, Lobo said that she is glad that the teams are playing as it has been years since it was the best rivalry in women's college basketball.
Awards & Accomplishments
1994—Kodak First-team All-America
1995—Honda-Broderick Cup
1995—NCAA Women's Basketball Player of the Year
1995—Women's Sports Foundation–Sportswoman of the Year
1995—Wade Trophy
1997—All WNBA Second team
1997—WNBA Eastern All-Star team
2010—Women's Basketball Hall of Fame
2017—Basketball Hall of Fame
2019—UCONN jersey No. 50 retired
Olympics Game, 1996 Atlanta (gold)
1992 U18 Guanajuato (bronze)
Jersey Retirement
With fellow Hall of Famer Ray Allen, Lobo became the first player to have their jerseys retired by the University of Connecticut.
Lobo's number 50 jersey was officially retired in March 2019. We've quoted Lobo's statement while she was interviewed during the ceremony,
"I spent four incredible years wearing the No.50 on my UConn jersey and am honored and thrilled that it will have a permanent home in the rafters of Gampel Pavilion."
"We all know that before long, there will be plenty of other UConn women's jerseys hanging next to mine. I am forever grateful to Coach Auriemma and CD for their impact on my life and would like to congratulate Ray as well."
Breast Cancer Advocate
Rebecca Lobo and her mother, Ruth Ann Lobo, collaborated on a book named The Home Team in 1996, in which Ruth's battle with breast cancer story has been shared.
The mother-daughter duo also founded the RuthAnn and Rebecca Lobo scholarship, which offers a scholarship to the UConn School of Allied Health for Hispanic students.
In 1996, the former basketball player was a spokesperson for the Lee National Denim Day fundraiser, which was focused on raising millions of dollars for breast cancer research and education.
She was also the spokesperson for Body1.com, which specializes in consumer-targeted online sites providing interactive content-rich information on medical technologies.
Age & Body Measurements
As of 2023, Lobo is 50 years old and stands at 1.93 meters.
Being a former WNBA player, it should be no surprise that Rebecca is one of the tallest sports analysts.
The Connecticut native weighs about 185 lb, but the exact details of her other body measurements are unknown.
Lobo works on her fitness as she is often seen in the basketball gym of her alma mater, the University of Connecticut. The mother of four stays fit and healthy and inspire other to do the same.
Barbie Doll
The perfect barbie doll era is over now. Instead, fearless and strong women are acknowledged and cherished.
Rebecca Lobo's features have been beautifully crafted into a barbie doll.
The message of how a female can be equally sassy and classy can be seen through this merch.
Ball & Chain Podcast
Lobo hosts a podcast with her husband, Steve Rushin, named the Ball & Chain Podcast.
In the podcast, they talk about current events, sports, and family life. There have been 240 episodes of the podcast as of this writing.
Quotes
Here are some of Rebecca Lobos's quotes:
"Femininity and sport can go together."

"I am being taken care of by a higher being than myself or my coaches, or my training staff."
"Petty things don't bother me as much as they used to."
"Basketball is always a piece of my life, but never the centerpiece."

"There's nothing masculine about being competitive. There's nothing masculine about trying to be the best at everything you do, nor is there anything wrong with it. I don't know why a female athlete has to defend her femininity because she chooses to play sports."
Husband & Children
Rebecca is happily married to a famous American journalist, Steve Rushin. He is a sportswriter and a novelist.
In 2005, Steve won the National Sportswriter of the Year and was a four-time finalist for the National Magazine Award.
The couple married on April 12, 2003, at the Basketball Hall of Fame in Massachusetts. They met two years prior at a Manhattan bar before getting married.
Lobo confronted Steve on their first encounter due to an article published by him explaining how dull WNBA games were.
He mocked the women's basketball game without watching them play on the court. When she invited him to watch a game in New York, after that day, they started dating.
Furthermore, the couple has three daughters: Siobhan Rushin, Maeve Rushin, and Rose Rushin, and one son, Thomas Rushin.
The eldest daughter of Rebecca, Siobahn Rushin, was born in December 2004, while her sisters Maeve Elizabeth and youngest, Rosie were born on August 10, 2006, and 2011 respectively.
Siobahn's only brother Thomas Joseph Rushinwas born on October 6, 2008.
Net Worth & Salary
Rebecca Lobo has a net worth of $1.5 million as of 2023.
She accrued wealth through her basketball and TV analyst career.
During Lobo's playing career, she earned $30,000 per year. Also, Rebecca had an endorsement deal with the sportswear company Lady Foot Locker.
On the contrary, the 50 years old reportedly earn six figures working for ESPN as a sports analyst.
The former Connecticut player makes much more now than she ever did during her career.
Net Worth Of Rebecca Lobo In Different Currencies
Here is the net worth of Rebecca Lobo in different currencies, including the Euro and Pound.
Currency
Net Worth
Euro

€1,415,520

Pound Sterling
£1

,247,730

Australian Dollar

A$2,203,938

Canadian Dollar

C$2,032,335

Indian Rupee

₹124,098,750

BitCoin

฿62
Social Media Presence
Rebecca Lobo is available on social media such as Instagram and Twitter. She usually updates about her broadcasting career and shares photos with colleagues.
View this post on Instagram
Instagram: 24.8k followers
Twitter: 75.7k followers
Popularity Graph
Rebecca Lobo is a former basketball player and an ESPN color analyst. She played a significant role in the growth of women's basketball in the nation.
The popularity graph shows the wavelength from the last 12 months.
Frequently Asked Questions (FAQS)
Who were Rebecca Lobo's teammates?
Rebecca Lobo was a teammate with basketball legends such as Sheryl Swoopes, Lisa Leslie, Dawn Stanley, Jennifer Azzi, Venus Lacy, etc.
What is Rebecca Lobo's career statistic like?
Regarding Rebecca Lobo's WNBA career, she played a total of 121 games, winning 72. She maintained a field goal percentage of .392, a three-point percentage of .338, and a free throw percentage of .476.
What does Rebecca Lobo's eldest daughter do?
Rebecca Lobo's eldest daughter Siobahn Rose Rushin is the biggest sports fan and has played basketball and baseball since a young age. On August 27, 2013, she attended the Boston Marathon with her father Steve.