Reece James is a professional English soccer player, who plays for the England National Team, as well as for the Premier Leagues club as a right back. He represented England at youth levels, later in 2020 the first time, James was called up to the full international side, earning his first cap against Wales
The expectations would undoubtedly be sky-high for a young player who has won six major youth-level trophies before turning professional.
Therefore, when Reece James moved on loan to Championship club Wigan, everyone expected then 23-year-old to make a huge impact.
So, did the right-back manage to transform his youth-level performances into a professional soccer player successfully? Did he manage to become a regular for Wigan Athletic? Has he broken into the first team of Chelsea?
There's no need to worry as I have got you covered because, in this article, we are going to look at the questions mentioned above. I also have information on Reece's salary, contract, family, and body measurements that you guys will definitely love.
In 2022, When he was loaned to Wigan With the end of the loan contract, he was included in the senior Chelsea team in an extended contract till 2028.
Recce will not be included in the Qatar 2022 World Cup due to his un recovered knee injury.
So without wasting a breath, let's start with some quick facts.
Quick Facts | Reece James
| | |
| --- | --- |
| Full Name | Reece James |
| Birth Date | 8 December 1999 |
| Birth Place | Redbridge, England |
| Nick Name | Not available |
| Religion | Not available |
| Nationality | English |
| Ethnicity | Not Available |
| Education | Isleworth & Syon School |
| Horoscope | Sagittarius |
| Father's Name | Nigel James |
| Mother's Name | Not available |
| Siblings | Josh James, Lauren James |
| Age | 23 years old |
| Height | 6'0″ (1.82 m) |
| Weight | Not available |
| Shoe Size | Not available |
| Hair Color | Black |
| Eye Color | Black |
| Body Measurement | Not available |
| Build | Athletic, Muscular |
| Married | No |
| Girlfriend | None |
| Spouse | None |
| Position | Right Back, Full Back |
| Profession | Football Player |
| Net Worth | $5 – $10 million |
| Clubs | Chelsea (Current) |
| Jersey Number | 24 |
| Social Media | Twitter |
| Shoes | Nike |
| Last Update | December, 2023 |
Reece James | Career & Stats
Like his club teammates, Mason Mount and Callum Hudson Odio, Reece joined Chelsea at six. Having progressed through the ranks impressing Chelsea bosses, James was seen as a top prospect even before making his professional debut for Chelsea.
To illustrate, James captained Chelsea U-18 to win the FA Youth Cup. Subsequently, the 18-year-old earned the Academy Player of the Season for his outstanding efforts.
The England international won the U18 Premier League from 2016-17 to 2017-18 and FA Youth Cup in 2016-17 and 2017-18. As a result, Chelsea offered the full-back a four-year deal to ward off interest from other clubs.
Soon after signing the contract, Reece joined Wigan Athletic on loan for the 2018-19 season. His only season for the club was nothing short of extraordinary.
For instance, the English international exceeded all the expectations put on him. As a result, James won the Wigan Athletic Player of the Year, Wigan Athletic Player's Player of the Year, and Wigan Athletic Goal of the Season.
Chelsea Club
Following Wigan's impressive performances, James returned to his parent club Chelsea for the 2019-20 season.
Subsequently, the England U-21 international made his debut for the London club in an EFL Cup match against Grimsby Town. As everyone had expected, Reece immediately impacted his youth club as he assisted two and scored another one in the 7-1 win.
At the time of writing, James has managed to become a regular in the Chelsea starting 11, managed by the club's legend, Frank Lampard.
However, James didn't achieve success and playing time under Frank because he is an academy graduate.
On the contrary, the 20-year-old managed to cement a starting role due to his excellent performances on the field.
To emphasize, in just his first season with Chelsea, Reece is already the club's best attacking weapon due to his outstanding crossing abilities.
In fact, many observers have compared the England U-21 international to another great crosser of the ball, David Beckham.
Being seen in the same breath as one of the greats of all time can either be a boon or a burden for a young player like James. But, the expectations laid on the Chelsea youth academy graduate have not bothered him a bit.
As a matter of fact, Reece is one of the most consistent performers in a Chelsea side that is littered with inconsistencies throughout this season. Also, Reece has impressed every time he has been on the pitch regardless of the opposition.
Furthermore
To further highlight his performances, James has managed to oust club captain and one of the best right-backs of this generation, Cesar Azpilicueta, from his right-back role.
Instead, Azpilicueta has been shifted to the left-back position to accommodate the supremely talented England U-21 international.
Reece's young career's notable moments have to be when he scored the equalizer in the Champions League against Dutch champions Ajax. Likewise, James managed to secure back-to-back Man of the Match awards against Nottingham Forest and Burnley.
But, the most significant moment in the young career of the 23 -year-old happened on 16 January 2020. Chelsea football club decided to hand James a new five-and-a-half-year $103746 per week deal.
Not only did the contract secure a massive payday for the right-back, but it also cemented his spot as the first-choice right-back for Chelsea.
Upon signing his new contract, Reece said, we quote,
"It has been my dream to be here at Chelsea and play week in week out and to have a contract for another five and a half years is living the dream again."
As a result, the performances of the Reece have improved even more. To illustrate, Gareth Southgate, the England manager, said that James's achievements throughout the season had made him a contender to be in the squad for the upcoming EURO 2020.
Playing for the national team is the ultimate achievement for an international soccer player. And James seems to have achieved that in just his first season in the top division. In other words, the meteoric rise of James has been nothing short of extraordinary.
As a consequence of James' breakthrough season, not only is Chelsea benefitting in the present, but they will continue to do so as he is only 23 years old at the moment.
So, let's hope Reece manages to stay fit and healthy because he will definitely be in the conversation for the best right-back in the whole world in another two years' time.
Which Country Is Reece James From? International Career
James was one of the elite prospects in all youth age groups growing up. Therefore, it should be no surprise that a quality talent like Reece has played for England at every youth level from the under 17 to the under-21.
As a matter of fact, James played in the under-20 2017 Toulon Tournament, in which he started in the final and won against Ivory Coast. Furthermore, the 23-year-old played and won the 2017 European Under-19 Championship.
Reece James Injury
Afterward, the Chelsea right-back earned a place in the under-20 squad that traveled to the 2019 Toulon Tournament.
However, an unfortunate injury against Chile cut short the 23-year-old's time at the tournament as Reece was stretchered off due to ankle ligament damage.
The Chelsea academy graduate also debuted for the England U-21 side in a 2021 UEFA European Under-21 Championship qualification victory against Albania.
To conclude, judging by James's progress throughout his career, no one will be surprised when the 23 -year-old eventually makes his senior team debut for the Three Lions.
If You Don't Know Him, Click To Know Rodrygo Bio: Career, Stats, Salary, Position, Age, Family Wiki >>
Career Achievements
Chelsea Youth
2016-17, 2017-18 FA Youth Cup
2016-17, 2017-18 U18 Premier League
England U-19
2017 UEFA European Under-19 Championship
England U-20
2017 Toulon Tournament
Individual
2017-18 Chelsea Academy Player of the Year
2018-19 Wigan Athletic Player of the Year
2018-19 Wigan Athletic Player's Player of the Year
Wigan Athletic Goal of the Season 2018-19
Reece James | Defensive Stats
| | | | | | | | | | | |
| --- | --- | --- | --- | --- | --- | --- | --- | --- | --- | --- |
| Year | Apps | Mins | Tackles | Inter | Fouls | Offsides | Clear | DRB | Blocks | Rating |
| Total | 54 | 3175 | 1.7 | 0.5 | 1 | 0.1 | 1.4 | 0.7 | 0.3 | 6.90 |
How Old Is Reece James? Height, Body Measurements
As of now, the Chelsea right-back is 23-year-old. However, the England U-21 international shows the maturity and consistency of a veteran who has played at the highest level for several years.
How Tall Is Reece James? What Position Does He Play?
The London native stands at 1.87 m, which is quite tall for a right-back. In fact, most full-backs play the role simply because of a lack of height to play in the center-back position.
However, James plays at the right-back position due to his outstanding crossing ability and endless runs on the ground's right side. In addition, the 23-year-old's physical attributes are just as good as his crossing.
James has a strong muscular build for such a young player that helps him protect the ball from the opposition, while his aerial abilities help him win aerial duels against the best headers of the ball.
So, it is safe to say that Reece will be one of the best, if not the best, right-back in the world in the coming years.
Transfer History
Reece James started with the Chelsea Youth team and was then promoted to ChelseaU18 On July 1, 2016, and then to Chelsea U23 On July 2017.
And was promoted later in 2018, and he was loaned to Wigan With the end of the loan contract, he was included in the senior Chelsea team till 2028.
How Much Is Reece James' Contract? Salary & Net Worth
Reece's value and potential were highlighted back in June 2018 when Chelsea offered the 18-year-old a four-year contract worth $58,000 wage per week.
James had not made a professional appearance at that time, which made the deal even more staggering.
However, James was worth every penny because the talented defender moved on loan to Wigan for one season, where he won three individual awards.
As a result, Chelsea had to offer the young right-back a new deal to ward off interest from other top clubs.
For this reason, Chelsea rewarded the England U-21 international with a new five-and-a-half-year contract worth a mind-boggling $1.03 K per week or $5.40 million per year.
Just imagine what you would do if you were earning $1.03 K per week. I certainly would be somewhere on vacation chilling with my colleagues.
Returning to the subject, the Chelsea academy graduate will earn an eye-watering $2.96 million at the end of his five and half year deal. However, Reece still has another five years left in his new contract.
James is worth over $2.07 million at writing, thanks to his new contract with Chelsea. But as mentioned earlier, this is just the start of his professional career. Therefore, Reece's net worth will increase considerably over time.
Injury | 2022
Reece James England and Chelsea's right-back ruled out for eight weeks utmost due to a knee injury. The designated time is given for his proper recovery.
Reece James | Parents & Siblings
The Chelsea academy graduate was born to his father, Nigel James, who runs a football academy, and his mother is unknown. However, I will update the information as soon as it is made public.
James has an older brother, Josh James, and a sister, Lauren James, who plays for Manchester United Women's first team. Therefore, it is safe to say that football runs in the blood of the James family.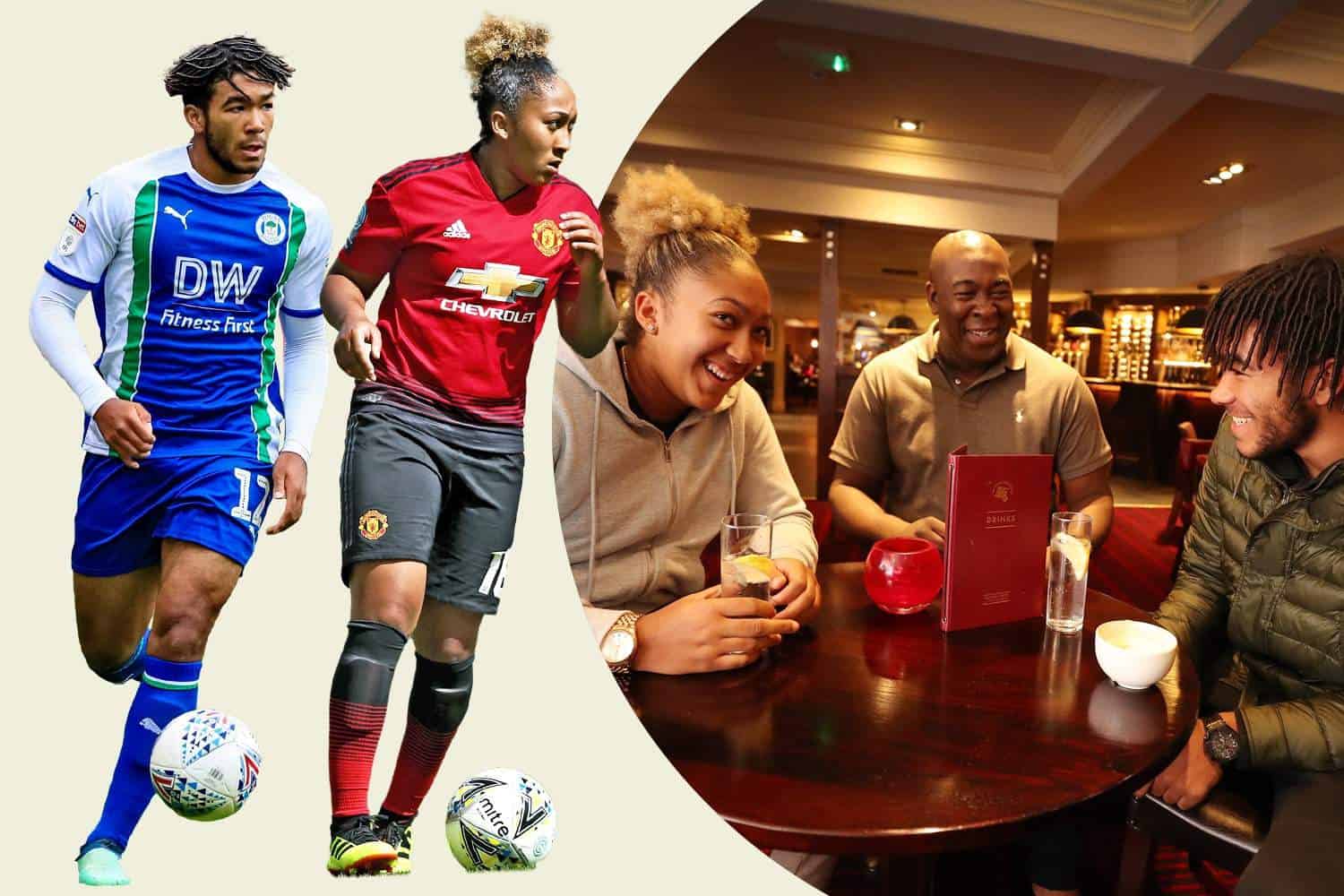 Furthermore, James is a fun-loving and family guy, as suggested by his Instagram posts. Also, he likes to be with his fellow clubmates Mason Mount, Callum Hudson Odio, Tammy Abraham, and Fikayo Tomori, who all graduated from Chelsea's youth academy.
In conclusion, the rise in fame and earnings of Reece has not affected Reece on the pitch and off it. Instead, James has become more mature and values the love and affection that he receives from his friends, family, and fans alike.
Reece James | Social Media Presence
Reece James | FAQs
Who is Recce James' player agent?
According to the information on transfermarkt, the footballer's player's agent is Unique Sports Management.
What was Reece James' rating in FIFA 21?
As per the sources on the internet, we have say that the defender's rating in FIFA 21 was 80.
How many career goals has Reece James recorded?
According to stated Premier League Records available on the sources, he has recorded one career goal.
What is Reece James' kit number?
Reece James is an efficient player and according to that, the athlete's kit number available is 24.
Has Reece James changed his hairstyle?
Yes, the England player recently debuted his latest haircut, and fans are all for it. He highlighted his long dreadlocks.
Click Here To Know More Frank Lampard Bio: Career, Stats, Net worth, Clubs, Wife Wiki >>