Up until this year, not many Chelsea academy graduates had managed to get opportunities at the club.
However, with the arrival of new manager Frank Lampard, everything has changed as more youth players are playing in the first team than at any point in the club's history.
Likewise, one such beneficiary of those opportunities is Tammy Abraham.
The Chelsea forward has managed to grasp the opportunity handed to him with both hands.
Moreover, in just six months, Abraham has managed to cement himself as the main man at Chelsea. In fact, he is their top goal scorer at the moment.
So let us tell you about this magnificent 24-year-old who has lit up the Premier League with his goals.
Here you will find everything about Tammy from his early life to his current days as Chelsea's starting striker.
But first, let's warm up with a dose of quick facts.
Quick Facts
Full Name
Kevin Oghenetega Tamaraebi Bakumo-Abraham
Date of Birth
October 2, 1997
Birth Place
Camberwell, England
Marital Status
In a relationship
Girlfriend
Leah Monroe
Religion
Christian
Nationality
English
Age
24 Years Old
Profession
Football Player
Position
Center Forward
Clubs
Chelsea (Current), Bristol Rovers, Swansea City, Aston Villa (on loan)

Current Teams (A.S. Roma and England National Football Team)

Height
6 feet 3 inches (1.90 meters)
Salary

£2.6 million per year

Net Worth
$8 million
Online Presence
Twitter, Instagram
Last Update
June, 2022
Tammy Abraham: Early Life & Family
Kevin Oghenetega Tamaraebi Bakumo-Abraham, aka Tammy Abraham, was born to his parents on October 2, 1997, in Camberwell, England.
Unfortunately, the information regarding his parents has been kept a secret from the general public.
Apparently, his mother is a Britisher while his father emigrated from a West African country, Nigeria, to England. Moreover, Tammy has had an interest in drama since a young age and enjoyed acting in school, playing various roles.
Additionally, it is known that Tammy's father acts as his manager, helping him with his work. However, they keep a low profile.
Nevertheless, we found out that Tammy has an elder brother Timmy Abraham who also plays football professionally.
Moreover, Timmy is currently on loan to Championship side Bristol Rovers from his parent club, Fulham FC.
Moving onto his early days, Tammy Abraham joined the youth academy at the age of six. After that, Abraham rose through the ranks excelling at every level before making his debut with Chelsea in 2016.
The youth team, Chelsea, was impressed to see such a sprouting talent in Abraham and thus later even promoted him to the U-8 team.
With this, Abraham's dream also came on real, and he met his favorite player, the ex-Chelsea star, Didier Drogba.
Among others, Tammy was part of the team that won the UEFA Youth League and the FA Youth Cup consecutively in 2015 and 2016.
Moreover, by the time he finished his time at Chelsea's youth academy, the young prodigy played in 98 matches scoring an impressive 78 goals.
Tammy Abraham: Career
Tammy began his professional career with the same team he had been with since six, Chelsea. To be precise, the young striker made his debut against Liverpool in a 1-1 draw.
Thereafter, he went to Bristol City on loan during the 2016-17 season, where he scored an incredible 26 goals in 48 games.
Thus, having performed brilliantly in England's second division, Abraham was loaned again to continue his development.
However, this time, it was at a Premier League club. In other words, Tammy joined Swansea during the 2017-18 season.
Although the England international did not live up to his expectations, it was because his teammates were not good enough to supply him with goalscoring opportunities.
Nonetheless, at the end of the season, Abraham recorded eight goals in 39 appearances, which was respectable considering the quality of players available at Swansea at that time.
Subsequently, Abraham returned to the Championship on loan to Aston Villa.
During his one year at the club, he became a cult figure as he led his team to the Premier League through his outstanding record of 26 goals in 40 games.
Thus, a combination of excellent form and the arrival of a new manager and club legend, Frank Lampard, who believed in handing youth opportunities, led to him being the starting forward for Chelsea this season.
Subsequently, many pundits and fans thought that the decision would backfire as Abraham did not have enough Premier League experience to lead a big club like Chelsea.
On the contrary, Tammy has proved everyone wrong by leading Chelsea's goalscoring charts this season with 15 goals in 34 appearances.
If you are interested in buying soccer jerseys, click here>>
As a result, not only have Chelsea got one of the best young strikers on their hands, but they also did not have to pay a single dime in transfer fees as Tammy is an academy product.
Hence, barring any unfortunate injuries, we have full confidence in Abraham to be the main man at Chelsea for the next decade.
Tammy Abraham | Achievements
Abraham has been going cool since the beginning and has stood to prove himself his worth. Overall, he is a cool finisher with predatory instincts. Apparently, he depicts a crucial role in the team.
As for his current stats, Abraham has posted a total of 74 goals to date, with an average of 0.38 goals per game in club competitions. Following are some of the career highlights of Abraham to date.
PFA Fans' Championship Player of the Month: August/September 2016
Bristol City Player of the Season: 2016–17
Bristol City top scorer: 2016–17
Toulon Tournament: 2018
Championship Player of the Month: November 2018
PFA Team of the Year: 2018–19 Championship
EFL Championship play-offs: 2019
London Football Awards Player of the Year: 2019–20 Premier League
London Football Awards Young Player of the Year: 2020
Tammy Abraham | Controversy
As a superstar, most of the time, it is bound to fall into controversies and acts that simply just can't be accepted.
However, some come as acceptable but way over than what we imagined.
Car Incident
During the 2017 Abraham's season-long loan to Bristol City, the athlete found himself in controversy.
To illustrate, in January, Tammy Abraham was accused of careless driving and driving without insurance or a license.
Apparently, the player had crashed a car near the club's training ground in Failand, near Bristol.
The driver was a 61 years old Bristolian who stated that Abraham plowed his high-powered Mercedes AMG into his 10-year-old Toyota Avensis.
Contract Rejection
In March 2020, Chelsea's striker, Tammy Abraham, rejected the contract with the team, which was supposedly going to tie him down to the team.
As a matter of fact, Abraham insisted on a salary that matched the Blues' top earners before committing his future.
Having said so, Tammy is suggesting the same around Callum Hudson-Odoi's £120,000-a-week deal.
Apparently, he had mentioned that he could be better than he has been and looks forward to earning his worth.
Indeed, Frank Lampard's chosen front-man had even netted 15 goals despite his injuries. Altogether, Abraham knew his worth.
Tammy Abraham: Injury
Injuries are some unexpected event that no one can escape, and as a player, it's more uncertain. Likewise, Abraham has been suspended for such damages, which are as below.
2017 Hamstring Injury
During the 2017-18 English Premier League, striker Tammy Abraham faced an injury during the match.
Apparently, he suffered it during the 82nd minute and was replaced by Luciano Narsingh.
Therewith, his injury kept him away from the game for 22 days, and he missed a total of six games.
2020 Hamstring Injury
During the match against Arsenal in January, Abraham slipped and banged into the advertising boards at Stamford Bridge.
Therewith, he has been out of the game for more than a month while missing four games in total.
Apparently, many feared his injury to sustain a hairline fracture, even though the scan showed clear. However, they later assured the public that it wasn't a fracture.
Tammy Abraham: Age, Height, & Nationality
Having been born in 1997 makes Tammy's age 24 years old at the moment. Likewise, the Camberwell native's parents gave birth to him on the 2nd day of October. Hence, he falls under the star sign of Libra.
Moving on, Abraham stands at 6 feet 3 inches (1.90 m), which is quite tall for a footballer. However, Tammy plays like a typical center forward for his club, Chelsea.
As a result, Tammy uses his giant stature to hold up plays and bring his teammates into the game, along with scoring goals for his club.
Is Tammy Abraham a Nigerian?
When it comes to his nationality, it is quite clear that Tammy is English. In other words, he was born in Camberwell, which is a district in South London, thus making him an English citizen.
However, Abraham was eligible to represent Nigeria in international football because his father was Nigerian.
Religion
Talking about his religion, Abraham is a Christian. The reason being his father, as well as his mother, both follow Christianity.
Tammy Abraham | Racist Abuse
We call ourselves a social animals, someone who has to live together to survive.
Indeed, we keep ourselves superior above all, yet at times, we do the same disgusting act that even the so-called "inferiors" will be ashamed to do.
In fact, at times, it makes us wonder is it just the time that's advancing and not people's thoughts.
We had guessed topics such as racism were far gone but still, it hasn't. To elaborate, the so-called "Chelsea fans" were cruel enough to point out Abraham in the pitch and target him with their dirty thoughts.
During the July 2020 match in the Super Bowl against the rivals Liverpool, Abraham had to be the center for racist abuse.
Some fans criticized him for missing the penalty in the shootout.
During the very match, one So-called fan named Josef Smith even dared to aggravate abusive behavior and spit on the rival fans.
Following it, Abraham's social media accounts were flooded with racist comments and abusive words.
Of course, such an act would leave anyone in tears and make him/her lose confidence in them.
Similarly, it was the same with the player, as he was totally torn and devasted. What went over the top was it even made his mother cry, and I can't think anything can be more disgusting than it.
Having said this, it's a relief and a joy that Twitter and those platforms had taken down all such comments and banned the accounts.
Furthermore, with the investigation, Josef Smith was banned from the matches for four years.
Altogether, his act portrays the lack in us as a whole and should be reprimanded in the right way. Not to mention how embarrassing it sounds!
What is Tammy Abraham? Net Worth & Salary
As of 2022, Tammy's net worth stands at an eye-watering $8 million thanks to his professional career as a footballer.
Although he is still young at 23 years of age, Abraham has already played four full seasons as a professional.
And, considering the fact that footballers are paid astronomical sums of money, we can all agree that the England international is earning the amounts we can only dream of.
Furthermore, Tammy is currently a salary of £57,692 per week or £2.6 million per year per the contract he signed with Chelsea in 2017.
Likewise, the 23-year-old had signed a five-year deal that will see him pocket a massive £13 million by the end of it.
If you are interested in buying soccer boots, click here>>
However, due to his recent burst of form for Chelsea during the 2019-20 season, Abraham has demanded an increase in his wage.
As per various reports, Tammy and his agent discuss the Blues over a new contract that would see him pocket well over £150,000 per week or £7.8 million per year.
At first, it may seem an absurd amount of money to be paying for a teenager.
Contrarily, when we see that his same age group players like Marcus Rashford and Raheem Sterling are getting paid £200,000 per week, then his weekly wage is justified.
Tammy Abraham: Wedding & Relationships
Talking about Tammy's relationships, he is not a married man. And, because he is only 22, we can agree with that. However, it does not mean that the England international is not involved in a love affair.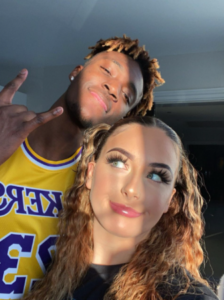 As a matter of fact, Abraham is a dating model and social media influencer, Leah Monroe. Furthermore, the pair have been dating for a while, with rumors of weddings flying around the media.
As a short description of Leah Monroe (born on 17 March 1999 in London), she is also an aspiring vlogger on YouTube. Furthermore, in her self-titled channel, she talks about her successful plastic surgery. Apparently, she also gives off beauty tips on her channel.
Besides that, there was not any information regarding his past affairs. Hence, we believe that Leah is Tammy's, first love. Moreover, judging from Tammy's Instagram posts, we have reasons to think that this might be Chelsea no.9's last as well.
Social Media Presence
Instagram handle (@tammyabraham1): 1.9 million followers
Twitter handle (@tammyabraham): 323.5k followers
Tammy Abraham | FAQs
Is Tammy Abraham left-footed? What is his jersey number?
No, Tammy Abraham is right-footed.
As for his jersey number, Tammy wears number 9 for the A.S. Roma.
How much does Tammy Abraham weigh?
Tammy Abraham with 87 kg (191 lbs).
What is Tammy Abraham's career's total goal?
At the moment, Tammy Abraham maintains a total career goal of 82.