Mason Mount is a professional footballer who plays the central midfielder for the Chelsea Club of the English Premier League and England's National Team. With his integral contribution, Mason grabbed attention in 2021 when Chelsea Football Club won the UEFA Champions League and the UEFA Super Cup.
Mason Mount achieved every Chelsea fan's dream of playing for the club when he debuted on August 11, 2019.
Being a Chelsea fan made it even sweeter as many of his close relatives and friends doubted his chances of getting into the Chelsea academy.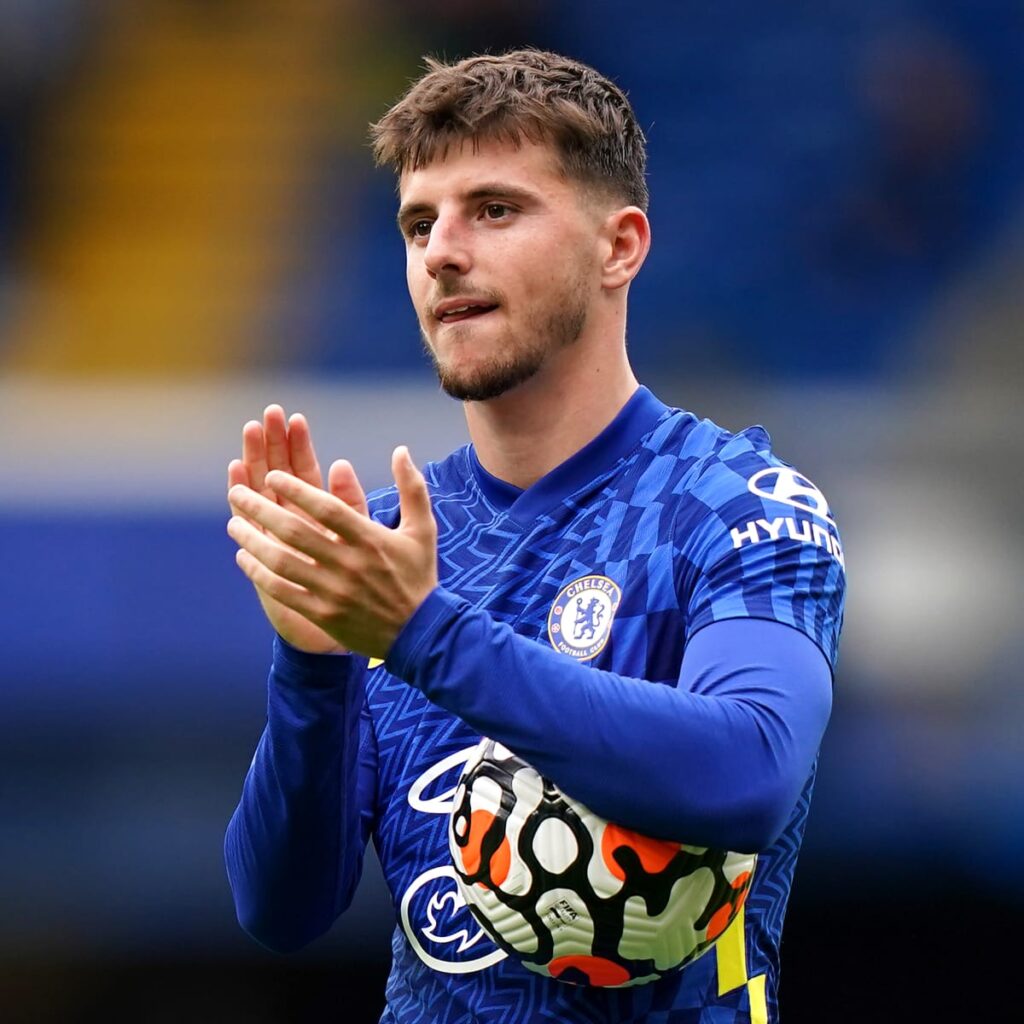 Having joined Chelsea as a six-year-old, his debut for the senior team was 14 years in the making as he had to endure many obstacles to get there.
At the same time, Mount has had an eventful career even though he is still only 27 years old.
In this article, we will inform you about the fantastic journey of a six-year-old kid who realized his dream of playing for the Chelsea Football Club.
So let's get started on this eventful journey of Mason Mount. Here are some quick facts!
Quick Facts
| | |
| --- | --- |
| Name | Mason Tony Mount |
| Birthdate | January 10, 1996 |
| Age | 27 Years Old |
| Birthplace | Portsmouth, England |
| Height | 5'10″ (1.8 m) |
| Weight | 74kg (163 lbs) |
| Nationality | English |
| Ethnicity | White |
| Zodiac Sign | Capricorn |
| Profession | Football Player |
| Position | Attacking Midfielder, Centre Midfielder |
| Clubs | Chelsea, Vitesse Arnhem, Derby County |
| Net Worth | €21.8 million (£20 Million) |
| Father's Name | Tony Mount |
| Mother's Name | Debbie Mount |
| Player Number | 19 |
| Sponsorship | Nike |
| School Name | Purbrook Park School in Waterlooville |
| Relationship Status | Single |
| Social Media | Twitter, Facebook, Instagram |
| Merch Products | Jersey, Boots |
| Last Update | March, 2023 |
Mason Mount: Early Career & Life
Mason was born into a typically robust and strong-willed family that lived in the port city of England, Portsmouth.
Likewise, Mount's father was a semi-professional footballer and a coach. As a result, the young Brit loved football from very early on in his life.
Growing up, Mount had an insatiable thirst for football despite the family asking him to focus more on education.
Surprisingly, the English player managed to do well in school and football.
Nonetheless, everyone knew Brit's passion for football as Mason practiced regularly, morning or evening.
Consequently, the Portsmouth native played for a local academy, Boarhunt, and impressed many spectators in no time.
Call it fate or call it a chance, the opportunity came knocking when one such onlooker was none other than a Chelsea scout.
Subsequently, Mount signed for the Chelsea Football Club youth team at six in 2005.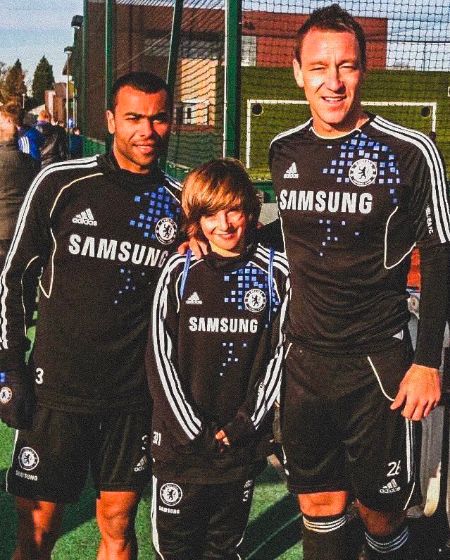 During his time at the academy, Mason met his idols like Ashley Cole, John Terry, Frank Lampard, David Luiz, etc.
As an aspiring player, the young midfielder gobbled every ounce of knowledge the legends would impart to him.
Eventually, Mount's dream would come to fruition when the English made a competitive debut for the London-based club.
Similarly, the surreal moment came after 14 years when he initially signed as a six-year-old.
Mason Mount: Career (Club & Country)
Mason is relatively young, at just 27 years old.
However, the young Chelsea prospect did not deter his aim and was ready to move abroad on loan to collect valuable experience.
Moreover, the attacking midfielder has incredible stats in such a short career. For instance, Mount doesn't fail to find the net regardless of the club he plays.
It's like the English player embeds a homing missile every time he touches the ball.
Dutch club: Vitesse
Chelsea academy recognized Mason as a top prospect upon graduation.
Additionally, the young Brit could showcase game-changing ability while exhibiting a natural flair for goalscoring.
Therefore, Mount joined the Dutch club Vitesse on a season-long loan to fulfill his potential.
The England international made his first-team debut against AZ Alkmaar on August 26, 2017, as a substitute late in the game.
However, Mason had to wait another month to make a starting debut. Although the team lost on penalties, the Chelsea attacker impressed his manager.
After that, Mount scored his first goal for the club in a 1-1 home draw against Utrecht in the 76th minute.
View this post on Instagram
In particular, the English midfielder made several memories in the Vitesse Jersey. None more so than his first hat-trick in a European play-off semi-final against ADO Den Haag.
Afterward, Mount scored again to win 2-1 at home in the second leg, putting his team in first place on aggregate with 7-3.
The Chelsea attacker's performance was laudable as he netted the goal 14 times in a collective 39 appearances for the Dutch side.
Accordingly, the Portsmouth-born attacker frequently appeared in the Eredivisie Team of the Week.
Soon enough, Mount went on to win the Vitesse Player of the Year during his one-year stay at the club.
Championship club: Derby County
The following year Mount joined Championship club Derby County on another season-long loan.
It didn't come as a surprise when the young midfielder scored his debut goal in the 60th minute.
Unfortunately, the England international became sidelined for two months due to a hamstring injury sustained during an FA Cup game against Accrington Stanley.
After a successful recovery, Mount came back with a bang.
The Brit registered a hat-trick against Bolton Wanderers in a 4-0 win. Mount ended up with a tally of 11 goals and six assists for Derby that season.
Chelsea was monitoring Mason's growth in the Championship. Thus, the London club was eager to extend Mount's contract.
It would ultimately lead to his debut against rivals Manchester United in August of 2019.
The English attacker, like any other, dreamt of scoring a goal in the Blues' jersey.
Indeed, the dream came to life when he scored against Leicester City and ended the game in a 1-1 draw.
The young midfielder is flourishing in Chelsea colors as he is a regular starter for the first team.
It is mainly because of Frank Lampard, Mount's manager at Derby County.
Under the guidance of his childhood hero, Lampard, Mason has become an extremely potent attacker.
As such, the Portsmouth native is living up to the expectations as he found the back of the net five times and assisted five times.
If you are interested in buying Mount's jerseys, click here>>
International Career
In several stages, the Chelsea midfielder, Mason, represented his country, England.
Mount started playing from the U-16 level and, in due course, for the U-17, U-18, U-19, and U-21 levels.
Mason was amongst the players that traveled for the 2017 UEFA European U-19 Championship.
Most importantly, he provided an assist for the winning goal against Portugal and proudly accepted the Golden Player of the Tournament at the end.
In like manner, Mount got his first taste of international football as Gareth Southgate invited the Chelsea youth to train with the senior team ahead of the 2018 World Cup.
Mason grew in confidence, which positively impacted his club career as well.
The midfielder got his official international call-up to the senior team for matches against Croatia and Spain in October 2018.
Above all, the Portsmouth-born attacker debuted against Bulgaria in a 4-0 as a 67th-minute substitute in the UEFA Euro 2020 qualifying match.
Finally, Mason scored his first goal for the senior team on November 17, 2019, against Kosovo in a 4-0 away win.
It is his only goal in six appearances for the national team. Mount was named to England's 26-man Euro 2020 squad.
Following contact with Scotland player Billy Gilmour, Mount was forced to self-isolate on June 22, 2021.
He tested positive for COVID-19 after England's 0–0 draw with Scotland at the tournament.
Mason Mount: Salary & Net worth
Impressively, the English central midfielder earns a staggering €77,236 per week.
If you want to know how much the Chelsea youth makes in a year, then look no further, as I have the information for you right here.
Furthermore, he makes £3,952,000 a year, a large sum of money for a grown-up, let alone a 27 years old boy like Mount.
Mason's current net worth is €21.8 Million (£20 Million). His current contract with Chelsea expires on June 30, 2024.
It is due to Mount's young age; after all, the Brit is just in a nascent career stage.
The Brits' net worth will increase considerably after signing a new contract that keeps the youngster in the club for five years.
On the contrary, the Chelsea attacker knows how to control expenses as he owns a black sedan when most footballers have luxurious sports cars.
Granted that Mount lives with his family, we expect him to emancipate himself soon.
Mason Mount: Lifestyle & Family
The Chelsea midfielder is the youngest of his siblings. Also, Mason is the son of Tony Mount and Debby Mount.
Also, he has an older sister who is married and currently lives in Australia.
Mason looks like an extraordinarily social and positive person when we look at various social media.
Further, the youngster enjoys the company of his friends and family most of the time.
Tammy Abraham, Fiakyo Tomori, Callum Hudson Odio, Reece James, and Mason Mount played in Chelsea's youth team during their early years.
Therefore, they always hang out together and have fun on the training ground.
However, he is best friends with Declan Rice as they started playing together in childhood.
Mount is often seen with Declan and their girlfriends whenever he has free time.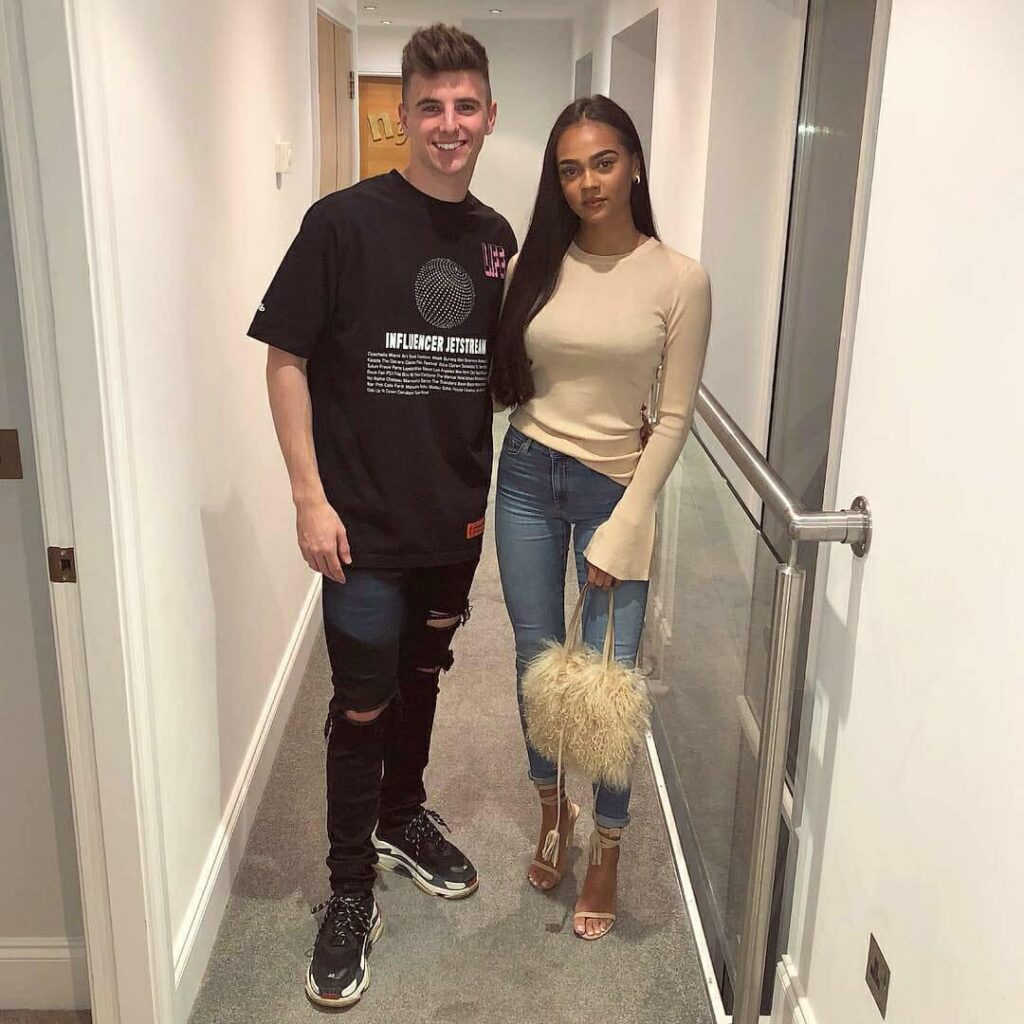 The England international was in a relationship with the beautiful Chloe Wealleans Watts earlier.
However, there have been no posts about each other lately on their social media handles.
Social Media Presence
You can find and follow Mason on all of the major social media platforms as listed below:
Twitter: 1.6M Followers
Facebook: 7M Followers
Instagram: 5.1M Followers
Mason Mount | Popularity
Mason has emerged as a rising footballer with a promising football career. He has substantially added a lot of fans around the globe in a short time.
FAQs on Mason Mount
How old was Mason Mount when he joined Chelsea?
Chelsea promoted Mason to the senior team at 18; he debuted for the club's under-18 team in 2014 at age 15 and played consistently for the under-21 team by 2016.
Does Mason Mount have a child?
Mason and Chloe began dating in 2017. Earlier this year, the singer posted a photo with Mount in Dubai. It's a strong relationship, even though they don't have kids.
What car has Mason Mount?
As a rising star, Mason Mount owns a range of luxury cars, including a Range Rover, an Audi R8, a Q7, a BMW, and a Mercedes Benz.
How much does Mason Mount earn a week?
As per reports, Mount currently earns between £70,000 to £80,000 a week at Stamford Bridge, much less than some of his teammates.
Why is Mount called Money Mase?
Mason Mount is affectionately called "Money Mase" by his teammates and friends because of his skills and abilities; Mason could be bet upon, and you could reap the fruit, certainly.