The American-born Legend, Reggie Williams, is a retired professional basketball player who spent ten stints with numerous teams in National Basketball Association (NBA).
Williams earned the NCAA champion in 1984 and was labeled Big East Player of the Year in 1987.
In addition, he was named McDonald's All-American in 1983 and amassed two times First-team All-Big East in 1986 and 1987.
The athletic 6'7″ shooting guard/small forward was a consensus high school All-American and the top-ranked recruit in the country.
Williams was unstoppable in his pursuit; he was labeled Mr. Basketball USA in 1983.
Alike, he has been depicted as a hoopster who'll bust the chops and doesn't let anyone shove him around, specifically when the game is on the line.
Further, he's best known for his high contributions with shooting and tenacious defense while in Georgetown Hoyas.
Uncover further intriguing details about the American-born former hoopster, Reggie Williams, beneath the article.
Alike, have a brief peek at informative, quick facts about the player illustrated below.
Quick Facts
Full Name
Reggie Williams
Birth Date
March 5, 1964
Birth Place
Baltimore, Maryland
Nick Name
Big Fella
Religion
Christianity
Nationality
American
Ethnicity
Unknown
Education

Paul Laurence Dunbar High School
Georgetown University

Horoscope
Pisces
Father's Name
Melvin Williams
Mother's Name
Gloria Williams
Siblings
Not available
Age

59

years old
Height
6 feet 7 inches
Weight
86 Kilogram (190 lb)
Jersey no.
34, 2, 7
Hair Color
Black
Eye Color
Black
Body Type
Athletic
Profession
Basketball player
The draft Year
1987 / Round:1 / Pick: 4th overall
League
NBA
Active Years
1987 – 1997
Sexual Orientation
Straight
Marital Status
Married
Wife
Kathy Williams
Kids
Five (Riyan, Rikardo, Reggie, Jazzmyne, & Nikara)
Net Worth
$1 million – $5 million
Position
Shooting guard / Small forward
Last played team
New Jersey Nets
Social Media
Instagram
Merch
Basketball card
Last Update

May, 2023
Reggie Williams | Early Life & Family
The retired athletic hoopster was born in Baltimore, Maryland, on March 5, 1964.
Moreover, he holds American nationality and refers to Christianity.
Addressing his family, William's born to delighted parents Melvin Williams and Gloria Williams.
Additionally, Williams' basketball saga began from his hometown Baltimore where his hoop ambition undertook from ages 10 to 15.
Therefore, further information about the family and his background is inaccessible as the player hasn't preferred to disclose much of the subjective entity.
Moreover, he heeded Paul Laurence Dunbar High School and later joined Georgetown University, and apart from being an exceptional hoopster, he graduated in Sociology in the meantime.
Reggie Williams | Basketball career
High School Career
Reggie William attended Paul Laurence Dunbar High School in Baltimore, where he began his basketball career as a McDonald's All-American.
Thus, in his junior season, he with the team finished the season at 29-0, and in his senior season, he finished with 31-0.
In the meantime, the team was rated first in the nation by the USA Today.
College Career
Williams enrolled at Georgetown and spent four stints with the college.
Thus, he relished the excellent collegiate career where he was amongst career leaders in scoring, rebounding assists, and steals in college record.
In the 1984 national championship game, he logged 19 points and added seven rebounds over the University of Houston during his first year.
Therefore, William was labeled the Most Valuable Player of the championship game.
In 1984, Williams and the Hoyas won an NCAA National Championship under the coaching management of John Thompson, who became the first African American coach to succeed in that achievement.
During his senior year in the 1986-87 season, William was the leader of the young team, and in the same season, the team won Big East Championship and the Big East Tournament.
In the meantime, his coach, John Thompson Jr., called him and his team "Reggie and the Miracles" because of his magnificent rendition.
Discover everything out, Tomas Satoransky Bio: Awards & Net Worth>>
Professional Career
Reggie William was selected in the 1987 NBA Draft with the fourth overall pick by the Los Angeles Clippers.
Thus, in December 1987, he logged 34 points and added 8 rebounds against the Seattle SuperSonics.
Moreover, as his NBA journey started in 1987 and ended in 1997, he spent 10 years in the National Basketball Association (NBA).
During his stints, he began his NBA career with the Clippers, and later, he played with Cleveland Cavaliers, San Antonio Spurs, Denver Nuggets, Indiana Pacers, and New Jersey Nets.
Likewise, in December 1992, he logged 35 points and added 9 rebounds for Denver Nuggets against the Houston Rockets.
Therefore, he retired with career scores of 7,508 points and 3,393 rebounds.
Additionally, his nicest pro remembrance was the 1993-94 season when Denver Nuggets knocked off the Seattle Supersonics with the team.
Awards & Achievements
NCAA champion (1984)
Consensus first-team All-American (1987)
Two times First-team All-Big East (1986, 1987)
Big East Player of the Year ( 1987)
McDonald's All-American (1983)
First-team Parade All-American (1983)
Mr. Basketball USA (1983)
Net Worth & Salary
The proficient 6'7″ hoopster has a net worth of $1-$5 million.
As is the case, he spent 10 seasons with several NBA teams during his era from 1987 to 1997.
Unfortunately, his salary and the related information are inaccessible right now.
Read detailed information about Lamar Stevens Bio: NBA & Net Worth>>
After NBA
After a successful NBA player career, Williams became the boys' basketball coach at Towson Catholic High School in May 2009.
Before that, he served his coaching management in Landover, Maryland.
Later in 2010, he served his responsibility as a coach at Archbishop Carroll High School in Washington D.C.
Therefore, he resigned from his coaching career in February 2013.
Thus, coaching was a natural fit for William as there was an inner desire to make a bigger splash in the community by founding a short and academic youth program with his wife.
The Academy administered training for youth basketball, educational mentoring, additional assistance for the children with their assignments after school.
Furthermore, the academy would perform a six-week program to nurture and personally train the kids during the school year.
Books & Basketball
The other program conducted by Reggie and Kathy was "Books and Basketball," a non-profit.
Moreover, the program was geared toward inner-city youngsters from charter schools placed in Washington DC.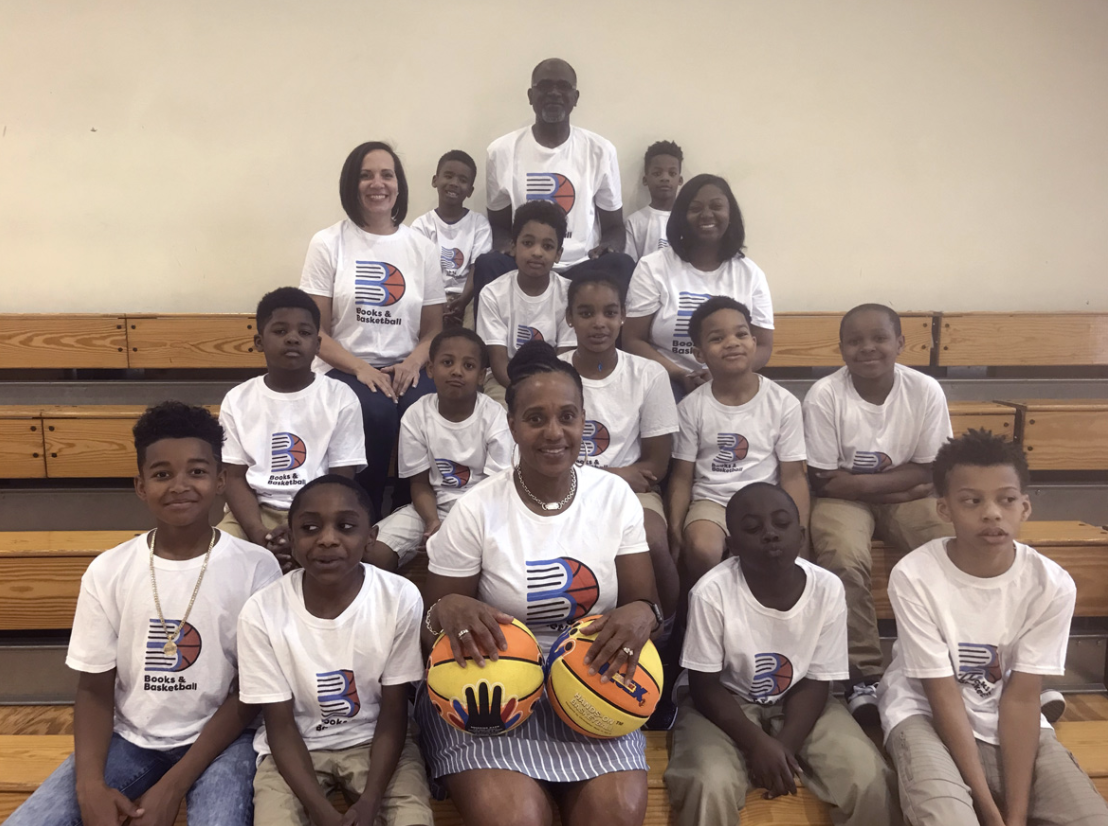 Also, Reggie Williams rationed his notions that "it felt good to lend a helping hand to tomorrow's future leaders."
Moreover, as in his growing phase, he wished he was inaugurated to programs like that gave rise to mentoring and athletics, all in one.
Therefore, he stated that was his fundamental motive to operate youth programs.
Thus, the productive initiative put up with them meant to continue their legacy to tomorrow's future leaders with the Books and Basketball program.
Age, Height & Weight
The productive former hoopster, Reggie Williams, was born on March 5, 1964, and accessing his birth date, he's 59 years old.
Addressing his physical stats, he stands at an elevated height of 6 feet 7 inches (2.01 m) and 190 lb (86 kg).
Impressions-wise, he's quoted as Big fella for his unreal strength that showed up with the well proportionate athletic body.
Additionally, he strengthened his wealthy body enriched with beneficial nourishment and regular workout to dominate the floor with best-skilled momentum.
Social Media Presence
The legendary athlete Reggie Williams is absent from social media sites except for Instagram.
Therefore, find the distinguished former player on social media sites to comprehend accurate information.
Who's Reggie Williams's Wife?
An athletic player was married to gorgeous lady Kathy Williams.
Thus, they're a couple built on faith and retain a passion for doing great for the community.
Together they have persisted with decent spirit and courage to enhance the children around the congregation to live their childhood with good pedagogy and training.
The couples are bestowed with five children; Reggie Jr., Riyan, Rikardo, Jazzmyne, and Nikara.
Moreover, one of the sons, Riyan Williams, has a three-headed years walk-on to the Georgetown squad as the same blood of passion as his father drifts in his veins.
Also, he stated that he looked at his father in all aspects of his life, as a father, teacher, mentor, and everything.
In addition, he stated that he would be the happiest if he could wear the same jersey worn by his father to dominate the basketball court.
Thus, all of them together make a perfect delighted household.
Dream with a Sports Creation
The Baltimore native, professional basketball player, Williams spent numerous nights on the road and often in a smoky bar after the tournaments.
In the meantime, he spent much of his time with thoughts of designing an upscale sports bar which later became more than an ideal dream.
Then, he with his wife, Kathy, journeyed to every restaurant to comprehend the size, location, menu to design the look of their restaurant.
Furthermore, Williams grew up cooking, and it was his dream to accomplish it if he got the time.
Later, they aspired to begin Reggie's Sportz Kafe in Glenn Dale, a $500,000 business venture.
Therefore, the restaurant will serve as a must for dinners to sports enthusiasts from Prince George's County and around the nation.
In addition, they hired many consultants to help them, and Williams planned to work closely with the chief on the menu and occasionally would adore cooking, whereas Kathy would preside the bar.
Discover further about Terence Davis Bio: Career, Net Worth & NBA>>
Interesting Facts About Reggie Williams
Williams has often been compared to George Gervin, Magic Johnson, Kareem Abdul-Jabbar, and Larry Bird.
He possesses numerous nicknames during his eternity. Some of the popular nicknames were; Big Fella, The Man, Bleep, Ice, and Silk.
Tyrone Bogues, an American professional basketball player, shared a decent bond and had entitled as "best friend."
Frequently Asked Questions
What's that one moment Reggie Williams would remember when he returned to the past?
There are many moments, but as an underdog, Williams and the team beat Seattle that, had never been seated before. And that was his best moment to remember.
Does Reggie Williams have an NBA ring?
The celebrated hoopster Reggie Williams doesn't amass an NBA ring.