Richard Commey is a well-known professional boxer from Ghana who has fought against many notable fighters like Teófimo López, Ray Beltrán, Isa Аskhabovich Chaniev, etc.
Notably, he has also won the International Boxing Federation (IBF) in 2019.
Besides that, he has won several regional titles, including the Ghanaian title, the ABU title, and the Commonwealth title.
Moreover, the boxer is considered one of the best in the game. His resilience, fight style, power, and body attacks are commendable.
Similarly, his humble attitude, willingness to learn, and work ethic make him a praise-worthy fighter. In addition, he knows how to keep himself cool despite the result of the match.
The Ghanian fighter said that he learned how to be consistent with his emotions from his mother. Furthermore, she is Richard's biggest supporter and teacher.
A single mother raised him, so he understands the value of hard work and what it takes to be strong.
As a result, he never takes any fight for granted and believes in his abilities and hard work.
Hence, Commey has a great boxing record. Out of 33 fights, he has won 30 of them.
Before getting into details about the resilient Ghanian fighter's life and career, here are some quick facts about him.
Quick Facts:
| | |
| --- | --- |
| Full Name | Richard Oblitey Commey |
| Birth Date | 10 March 1987 |
| Birth Place | Accra, Ghana |
| Nick Name | None |
| Religion | Not Available |
| Nationality | Ghanaian |
| Ethnicity | Ghanaian |
| Education | Not Available |
| Horoscope | Pisces |
| Father's Name | Not Available |
| Mother's Name | Joyce Florence |
| Siblings | Not Available |
| Age | 36 years old |
| Height | 5'8″ (173 cm) |
| Weight | 135 lb (61.23 kg) |
| Hair Color | Black |
| Eye Color | Brown |
| Build | Athletic and Muscular |
| Profession | Boxer |
| Weight Division | Lightweight |
| Reach | 71 in (180 cm) |
| Stance | Orthodox |
| Active Years | 2011 – Present |
| Marital Status | Unmarried |
| Girlfriend | None |
| Kids | None |
| Net Worth | $10 million |
| Social Media | Instagram, Twitter |
| Merchandise | T-shirt, Boxing Gloves |
| Last Updated | November, 2023 |
Richard Commey | Early Life, Family, And Education
Richard Commey was born in Accra, Ghana. He was raised by a strong single mother, Joyce Florence.
Unfortunately, his father's name and whereabouts details are not available publicly. The fighter grew up without a father figure early on in his life.
Nevertheless, his mother fulfilled that spot and became his primary source of encouragement and strength.
Commey did not have the easiest start in life. He and his mother lived under the poverty line, but their challenging situations brought them closer.
Furthermore, Richard credits Joyce for his successful career. She keeps him grounded and motivated. Moreover, he learned his humbleness and patience from his mother.
Although his mother used to trade perishable items in the market as a source of income, it would barely cover the necessities. As a result, he didn't go to school or receive an education.
Richard Commey | Age, Height, And Weight
Since the Ghanian boxer was born on March 10, 1987, he is 36 years old as of November, 2023.
As a professional, he takes great care of his health and diet. Similarly, he works out daily. Hence, Commey is quite fit and has a toned physique.
Besides that, he is 5 ft 8 in (173 cm) tall and weighs 135 lb (61.23 kg). Likewise, he has black hair color with brown pair of eyes.
Richard Commey | Boxing Career
As a kid, Richard used to play soccer in an amateur league for the Cidabs Academy. Shortly after, Richard took up martial arts and was considered Ghana's top kickboxer.
Then, in 2007, some Japanese recruiters came upon him and gave him a chance to compete worldwide. Finally, the Ghanaian fighter decided to settle in the United Arab Emirates.
While training at the gym, he discovered Eamonn Molloy and Leah Oatway, who pushed and encouraged him to pursue boxing.
Moreover, he often expresses his gratitude toward them and has expressed that he wouldn't be boxing without them.
Commey returned to Ghana and started training in Lawrence Carl Loko's Bronx Boxing Club.
A year later, he met his future manager Michael Amoo-Bediako who was on vacation with his sons.
The manager could immediately spot the fighter's raw talent and helped him start his professional career in 2011.
Learn More About NFL Player Turned Fighter, Baron Corbin Bio: Early Life, Net Worth, Boxing & Wife >>
Professional Boxing career
Richard started his boxing career in Ghana, and his first fight was against Baba Nsor. He won the match in the second round via a technical knockout.
Likewise, he won his first regional title, the Ghanaian lightweight title, against Korley Collison. The boxer's first fight outside Ghana was in London against Lithuanian fighter Simas Volosinas.
Besides that, Commey fought against British boxer Gary Buckland to claim the Commonwealth Lightweight title. Commey won the first 24 fights of his career.
The Ghanaian champion's first loss came against Robert Easter Jr. via a split decision. Easter praised Richard for his skills and strength.
His second loss came immediately after Robert fought against Russian fighter Denis Shafikov. Commey lost the fight again by a split decision.
His two losses hit him hard, but his mother encouraged him to remain positive and focus only on what he could control. So, he fought his next fight in Ghana, claiming the WBC International Silver lightweight title.
Similarly, on February 2, 2019, Richard claimed his first world title after defeating Russian boxer Isa Chaniev. After that, he retained his title against Ray Beltrán before losing it to Teófimo López.
In the sixth round, the Ghanaian boxer's last fight was against Jackson Marinez via a knockout on 13 February 2021.
Likewise, in December 2021, Richard faced Vasiliy Lomachenko, where Richard was knocked down in round 7. Lomachenko won all the rounds.
Highlights And Achievements
2019 IBF Lightweight title
Ghanaian Lightweight title winner in 2011
IBF Continental Africa Lightweight title winner in 2013
2013 African Lightweight title
2014 Commonwealth Lightweight title
IBF Inter-Continental Lightweight title winner in 2015
2017 WBC International Silver Lightweight title
You can check Commey boxing records, news, and rankings on the box.live sites.
Richard Commey | Boxing Fight Record
So far, Commey's boxing record shows more wins than losses. He has had 30 successful wins, 27 by knockout alone.
On the other hand, he has one loss via knockout and the other three via decision.
| 34 fights | 30 wins | 4 losses |
| --- | --- | --- |
| By knockout | 27 | 1 |
| By decision | 3 | 3 |
Richard Commey | Girlfriend, Wife, And Kids
The boxer does not have a girlfriend and is currently single. Since he devotes all of his focus toward boxing and being better every day, Commey does not have time to be attentive to his dating life.
As a result, he is not married and does not have kids either. Nevertheless, when he reaches his desired goal and achieves his dreams, he may be more conscious of his personal life.
However, the Ghanian fighter has his mind and heart set on boxing and nothing else. He gives his best and puts all his effort into his growing professional career.
You Might Be Interested In One Of The Greatest Boxers In History, Terence Crawford- Boxing, Family, Achievements & Net worth >>
Richard Commey | Net Worth, Salary, Purse & Charity
Commey has made a successful career throughout his life as a professional boxer. Most of his career earnings come from his boxing career.
Commey has earned most of his wealth through his professional boxing career. His net worth is estimated at $10 million.
Besides that, his purse was about $750,000 in his fight against the American boxer, Teófimo López. He lost the fight, which would've reportedly earned him $5 million had he won.
Furthermore, in his win against Ray Beltran, he earned $350,000 and an additional $20,000 from Beltran overweight.
Moreover, in his last fight against Jackson Marinez, Richard was rumored to have made almost a million dollars. Besides that, the IBF Lightweight champion earns a fair share from endorsements and sponsorships from companies like Syck, Snac, etc.
Following his IBF title win in 2019, the President of Ghana, Nana Akufo-Addo, rewarded him with a car and 50,000 GHS ($8547.01).
You Might be Interested: Canelo Alvarez Bio: Career, Kids, Net worth & Boxing
Charity
However, the boxer mainly focuses on giving back and uplifting youths in Ghana. He believes that his country has a lot of talent and needs opportunities and the right equipment.
His manager, who founded Streetwise Foundation, appointed him as its global ambassador. The two constantly donate boxing equipment to gyms in Ghana.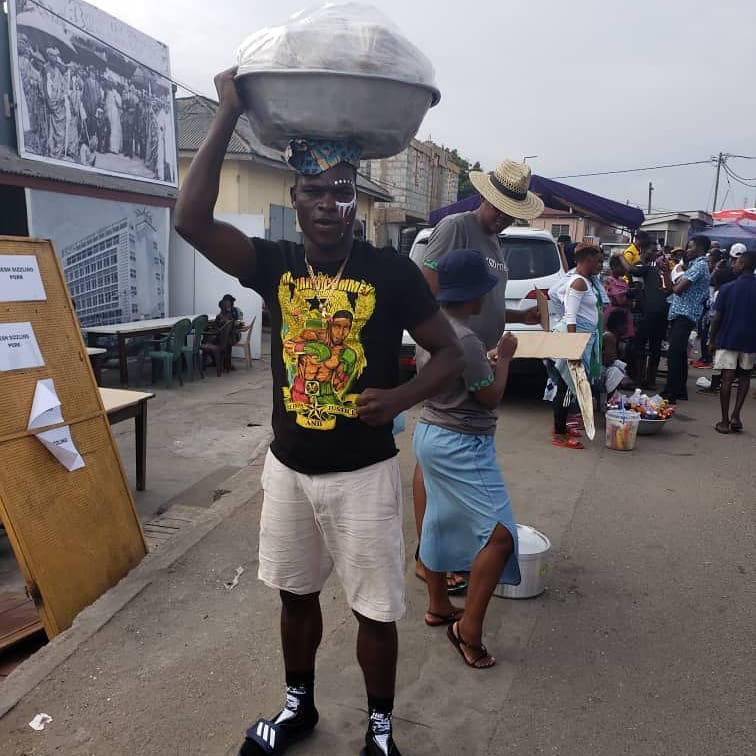 Furthermore, he is the goodwill ambassador of the United Nations Association of Ghana Commission for Women and Children Affairs (UNACWCA).
The organization's primary focus is to empower women and promote gender equality and children's affairs. Likewise, the Ghanaian boxer said,
"I am ready to give back to the society that has blessed me so much throughout my boxing career, and this initiative is one of the various ways to champion that cause."
Don't Forget To Checkout American Boxer Deontay Wilder's Bio: Boxing Career, Kids & Net Worth >>
Richard Commey | Social Media Presence
The fighter is quite active on different social media platforms. Hence, he has an Instagram handle with 18.7 thousand followers.
Commey mostly shares his life as a professional boxer through his handle. He is either in the ring, ready to fight, or training for his next fight in the gym.
Similarly, he has a Twitter handle with over 8.4 thousand followers.
Commey usually tweets boxing-related events, news, and highlights through his Twitter account.
Some FAQs
Who did Richard Commey lose to?
The boxer's first career loss came against Boxrec's eighth-best active light-welterweight fighter, Robert Easter Jr.
Furthermore, Commey's second and third loss was against Russian fighter Denis Shafikov and American fighter Teófimo López respectively. Moreover, he lost his IBF title to López.
Who won Commey vs López?
Commey vs López was won by Teófimo López. He knocked out the Ghanaian boxer in the second round.
Did Richard Commey win his last fight?
The former IBF title winner won his last fight against Dominican boxer Jackson Marinez. Richard knocked out his opponent in the sixth round.