Richard Gasquet's girlfriend Clementine has worked as a model with several French brands. The French couple went public with their romance in March 2022.
The veteran tennis player Richard Gasquet is a man of few words. He rarely posts on Instagram and has never publicly talked about his relationship status.
But on the other hand, Clementine hasn't been shy in showing their love.
The model has been seen at Gasquet's tennis matches, more recently in French Open, along with her two daughters from her previous relationship. So, don't be shocked if you see her at the ongoing Stuttgart Open.
The Frenchman progressed to the quarter-finals of the tournament, beating the heavy favorite Stefanos Tsitsipas.
The win against the Greek player was his 600th career win. It made him the only fourth active player, along with Nadal, Djokovic, and Murray, to reach the milestone.
Richard Gasquet Girlfriend Clementine
Richard Gasquet's girlfriend, Clementine, holds French nationality and is a professional model.
Most of Clementine's work is a collaboration between her and French brands. Clementine has previously modeled for the Parisian suit design brand Paris Madame and jewelry brand Niiki Paris.
She also promotes the skincare brand Oryza Lab on her Instagram handle, which she credits for her glowing skin.
She was also seen earlier this year during the Paris Fashion Week, rocking looks from Haleia and Showroom Mosaique.
Her work allows her to travel worldwide, as the French model is seen sharing snaps from various countries time and again on her social media.
From Monte Carlo to Ibiza to Marrakech, Clementine has had the pleasure to travel and experience several cultures through her work.
Along with being a model, Clementine has to balance her mom's duties. The model has two beautiful daughters, who accompany her on her travels and also to tennis matches.
Richard And Clementine's Relationship Timeline
The French tennis star, Richard Gasquet, has remained private about his relationship in the media.
He rarely gives a glimpse into his life through social media, and most of his Instagram posts are geared toward his tennis achievements.
At least, his partner gives small glimpses of their romantic life on the photo-sharing platform.
Clementine went public with her romance with the tennis player in March 2022. She shared a photo of her hugging a man, only showing the back of his head, and didn't tag him, leaving her followers questioning who it could be.
And on April 13, 2022, during her trip to Morocco, on the sixth slide of her post, she revealed the mystery man to be none other than the French tennis star Richard Gasquet.
Since then, Clementine hasn't been shy in showing her love for the veteran tennis player. She was pictured with him last year at Roland Garros, and a few months later, the couple was seen enjoying a dinner date in Paris.
Last year the couple participated in the fundraising event, Telethon, a televised event that lasts many hours or even days.
Earlier this year, with her daughters, Clementine made her way to the French Open to root for Gasquet.
And only a week ago, the model shared a series of images of her and Gasquet enjoying lunch at Jules Vernes, the restaurant in the Eiffel Tower. She captioned the post, "Love and food."
Richard Gasquet Family
Richard Gasquet comes from a family with a tennis background. He is the only child of his parents, Francis and Maryse Gasquet.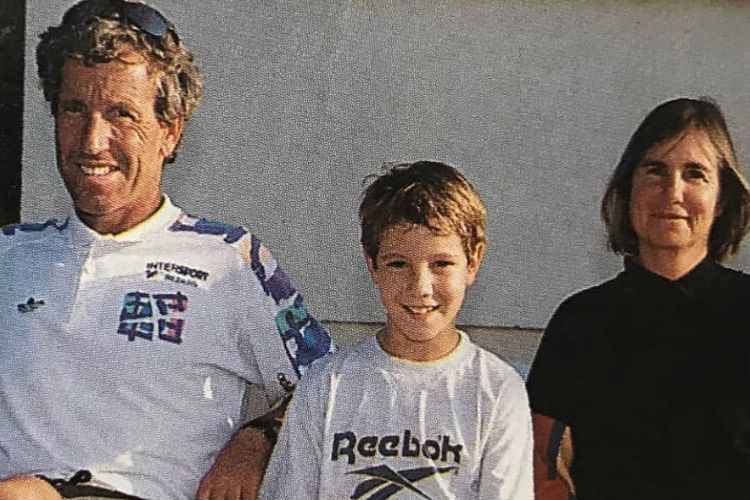 His father, Francis Gasquet, previously ran a tennis club called the TC Serignan with his wife, Maryse. So, when they learned that little Richard was interested in tennis, their world lit up.
The French tennis star was only four when his father started to coach him. Previously, in an interview, Richard said his father was the one to inspire him to become a professional tennis player.