IF you are into kickboxing, then Rob Kaman is a certain name that comes to your mind. He is the legendary phenom of kickboxing.
Rob is renowned for his world-famous low kicks, and everyone calls him "Mr. Low Kick." That is because he set deadly offensive attacks with his low kicks.
Apart from that, he is the world Kickboxing champion. Even after retirement, he is considered #1 in kickboxing.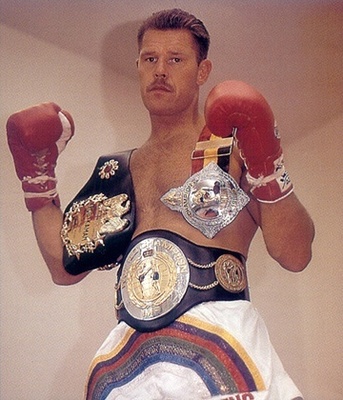 So, please stick with us till the last of this article to know more about Kaman.
Here, we discuss his early life, net worth, and love life, apart from his career.
But before we begin this article, it is time to have an instant glance at the quick facts.
Quick Facts
Full Name
Rob Kaman
Nick Names

The Dutchman
Mr. Low Kick
Hammerkick

Birthdate
June 5, 1960
Age
62
Birthplace
Amsterdam, Netherlands
Nationality
Dutch
Ethnicity
North-East European
Religion
Not Known
Sun Sign
Gemini
Gender
Male
Father
Not Known
Mother
Not Known
Siblings
Six Siblings
Education
High School, Martial Arts
Height
6 Feet 1 Inch
Weight
82 Kg or 181 lb
Eye Colour
Dark Brown
Hair Colour
Dark Brown
Shoe Size
Not Available
Body Type
Athletic
Marital Status
Divorced
Girlfriend
Not Available
Wife
Not Available
Children
Gaby Kaman
Profession
Kickboxer and Actor
Career Debut
A 1978 French Event
Career Wins

97 victories in kickboxing
Mixed martial arts winner, once

Fighting Out Of
Amsterdam, Netherlands
Division
Middleweight
Light Heavyweight
Style
Kickboxing, Muay Thai

Trainer
Jan Plas
Team
Mejiro Gym
Years Active
1978-1999
Net Worth
$1 Million – $5 Million
Merch

Rob Kaman "The Dutchman" – Advanced Ring Preparation and Fighting Techniques (DVD)

Social Media
Instagram, Facebook
Last Update
March, 2023
Rob Kaman: Early Life
On June 5, 1960, Rob Kaman was born in Amsterdam; he was given the name Dutch Kickboxer. He belonged to an average family.
His father was a businessman who had a shop selling costumes, and his mother was a homemaker. Unfortunately, the name of Kaman's parents is still unknown.
Then, at the age of ten, Rob Kaman became a member of Netherland's most renowned club "Ajax Amsterdam."
Till he reached fifteen, Kaman was In Ajax, but suddenly his mind changed, and now he wanted to try something different.
You know how a teenager's mind changes quickly; Kaman was in a phase where his mind was constantly conflicted about his dreams.
As a Teenager
At the age of sixteen, he gave up football and started practicing "Pentjak Silat," which happens to be an Indonesian martial technique mainly used for self-defense.
When he turned seventeen, he started gaining interest in Thai boxing and fell in love. His love for boxing started after he went to a boxing concert in Amsterdam.
Moving further, he joined Netherland's famous "Mejiro Gym."
After a few months of training, Rob fought in the first match held in France at eighteen. Besides, the tournament was arranged by Roger Paschy at the Coubertin Stadium.
There is no information about Rob Kaman's education and high school or college life.
Rob Kaman: Body Measurements
At the time of writing, Bob is 62 years old. As he was born in June, before the twenty-two, this makes his Sun sign Gemini.
Nonetheless, Gemini people are usually extroverted, determined, and focused. They are always thrilled and ready to try something new, and Rob is no exception.
If you don't know, then let us clarify that kickboxing requires a lot of body strength, so one has to be physically fit and healthy to be a kickboxer. So, Rob worked hard to make an ideal body.
Additionally, Kaman is 6 feet and 1 inch. His height helps him make his signature move, i.e., low kicks, more efficiently.
Similarly, Rob weighs around 82 kg. He had a special diet when he was at the peak of his carer.
But now, as he has retired, he has become a little bulky. However, he is cool as always.
You can also read about Lena Ovchynnikova Bio: Husband, Kickboxing & Next Fight>>
Rob Kaman: Career
Initial Days of Career
In 1978 Kaman entered the world of kickboxing and faced the legendary Carillon. His first match and first loss inspired him to train even more complexly.
That loss triggered him; after so much training, his gameplay changed, and soon he got several knockout victories.
Also, Samart Payakaroon and Kongtoranee Payakaroon, who were the hero of kickboxing, were his first contending partners.
Dennoi, a local champion, was the first opponent of Kaman in Thailand, Bangkok.
But the Netherland-born was prepared, and his first match resulted in his first victory. Rob, the Dutchman, knocked his opponent out.
After that, he had a match against Lakchart in Bangkok, but unfortunately, Lakchart defeated Rob on points.
However, Rob's Thai experience helped him win more battles after returning to Europe.
Rob remembered his loss against Lakchart on his very first attempt. So, in 1985 in Amsterdam and 1987 in Japan, Kaman did his best and defeated Lackchart twice.
Championship
In 1983, Rob fought Johnny Moncayo, who happened to be the WKA World Middleweight Kickboxing Champion.
Rob did his best, and with his final low kick, he won the match against Johnny Moncayo.
Hence, Rob Kaman successfully became the first American to conquer a world championship in kickboxing.
Besides, in 1984, Rob was defeated by Payap Premchai, who was Thailand's champion.
The match took place in the Jaap Edenhal in Amsterdam, and Kaman was announced as the winner by points.
However, after three years, Kaman again fought for the Thai championship, and this time he won the match by a knockout.
The same year Rob won the European Full Contact title, held in Geneva, Switzerland.
At that time, he fought Jean-Marc Tonus of Switzerland.
Rob, in 1983 won the European title on Mui Thai by points; he won the title against the famed champion Christian Bahfir from France.
Mid Career
After 1985, Rob took a break from his career and made a comeback in 1987. He fought against Ernest Simmon, and he won that contest on points.
Similarly, he regained his world title in kickboxing from his compatriot Roger Hurd. Rob came back even more vital; he was winning match after match.
Not only in the Netherlands, but Rob also became a big name in Japan. His bout with Thai Lakchart was the most discussed topic at that time.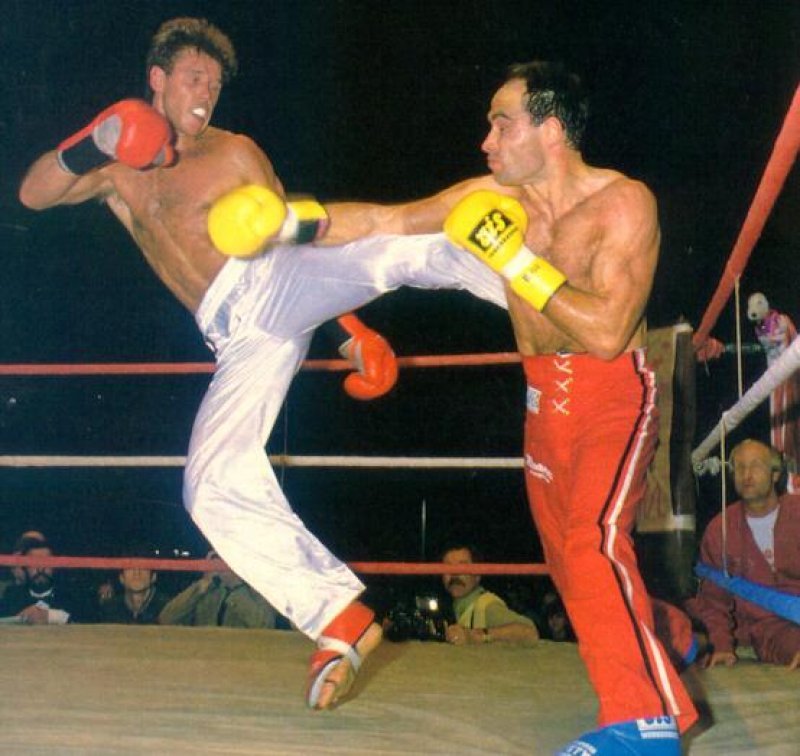 Apart from that, he even fought some other exceptional fighters of Japan, like Hansu Premchai and Don Nakaya.
After being defeated by Changpuek Kiatsongrit in Paris, Rob finally defeated KO in Amsterdam, Holland.
In 1990 while Rob was still Kick Boxing World Champion, he had to defend his title against puncher Peter Smit; the fight went on to the tenth round, which was fully brutal.
But unfortunately, even after so much blood and sweat, Rob lost the match and his title.
Everyone after Rob's defeat thought that would be his last match, but Rob was far from retiring.
He came back even more robust and challenged the new WKA world champion in 1991, but Kaman could not stand Luc Verheye's deadly fists.
Movie
In 1989 Rob made his movie debut with the film Bloodfist.
Former Full Contact world champion Don Wilson was the main character in the movie, while Rob was in the supporting role.
In 1993 Kaman could not give much time to his career as he was doing movies. He was featured in films like "Maximum Risk" and "Double Team."
Later Career
Jean Yves Theriault, a Canadian fighter who had been ISKA champion since 1980, and was scheduled to fight Rob.
But Rob was no less, and he won the title and ended the winning streak of Yves.
Rob was untouchable in the middleweight division, and that was when he was at the peak of his career.
In his career, he held three titles: the WKA Kick Boxing World Champion, ISKA Full Contact World Champion, and Muay Thai World Champion.
Knockout Event
In 1995 the inaugural European $100,000 light-heavyweight competition was held in Thai boxing in Paris.
Kazuyoshi Ishii created this event which also happened to be the originator of the K1 World Grand Prix.
At that event, Rob faced Lavelle Robinson in the quarterfinals round. The fight did not last long as Lavelle fell unconscious after five-six low kicks, and Rob won.
Rob's final match was with Jerome Turcan, who he had defeated before. And beating him again was not a big deal for Rob,
He got victorious in the final and won $100000.
You can also read about Israel Adesanya Bio: Career, Net Worth, Girlfriend & UFC>>
Retirement
In 1996 Rob decided to retire from his career; after a specific time, it felt like he had been fighting for so long, and he finally needed a break.
After retiring, he again did a movie with Jean-Claude Van Dam in 1998, and the film was named "he Legionnaire.
Rob Kaman: Robbery
Everyone makes a mistake when they are young, and the same thing happened with Rob. The adrenaline rush he had when he was twenty-two was beyond anyone's imagination.
Kaman in 1982 made a blunder after trying to rob a bank. However, it was an unsuccessful attempt as after twenty minutes of the robbery, police arrived and arrested him.
He was kept in jail for eighteen months for robbing a bank in Eindhoven.
Rob Kaman: Net Worth
It is estimated that the net worth of Rob ranges from $1 million to $5 million.
Unfortunately, his monthly and annual income is unknown. But we are sure that he has amassed a sizable fortune as a kickboxer and actor.
Rob Kaman: Personal Life
Rob Kaman has always been private about his personal life. As per sources, he is a divorcee, and no one knows his ex-wife and the reason for the divorce.
Besides, he has a daughter named Gaby Kaman. But, there is information about him dating anyone for years.
You can also read about Antonina Shevchenko's Bio: Sister, Career, Husband & Net Worth.>>
Social Media Presence
Rob is active on Facebook and Instagram. However, he has only 170 followers on Instagram and 95k followers on Facebook.
Frequently Asked Questions (FAQs)
What is Rob Kaman doing these days?
Rob Kaman stays at home with his family and enjoys his old age with them.
Does Rob provide kickboxing training?
He does not have an institute to give such training, but rarely is he seen making public appearances and providing training to the interested youths.