The American basketball executive Robb Pelinka and his wife Kristin Pelinka have been married for nearly two decades.
Together, they are proud parents of two children, a son and a daughter.
While Rob is involved in basketball, his spouse is a doctor who is busy saving children's lives.
Regardless of their professional lives, they are a happy family and have supported each other through all ups and downs.
Robert Todd Pelinka Jr., known as Rob Pelinka, currently serves as the vice president of basketball operations and general manager of the Los Angeles Lakers.
After he joined the Lakers as an executive, his team won the 2020 NBA Championship.
Prior to joining the Lakers, he was the late Kobe Bryant's agent and CEO of The Landmark Sports Agency, LLC.
He has represented many players who have been top-14 picks since the 2003 NBA draft; some notable names are Derrick Williams, Dion Waiters, and Andre Drummond.
Moreover, he played collegiate basketball for the University of Michigan and was the 1989 NCAA champion.
In addition to that, he received the 1993 NCCA Male Scholar Athlete of the Year award.
Rob Pelinka Wife Kristin Pelinka
Kristin Pelinka, wife of Rob, completed her bachelor's degree in biology from Duke University in 1998.
She then pursued higher studies at the David Geffen School of Medicine at UCLA and completed it in 2003.
Kristin worked as a pediatrician for Pacific Ocean Pediatrics (June 2006- November 2009), Kiddox Medical Group (November 2009- December 2010), and Coastal Kids (January 2010- April 2016).
After that, she opened her own clinic named Kristin Pelinka MD, which is located in Costa Mesa, California.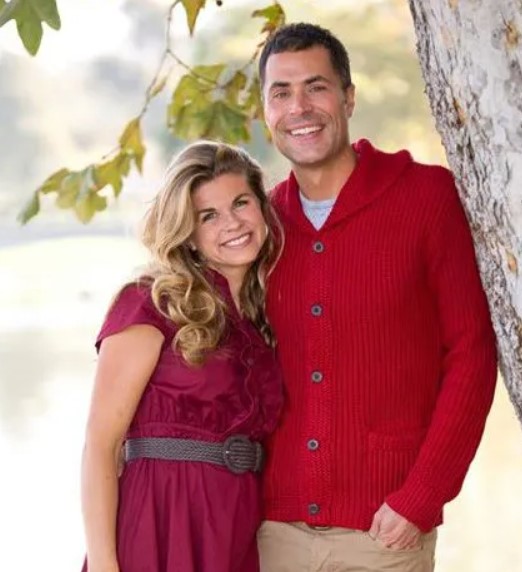 As per her bio, her medical passions include child development, behavioral issues, special needs children, international medicine, and volunteerism.
In an interview, Kristin disclosed that her passion for math and science had sparked her desire to become a doctor when she was just 11 years old. However, it wasn't until some time later that she truly discovered her vocation.
Moreover, she has also worked for several years at The Painted Turtle Camp, a camp for kids with life-threatening illnesses.
In addition to that, Rob and Kristin have been active in a Christian group at St. Andrew's Presbyterian Church.
Relationship Timeline
Rob Pelinka and his wife Kristin Brett Schwarz have been married for over 18 years. The adorable pair got engaged in June 2005.
Two months later, they exchanged their wedding vows in August 2005 in Corona del Mar.
They are parents of two kids, one son named Durham and one daughter named Emery.
Their son Durham is following in his father's footsteps as he plays basketball for his school team and is a class of 2026.
Unfortunately, not much is known about their daughter Emery.