Basketball enthusiasts should have heard the name Rob Pelinka at least once in the last decade.
Rob is an American basketball executive, lawyer, and sports agent. Besides, he was a point guard in his days as a collegiate basketball player for the Michigan Wolverines men's basketball team.
As of now, he serves as the Vice President of Basketball Operations and the general manager of the NBA team, Los Angeles Lakers.
Moreover, Pelinka has been the representative of many renowned basketball players for a long time. Kobe Bryant, Derrick Williams, Dion Waiters, and Kevin Durant are notable NBA stars, he has served as an agent.
Furthermore, he has a vast knowledge and experience of the game as he was once a player himself. Notably, he has lifted the 1989 National Collegiate Athletic Association's Division I Men's Basketball Championships.
The 1993 NCAA Male Walter Byers Scholar-Athlete of the Year has established himself in the basketball world without playing on the court.
Instead, he plays off the pitch to introduce several talented players to the game's top flight.
Formerly, he was the CEO of The Landmark Sports Agency, LLC. One interested in sports but wants to pursue a career off the field can seek tons of inspiration from the man. Let's dive into this article to know more about his success story.
Quick Facts
Full Name
Robert Todd Pelinka, Jr.
Birth Date
December 23, 1969
Birth Place
Chicago, Illinois, United States
Nickname
Rob Pelinka
Religion
Christianity
Nationality
American
Ethnicity
Black
Education
Lake Forest High School, Illinois
University of Michigan
Academic Qualifications
Juris Doctor cum Laude
Bachelor of Business Administration
Horoscope
Capricorn
Father's Name
Robert Todd Pelinka, Sr.
Age
53 Years Old
Height
6 feet 6 inches (198 cm)
Weight
91 kg (200 lbs)
Shoe Size
16
Build
Slim
Favorite Food
Lasagna
Eye color
Dark Brown
Hair Color
Black
Profession
Vice President of Basketball Operations
General Manager
Sports Agent (former)
Playing Position
Point guard
Active Years
1988 – 1993 (Collegiate player)
2003 – 2016 (Sports Agent)
2017 – present (NBA Executive)
Teams
Michigan Wolverines (Player)
Los Angeles Lakers (Executive)
Sexual Orientation
Straight
Marital Status
Married
Wife
Kristin Brett Schwarz
Children
One son & One daughter
Son
Durham Pelinka
Daughter
Emery Pelinka
Favorite Player
Kobe Bryant
Net Worth
$25 million
Salary
$5 million
Social Media
Instagram, Twitter
Merch
Football Cards
Last Update
March, 2023
Rob Pelinka: Early Life, Family, and Education
Pelinka was born in Chicago, Illinois, to his father, Robert Todd Pelinka Sr. Pelinka Sr. was a high school basketball coach in his days.
His father taught him the basics of the game to him. Later, he joined Lake Forest High School, where he was included in the school basketball team.
Later, he joined Ross School of Business at the University of Michigan. There he majored in the Bachelor of Business Administration, graduating with a 3.9/4.0 GPA.
Similarly, in 1993, he enrolled at the University of Michigan Law School. Rob was the top graduate of the school, earning the Juris Doctor cum laude in 1996.
Besides, he was an intern at Winston & Strawn LLP during his time at college.
Rob Pelinka: Playing career
High School
Pelinka had started at the shooting guard position in his high school. Later, he shifted to a point guard position. The best shooter in his area led his high school to their first conference championship.
Rob played with Tim Hardaway, Kevin Duckworth, and Kendall Gill in pro-amateur leagues in Chicago during those days.
Later, Rob joined Wisconsin Badgers as a point guard to feature in the Big Ten league. Similarly, Rob earned 139 points at a tournament in Elgin in 1987, earning the MVP title.
Illinois High School Basketball Magazine included him in the top ten Class AA basketball players list.
The scouts of different colleges saw him averaging 30 points and 10 rebounds per game. A magazine, Chicago Sun-Times, enlisted him in all-Chicago area top 20 players.
College Career
With his brilliant performance recognized all over the Chicago area, he had drawn many universities' attention. Ultimately, in the pursuit of strong law school and business school, Rob chose Michigan University.
He played four seasons with the Michigan Wolverines. With teammates like Mark Huges, Glen Rice, and Terry Milles, he reached the 1988-89 national championships.
The Wolverines won the 1989 NCAA Men's Division I Basketball Tournament against the tea from Seton Hall University. Steve Fisher was the head coach when he was playing for the team.
However, after Robert was redshirted in two straight seasons, the Wolverines lost in the final 1992 NCAA Tournament. Next season, Pelinka scored 16 points against the Ohio States in a 72-62 win.
Pelinka had most charges on the team in his senior season to be the key player. Pelinka also played as a substitute in the national semifinal 81-78 win against the Kentucky Wildcats.
During his appearance in an NBA Summer Camp in California, he had offers from Europe's basketball teams. However, he had plans other than developing himself on the court as a player.
After meeting Arn Tellem, the vice-chairman of Detroit Pistons, his interest shifted to an off-court career.
Rob Pelinka: Sports Agent
Pelinka represents 24 NBA drafted players as of now. He had joined Mayer Brown after receiving a law license. Four years later, with an influence from Tellem, he became an agent.
According to sources, NBA agents make around 4% of the salary and bonus they can negotiate for their clients. Notably, he had founded the Landmark Sports Agency of his own.
Kobe Bryant Agent
The majority of the recognition Pelinka has got in the NBA until now comes for representing late star Kobe Bryant.
Pelinka had got Kobe's trust as he had consolidated him and supported him during the 2003 sexual assault case against Bryant.
Pelinka had negotiated the seven-year, $136.4 million for Kobe with the LA Lakers in 2004.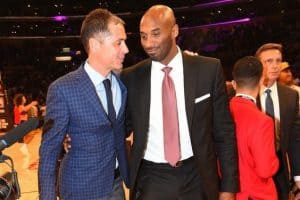 Personally, Rob was the godfather of Gianna Bryant, Kobe's daughter. Later, Rob had arranged the three-year contract extension deal for Kobe in 2009-10 until the 2013-14 season.
Similarly, the contract was further extended for two years in 2013, with a $48.5 million deal by Pelinka.
Sasha Vujacic Agent
Pelinka became the agent for the Slovenian-American NBA player Sasha Vujacic in July 2008. Sasha had parted ways with his former agent Bill Duffy becoming a free agent.
Rob arranged a three-year $15 million contract for Sasha to return to the LA Lakers.
Similarly, in 2011 Vujacic signed with the Anadolu Efes to play in the Turkish Basketball League for a year.
Representing Corey Maggette and Keyon Dooling
Pelinka knew Corey Maggette, who played in the Chicago area. Accordingly, he had represented Corey during his $50 million deal with the Golden State Warriors.
According to the deal, Corey had to play for the Warriors for five years since July 2008.
In the same year, 2008, Rob facilitated Keyon Dooling's signing to the New Jersey Nets under undisclosed contract terms.
Previously, Keyon had been playing for the Orlando Magic. Besides, during the deal $7.2 million salary cap was also arranged for Keyon. However, no team signed Dooling at the end of the 2011-12 NBA season.
Derrick Williams and Andre Iguodala's agent
Derrick Williams was selected second overall in the 2011 NBA draft. Rob managed Williams while he signed for the Minnesota Timberwolves in December of 2011.
In July 2015, Williams had signed for the New York Knicks.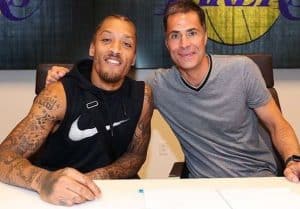 Andre Iguodala was a high school star in Illinois who had known Rob for his fame there. Entrusting Rob as his agent, Iguodala signed for the Philadelphia 76ers in August 2008.
After rejecting $3.8 million per year and $57 million contract extension deals, Rob could negotiate a six-year deal worth $80 million with the 76ers.
Representing Eric Gordon and Derek Fisher
Eric Gordon was the seventh overall pick in the 2008 NBA draft. Gordon had a three-year $8.4 million contract with the LA Clippers in July 2008, represented by Pelinka. But, he quitted the NBA Summer League with an injury.
Similarly, Rob negotiated a four-year $58 million deal with Gordon's New Orleans Hornets in 2012.
Derek Fisher was on the verge of becoming a free agent in 2010. Eventually, Pelinka arranged a 3-year $10.5 million contract extension deal with the Lakers.
Again, Pelinka had a job to do for unsigned Fisher in 2014.
With no offers and intentions for Derek to continue as a player, he opted to pursue a career as a coach. Accordingly, Pelinka finalized a 5-year $25 million coaching deal with the New York Knicks.
Rob Pelinka: NBA Executive
Several hypes surrounded the sports media back in February 2017 that Los Angeles Lakers were about to hire Rob Pelinka as general manager.
They had dismissed Mitch Kupchak, who was previously in the position. Accordingly, the news was official, and Pelinka was handed the duty in March 2017.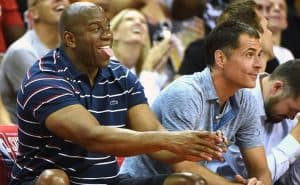 Pelinka was to serve for the Lakers on a five-year contract. His colleague was the vice executive president of the basketball operations at the club, Magic Johnson. Johnson stated that Pelinka had eyed on the Presidency of the club at the time.
Rob Pelinka: Awards
Rob Pelinka received fair success in his playing career in high school and college. He was honored with the inclusion in High School All-American. Besides, he received the Male Scholar-Athlete of the Year in 1993 from NCAA.
Subsequently, he earned the year's Walter Byers Postgraduate Scholarship. Similarly, in his career as an agent, he is regarded as one of the greatest sports.
Business Insider ranked him 5th in the list of best active sports agents in 2010.
Rob Pelinka: Net Worth and Salary
Rob Pelinka has served as a representative for many top players in NBA. Generally, agents earn 4% of the salary and deal money of the players they arrange.
Accordingly, Pelinka can be speculated to have earned a pretty significant fortune in his career.
Rob Pelinka has a net worth of $25 million as of 2023.
Currently, he is the General Manager of one of the top teams in the NBA, the LA Lakers. As a result, he makes around $5 million annually only as a salary there.
Accordingly, he can be expected to increase his fortunes a lot in the coming years.
Rob Pelinka: Relationship and Children
Rob Pelinka is a married man. He tied the knot with Kristin Brett Schwarz in August 2005. The beautiful lady was born in California on September 22, 1976.
The Corona del Mar High School graduate received a Bachelor's degree in biology from Duke University.
Furthermore, she has completed an MD from the David Geffen School of Medicine at UCLA.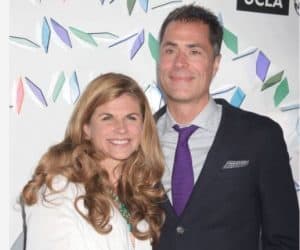 Kristin is a pediatrician who has served for Pacific Ocean Pediatrics and Coastal Kids. The couple has two kids, one daughter, and one son, as of now.
Durham is their son, and Emery is the daughter. No external affairs have been heard so far about both of them. So, we can assume that the two are having an incredible married life.
Rob Pelinka and Rob Lowe
The legendary Rob Pelinka has a legendary doppelganger. Most of the NBA fans known quite well that Rob Pelinka is just an actor, Rob Lowe.
After signing in LeBron James, there was quite a stir among the fans confusing between Pelinka and Lowe.
Furthermore, we can't deny it actually. Because just take a look, and don't you get reminded of Chris Traeger from Parks and Recreation or Sodapop Curtis in The Outsiders.
indeed, the two look quite exactly the same, and their similar names make it more interesting.
Additionally, Pelinka had also talked about his uncanny resemblance with the actor. Besides, he even suggested that fans see them together at once, and then only, they will find no similarities between them.
Well, who knows! In every way, they will look only more interesting.
Rob Pelinka and Magic Johnson
Pelinka and Johnson have been working great together. Even back in days, they worked with Los Angeles Lakers together; however, they did have a low point back in 2019.
Back then, Magic Johnson stated that general manager Rob Pelinka betrayed him during his time as Lakers president.
Actually, he had discussed this topic in an episode of 'First Take' where he added they had issues during the first season.
To illustrate, he stated how Pelinka smeared his name behind the scenes for not being at Lakers facilities enough.
Therewith, it had given Johnson the thoughts to quit from the position. However, today their mystery air is clean.
Thanks to Johnson's signing of LeBron James in the team, that sort out the internal conflicts.
Overall, they hadn't really clear what the internal conflict was actually about and what sprouted it. But as of now, what matters is their togetherness.
Rob Pelinka: Social Media Presence
Apparently, Rob has a significantly less amount of social media presence. He is a very much low-key person and has his life kept in a small circle. Perhaps, he doesn't have any social media accounts.
Therefore, you can check through his hashtag pages.
Twitter hashtag (#robpelinka)
Instagram hashtag (#robpelinka)
Rob Pelinka: Frequently Asked Questions
Was Kevin Durant's agent Rob Pelinka?
Rob Pelinka represented Kevin Durant for almost a year since March 2012. A month earlier, Durant had parted ways with his long-time agent Aaron Goodwin.
Was Rob Pelinka the best friend of Kobe Bryant?
Rob Pelinka represented late Kobe Bryant for more than a decade. It all started when Pelinka earned Kobe's trust when he struggled with the sexual assault case in 2003.
Soon, Kobe parted ways with his first agent, Arn Tellem.
Pelinka is the godfather of Kobe's daughter, Gianna. Kobe and Pelinka had a good relationship even after Kobe retired from a professional career.
Why do people hate Rob Pelinka?
Rob Pelinka has been doing wonders, but quite recently, he was also featured as the Grade B for his work. Keeping it aside, he is not totally hated but he was caught up with controversy.
In 2019, Pelinka was caught up with a lie that included Heath Ledger and Kobe Bryant. Apparently, the public was quick to react to the lie, as later cleared by Kobe, it was a mixed-up story.