The undisputed talent, Robbie Hummel, is an American-born former professional basketball player who played overseas and in National Basketball Association (NBA).
The Indiana native henceforth administered his role as a TV commentator and is currently engrossed in the same profession.
The professing forward was the key player of the Purdue Boilermakers, and he was destined to be an extraordinary contributor to the NBA.
Hummel was the explicit story of determination. In the fall of 2007, he was speculated to be a four-star recruit by Rivals.com and was listed as the No. 21 small forward and ranked No. 75 player in the nation.
THe 6'8" athlete was the most significant asset as an NBA prospect due to his prominence in shooting the ball from the perimeter.
Following his stint with the Timberwolves, he played for the International teams in Italy and Russia and had assignments with Denver Nuggets but didn't appear in another NBA game.
There were lofty expectations for the university's legitimate competitor after his selection to NBA, but injuries stalled his standout.
Uncover further informative details about the former sensational player, Robbie Hummel, beneath.
Quick Facts
Full Name
Robert John Hummel
Birth Date
March 8, 1989
Birth Place
Valparaiso, Indiana
Nick Name
Baby Boilers
Religion
Christianity
Nationality
American
Ethnicity
Unknown
Education

Valparaiso High School
Purdue University

Horoscope
Pieces
Father's Name
Glenn Hummel
Mother's Name
Linda Hummel
Siblings
One (Dan Hummel)
Age

34

years old

Height
6 feet 8 inches
Weight
98 Kilogram (215 lb)
Jersey no.
6 – Minnesota Timberwolves
Hair Color
Light golden brown
Eye Color
Brown
Body Type
Athletic
Profession
Former Basketball player
NBA Draft
2012 / Round: 2 / 58th overall pick
League
NBA & International
Active Years
2012 – 2017
Sexual Orientation
Straight
Marital Status
Unmarried
Girlfriend
Logan Andrews
Kids
None
Net Worth
$1 – $5 million
Position
Small Forward / Power Forward
Current Profession
TV commentator
Social Media
Instagram, Twitter
Merch
Robbie Hummel on Cover Purdue Men's Basketball Newspaper Supplement
Last Update

November, 2023
Robbie Hummel | Early Life & Family
An athletic figure, Robbie Hummel, was born in Valparaiso, Indiana, on March 8, 1989.
The player's full birth name is Robert John Hummel, but he's generally known as Robbie Hummel. In addition, he holds American nationality and follows Christianity.
The player is an athletic son of his father, Glenn Hummel, and mother, Linda Hummel.
Talking about the origin, his parents are from a sports background; Glenn Hummel was raised in Champaign, IL, and used to play tennis at the University of Illinois.
As a young lad, Robbie used to go along with his father to the local YMCA to attend his dad's basketball tournament.
As they returned home, they admired watching the Chicago Bulls game on TV while Michael Jordan used to rule the league.
His mother, Linda, was committed to several sports in high school, including basketball. She was also a cheerleader at that eternity.
Later, she administered as a P.E. teacher and coached both varsity volleyball and varsity gymnastics at Portage and Wheeler High School in Indiana until he was born.
Robbie Hummel is blessed to share his childhood with his brother, Dan Hummel. He played varsity basketball and football at Valparaiso high school.
His brother, Dan, was All-State champion in Indiana for football, and as he saw his destiny in football, he later joined Grand Valley State in Michigan and played college football.
Robbie Hummel | Amateur Career
High School Career
Hummel enrolled at Valparaiso High School in Valparaiso, Indiana.
During his senior season at high school, he logged 15.7 points, 7.1 rebounds, and 4.1 assists per game.
Udonis Haslem is the American-born prominence power forward and three-time NBA champion. The robust player had a net worth of $30 million. Go through to know more about him!
College Career
Hummel attended Purdue University and played for the Purdue Boilermakers basketball team from 2007 to 2012.
He recorded the highest free throw percentage in a school's history with 86.5 accuracies during his first year.
In the meantime, he was labeled First Team All-Big Ten and became the first player to earn the honor.
He assisted the team in their first Big Ten Tournament championship in school history during his sophomore season.
Following this, he was named the most valuable player of the NCAA Tournament.
During the 2009-10 season, Hummel was labeled First Team All-Big Ten Selection for the second time in his career at Purdue University.
He was then named Third Team All-American, a State Farm and NABC by Fox Sports, and Honorable Mention All American by Associated Press.
After a destructive season, 2010-11 season where Hummel tore the ACL, he returned to the squad as a fifth redshirted senior.
In the meantime, he was labeled one of the 50 candidates for the John R. Wooden Award and the #24 of the Top 100 players on CBSSports.com.
Furthermore, Hummel was selected as First Team All-Big Ten for the third time.
Robbie Hummel | Professional Career
Hummel was selected with the 58th overall pick in the 2012 NBA Draft by Minnesota Timberwolves.
He played with the Timberwolves in the 2012 NBA Summer League. Later, he signed a one-year agreement with the Spanish team, Blu: sens Monbús.
Hummel once again joined the Minnesota Timberwolves for the 2013 NBA Summer League.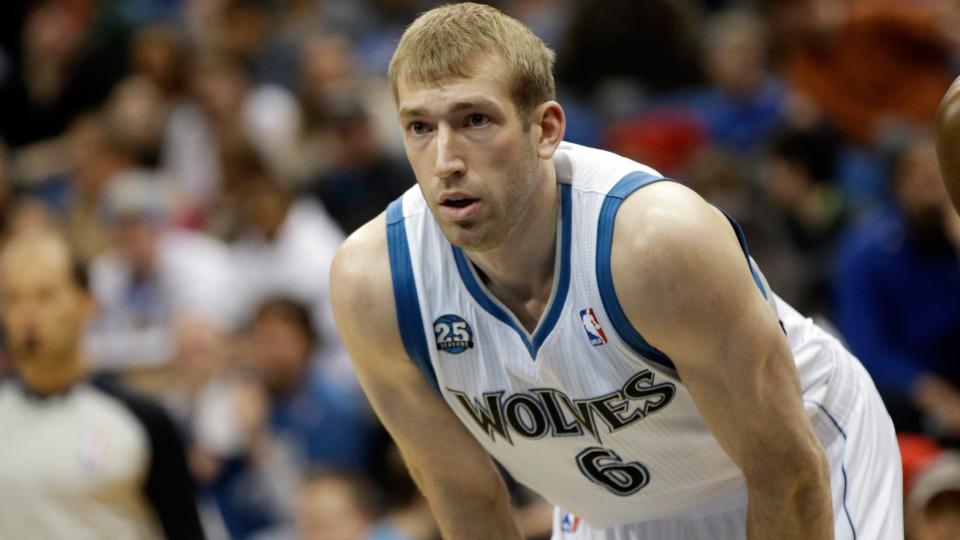 In September 2013, he officially signed with the Timberwolves and re-signed with the team in July 2022.
Then, he signed one year deal with EA7 Emporio Armani Milano, an Italian team, in July 2015.
He appeared in 11 games and averaged 9.0 points, and added 5.0 rebounds in 22.4 minutes per game before splitting up with the Italian team.
Hummel signed with the Denver Nuggets in September 2016, but the team shortly waived him after playing seven preseason games.
In the 2016-17 season, the player signed with the Russian team Khimki for the remaining season.
Following that, Hummel declared to become a studio analyst and color commentator for ESPN in October 2017 and took retirement from his professional basketball career.
International Career
Hummel was one of the selected members for the USA Men's 2009 World University Games in Belgrade, Serbia.
He assisted in leading the Team to the Bronze medal against Israel, where he averaged 7.3 points and 3.4 rebounds per game.
Honors & Grants
Senior CLASS Award (2012)
Second-team All-American – NABC (2010)
AP Honorable Mention All-American Two Times (2010, 2012)
First Team All-Big Ten for Three Times (2008, 2010, 2012)
Third-team All-Big Ten (2009)
Big Ten All First-year team (2008)
Male Athlete of the Year – USA (2019)
Medals
Men's 3×3 basketball in Belgrade (2009) – Bronze
FIBA 3×3 World Cup in Amsterdam (2009) – Gold Medal
Robbie Hummel | Injury
Since Hummel entered the basketball realm, his meet-up with injuries has been an immense rivalry.
Accordingly, he has been harmed a ton. During his sophomore year of college, the player was in and out of the lineup due to a hairline fracture.
In 2010, he confronted two ACL tears within eight months of junior year.
Coming in 2012, he was sidelined early in his rookie season due to a meniscus tore.
Then, he broke the fifth metatarsal of his shooting hand three months into the season while he was in his second stint with the Minnesota Timberwolves.
In 2016, he tore his labrum and dislocated the shoulder during an event in Milan, Italy. For that, he had to commit to shouldering surgery.
Thus, overcoming the injuries was the most challenging chore that Hummel had confronted with an explicit mindset.
Robbie Hummel | Net Worth & Salary
The dominant former player, Robbie Hummel, has a net worth of $1-$5 Million.
Addressing his past salary, in the 2016-17 season, with Denver Nuggets, he earned $150,000.
His estimated salary in 2013-14 with his first played team, Minnesota Timberwolves was $490,180.
In the 2014-15 season, his estimated income increased to $880,000.
Ryan Anderson is a retired American-born professional basketball player who had excellent pursuits with college basketball for the California Golden Bears. Get more information about the player!
Social Media Presence
Robbie Hummel | Body Features
Robbie Hummel was born on March 8, 1989, and according to his birth date, he's 34 years old.
About his physical stats, he stands at the soaring height of 6 ft 8 in (2.03 m), and his body weight is around 215 lb (98 kg).
Hummel retained regular height and a well-proportioned physique and showed flashes of being a decent shooter on the floor.
Moreover, he possessed quick steps, terrific hands, skills, and the ability to finish at the rim.
Checkout: Davis Bertans biography- The player is a Latvian-born professional basketball player currently playing for the Washington Wizards of the NBA.
Who is Robbie Hummel's Girlfriend?
Hummel is currently relishing his life with his beautiful girlfriend, Logan Andrews.
The couple had been dating for more than two years, seemingly looking better together.
Logan did attend Valparaiso High School, and she played varsity soccer in that respective eternity. To add more, she was also a cheerleader in high school.
Furthermore, Logan's also an actress living in Hollywood, California, and once the couple was spotted attending the 2019 Team USA Awards at Universal Studios Hollywood.
Thus, the couple isn't married yet, but love is indeed in the air, and they're cherishing their moment to the max, journeying to several nations.
FAQs
What would Robbie Hummel be doing if he was not an athlete?
If he were not an athlete, he somewhat would be a pilot. He confessed that he enjoys traveling, and it would be great fun to be the pilot.
Why did Robbie Hummel retire?
Hummel announced his retirement via Twitter, and he wrote that he'd had a tough time staying healthy and felt difficult living abroad.
That's why he'd thought of changing his odds into something that he felt necessary.