Robert Bobroczkyi, anglicized as Bobroczky, is a Hungarian professional basketball player of Hungarian descent who became a sensation due to his unbelievable height. Currently, he plays for Rochester University in Michigan. He is the second tallest basketball player in the world, behind Paul Sturgess.
Additionally, Robert was recruited in 2014; however, the American media recognized him after his video went viral in 2016.
Therefore, he made his mark as a basketball prospect right then. During his time in the Italian Club Stella Azzurra, he was recorded as the tallest European basketball player.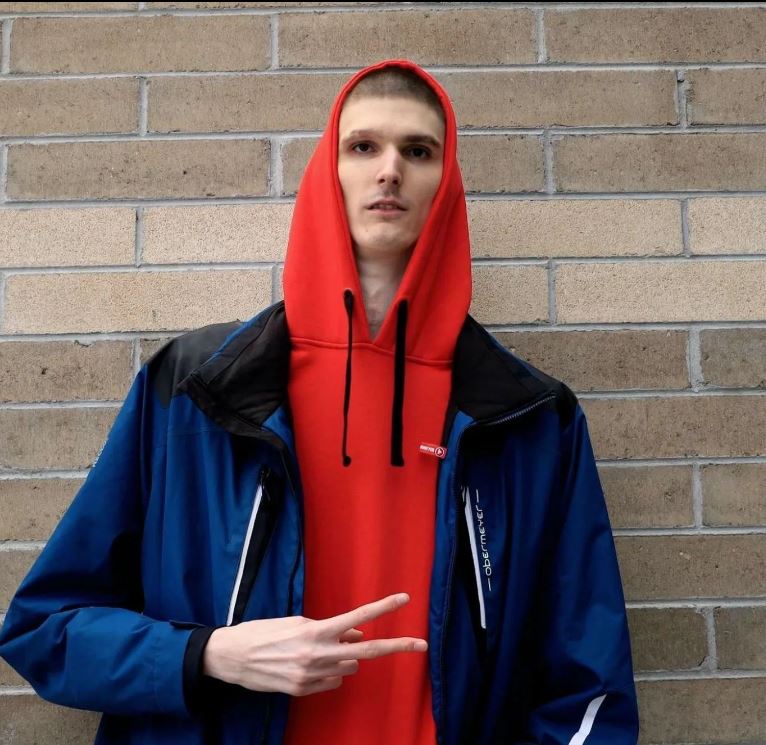 Born in Arad, Romania, Bobróczky is fluent in Romanian, Hungarian, English, Serbian, and Italian.
He went to Romania shortly after classes began in autumn 2020 owing to the COVID-19 epidemic but returned in fall 2021 with the spelling "Bobroczkyi" on the Warrior roster.
Let's begin by disclosing a few of his quick facts!
Quick Facts
Full Name
Róbert Bobróczkyi
Date of Birth
July 17, 2000
Birth Place
Arad, Romania
Nick Name
Big Bob, B.O.B
Religion
Christian
Nationality
Hungarian
Ethnicity
White
Horoscope
Cancer
Age
22 Years Old
Height
7 ft 7 inches (2.31 m)
Weight
225 lbs (102 kg)
Hair Color
Brown
Eye Color
Black
Father's Name
Zsigmond Bobroczky
Mother's Name
Brunhilde Bobroczky
Siblings
No
Education
High school (Grand River Academy)

Training Centre (Spire Institute and Academy)

Marital Status
Unmarried
Girlfriend
No
Body Measurements
17 (US), 53 (EU)
Profession
Basketball player
Position
Center
Jersey no.
23
Affiliation
SPIRE Institute (A.S Stella Azzurra)

Rochester University

Active Years
2014-2020
Net Worth
$1.5 million (Approx)
Social Media (Hashtags)
Instagram, Twitter
Last Update
March, 2023
Physical Attributes
Robert is known for his insanely crazy height. The player weighs 225 lbs (102 kg) and has a fair complexion, brown hair, and black eyes.
Though he is crazily tall, he is slim with a small oval face. He has a shoe size of 17 (US), 53 (EU), and a 140 cm (57 in) inseam.
Robert Bobroczky | Family Details, Early Life, Height
Bobrovsky was born in Arad, Romania, on July 17, 2000. He holds a Hungarian Nationality. Furthermore, he grew up with a Romanian-born Hungarian parent.
His father is Zsigmond Bobroczky, and his mother is Brunhilde Bobroczky, and he has no siblings.
Robert was born under the zodiac sign of Cancer and is a Christian. On the one hand, Robert's father is a former basketball player standing at 7 ft 1 inch.
On the other hand, his mother is a former handball and volleyball player with a 6 ft 1-inch height.
Indeed, Robert's father played professional basketball alongside the tallest player in basketball history, Gheorghe Muresan. They had teamed up for Romania's national team.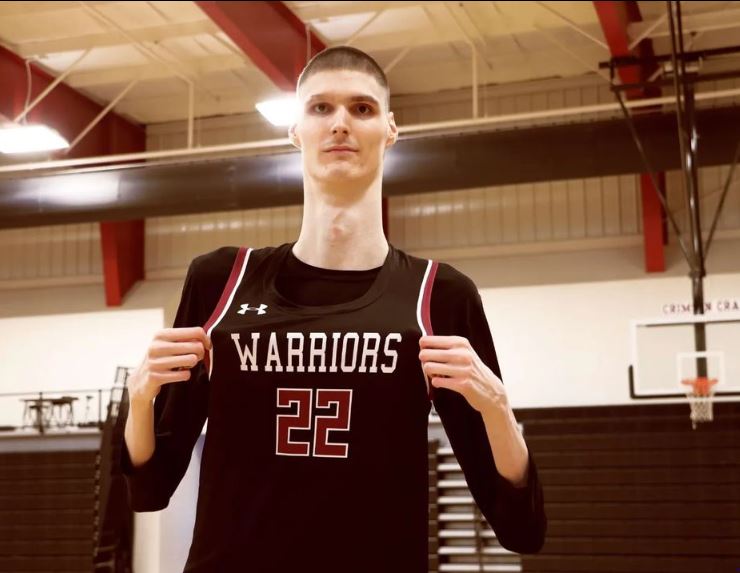 Additionally, even at 8, he was taller than his mother by 1 inch. Gradually, until he was 12, he surpassed his father's height, standing tall at 7 ft 2 inches.
At 13, he was recorded to be taller than Robert Wadlow (World's Tallest man) in the same period.
Since his childhood days, he has been a medical science study subject due to his exceptional towering height.
However, as many ask, his gigantic height is not a hormonal disease or overgrowth syndrome. Moreover, his height is due to his healthy genetics (i.e., familial or constitutional tall stature).
Robert Bobroczky | Career
Robert got encouragement to pursue basketball because of his height. When he first made his high school basketball debut, he weighed just 190 lb (86 kg).
Early Career
For the first time, in 2014, he was recruited by the amateur level basketball club based in Italy, A.S. Stella Azzurra. The club is renowned for the growth of NBA power forward Andrea Bargnani.
Many coaches also noted Robert, and as per his scouting report, he had an improved mid-range jumper and passing ability.
In addition, his immense height and physical attributes made him an apparent mismatch against any of his opponents.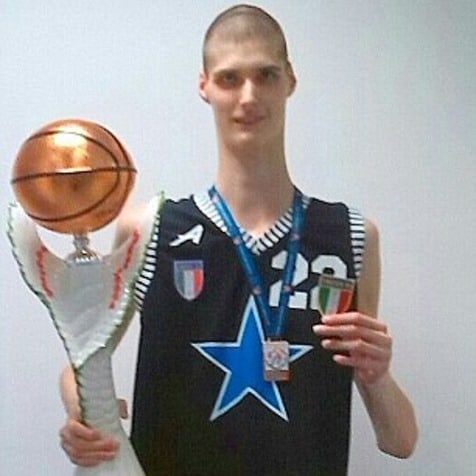 On the contrary, he has limited endurance and mobility on the court due to his lack of muscle mass.
Therefore, his tremendous gait threatened him with early exhaustion compared to his teammates in a single go. Hence, he was coached to work on his lean muscles and exhaustion problem.
Despite the problem, he partook with Stella Azzurra and contributed to winning the Under 15 championship title.
As the match's videos surfaced on the internet, he was seen dominating the much shorter competition and got quite popular in the Italian circuit.
Adding to it, he also got the attention of many national and international media houses.
High School Career
After his years in the A.S. Stella Azzurra, Robert moved to Geneva, Ohio, in the US. In 2016, he attended the prep school SPIRE Institute and Academy.
He was first coached in the American style for his first year, bulking him up; the American style of basketball is played more physically than the European style.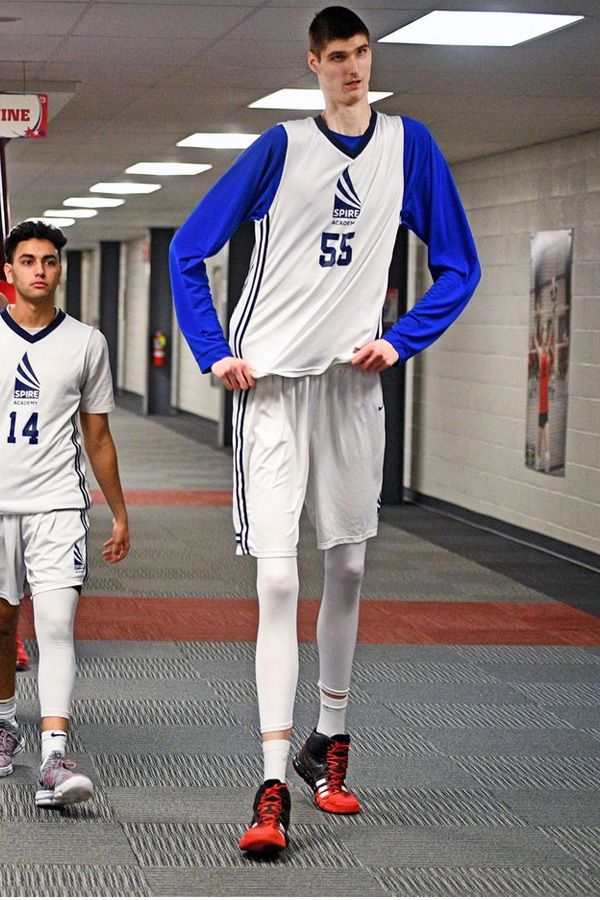 On January 14, 2017, he made a debut with the SPIRE Institute and Academy after a year of training. Following it, in 2018, he started attending nearby Grand River Academy.
According to the source, SPIRE Institute covers his annual training and boarding costs worth approximately $55k.
Besides, they provide him with a medical facility of several sessions with psychologists and treatment through Cleveland Clinic. As of 2020, Robert went to Rochester University to complete his higher academic degree.
Robert Bobroczky | Height Problems
Until now, we were amazed by the high stature of Bobroczky, which sounded pretty cool. However, things don't get excellent for him as he faces countermeasures from his height.
Robert was named the youngest high school basketball player alive. Although Robert has no tumor or Gigantism, he does have scoliosis, which means a curve spine.
Due to his abnormal height, he has a sideways spine curvature.
Similarly, Bobroczky faces knee pain and a neck bend, which will continue for the long term.
From 14, his parents took him to the Children's National Medical Centre in Washington.
Back then, the doctors feared that his unusual growth would stop. But as we see now, it seems like he has stopped growing.
Robert Bobroczky | RU Men's Basketball
As of 2020, Rochester University Men's Basketball signed in Robert Bobroczky. Robert had spent four years at SPIRE Institute and Academy in Geneva, Ohio.
The coach of Klint Pleasant stated, "We're excited about welcoming Robert into our program. He's hungry to play and has a desire to work on his strength in hopes of assimilating to the physicality of the college game. His size will be unmatched, and he has a skill set and coordination to build upon."
Robert Bobroczky | Net Worth
As of 2023, Robert is estimated to have a net worth of around $1.5 million. More details on his salary are not disclosed.
Robert Bobroczky | Love Life
Until today, Robert has no girlfriend, as there is no news about it. Maybe, he is well-focused on his career and the games.
The term "marriage" hasn't occurred as he is still young. However, his sexual orientation is straight.
Facts of Robert Bobroczky
Robert is multilingual. He can speak English, Italian, Serbian, and Hungarian. However, his mother tongue is Romanian.
He likes horror movies, science fiction novels, "old school" music, and NBA 2k.
Robert taught himself to play the Piano on Youtube.
During his English presentation in class, he was to prepare about King Arthur and the Knights of the Round Table. However, Robert joked about the Indiana Jones movie.
Robert is a straight-A student.
Bobroczky has been featured in top magazines such as ESPN, The New York Times, Sports Illustrated, and other outlets.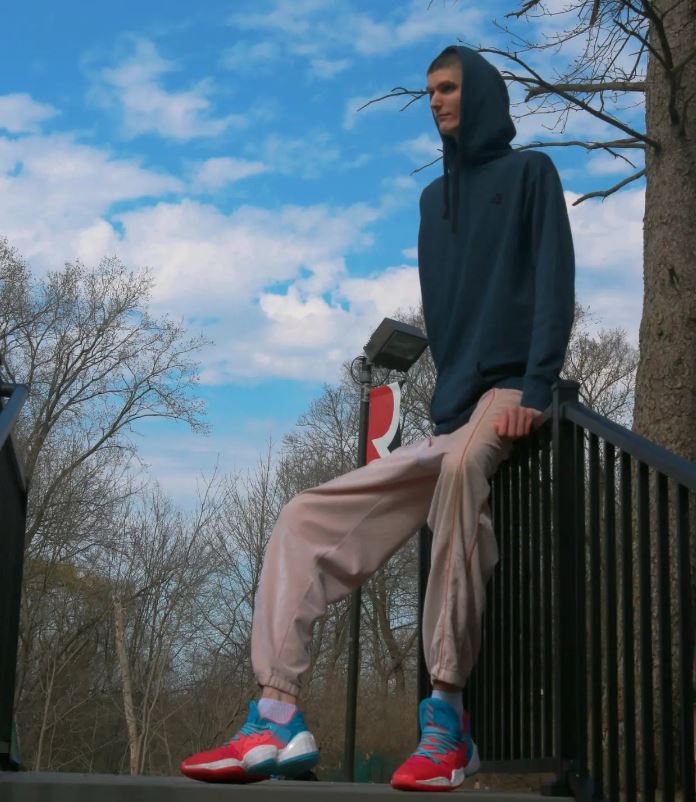 Robert Bobroczky | Returned confidence
Being one of the world's tallest players and surpassing your friend's height does not always sound incredible. Robert had to go through many irrelevant thoughts as he grew up.
He shares how he felt like an outcast, always in someone's interest, laughs, jitters, and amazement.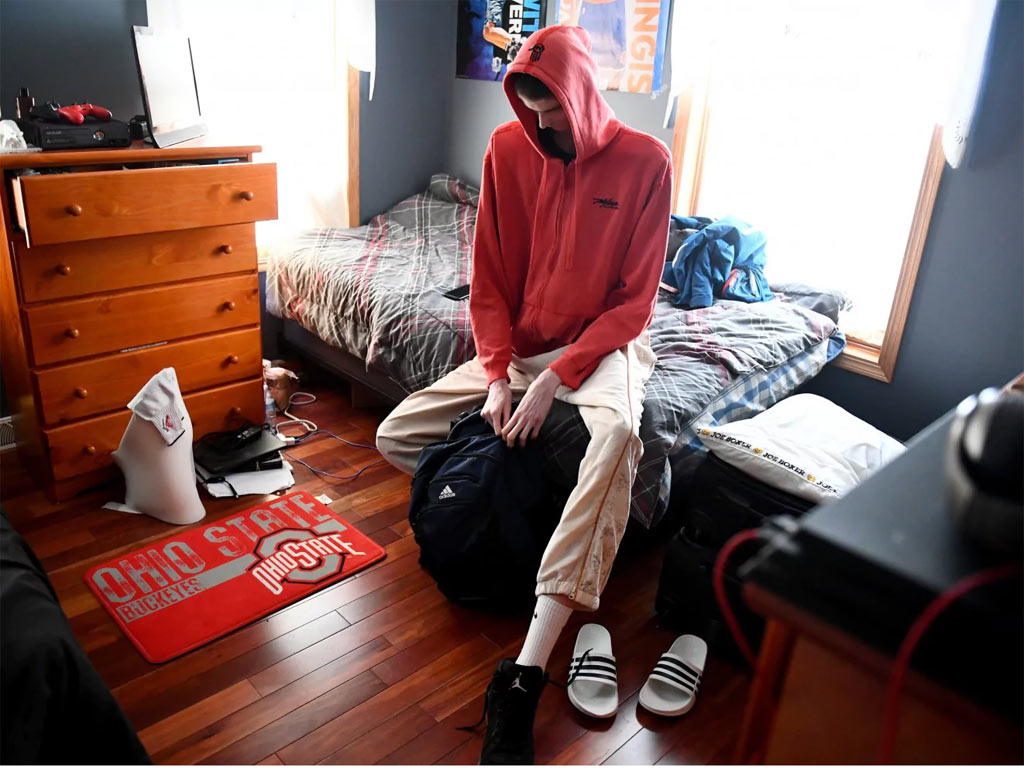 It is mentally tiring to be something extra rather than ordinary. Similarly, Bobroczky always felt eyes bore into him, which was awkward. His first intuition was to ignore it; however, it didn't work daily.
However, as he grew up, he found teammates to support him and like how he was. He found comfort in the basketball court, joked with his trainer Brandon Strausser and talked about his favorite player, Kristaps Porzingis.
"I had to look up for the first time," Bobroczky says. "We talked about never being shy, never feeling sorry for ourselves, just accept it, be happy and live with it."
Robert Bobroczky | Social Media
Bobroczky, as per the source, is currently active on Instagram, YouTube, and TikTok. He has posted several photos on Instagram.
In addition, his youtube channel contains conversations with his friends about other players and future generations.
In TokTok, he has uploaded several videos. He can be seen playing the Piano. Therefore, we provide you with the links below to learn more about him.
Robert Bobroczky | Popularity
Robert keeps appearing in the searches as more and more people get to know him daily worldwide, particularly for his gigantic height.

Robert Bobroczky FAQs
Is Robert Bobroczky playing for the NBA?
Rob Bobroczky may not be playing for the NBA. As his height limits the playing time, an intense workout or matches may worsen his health.
Is Robert Bobroczky Still Growing? Does he have Gigantism?
From his recent highlights, Robert has stopped growing his height. Also, he doesn't have Gigantism. His father is over 7ft, and his mother is 6 feet tall. So this is the clue on why Robert is so tall.
What is Robert's shoe size?
Robert wears a shoe size of 17(US). His giant stature separates him from the rest, and he has to customize many of his apparel and clothing accordingly.
What language does Rob Bobroczky speak?
Rob Bobroczky speaks Romanian, Hungarian, English, Serbian, and Italian. He is a multilingual guy, which demonstrates his linguistic abilities.
What is Jersey's Numbers of Rob?
Rob wears Jersey Number 23. He wore jersey number 55 while playing at SPIRE.