Roger Federer's wife, Mirka Federer, is a former tennis player from Switzerland. Before her retirement, she achieved a ranking in the mid-80s in women's singles tennis.
The tennis pair initially met during the 2000 Olympics in Sydney, Australia, where they were representing Switzerland.
They kept their relationship under wraps for two years before revealing it at the 2002 Hopman Cup, where they played doubles together.
Roger and Mirka tied the knot in a touching ceremony held in Basel, Switzerland. The couple now resides in Wollerau, Switzerland, and has been blessed with four children.
Roger Federer is a former professional tennis player from Switzerland who has made an unforgettable impact on the sport.
Throughout his career, he achieved countless milestones and records. He held the world's No. 1 ranking in singles for an impressive 310 weeks, including an unbeatable streak of 237 consecutive weeks.
His exceptional skill and versatility on the court allowed him to win 103 singles titles, the second most in history.
Federer is regarded as the greatest and most successful athlete in the nation's history.
His elegance, playing style, and sportsmanship have earned him immense admiration from fans worldwide.
Roger Federer Wife, Mirka
The Swiss former tennis player Roger Federer is happily married to Mirka Federer, who also has a background in tennis.
Mirka Federer was born in Bojnice, Czechoslovakia, but moved to Switzerland when she was two with her parents.
Unfortunately, her parents' names are not disclosed.
While growing up, Mirka attended various tennis matches, eventually sparking her passion for sports.
She had a lucky encounter with tennis legend Martina Navratilova when she was just eight years old.
Mirka was fascinated by Martina's personality and drew inspiration from her.
Later, Mirka decided to follow in her footsteps and dedicate her childhood to sharpening her tennis skills.
Mirka Is Her Husband's Public Relation Manager
Mirka Federer is a former Women's Tennis Association (WTA) member and achieved a career-high ranking of 76.
She had notable success in her career, including reaching the third round of the U.S. Open in 2001.
However, her tennis career was cut short due to a foot injury in 2002.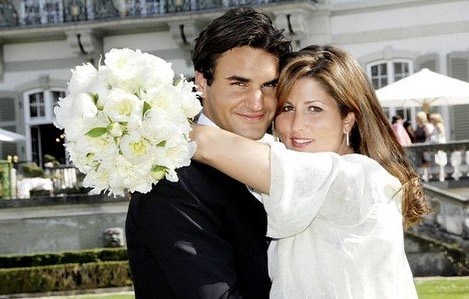 After retiring from professional tennis, Mirka Federer took on the role of managing her husband's public relations.
She has been a constant presence by his side, traveling with him on tour and supporting him during his matches.
How Did The Tennis Couple Met?
It wasn't surprising for fans since they were both involved in the same sports. As they shared on various media, they met while representing Switzerland at the 2000 Summer Olympics.
After their first encounter, they shared a memorable kiss on the last day before going their separate ways.
This was marked as the beginning of their relationship. In 2002, they finally went public while competing at the Hopman Cup, where they played as doubles partners.
Roger And Mirka Married Life And Kids
After being in a relationship for over eight years, Mirka and Roger Federer finally exchanged vows on April 11, 2009, in a private ceremony held at Wenkenhof Villa in Riehen, near Basel.
Their wedding was a private affair attended by a small group of close friends and family.
In the same year, Mirka gave birth to their first children, identical twin girls named Myla and Charlene.
The couple welcomed another twin in 2014, this time boys named Leo and Lenny.