Roger Federer is one of the greatest male tennis players of all time, and he is just as admired outside the world of sports.
He is a thirteen-time Stefan Edberg Sportsmanship Award winner, credited to his popularity and huge fan following. Likewise, he has received the Laureus World Sportsman of the Year Award five times in his career.
Federer is recognized not only for his versatile playstyle but also for his philanthropic character. He has organized and participated in many charity events to aid communities affected by natural disasters.
Federer has an overall likable personality outside the tennis court. So it does not come as a surprise that many people are curious about his personal life.
After all, he was named the Most Stylish Man of the Decade by GQ readers in 2019.
Now fans want to get to know the person who captured the heart of Roger Federer. It has been two decades since their initial meeting, but he still talks fondly about his wife like they met only yesterday.
Roger Federer's beautiful wife, Mirka Federer, coincidentally happens to be a former professional tennis player. But, look no further because we have all the details on the brown-haired beauty.
Roger Federer Wife: Quick Facts
| | |
| --- | --- |
| Full Name | Miroslava Vavrinec Federer |
| Nick Name | Mirka |
| Date Of Birth | April 1, 1978 |
| Birth Place | Bojnice, Slovakia |
| Residence | Bottmingen, Switzerland |
| Age | 44 |
| Gender | Female |
| Sexual Orientation | Straight |
| Height | 5'9″ (1.74 m) |
| Weight | 59 kg (130 lb) |
| High School | Not Available |
| University Name | Not Available |
| Zodiac Sign | Aries |
| Religion | Christianity |
| Nationality | Swiss |
| Ethnicity | White |
| Father's Name | Not Available |
| Mother's Name | Not Available |
| Siblings | Not Available |
| Hair Colour | Brown |
| Eye Colour | Brown |
| Skin Colour | Fair |
| Marital Status | Married |
| Partner | Roger Federer |
| Kids | Myla, Charlene, Leo, and Lenny |
| Profession | Former Pro Tennis Player |
| Net Worth | $1.5 million |
| Salary | Not Available |
| Social Media | Instagram, Twitter |
| Roger Federer Merch | Clothing & Shoes |
| Last Update | March, 2023 |
Mirka Federer: Early Life, Family, and Education
Miroslava Vavrinec Federer was born on April 1, 1978, in Bojnice, Slovakia. She was only two years old when her parents left their country to settle in Switzerland.
Mirka watched a tennis tournament for the first time in 1987. She was nine years old, and she traveled to Filderstadt, Germany, with her father. During the trip, she met former professional tennis player Martina Navratilova.
Navratilova was the one who encouraged Mirka to play tennis because her athletic build was favorable for the sport. In addition, she gifted Mirka a tennis racquet and helped her receive tennis lessons.
There are no further details on her family or educational background. Mirka has maintained a quiet lifestyle and does not like drawing attention to herself.
Similar Article: Doris Burke Husband: Who is Gregg Burke? >>
Mirka Federer: Career
Mirka is a former professional tennis player in the Women's Tennis Association (WTA). She participated in the ITF Women's World Tennis Tour for the first time on September 12, 1994, in Cluj, Romania.
On October 18, 1993, Federer won a doubles title with Natalie Tschan in Langenthal, Switzerland.
Mirka Federer won her first singles title against Nataly Cahana on March 8, 1997, in Tel Aviv, Israel. Similarly, she won two more ITF tournaments in Switzerland (1997) and the United States (1999).
Federer turned professional on January 15, 1998. She was 19 at the time.
In 1999, she participated in the French Open, but she lost in the first round. It was the only Grand Slam event she competed in that year. Likewise, she participated in all four Grand Slam events in the 2000 season.
In 2001, she reached the third round of the US Open, and it is considered her career-best Grand Slam performance. Moreover, she was ranked No. 76 that year, which was the highest-ranking of her career.
A year later, Mirka participated in the Hopman Cup with her husband, Roger Federer. During her career, she was one of the Top-100 ranked female tennis players.
Mirka Federer: Marriage and Kids
Mirka and Roger met each other at the 2000 Summer Olympics in Sydney, Australia. Both were playing for Switzerland in the competition.
The two young stars started dating shortly after their first meeting. Mirka and Roger were already interested in each other during their first two weeks in Sydney, but Roger made the initial move.
When Roger tried to kiss her, Mirka was hesitant because he seemed much younger than her. There was a two-year age gap, but Roger pretended to be over 18 years old.
Nonetheless, the two started dating shortly after their first meeting. On April 11, 2009, the pair tied the knot at Wenkenhof Villa, Riehen, in the presence of their close friends and family.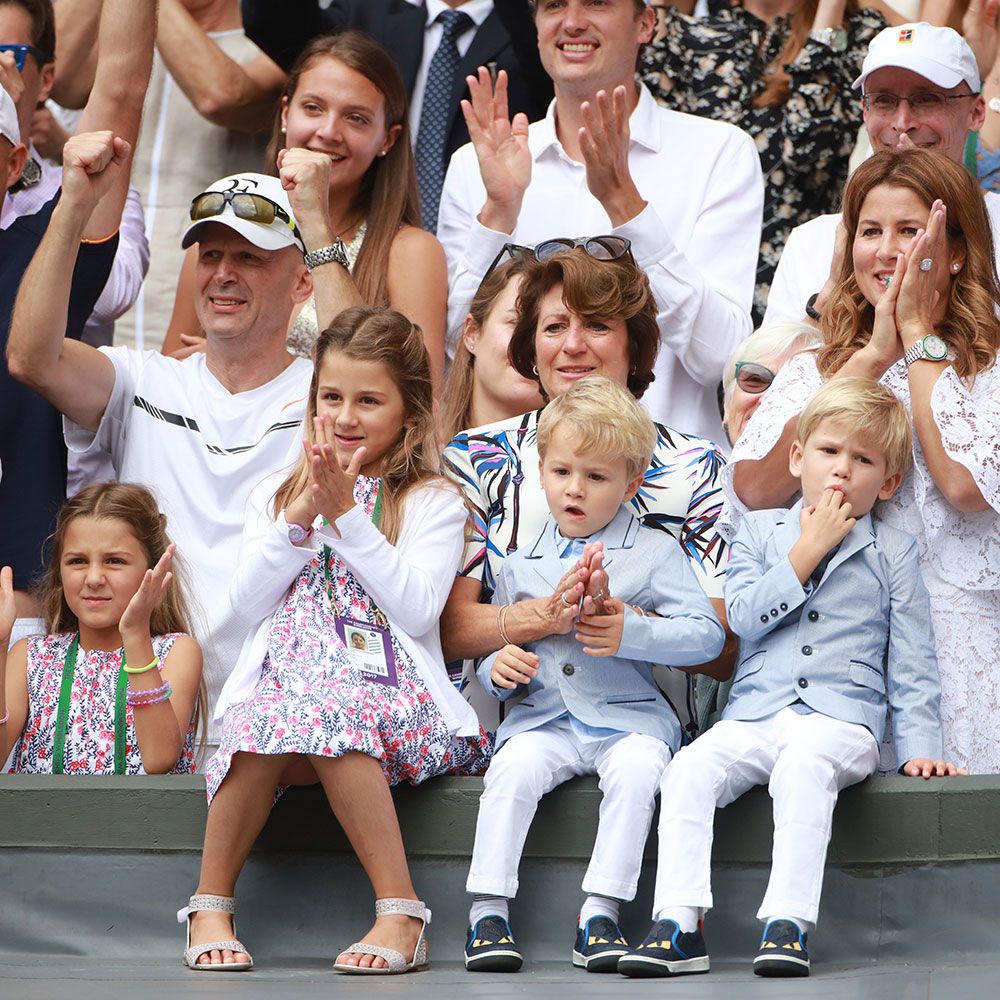 The couple has four children together. Mirka first gave birth to identical twin girls, Myla Rose and Charlene Riva, on July 23, 2009.
Mirka and Roger welcomed identical twin boys, Leo and Lenny, into their family on May 6, 2014. They were very excited to have another set of twins in their family, and Roger even called it a "miracle."
Roger admitted that he would mix up the twins when they were younger if he did not see their faces carefully. However, he has come a long way, and now he can quickly tell them apart.
Similarly, the kids are home-schooled, making it easier for the couple to stay together even during Roger's tours.
You may also like: La La Anthony: Carmelo Anthony's Wife, Bio & Ethnicity >>
Injury and Retirement
In 2002, Mirka Federer had to undergo surgery because of an injury that did not allow her to walk well.
At first, she wanted to take a break to recover before making a comeback, but the pain was unbearable. Since the foot injury did not allow her to play efficiently, she decided to retire from her professional career at 24.
So instead, she became the public relations manager for her husband after officially retiring as a sports player. She began accompanying him on his tours and attending his tennis events.
Roger Federer preferred to be nearer to his wife, so she continued traveling with him even after the birth of their children.
He owes much of his success to Mirka because she was the one who continuously motivated him when he felt like giving up on his career.
Therefore, he does not like to stay too far from his family because they keep him grounded.
Roger Federer: Why is he famous?
Roger Federer is a professional tennis player from Switzerland who dominated all four major championships in the 2000s. He was born on August 8, 1981, to parents Kempton Park and Robert Federer.
Federer was 14 when he played his first junior match in Switzerland. In 1998, he became a Wimbledon junior champion after winning the singles and doubles tournament with Olivier Rochus.
His Association of Tennis Professionals (ATP) debut came at the 1998 Swiss Open Gstaad, but he did not win the first round. However, he won the 1998 Grand Prix de Tennis de Toulouse later that year.
Federer won his career's first Grand Slam at Wimbledon in the 2003 season. A year later, he held three Grand Slam singles win.
He won 12 singles titles in 2006, and it is considered the best season of his entire career. Moreover, he won three Grand Slam singles titles again that year.
In the 2008 Summer Olympics, Federer and Stan Wawrinka won the gold medal in the doubles tournament. After that, he made a record-breaking 13 Grand Slam win in the 2009 season.
In 2015, Federer became the third person to win more than 1000 Open championships.
The ATP determines the ranking of the players based on the points they make during the ATP tour. Therefore, the top-ranked players are those who typically garner higher ranking points.
Federer has been ranked No. 1 globally for 310 weeks in his career. In addition, he is one of the Big Three players who have won 20 Grand Slam in the men's singles titles.
Roger Federer is one of the most prominent tennis players in history, with 103 ATP singles titles and 6 ATP Finals wins under his belt.
Related: Candace Parker Husband: Shelden Williams Bio & Net Worth >>
Roger Federer Wife: Net Worth
As a professional tennis player, Mirka Federer won the prize money of $260,832 during the WTA tour. However, she became a homemaker after her foot injury, so she does not have a specific source of income.
mirka federer has an estimated net worth of $1.5 million.
On the other hand, her husband, Roger Federer, is one of the highest-paid athletes in the world. In May 2020, he ranked first on Forbe's annual list with $106.3 million in total earnings. He has an estimated net worth of $450 million.
Roger Federer was named the Most Marketable Sports Person for 2016, so it is not surprising that he earns millions in endorsements.
In 2018, Roger signed a 10-year contract for $300 million with the Japanese brand Uniqlo.
Mirka Federer: Social Media
Mirka Federer does not have social media, and she does not share much of her private life outside the tennis court. But you can find her husband, Roger Federer, on different social media sites.
Twitter: 12.7m followers
Instagram: 8.7m followers
Roger Federer Wife: FAQs
Where is Mirka Federer now?
After her retirement as a professional tennis player, Mirka Federer acted as the public relations manager for her husband, Roger Federer. However, after the birth of her twin daughters, she became a full-time mother.
Mirka travels with Roger and attends most of the events, but she has to miss some of them because of their children.
What happened to Mirka Federer's injury?
Mirka Federer's foot injury improved after she retired from her tennis career. Although her condition is much better now, she randomly feels pain in her foot once in a while.
She could've returned after a few years, but she gave up playing tennis to help Roger focus on his career. She continues to be his biggest supporter to this day.