Both of Javier Baez brother share a love for baseball just like their brother, and they all have drawn inspiration from their father. Having to experience loss in the family multiple times, the Baez family seems very close-knitted.
Born on December 1, 1992, Ednel Javier Javy Báez is nicknamed "El Mago," which means "The magician" in Spanish. His nickname must be credited to his magical performance around that diamond.
A native of Puerto Rico, it was only in 2005 that Baez moved to Florida alongside his mother and siblings. It wasn't done so that he could play baseball but for the medical treatment of his sister.
His love for baseball had already started developing back in his home country when his father introduced the game to him and his brothers.
The player's father Angel Luis Baez, who held a huge deal of influence on his life, sadly passed away when he was ten.
On top of his love for baseball, Baez also loves playing video games in his free time, as seen in his Instagram. He is also on the cover of MLB's The Show 2020 edition.
He is currently playing with the Detroit Tigers, for which he signed a six-year contract in 2021.
Javier Baez Brother Rolando And Gadiel Baez
Baez has two brothers, Rolando, and Gadiel Baez. He had a sister Noely who sadly passed away when she was twenty-one because of a condition she had called spinal bifida
The Baez family looks very closely knitted as they are always having get-together parties, and they also go to baseball games together.
Gadiel Baez also appears to be heavily influenced by his father and brother in baseball. There is a rare video of him making a catch in the Avista-NAIA Baseball World Series in Lewiston.
Currently, he holds an Instagram following of about three thousand followers, with his Instagram handle being @elnenuko.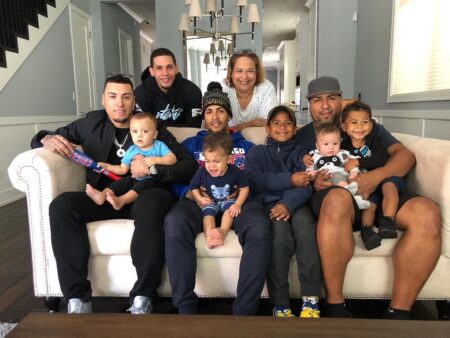 Rolando Baez also is a family man, we can see in his Instagram account (@elrolo10) the profile picture of him with his wife along with the emoji of several baseballs as his bio.
The Baez brothers have all inked tattoos of Major League Baseball's logo in order to symbolize their love for the sport.
Javier has also inked the name of all three of his siblings to show the love he has for them is immortal.
Meet Javier Baez Wife Irmarie Marquez
Irmarie Marquez is the long-time girlfriend turned wife of Baez. The couple is blessed with two lovely sons.
The announcement of their engagement came from a Twitter post by Baez on April 11, 2018. They eventually got married in San Juan, Puerto Rico, on January 26, 2019.
Marquez is a beauty enthusiast and a very loving mother and wife. Along with that, she is also a fitness enthusiast and shares several of her training videos on Instagram and TikTok.
She is also very concerned about the food she eats and its nutritional values, which she is constantly sharing with the world.
Marquez currently holds a following of about 171K followers on Instagram and around 25K followers on TikTok.
She and Baez are very vocal about their love, and they are constantly posting each other with cheesy captions along with their babies.
Marquez is always taking the babies with her to watch their father's game.