Ronald Acuna Jr's brother, Luisangel Acuna, was traded to the New York Mets on the deadline day. The older brother has delighted the Mets fans by saying he and Luisangel share many similar attributes.
The baseball brothers come from a family with a rich history in the sport. They also have two younger brothers, Jose, and Kenny, who are likely to follow in their footsteps.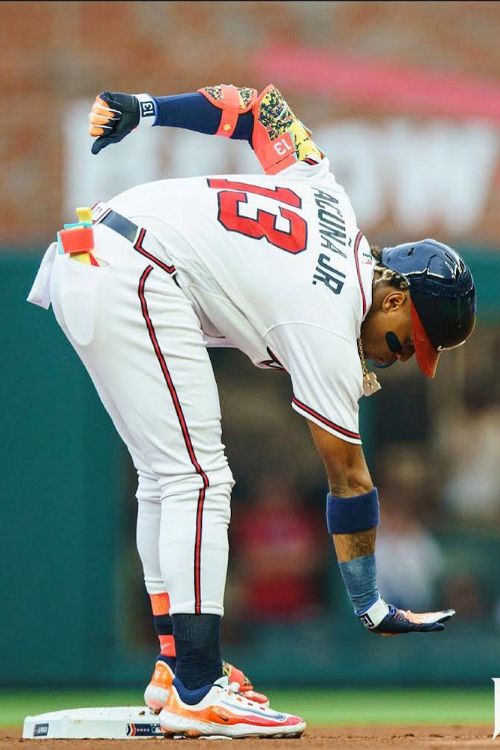 Recently, Ronald even shared a post on his Instagram after playing against New York Mets, calling out his younger brother and asking where he was at. Luisangel replied with an hourglass emoji stating his time would come soon.
After being traded for Max Scherzer, Luisangel has recently cracked the New York Mets' new top prospect list. The younger brother of Ronald Acuna is playing for Binghamton Rumble Ponies, the Double-A team.
And if everything goes correctly, we might soon see the two brothers face off against each other in the MLB. The Braves outfielder is the favorite to win the NL MVP race but faces stiff competition from Freddie Freeman and Mookie Betts.
Ronald Acuna Jr Brother, Luisangel Acuña
Ronald Acuna Jr's brother, Luisangel Acuna, has always looked up to his older brother as his hero.
Though he considers himself lucky to have such a talented individual as his older brother and mentor, Luisangel has said he wants to crave his own name in the league.
Born on March 12, 2002, Luisangel is five years younger than his MLB superstar brother. The two have the same dad but different mothers.
And though they didn't live in the same house, the two brothers would meet each other frequently at the baseball field near the town cemetery. When Ronald signed with Braves at 17, he started to take his little brother to train with him.
In 2017, Luisangel almost followed his brother's footsteps and signed with the Braves, but that move didn't pan out. Atlanta Braves were involved in the international signing scandal.
Luisangel went on to sign with Texas Rangers for a $425,000 signing bonus. He made his professional debut for DSL Rangers in 2019, and in 2021, he was assigned to Down East Wood Ducks.
At Down East Wood Ducks, Luisangel played 111 games with a stat of .266/.345/.404. The infielder was named the Rangers 2021 minor league Defender of The Year.
Luisangel began the 2022 season with Hickory Crawdads and was promoted to the Double-A side Frisco RoughRiders. He finished the season with .224/.302/.349 and later played for Surprise Saguaros in the Arizona Fall League.
Speaking to The New York Post, Ronald said he was looking forward to a great rivalry with his younger brother after Luisangel signed with The New York Mets.
Ronald Acuna Jr Comes From A Baseball Family
For Ronald Acuna Jr, the love for baseball was in his DNA. His father and grandfather had previously played minor-league baseball.
His cousins, Alcides Escobar, Kelvin Escobar, and Edwin Escobar, have previously played in Major League Baseball. Acuna's uncle, Jose Escobar, also previously played in the MLB with the Cleveland Guardians in the 1991 season.
With the talent he had at his disposal, Ronald Acuna Sr should have made it to the big league. But for eight seasons, he kept hopping around the farm system of the New York Mets, Toronto Blue Jays, and Milwaukee Bucks.
In an interview from 2018, Ronald Sr said he didn't make it as he lacked the discipline and the talent needed at the higher level. So, he always told his son not to make the same mistakes.
Ronald Acuna's mother, Leonelis Blanco, appeared in a short interview taken in 2018. She briefly talked about her son's love for baseball, recounting how he wouldn't leave the baseball field until seven at night.
The proud couple said they were grateful for how far their son had come and has been able to live his dream. Only 25, we still have more to see from Ronald and the talent of his baseball bat.