Roope Hintz girlfriend, Kristina Niemi, partnered with another Dallas Star WAG to come up with the playoff jacket design.
Kristina, and Julia, Miro Heiskanen's girlfriend, were the ones to design Dallas Stars playoff jacket. Other NHL WAGs were seen rocking the jacket during Game 2 against Minnesota Wild.
Her longtime boyfriend, Roope Hintz, with his teammate Wyatt Johnston, propelled Dallas Stars to the Western Conference Final against Seattle Kraken.
The Finland-born Roope Hintz has been in stunning form for Dallas Stars in the playoffs. In 13 games, Roope has earned his team 19 points, scoring nine goals and assisting ten.
Meet Roope Hintz Girlfriend, Kristina Niemi
Roope Hintz's girlfriend, Kristina Niemi, has kept herself away from the public limelight for many years. But recently, along with another NHL WAG, she has shown her creativity.
Kristina, with Miro Heiskanen's girlfriend, Julia, was in charge for the second year running on playoff outfits for the better halves of the Dallas Stars.
The two girlfriends of the Dallas defencemen had done a fantastic job last year and were once again told to work their magic.
In an interview with Defending Big D, Kristin and Julia talked about the jackets' design process and what went through to procure the designs. They both shared that they used small businesses for their jacket designs.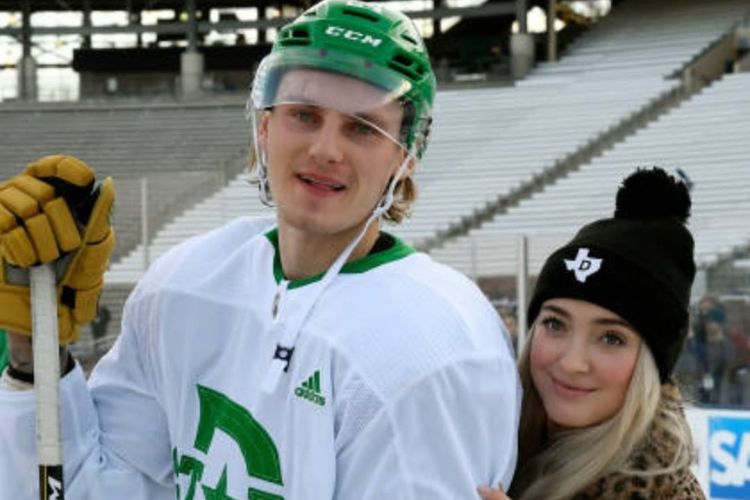 Kristina and Julia hail from Finland, so they already have plans for the NHL Global series, which will take place later in the year in Finland.
The Dallas' star player, Roope, hasn't shared much of his love life on his Instagram handle. There was a point when he had several pictures of Kristina on his handle, but they have been deleted.
In 2016, a Finnish newspaper reported that Roope and Carolina Hurricanes starman Jesse Puljujärvi were dating a set of twins.
They also reported Roope was the one to introduce Jesse to Kristina's sister, Karolina. But it looks like Jesse has moved on with a new girlfriend, as he celebrated Halloween with a girl named Monica Madison last year.
Kristina is available on Instagram with the username @kristinani but has kept her handle private.
Roope Hintz Family Life
Roope Hintz's parents, Marika and Kai, are former athletes and played basketball in Finland.
In an interview with the NHL website in 2018, Roope talked about his childhood in Finland with his mother, Marika, by his side.
In the interview, the winger talked about his mother would take him to training sessions and would wait for him. They also showed a few of Roope's childhood photos.
Roope also has an older brother, Miiko Hintz, who is four years older than him. Born on September 27, 1992, Miiko spent the entirety of his hockey career in Finland and played six seasons professionally before retiring from the sport.
In an interview with The Athletic, Roope said his brother was the reason he chose to play hockey.
His parents wanted him to continue the family legacy and play basketball, but Roope was certain he would make a name for himself in hockey.