Rosa Mota is a former Marathon runner born and raised in Portugal. In 1988 she became the first sportswoman from Portugal to win Olympics Gold Medal, held in Seoul, South Korea.
Besides this, she has won many other marathons, titles, and championships. Not to mention, she was suffering from Asthma and Sciatica since her childhood; but it couldn't be a barrier between Rosa and her success.
At that time, Marathon or any other sport was not as famous as today. And being a female, it was difficult for her to follow her passion.
But as it's said, anything is possible if you are passionate about your dream and willing to do anything for it; Rosa was working hard to get to the top.
As a result, Rosa is now known for her achievements and success in Marathons.
In this article, we will discuss Rosa's net worth, early life, career, and other things, but before that, let's look at some quick facts about Rosa Mota.
Quick Facts
Full Name

Rosa Maria Correia dos Santos Mota

Also Known as

Rosa Mota

Date of Birth

June 29, 1958

Birth Place

Porto, Portugal

Father's Name

Not available (N/A)

Mother's Name

Not available (N/A)

Siblings

One sister and two brothers: Name not available

High School

Oporto British School

(OBS)

College

Not available (N/A)

Nationality

Portuguese

Zodiac Sign

Cancer

Age
64
Height

5 ft. 2 in (1.57m)

Weight

99 lbs (45 kg)

Body type

Athletic

Profession

Track and field athletics

Active Years

1980-1992

Gender

Female

Current Status

Retired

Marital Status

Married

Spouse

Jose Pedrosa

Religion

Christianity

Children

Not available (N/A)

Ethnicity

Caucasian

Net Worth

$3 million – $5 million

Social Media

Not available (N/A)

Merch

Chicago Marathon Cup

Last Update

May, 2023
Rosa Mota | Early Life, Family, and Education
Rosa was born and raised in a major city in Portugal, Porto. As she was raised in such a big city, she had access to all the facilities needed.
She mentioned that she was also involved in other sports activities during her active years. She has been good at swimming and cycling since her teenage.
Although Rosa was diagnosed with asthma in her childhood, which could be a major barrier to her dream, she overcame it as it was never there.
Rosa started running to overcome her fear of darkness. There is no such relation between darkness and running, but running helped her feel calm and relaxed.
Rosa's Asthma and Sciatica had been bothering her since she was a child, but that couldn't be a roadblock to her achievement.
Mota had two siblings, a brother, and a sister. She is the middle child in her family after her brother. Basic information about her siblings and parents is also not available. She is Caucasian, and her family was Christian.
Rosa's parents were not educated, due to which she had to face some challenges during her early career. Being a sportsperson was not more manageable at that time for women as it is now.
Mota completed her high school education at Oporto British School in 1976. Although there isn't more information regarding her school life, she participated in cross-country races while in high school.
Although she completed high school, she didn't attend college for higher education. She started her career as a marathon runner after she graduated from high school in 1976.
Kenneth Ferguson Bio: Track and Field Star & Net Worth>>
Rosa Mota | Age and Body Outlook
Rosa was born on June 29, 1958, in Porto, Portugal. She is 64 years old.
She stands at a height of 5 feet 2 inches. She has maintained her weight and remained physically fit because she is an athlete. Her weight is 45 kg or 99 pounds.
Since she was a toddler, she had always been a little person, both in terms of weight and height. Her career benefited from her modest size and weight. Nothing is known about her body measurements.
Rosa Mota | Career
Portuguese Marathon racer Rosa Maria Correia dos Santos Mota, also known as Rosa Mota, is considered the elite female marathon runner of all time.
During her time, she ran a total of 21 races in 10 years between 1982 and 1992. Out of which, she won 14 races for which she is considered the greatest of all time.
Rosa was honored with the Abebe Bikila Award in recognition of her contributions to the development of long-distance race training by the United Nations(UN).
She is also known as the Muhammad Ali of the marathon. Despite her suffering from asthma, she managed to win several marathons and world championships.
Olympics
In the early days, Rosa was into cross-country races and made a national record in 300 meters and 1500 meters.
But later on, she found long races and marathons more exciting and decided to move on to it, which eventually went pretty well for her.
Rosa was the first female athlete to get the gold medal in Olympics for Portugal. At the Seoul Olympics in 1988, she accomplished her dream of a Gold medal.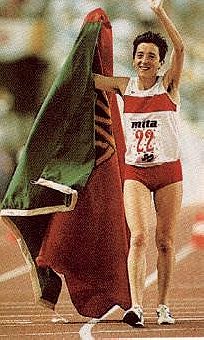 Rosa beat the silver medalist Lisa Martin by 13 seconds. She created history by becoming the first female to win gold in Olympics for Portugal. Since then, she never had to look behind her career.
Seoul Olympics wasn't the first Olympics she participated in. She partook in the Olympics games since 1984.
In the Los Angeles Olympics, Rosa won the bronze medal for her country. Apart from the Olympics, she represented her country on various world stages and won different titles.
European Championships Career
Rosa started her career as a marathon runner professionally at the European championship in the year 1982, which was held in Athens, Greece. She was successful in notching gold for her country on her first-ever marathon.
European Championship was again held in 1986, which was hosted by Germany, in which she again was successful in winning the title. It was her second time in a row as the European champion.
Rosa Mota was winning titles, and gold and conquering every marathon race. In 1990, she again won gold in the European championship. Split, Croatia, hosted it.
She became the only female athlete to win the European Athletics Championship three consecutive times. This was her third time winning the European title. She was making records at every step of her career.
World Championships and Other Achievements
In 1983, the year after she was a European champion, Rosa took part in the world championship, which didn't go so well that she finished fourth. It was one of the worst results of her career.
But she wasn't the one to accept the failure and rest. She trained herself so well that she won the Gold at the 1987 World Championship held in Rome.
As we are talking about World Championship, Rosa participated in the 1991 World championship. But luck was not on her side this time, since her childhood illness Asthma caused problems.
Due to this she couldn't finish the marathon and was compelled to leave the track. It was all because of her sickness.
Apart from the Olympics, European championships, and world championships, the Portuguese participated in other marathons during her active years.
Rosa won the Boston marathon three times in 1987, 1988, and 1990 consecutively which was not everyone's cup of tea.
She won the Chicago Marathon in 1983 and 1984. In 1982 she won the Rotterdam marathon.
She won the Osaka Marathon in 1990. In the Los Angeles marathon of 1989, she finished second. Mota finished third in the Chicago marathon of 1985 and won the bronze medal.
After that, Rosa also won the London marathon in 1991. It was the last marathon she won. She participated in some other marathons, but sadly, she couldn't win any.
Rosa Mota | Marriage and Kids
Rosa Mota has been married to her husband for more than 40 years. Jose Pedrosa is her husband's name. Jose is also a Marathoner by profession. During training in Oporto, they first met. After training together for some years, they fell in love.
In 1980, they finally decided to marry and stay together. Since then, they have been together without any dispute.
However, Rosa and Jose don't have any children. In her prime time i.e., 1980-1990, the avid runner was focused on her career and had no thoughts of bearing a child.
Her husband was also so supportive, so he didn't force her. They both were educated, and it was not a big issue.
Social Media Presence
Rosa Mota has no presence in any of the social media. And we can predict that she won't be joining in the future too.
Gwen Jorgensen Bio: Husband, Triathlon & Olympics>>
Rosa Mota | Net Worth
Rosa Mota hasn't revealed her earnings or salary to date. She does, however, have a net worth of $3 – $5 million. During her active years, many brands sponsored her.
She also received funds and awards from the Portugal government.
However, she has a lot of money to live her life to the fullest. It must be her thing, but she has no interest in any luxurious items like a car, yacht, etc.
Frequently Asked Question
Is Rosa Mota still alive?
Yes, as of May, 2023 Rosa is still alive, and her health condition is pretty good.
Is Rosa Mota Divorced?
No, she is still in a relationship with her husband. Her current husband is her one and only husband.