Ryan Curran Arcidiacono, commonly known as Ryan Arcidiacono, is an Italian-American professional basketball player in the NBA. He last played for the Maine Celtics in NBA G League.
Ryan Arcidiacono played his college basketball for the Villanova Wildcats. While there, he earned many honors alongside contributing well to his team, including leading them to win the 2016 NCAA Championship.
In 2020, the Wildcats retired the number 15 in his honor, the jersey number once worn by Arcidiacono.
Even though Ryan remained undrafted in the 2016 NBA draft, he has now established himself as one of the most pleasing point guards in the NBA.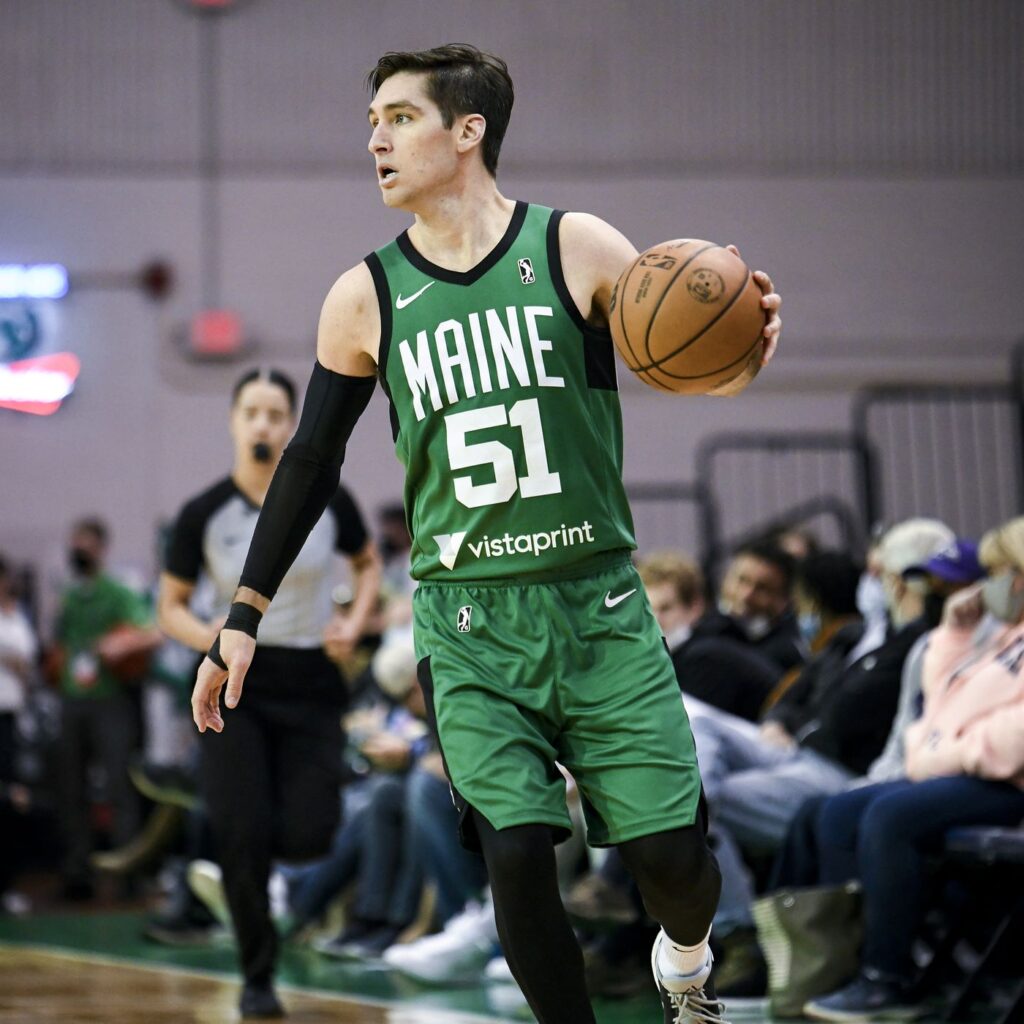 The player is now in his mid-20s and has worked hard to reach today's stage. Fortunately, the fans and his family have always responded to him with great support, which has kept him going.
Arcidiacono can effectively play in the shooting guard position as well. Moreover, he is skilled at the pull-the-chair post defense on more prominent players and is good at jump shots.
Most likely, his undying passion for basketball and his energetic style of play are the main reasons he could later get an NBA contract.
This article will explore more about his life, exciting career, various ups and downs of his life, relationship status, and much more.
But before moving into the detail, let's look at some quick facts.
Quick Facts
Full Name
Ryan Curran Arcidiacono
Date of Birth
March 26, 1994
Birth Place
Philadelphia, Pennsylvania, USA
Nick Name
The Arch of Dimes
Religion
Christianity
Nationality
American
Ethnicity
Italian-American
Zodiac Sign
Aries
Age

28

years old
Height
1.91 m (6 feet 3 inches)
Weight
195 lb (88 kg)
Hair Color
Black
Eye Color
Black
Build
Athletic
Father's Name
Joe Arcidiacono
Mother's Name
Patti Arcidiacono
Siblings
Three older siblings and two younger twin siblings
Siblings' Name
Christopher, Sabrina, Nicole, Michael, and Courtney Arcidiacono
Education

Neshaminy High School (Langhorne, Pennsylvania)
Villanova University (Villanova, Pennsylvania)

Marital Status
Unmarried
Girlfriend's Name
Clare Bear
Kids
None
Profession
Professional basketball player
Clubs He Played For

Austin Spurs
Chicago Bulls
Windy City Bulls
Maine Celtics
New York Knicks

NBA Draft
2016/ Undrafted
Position
Point Guard/ Shooting Guard
League
NBA
Active Years
(2016–present)
Net Worth
$1 million
Jersey Number
51
Career Highlights & Awards

NCAA Tournament Most Outstanding Player (2016)
Big East Co-player of The Year (2015)
NCAA Champion (2016)
First Team All-Big East (2015)
Second Team All-Big East (2014, 2016)

Social Media
Instagram, Twitter
Merch of NBA
Backpack, Gold Basketball Pendant
Last Update

March, 2023
Early Life, Family & Education
Ryan Arcidiacono was born in Philadelphia, Pennsylvania, to his Father, Joe Arcidiacono, and his mother, Patti Arcidiacono, on March 26, 1994.
He spent his childhood in Langhorne, Pennsylvania, and attended Neshaminy High School. Young Ryan started playing basketball under his Father's influence from a very young age. His Father, Joe, was a sport-loving person as he too was a soccer player in his college days.
Moreover, his parents set up a well-equipped basketball training ground to further encourage their child.
As a result, Ryan dedicated most of his time to practicing various shots and learning techniques before stepping onto the court.
He later joined a basketball camp while still a kid and performed well for his high school team.
Impressed by his mastery at such a young age, Jay Wright, the then head coach of Villanova, remarked that he would play for Villanova one day.
After graduating high school, Arcidiacono joined Villanova University and played for the Wildcats, eventually proving the coach right.
Aside from himself and his parents, Ryan has three older siblings and younger twin siblings in his family.
<<< C.J. Miles Bio: Early Life, Family, Education & Basketball >>>
Ryan Arcidiacono | Career
High School Career
Ryan played for Neshaminy High School until 2012. Jerry Devine, the then-high school coach, immediately recognized his talent and helped him further sharpen his gameplay.
As a sophomore, the young player led the team to the PIAA Class AAAA tournament. He averaged 18 points per game and attained an important place in the Class AAAA second team in that tournament.
Likewise, he traveled to North Carolina to participate in the Bob Gibbons Tournament of Champions. Unfortunately, he severely injured his face in the tournament's first game, requiring stitches.
However, he decided to return to the court against the doctor's advice. As a result, he played many other games in the tournament. Quite surprisingly, his stats were terrific despite the injury.
He continued his top-class performance throughout the season in his junior year. However, he could not avoid injuries, which constantly slowed him down.
His senior year at the high school was the most unforgettable one. Shortly after his junior season, he had a back injury and barely recovered.
Furthermore, he was diagnosed with a herniated disk in his back and missed his entire senior season.
However, he completed his high school career as the all-time leading scorer. Moreover, ESPN named him one of the top 50 seniors in the country.
College Career
Soon after high school, Ryan Arcidiacono joined the Villanova Wildcats. He had not fully recovered but made a debut against the University of the District of Columbia, where he scored 11 points.
Moving on, he posted 25 points against Marshall in the next game. He became the second player to score these many points after Scottie Reynolds in his first year.
Later that same year, Ryan led his team to the NCAA tournament the same season, and even though he gave an amazing performance, the Wildcats remained trophyless.
In the same season, he averaged 11.9 points, 3.5 assists, and 2.1 rebounds per game in this tournament.
He regained his health and performed very well in the second season. As a sophomore, he recorded 9.9 points, 3.5 assists, and 2.4 rebounds per contest.
Arcidiacono had a good year as a junior, except that he suffered some injuries, including getting hit on his nose by a Seton Hall player. However, he recovered soon and played for his team for the rest of the season.
In his final year at college, Ryan got shortlisted on Oscar Robertson Award preseason watchlist. Similarly, he was also named among the ten finalists for the Senior CLASS Award.
In his last season, he finished his college career averaging 12.5 points and 4.2 rebounds per game.
Professional Career
Sadly, Ryan went undrafted in the 2016 NFL draft even though his performance throughout college football was remarkable. However, San Antonio Spurs picked him for the NBA Summer League and relieved him.
However, the club released him just after three preseason games. Sometimes later, he intended to join the Italian team Juvecaserta Basket. However, he withdrew after the club could not make it to Serie A.
On July 25, 2017, he signed a two-way contract with the Chicago Bulls.
As a result, Ryan became the first person in NBA history to sign a two-way contract. In his first NBA debut, the athlete posted 8 points, 4 rebounds, and 8 assists against the Philadelphia 76ers.
Moreover, he played for most of his time in the NBA G League for the Windy City Bulls and played very well. He averaged 13.8 points, 5 rebounds, and 8.6 assists per game.
Likewise, he had 7.2 points, 4.2 rebounds, and four assists per game in the 2018 NBA Summer League.
Ryan remained for two more seasons with the Bulls before eventually transferring to the Boston Celtics. Unfortunately, the club released him ten days later, and he joined Maine Celtics as an affiliate player.
He remained in the Celtics for some months getting very little playtime. Then, he joined the New York Knicks in 2022, but he did not appear in any games before being freed at the end of January 2022.
On January 31, 2022, the Celtics signed a contract with Arcidiacono again.
Awards & Achievements
Ryan Arcidiano has won numerous individual awards and honors. Moreover, he has won a couple of championships playing for different teams.
Some of his achievements include:
NCAA Tournament Most Outstanding Player (2016)
Big East Co-player of The Year (2015)
NCAA Champion (2016)
First Team All-Big East (2015)
Second Team All-Big East (2014, 2016)
Age, Weight & Height
As of 2022, Ryan Arcidiacono is 28 years of age. He celebrates his birthday every March 26.
Ryan has the perfect height for a basketball player. He stands 1.91 m (6 feet 3 inches) tall and weighs around 195 lb (88 kg).
<<< Jalen McDaniels Bio: Basketball Career, Brother & Salary >>>
Moreover, talking about his facial attributes, he has black-colored hair and black eyes. He mostly remained fit during his entire basketball career except for minor injuries.
Ryan Arcidiacono | Girlfriend
As Ryan is one of the most handsome NFL players, he has a lot of female fan following. They often surf the internet, searching about Ryan's personal life, relationship status, and other related stuff.
Fortunately, we have a bit of information regarding the athlete's relationship.
Currently, he is in a relationship with Clare Bear. The two began dating in 2021 and have lived together since the same year.
However, he was once in a relationship with Kristin McGrath for quite a long time. They had been in a relationship since 2017 and supposedly broke up in early 2021.
Ryan sometimes posts pictures with Clare on his social media handles. However, not much is known about his new girlfriend as yet.
Net Worth, Salary & Career Earnings
According to sources, Ryan Arcidiacono has an estimated net worth of around $1 million. His main source of earnings is the league games. However, his professional life has not been as he had previously expected.
He has earned about $7.5 million in his entire professional career. In his first year for the Bulls, he received around $3 million.
The club then paid him another $4 million playing the next three years.
He earned comparatively much lower while in the New York Knicks and San Antonio Spurs, as he did not get much time to play there.
So, he made significantly less than he had desired playing professional basketball. But, despite that, he has a good lifestyle, and he seems content with his life.
Ryan Arcidiacono on Social Media
Ryan Arcidiacono engages with his fans and relatives through social media, mainly Twitter and Instagram.
Here are the links to his social media handles:
<<< Devontae Cacok Bio: NBA, Girlfriend & Net Worth >>>
Frequently Asked Questions (FAQs)
What happened to Ryan Arcidiacono?
Ryan Arcidiacono signed a second ten-day contract with the New York Knicks on January 19, 2022. However, the agreement has recently expired. He signed with the Celtics on January 31, 2022.
Why did Ryan Arcidiacono not play in 2022?
Ryan Arcidiacono previously did not play due to an ankle injury. Soon after, his contract with the Knicks expired. However, he has joined the Celtics and has appeared in 2 games in 2022.