Ryann O'Toole, an American pro golfer, is openly a lesbian since her collegiate career at UCLA. Not only her golf career but also, Ryann's relationship talk became a hot topic, especially her wife.
The modern era of acceptance has embraced same-sex relationships. One such example is a professional golfer Ryann O'Toole of the LPGA tour, who exchanged vows with her girlfriend of a decade, Gina Marra.
O'Toole married Marra in a secret ceremony in late 2021 but have seemingly parted ways now.
In the 2022 LPGA Tour, Ryann's best finish was in T5 & #52 in the scoring rank. As for her spouse, Gina, she currently works as the CEO of YAM Worldwide Powersports (September 2008- Now).
The two made PDAs together and appeared in various charitable causes.
The talks about Ryann O'Toole and her wife, Gina's separation came after the LPGA Tour player deleted Instagram posts of their wedding.
Even more, the golfer began to share cozy snaps with English professional golfer Georgia Hall, suggesting the two were in a relationship. The Bournemouth, England-born Georgia won the Women's British Open in 2018.
Join us as we dive deeper into the lives of these two inspiring women and explore the love story of Ryann O'Toole. Probably, you won't want to miss this one, do you?
Quick Facts
| | |
| --- | --- |
| Full Name | Gina Marra |
| Birthday | N/A |
| Birth Place | N/A |
| Nationality | American |
| Age | In her 40s |
| Father's Name | N/A |
| Mother's Name | N/A |
| Ethnicity | Italian |
| Height | 5 feet 6 inches (1.67 m) |
| Weight | N/A |
| Eye Color | Grey |
| Hair Color | Blonde |
| Sexual Orientation | Lesbian |
| Marital Status | Separated |
| Spouse | Ryann O'Toole |
| Children | None |
| Marriage year | 2021 |
| Profession | Business Executive |
| Tattoos | None |
| Net Worth | $1.5 Million |
| Social Media | Instagram |
| Last Update | June 2023 |
Who Is Gina Marra?
Gina Marra became famous for her relationship with golfer Ryann O'Toole of the LPGA Tour. The lesbian couple even married after dating for a decade, but their marital relationship was short-lived.
Marra was born in the 1980s, though her exact birthday or her birthplace is not out. She grew up in Macomb, Michigan, with her twin brother.
She has Italian ancestry & called her father "Italian Boss," who had connections with the Motocross course.
Gina Marra's father (b. August 14, 1930) died on November 3, 2019, at the age of 89.
She often shares pictures of her mother on her Instagram @gmarra34.
In October 2020, Gina gifted a Mercedes GLS-Class to her mother. But on her IG post, she also mentioned that her mother couldn't drive it due to health conditions, "She deserves the world… I know you can't drive, but at least you will be safe riding in it.".
Ryann O'Toole's Wife, Gina Marra | Career
According to her LinkedIn profile, Marra currently serves as the CEO of the Powersports Division of YAM Worldwide (September 2008- Present).
In July 2014, she was promoted to Vice-President of YAM Worldwide's Powersports Division, handpicked by the company's owner Bob Parsons, the creator of GoDaddy.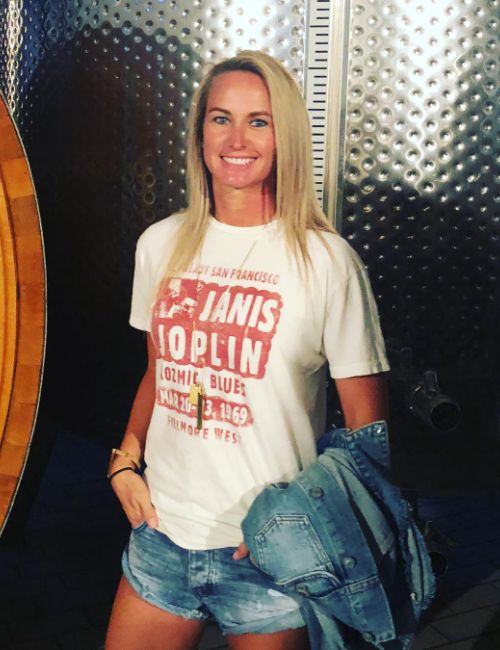 Formerly, Gina Marra worked as the general manager of Go AZ Motorcycles before Parsons acquired it in June 2008. Later, he hired Gina as its associate manager.
Ryann O'Toole Is A Golfer
Born in Agoura Hills, California, on February 11, 1987, Ryann O'Toole is an American professional golfer who competes in LPGA Tour.
In the year 2022, Ryann O'Toole ranked #63 in the Women's World Golf Rankings & #12 in the CME ranking.
A 2005 graduate of San Clemente High School, Ryann O'Toole enrolled at UCLA, where she played college golf & recorded 12 top-10 finishes.
She obtained a Bachelor's degree in Sociology in 2009 and became a professional golfer, the same year. Ryann joined Futures Tour before making her way to the LPGA Tour in 2011.
View this post on Instagram
As of this writing, O'Toole records four professional career wins, one LPGA Tour wins & three Future Tour wins:
Trust Golf Women's Scottish Open (in the 2021 LPGA Tour)
Mercedes-Benz of Kansas City Championship (2010)
Falls Auto Group Classic (2010)
Santorini Riviera Nayarit Classic (2011)
In addition, she has had several strong finishes in major championships, including a T13 at the Chevron Championship in 2018 and a T18 at the Women's PGA Championship in 2018.
Likewise, she also secured a 9th place finish at the U.S. Women's Open in 2011 and a T22 at the Women's British Open in 2018.
Moreover, she appeared in the reality TV show The Big Break Sandals Resort (aired in 2010), where she finished in sixth place out of eleven golfers.
Ryann O'Toole & Gina Marra | Wedding & More On Relationship
An openly gay student at UCLA, O'Toole found love with Gina Marra, a business executive while pursuing her LPGA tour in 2011.
In March 2018, Gina made an Instagram post on their anniversary. Sources suggest that the two have been dating since 2011.
After dating for a couple of years, Ryann O'Toole and Gina got engaged in 2016.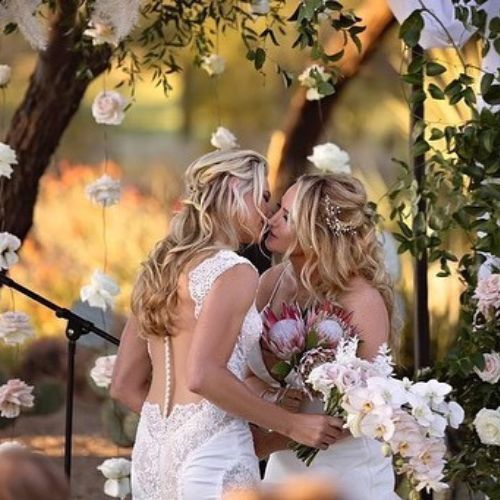 Following five years of engagement, the duo married on December 3, 2021, & posted the wedding moments on Instagram. Ryann wrote, "I married my best friend, how lucky am I."
The two were frequent Instagram mentions of each other through mid-2022, but their cozy pictures are rare these days.
So, there are queries if Gina and Ryann are still married.
Current Relationship Status | Are Ryann & Gina Together?
Unfortunately, it seems Ryann O'Toole and Gina Marra are separated even if they are yet to make their divorce official. Moreover, they have unfollowed each other on Instagram.
On top of that, the American LPGA Tour golfer removed the Instagram posts of their wedding pictures.
Though Gina still has pictures featuring O'Toole on her Instagram- she last mentioned her on her IG post in April 2020.
In the Reddit threads, fans debate that the duo's marriage lasted only 7-8 months.
And as per Ryann's Instagram post, she seems to be in a relationship with English golfer Georgia Hall.
Dating Rumors With Georgia Hall True??
A common golf interest & some cozy pictures together on social media suggest that Georgia Hall & Ryann O'Toole are in a relationship.
In October 2022, the Agoura Hills, California-born shared an Instagram post featuring Georiga & wrote, "She gives me butterflies."
Earlier than that, in other IG posts of O'Toole, Hall made comments with heart-eyes emojis, showing her adoration.
Then, it followed a series of Instagram posts, both on Ryann's & Georgia's social media profiles, which featured cozy pictures of each other.
On December 18, 2022, the English-born golfer featured Ryann O'Toole & wrote, "Photo Dump with my" with a heart emoji.
No wonder, these posts already hint that the two are a thing.
Ryann O'Toole Girlfriend, Georgia Hall | Family & Career
Georgia Kelly Hall, born on April 12, 1996, is an English professional golfer; she competes in the Ladies European Tour and the LPGA Tour.
The Bournemouth, England native was born two days before English retired golfer Nick Faldo won his third Masters title at Augusta National Golf Club in Augusta, Georgia.
Georgia Hall is the daughter of Wayne Hall and Samantha Hall. During the 2018 Women's British Open, her father acted as her caddie.
Hall's father Wayne introduced her to golf at seven & always supported her. In her amateur career, she won two gold medals at the 2013 Australian Youth Olympic Festival.
She turned professional in 2014 and records 7 professional wins including the 2018 Women's British Open over Pornanong Phatlum.
Georgia ranks #24 in the Women's World Golf rankings as of January 23, 2023, while the Top-5 female golfers are Lydia Ko, Nelly Korda, Minjee Lee, Atthaya Thitikul, and Jin Young Ko.
As of this writing, the top 5 PGA tour golfers are namely Rory McIlroy, Scottie Scheffler, Jon Rahm, Cameron Smith & Patrick Cantlay.
Age & Height
Hall, 27 years old, has a height of 5 feet 7 inches (1.7 m). She maintains a fit & healthy body and weighs 55 kg (121 lbs).
With dark brown hair and blue eyes, she is not only a skilled golfer but also boasts an attractive and athletic figure.
As a professional golfer, she exercises regularly to maintain her fitness and stamina on the course. Her dedication to her sport is evident in her athletic build and fit body.
Georiga Hall | Previous Relationship
Before Ryann O'Toole, Georgia was in a relationship with Harry Tyrell. They met in 2017 & began dating. Harry, who had a background in golf as a teaching professional, decided to quit his job and join Hall as her caddie in 2018.
The couple traveled the world together, with Harry guiding Hall to her first major championship win at the 2018 Women's British Open. Likewise, he was also there at her second LPGA Tour win at the Cambia Portland Classic in 2020.
Apart from caddying for Hall, Harry also had his own professional pursuits. He was a brand ambassador for Agilitas IT Solution, a global channel service provider, and even attempted to qualify for the LPGA Tour himself.
Georgia Hall and Harry Tyrrell were in a romantic relationship for four years. Despite their separation, they are on good terms with each other.
Ryan O'Toole's Wife | Net Worth & Salary
Gina Marra is the CEO of YAM Worldwide since 2008. Moreover, in 2014, she assumed the position of VP of the company's power sports division.
As of June 2023, Gina has an estimated net worth of $1.5 million. Her position as a business executive earns her a decent sum, allegedly, in the 6-digit figure.
Her wife Ryann O'Toole is a professional golfer with $3,217,749 in career earnings. O'Toole owns a net worth in the range of $1-$5 million.
As the winner of the 2021 Trust Golf Women's Scottish Open, she took home the prize money of $225,000. Check out her yearly earnings from LPGA tours:
| | |
| --- | --- |
| Year | Earnings |
| 2011 | $192,748 |
| 2012 | $53,590 |
| 2013 | $100,554 |
| 2014 | $26,044 |
| 2015 | $208,565 |
| 2016 | $352,804 |
| 2017 | $213,016 |
| 2018 | $627,205 |
| 2019 | $199,641 |
| 2020 | $63,200 |
| 2021 | $531,827 |
| 2022 | $616,600 |
And as for Ryann O'Toole's new golfer girlfriend Georgia Hall, she made $3.588 million in career earnings & owns a $2.5 million net worth.
As the winner of the 2018 Women's British Open, Georgia took home $490,000. Her prize money as the 2020 Cambia Portland Classic champion was $292,000.
Frequently Asked Questions
Did Ryan O'Toole get married?
Yes, Ryan O'Toole got married to Gina Marra. However, it looks like the couple has now separated just after a few months of their marriage.
When did Ryann O'Toole start playing golf?
Ryann O'Toole started playing golf at the age of 13.