Any fan of Newcastle would know about Saint-Maximin, a legend in the making! Maximin is a soccer player who has made a name for himself with his impulsive natural talent. He currently plays as a winger for Newcastle United in the Premier League.
Maximin also played for Saint-Étienne, Monaco, and Nice in the past.
He is one of those athletes who thrills viewers of highlight reels, and supporters of every other team adore him.
The player is currently on the radar of Manchester United for the summer transfer.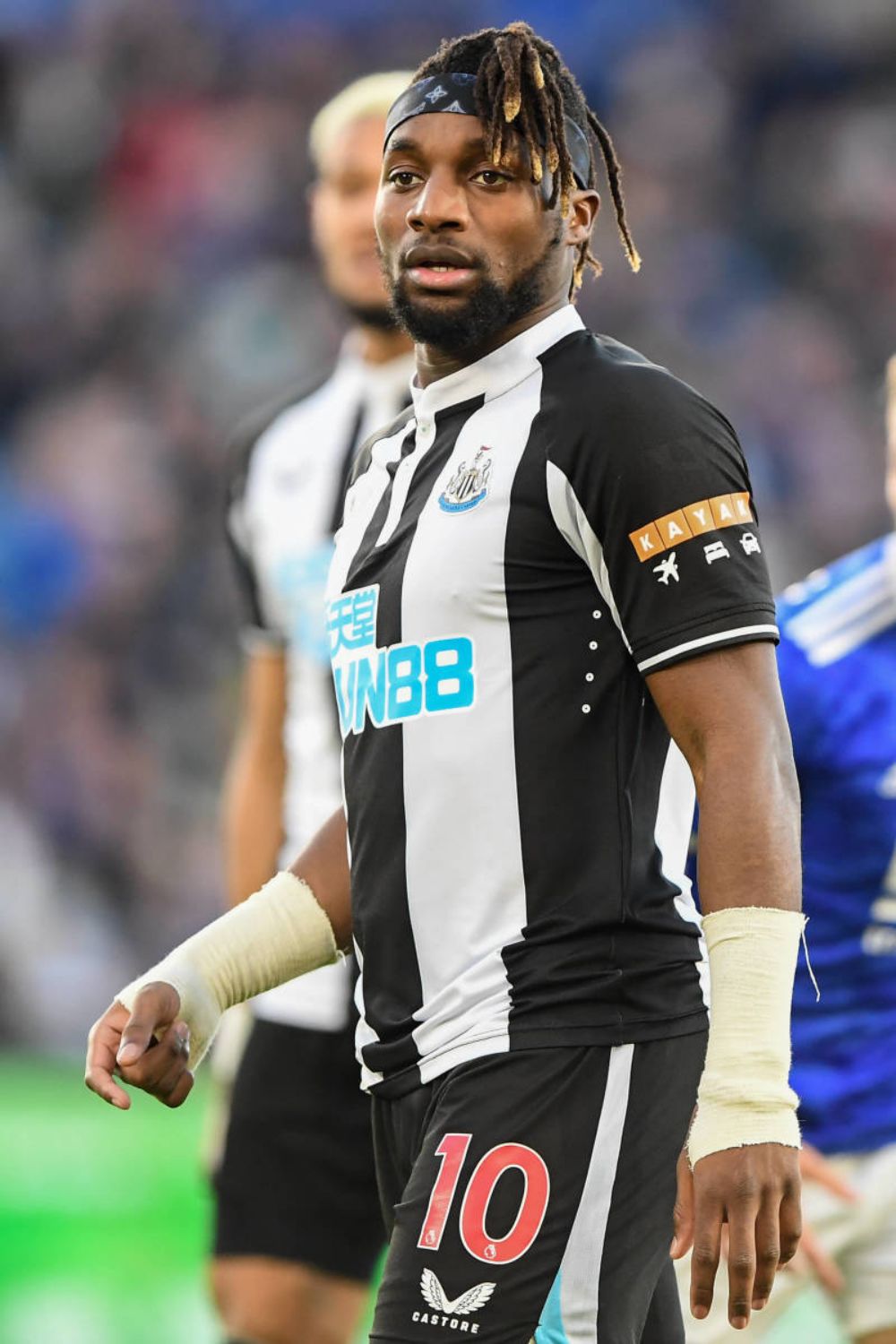 Maximin is an artist on the field, creating works of art that are on par with French classics by weaving around defenders.
The ball serves as his brush, and England's fields serve as his canvases.
However, Newcastle star Allan Saint-Maximin won't be playing in the World Cup 2022 as Didier Deschamps's France squad for the World Cup does not include Allan's name on it. More on this in the section below.
Looking for additional information on the player? Stick with us till the end of this article to get your hands on all the key information about Maximin.
Saint-Maximin | Quick Facts
| | |
| --- | --- |
| Full Name | Allan Irénée Saint-Maximin |
| Date of Birth | March 12th, 1997 |
| Birth Place | Chatenay-Malabry, France |
| Nick Name | Maxi |
| Religion | Christianity |
| Nationality | French |
| Ethnicity | Guianese Creole |
| Zodiac Sign | Pisces |
| Age | 26 Years Old |
| Height | 5 feet 8 inches/176 cm/1.76 m |
| Weight | 74 kg/162 lbs. |
| Chinese Zodiac | Ox |
| Shoe size | Not known |
| Build | Athletic |
| Father's Name | Alex Saint-Maximin |
| Mother's Name | Nadege Saint-Maximin |
| Brother's name | Kurtys Saint-Maximin |
| Sister's name | Cassandra Saint-Maximin |
| Marital Status | Unmarried |
| Girlfriend | Anissa |
| Kids | Three (Two daughters and a son) |
| Profession | Soccer Player |
| Position | Winger |
| Affiliations | Premier League |
| Team | Newcastle United |
| Roster Status | Active |
| Net Worth | $10 Million |
| Merch | Newcastle United Practice Jersey |
| Social Media | Instagram, Twitter |
| Last Update | November 2023 |
Saint-Maximin | Early Life & Family
Maximin was born in Chatenay-Malabry, France, on March 12th, 1997, to his mother, Nadege Saint-Maximin, and father, Alex Saint-Maximin.
Malabry is a commune in the southwest suburbs of Paris, France. The player's full name is Allan Irenee Saint-Maximin.
Although Saint-Maximin was born in France, his mother's side of the family is from Guyana, and his father's side is from Guadeloupe.
The Frenchman, just like the other soccer players Thomas Lemar, Dimitri Payet, and Kingsley Coman, Thierry Henry, is a member of the Guianese Creole ethnic group in France, which has ancestors from both the Caribbean and South America.
Alex, Maximin's father, worked as an office administrator at Paris Diderot University, which is located in Paris, France. Likewise, his mother once served as the "director of education" at a well-known school there.
Growing up, young Saint-Maximin had a passion for dancing and fashion. His early affinity for headbands was a result of his fashionable way of life and has persisted to this day.
Allan was raised as the youngest child of the family. He has a sister named Cassandra and an elder brother named Kurtys.
Alex and Nadege instilled in their children a commitment to the Christian religion. The family was well off and never struggled with financial difficulty. As a result, Maximin had a comfortable life growing up.
Saint-Maximin | Education, Early Skills, & Values
The principles Saint-Maximin received from his parents and teachers at school enabled him to succeed as he grew up.
When Allan was a young boy, his mother used to give him €10 ($10.34) every time he left for school.
He used to buy candies with the money and give it to his friends, which was a sign of his early generosity.
Without a coach or mentor, Saint-Maximin found and developed his athletic and soccer talent while he was a student.
While his parents were out for work, Maximin and his pals would engage in four-on-four competitions on the streets and courts in between apartment buildings.
The player mastered his dribbling skills during these games, which have become his trademark.
Saint-Maximin would hone his abilities in confined quarters while aiming to imitate the Brazilian soccer player Ronaldo and Ronaldinho's signature movements.
However, as a youngster, Saint-Maximin was most influenced by the techniques of the countryman Robinho.
You Might Want To Read About Sergino Dest: Height, Girlfriend, Net Worth & Instagram
Saint-Maximin | Professional Career
Early Career
Saint-Maximin signed his first professional contract in June 2013. Two months later, at the age of 16 years, five months, and 17 days, Christophe Galtier gave him his Saint-Etienne debut against Esbjerg in the Europa League.
Likewise, the player turned down Arsenal's approaches in 2014 and instead agreed to a new contract with Saint-Etienne due to his desire for playing time.
However, over the next two seasons, he made just 17 appearances, and his friendship with Galtier worsened.
Galtier was determined to depict Saint-Maximin as a problematic player when he signed with Monaco for £4 million ($4.75 million) in the summer of 2015.
Nevertheless, Saint-Maximin asserted that he had been "mistaken for a commodity" and that "a solution had to be found."
Nice
Saint-Maximin was allowed to join rivals Nice in 2017 by Monaco.
Nice assumed Maximin's worth would skyrocket after he was signed for a club-record £8.5 million ($10.09 million), but Monaco anticipated recovering more.
Monaco was determined that Saint-Maximin could not progress and was pleased to sell him.
On the other hand, Maximin had his chance to prove that he could be an outstanding player with the move to Nice.
Over the course of two seasons, Saint-Maximin successfully became a crucial team member, first for Favre and later for Patrick Vieira.
Saint-Maximin skipped a match against Angers in February 2019 because he claimed to be sick.
However, the club doctor had cleared him to play. The player responded with a tweet alleging an ankle injury after Vieira publicly questioned his "choice" not to participate.
Maximin was perhaps Nice's finest player, but following that incident, his departure from Nice was unavoidable.
Newcastle United
Saint-Maximin signed a six-year contract with Premier League team Newcastle United on August 2, 2019.
Nine days later, on the first day of the Premier League season, he made his league debut in Newcastle's loss to Arsenal.
The player scored his first goal for the team on December 5 in a 2-0 victory over Sheffield United.
Two months later, he scored his second goal, a late winner against League One opponent Oxford United in the FA Cup's fourth round.
The Frenchman also scored the game-winning goal in Newcastle's 1-0 Premier League victory over Southampton on March 7, 2020.
Will Saint-Maximin Play In The 2022 World Cup Qatar?
As mentioned before, Saint-Maximin won't be playing in the 2022 World Cup Qatar.
The French national team manager Didier Deschamps has named his France squad for the World Cup, and it does not include Newcastle winger Allan Saint-Maximin.
Even though Maxi has been vocal about his desire to represent his country in the World Cup 2022, he has not been called up to his national team.
It may have to do something with his injury, plus the winger has not played enough soccer this season.
Even though he performed well against Crystal Palace, it was too little too late. Hopefully, this snub will be a valuable lesson to the 26 year-old and inspire him to do even better.
Saint-Maximin | Age and Body Measurements
Allan Saint-Maximin was born in the year 1997. Hence, the player is currently 26 years old. Maximin was born in the Ox year, according to the Chinese zodiac calendar.
Likewise, as a March baby, the player's zodiac sign is Pisces. Maximin has a fit, healthy and strong body.
He stands tall at the height of 1.76 meters and weighs around 162 lbs.
Saint-Maximin | Facts and Trivia
Allan, a standout for Newcastle winger, once famously had to hide his $180 Gucci headband with a STICKER during a victory over Manchester United to comply with sponsorship regulations. The player had to cover the Gucci logo with a white piece of tape.
Even though Maximin has an extroverted personality, the player values spending time with his family more than going out on the town, much like he did when he lived in Nice.
Saint-Maximin chose to stay in Cagnes-sur-Mer, a tranquil village a half-hour away where his family could keep their privacy, rather than purchase an apartment in a busy area of the French Riviera.
The player now lives on the outskirts of Newcastle with his three kids, Lyana, Ninhia, and Djayden, and takes them on day trips to Northumberland or the movies.
Saint-Maximin | Personality
Maximin's personality is full of contradictions. As a child, the player was very rowdy, the one you couldn't leave alone in a room with toys because he was sure to break them. For Saint, there was no other option but to play soccer on the streets.
Currently, the player lives a lavish lifestyle. He drives posh automobiles to train and matches and sports Gucci headbands.
While playing for Nice, Maximin once shared an Instagram photo of his bank account that appeared to be bragging about his fortune.
However, this is the same person who, shortly after joining the club, visited Newcastle's West End Foodbank, the biggest in the nation.
He also avoids going out on the town to spend time with his family. His teammates are fond of him and refer to him simply as a beautiful human being.
Saint-Maximin | Wife, & Kids
The soccer player, Maximin, is not a married man. However, the player is currently in a relationship with Anissa. Much information is not available about Anissa.
The fact that the two have been dating is evident from Maximin's Instagram posts.
Maximin and Anissa also have a son together. Anissa gave birth to a son in 2019 named Djayden Saint-Maximin.
Similarly, Allan Saint-Maximin is also a father to two daughters from his previous relationship. The names of his daughters are Lyana and Ninhia.
Unfortunately, we are not sure who is the mother of the player's daughters. It is still a mystery because Maximin has never said anything about it openly.
Also Read About Son Heung-Min: World Cup 2022, Net Worth & Social Media
Saint-Maximin | Social Media
Saint-Maximin is very active on his social media handles. The player has been praised on social media by fans, who appreciate his humor and how approachable he comes across.
Maximin frequently tweets with humorous GIFs about being a "Geordie" or his contributions. In 2020, as the player announced his readiness to return, he tweeted a video of himself moonwalking.
Once, he even messaged "Mick C," a Newcastle supporter who penned a song about him, to promise him a gift.
We will leave the links to his social media below if you want to check them out.
View this post on Instagram
Saint-Maximin | Contract & Net Worth
Allan Saint-Maximin agreed to a six-year, £12 million ($14.24 million) contract with Newcastle United FC, which included an average annual income of £2 million ($2.37 million).
Saint-Maximin will have a cap hit of £2 million ($2.37 million) and a base salary of £2 million ($2.37 million) in 2022.
Currently, the player has a net worth of about $10 Million.
Frequently Asked Questions (FAQS)
Does Saint-Maximin play any other sport?
Basketball, tennis, decathlon, cross country, and even rugby were among the sports Saint-Maximin excelled at as a young lad. However, it was always soccer that was his first and true love.
What number is Saint-Maximin?
The soccer player wears the number 10 for Newcastle united.
What are Saint-Maximin's FIFA 22 rating and potential?
The rating for Allan Saint-Maximin is 81. His position is LM, and he has a potential of 84.
You Might Want To Read About Pedro Neto: World Cup 2022, Career & Net Worth