Santi Aldama is a Spanish basketball sensation who has taken the NBA by storm with incredible talent and skills. He plays for the Memphis Grizzlies of the National Basketball Association (NBA).
At a young age, Aldama displayed his immense talent on the international stage during the 2019 FIBA U18 European Championship. He led the national team to gold and was named MVP of the tournament.
With his exceptional skills, Aldama has earned numerous accolades and championships, carving his name into the basketball world.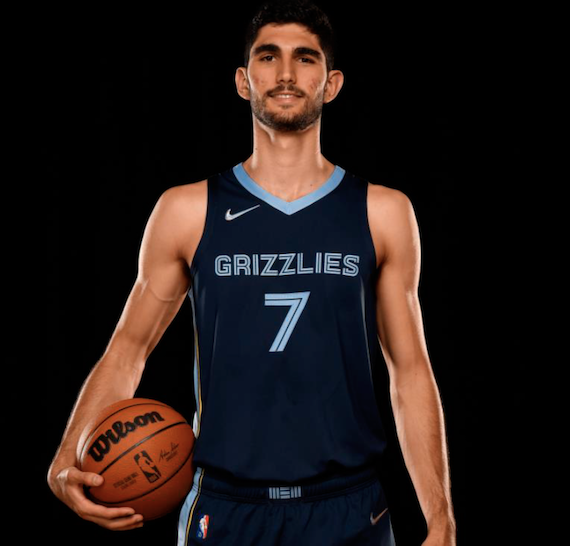 But how did this young man from Spain make it to the biggest stage in basketball? His story is one of passion, dedication, and perseverance, and it all started with a dream.
This article will look closely at Santi Aldama's early life, career, net worth, relationships, and achievements. But, before that, let's quickly look at his quick facts.
Quick Facts
Name

Santi Aldama

Full Name

Santiago Aldama Toledo

Nick Name

Santi

Date of Birth

January 10, 2001

Age

22 Years Old

Birth Place

Las Palmas, Spain

Nationality

Spanish

Ethnicity

Hispanic

Zodiac Sign

Capricorn

Height

7 ft 0 in / 2.13 m/ 213 cm

Weight

215 lb/ 98 kg

Hair Color

Black

Eye Color

Black

Father's Name

Santiago Aldama Sr

Mother's Name

María Isabel Toledo Jiménez

Uncle's Name

Santi Toledo

Siblings

Not available

High School

Canterbury Basketball Academy

Education

Graduated

University

Loyola University, Maryland

Relationship status

Probably single

Profession

Basketball Player

Position

Forward

Leagues

NBA

NBA Draft

2021

Playing Teams

Memphis Grizzlies (2021 – Present)

Memphis Hustle (2021- 2022)

Jersey Number

7 (Grizzlies)

Notable Awards & Achievements

FIBA U18 European Championship MVP (2019)

Gold at

FIBA U18 European Championship

Net Worth
Approximately $4 million
Social Media
Instagram, Twitter
Merch
Signed Rookie Card
Last Update
May 2023
Early Life & Education
Santi Aldama was born Santiago Aldama Toledo on January 10 2001. He was born and raised in Las Palmas, Gran Canaria, Spain, by his Father, Santiago Aldama, and mother, María Isabel Toledo Jiménez.
Basketball runs deep in Santi's blood. His Father was a professional basketball player for Spain and Portugal and even represented Spain at the 1992 Summer Olympics.
Similarly, his uncle Santi Toledo was a professional basketball player who played for Spain, Italy, and Portugal.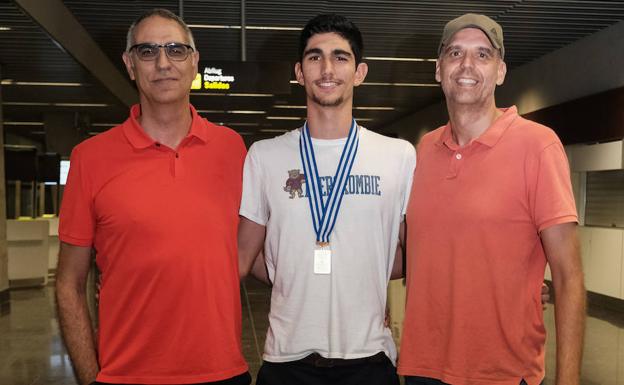 Thus, Santi started playing basketball at the tender age of three. His Father and uncle were his primary coach honing his basketball skills from a young age.
Furthermore, Santi looked up to basketball legends like Pau Gasol, Juan Carlos Navarro, and Kobe Bryant, dreaming of following in their footsteps.
In an interview, Santi said that Paul Gasol and Kobe Bryant inspired him to become a basketball player. He said,
Seeing them (Pau Gasol and Kobe Bryant) win rings with the Lakers is what helped me to be a basketball player. Being able to see Pau win titles has been a great influence. Pau is a benchmark.
For education, he played basketball for Canterbury Basketball Academy and graduated from Loyola University, Maryland.
Age, Height & Weight
Santi Aldama is 22 years old and stands at a towering height of 7 ft 0 in (2.13 m).
He weighs around 215 lb (98 kg) and possesses a lean, athletic frame ideal for basketball players.
Early Career
Santi Aldama's love for basketball started at a young age. From the start, he had a natural talent for the game.
And by the time he was sixteen, he was already playing internationally and catching the attention of scouts worldwide.
He debuted for Spain at the 2017 FIBA U16 European Championship in Podgorica, Montenegro, at sixteen. But Aldama's true moment of glory came two years later at the FIBA U18 European Championship in Volos, Greece.
His remarkable performance earned his team a gold medal, and he was named the tournament's most valuable player (MVP).
Thus, many of the biggest clubs in Spain, including FC Barcelona and Real Madrid, had their eyes on him after high school.
However, Santi decided to make a bold move and committed to playing college basketball in the United States for Loyola-Maryland in 2019. His decision to choose a mid-major program surprised many experts, but it turned out to be a brilliant move.
Though he had to sit out the first few months of his freshman season due to a knee injury, he came back stronger than ever and made his collegiate debut on February 1, 2020.
Santi Aldama wasted no time impacting the court, quickly establishing himself as a star player. He scored several honorable awards and even led his team to a major championship victory.
NBA Career
It was no surprise when Santi declared for the 2021 NBA draft, with many predicting he would be a top pick.
He maintained his college eligibility while waiting for the draft, and on the big day, he was selected with the 30th overall pick by the Utah Jazz.
However, his rights were soon traded to the Memphis Grizzlies, where he plays his heart out on the court.
He also briefly played for Grizzlies' NBA Summer League roster in 2022, where he was honored with a spot on the All-NBA Summer League Second Team.
Girlfriend & Relationship
The Grizzlies' power forward is not married yet but is in a relationship with his girlfriend. His girlfriend, Pilar Barquín, is an Instagram influencer who goes by the IG handle @pilarbarquin.
The two often shares pictures of each other on their respective social media accounts.
Though, the couple has not opened up much about their dating story.
Pilar took to Instagram & shared a picture of her NBA boyfriend for the first time in July 2021. As for Santi Aldama, it was a year later, in May 2022, he featured his girlfriend Pilar's picture on his Instagram.
Though, the duo was seen commenting on each other IG posts since December 2020. So, it is alleged that their relationship began in 2020.
Pilar Barquin, a Spain-born, is an alumna of Comillas Pontifical University (Universidad Pontificia Comillas). She graduated from there in July 2021.
How Much Is The Net Worth Of Santi Aldama?
As of 2023, Santi Aldama has an estimated net worth in the range of $1-$3 million. For sure, most of his earnings are the result of his basketball journey.
Currently, Aldama plays for the NBA team Memphis Grizzlies on a four-year contract worth $10.24 million, which he signed on August 8, 2021.
As per the deal, his average annual salary stands at $2.56 million and has option contracts in the concluding two years.
In his rookie season, the 2020-21 season, Santi earned a base salary of $1.99 million. Then, in the 2022-23 season, his salary went a bit up, earning him $2.09 million.
On October 15, 2022, the Grizzlies' power forward exercised an option deal for the 2023-24 season that sees him a paycheck of $2.19 million.
In the last year of his four-year rookie scale contract, Santi Aldama's earnings for the 2024-25 season will be $3.96 million after exercising another option deal.
Moreover, the NBA player can sum up a great deal of money through endorsements. Though
Frequently Asked Questions (FAQs)
Where did Santi Aldama go to college?
Aldama went to Loyola University, Maryland, where he played basketball for the Greyhounds.
Who is jersey number 7 on Memphis Grizzlies?
The Spanish-born power forward Santi Aldama wears jersey number 7 in the Grizzlies.
How much is the salary of Santi Aldama?
Aldama earned a base salary of $2.09 million in the 2022-23 season. After exercising an option with the Grizzlies, his salary stands at $2.19 million for the 2023-24 season.