Sarah Huffman is a former American soccer player who played as a midfielder in the NWSL and also represented the national team. She was named Virginia State Player of the Year and a finalist for Soccer Buzz National Player of the Year in 2004.
Huffman headed into her career from a very young age when she played soccer for her college team, Virginia Cavaliers. She was decorated with many awards by the end of her collegiate career.
In the mid-20th century, nobody would heed what a woman had to say; neither would they receive a fair chance nor be encouraged to be a better version of themselves.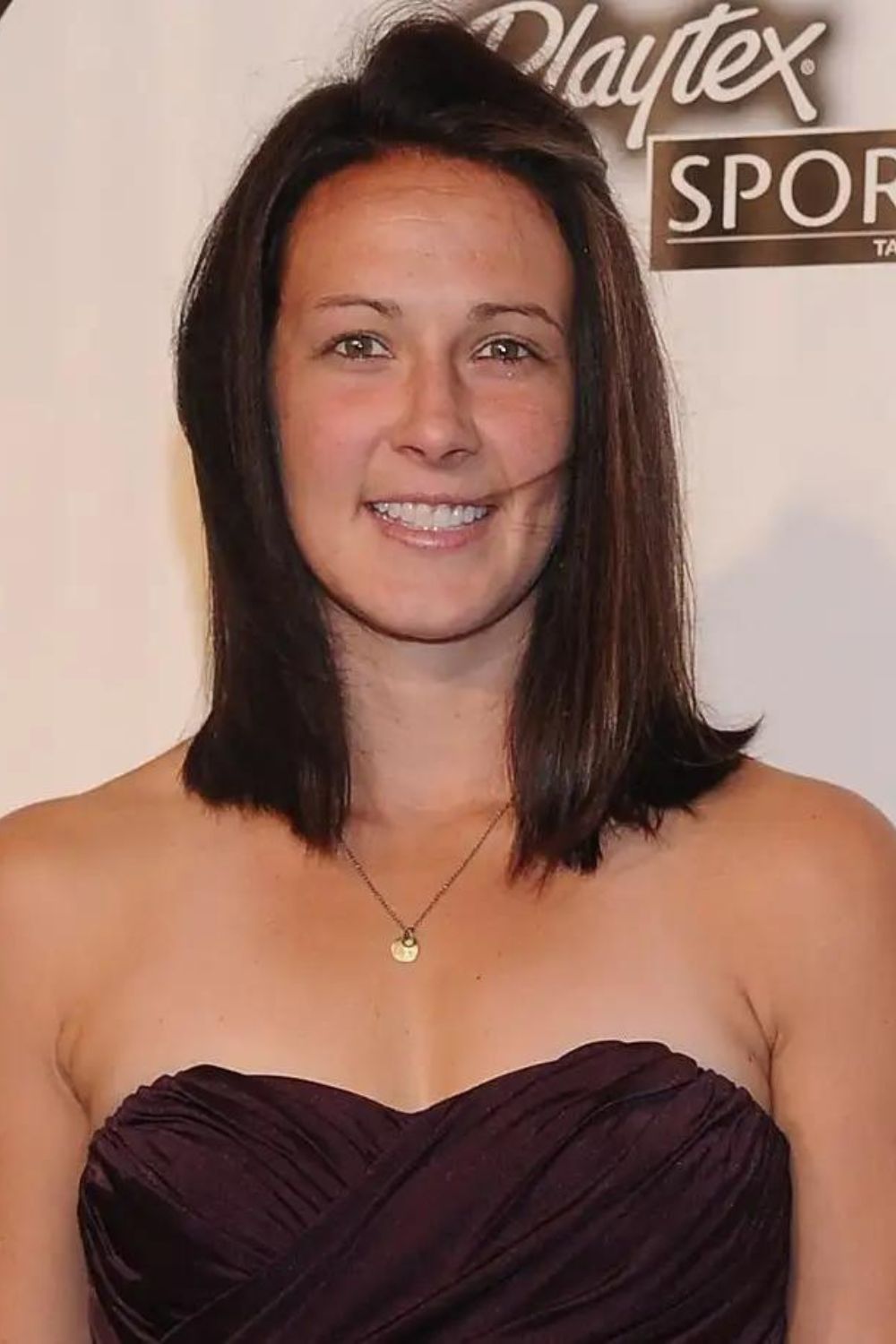 A plethora of women rebels are to be duly credited for this remarkable revolution that paved the way for someone like Sarah to prove her existence to the world.
Despite only gaining mainstream attention in the present day, women's soccer has been prominent since the early 70s.
Huffman is one of the world's most successful women's soccer players and boasts an astonishing net worth of $10 million as of 2023.
Today we will talk about Sarah Huffman, a soccer player whose life is an exciting approach toward inclusivity in sports.
Being of homosexual preference, the American managed to establish herself as a professional soccer player.
We will look into the quick facts table of Sarah Huffman.
Sarah Huffman | Quick Facts
| | |
| --- | --- |
| Full Name | Sarah Huffman |
| Birth Date | March 5, 1984 |
| Birth Place | Danbury, Connecticut, United States |
| Nick Name | Huffy |
| Religion | Undefined |
| Nationality | American |
| Ethnicity | Caucasian |
| Education | Marcus High School / University of Virginia |
| Horoscope | Pisces |
| Father's Name | Not available |
| Mother's Name | Not available |
| Siblings | None |
| Age | 39 Years Old |
| Height | 5'4″/1.63 m/163 cm |
| Weight | 57 kg/127 lb. |
| Shoe Size | Not available |
| Hair Color | Black |
| Eye Color | Brown |
| Body Measurement | Not available |
| Build | Ectomorph |
| Marital Status | Divorced |
| Girlfriend | Not Available |
| Spouse | Former Abby Wambach |
| Position | Midfield |
| Profession | Soccer Player |
| Net Worth | $10 Million |
| Clubs | Virginia Cavaliers (Youth) / Washington Freedom / Portland Thorns (Senior) |
| Jersey Number | #19 |
| Social Media | Twitter |
| Children | None |
| Last Update | December 2023 |
Sarah Huffman | Bio, Early Life, Parents, & Education
Sarah "Huffy" Huffman celebrates her birthday on March 5 every year and was born in 1984 in Danbury, Connecticut, USA.
Huffman was still a little girl when her parents relocated to Flower Mound, Texas. She bears American citizenship, but her ancestral origin remains unknown.
Sarah received primary education from Marcus High School. While in high school, the brunette was part of the soccer team.
After that, the soccer player attended the University of Virginia, where her soccer career started. She was arguably the best player in her school, receiving many accolades.
Sarah Huffman | Age, Height, & Physical Stats
The former American soccer player is 39 years old as of this writing, and currently, the retired player works as a coach.
Sarah stands at 5 feet 4 inches (1.63 meters), regardless the soccer star dominates the midfield. Her short stature had its advantages. To illustrate, the midfielder was swift and could quickly move.
Similarly, the Connecticuter weighs a significant 57 kg (127 pounds).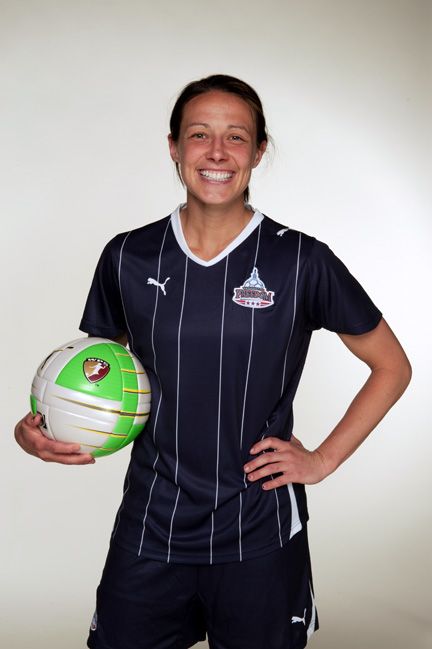 However, the only aspect Huffman lacked was aerial duels because of her height. It was the one flaw the midfielder had.
This serves as an example for aspirant young girls that not everybody is perfect and we can excel in our respective fields despite our weaknesses, but we need to work hard.
Huffman's distinctive feature is naturally straight hair, a petite frame, and an ectomorphic build.
Sarah Huffman | Career, Club & Country
To begin with, the Connecticuter started her professional life in college. After enrolling at the University of Virginia, Sarah became a four-year starter and a top player in alma mater's history.
It was Huffman's college experience that transformed her into a prolific midfielder. During her collegiate career, the American recorded 12 goals and 28 assists, which was the second most assists in school history.
Sarah commenced with Washington Freedom of W-league in 2007 and won the championship.
After playing one entire season, the midfielder ended her service with two goals in 17 appearances.
She signed an undisclosed deal with the Norwegian club, Røa IL, in 2008. It is safe to say, Sarah was able to show her best performance, as she scored 14 goals in 13 appearances for the club, which in turn led the club to lift the Norwegian Cup.
Further
After a season with the Norwegian team, the midfielder returned to her native land. She was the number one pick in round 1 of the 2008 WPS General Draft and accepted a deal with the Washington Freedom in Women's Professional Soccer.
The team, under new ownership, was renamed as magicJack (WPS) and moved to Florida. She traveled a few hundred miles south with her teammates to the newly reformed magicJack.
Despite having an overall excellent performance, Huffman netted only once in 22 appearances. However, the dissolution of WPS led to the eviction of every player.
Nonetheless, the soccer starlet was offered a contract by Pali Blues of the W-League.
Simultaneously, the midfielder maintained the club's undefeated run and eventually clinched the Western Conference Championship.
In 2013 she signed a deal with Western New York Flash. However, In April 2014, she, along with Veronica Boquete, was traded to the Portland Thorns for Courtney Wetzel, Kathryn Williamson, and a first-round pick in the 2015 NWSL College Draft, Jaelene Hinkle.
On November 18, 2014, she decided to retire from her soccer career. Despite a short-lived career, her teammates can attest that Huffman gave everything when she was on the field.
International Career
Initially, the American midfielder started with the junior teams in U-16/17/19/21/23 before moving on to the senior team. Her junior career was eventful as she went on to win the FIFA U-19 Women's World Championship in 2002.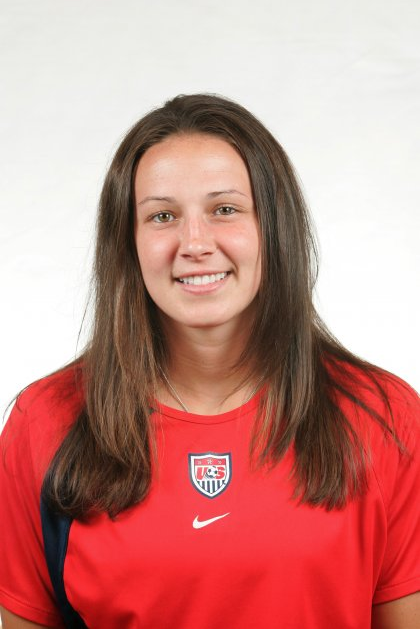 Subsequently, with the U-21 squad, Sarah added the Nordic Cup to her accolades list in 2004, 2005, and 2007.
Hence, due to her positive improvement, Sarah was able to book a spot on the senior soccer team in 2010.
Career Achievements
Huffman's honors include:
2x NSCAA All-American
2x Soccer America MVP
3x First-team All-ACC selection
ACC Defensive Player of the Year: 2004
Co-MVP OF THE ACC TOURNAMENT
Virginia State Player of the Year: 2004
Soccer Buzz All-American: 2005
Soccer America MVP: 2005
NSCAA All-American: 2005
With various clubs,
Norwegian Women's Cup 2008
1x Western Conference Championship
FIFA U-19 Women's Championship: 2002
Nordic Cup: 2004/05/07
Sarah Huffman | Personal Life, Partner & Kids
Indeed, many soccer enthusiasts must know that the former midfielder is of same-sex sexual preference.
To translate, Sarah is a lesbian and had a relationship with fellow soccer player Abby Wambach.
In particular, Mary Abigail Wambach, professionally Abby Wambach, is a retired soccer player, arguably the most successful soccer player in U.S. Women's history. Abby is the winner of two Olympic golds, the Women's World Cup, and a six-time recipient of U.S. Soccer Athlete of the Year.
It was a fortunate encounter for both, Abby and Sarah. It took time for both to open up about their relationship.
Initially, the two were inseparable friends, and as they bonded through the national team, the relationship culminated into romance.
Eventually, the couple walked down the aisle and joined in holy matrimony on October 5, 2013. Also, the ceremony took place in a scenic resort in Hawaii.
The location of the venue was on a beach at Poipu Kai Villas on Kauai Island.
Unfortunately, their marriage was not meant to last. Abby's alcohol and drug abuse created a rift between the two. Also, Wambach repeatedly displayed inhuman behavior towards Huffman.
Ultimately, left with no choice, Sarah lodged a divorce settlement suit, and on September 12, 2016, the couple legally got separated. Well, the duo never had children of their own.
Huffman is single and devotes her time to coaching, whereas Abby found her love again with Glennon Doyle Melton after successfully quitting drugs and alcohol.
Sarah Huffman | Net Worth
As a soccer player, a net worth of $10 million shouldn't be astonishing. The midfielder was part of teams like Team Apps, Washington Freedom, Roa IL, magicJack, Portland Thorns, etc.
With her contracts with many clubs throughout her career, Sarah earned $5 million to $8 million.
Additionally, being part of the national team likely aids a player in pocketing some extra wealth. Reportedly, she received around $900K to $1.5 million from her service to the national team.
Although her sponsorships and other endorsements have not come to the public's attention, it leaves little space for doubt that an athlete of Huffman's standard would be devoid of such deals.
Sarah Huffman | Social Media Presence
Sarah is available on Twitter under the handle @shuffman14; however, she was last active in 2016. She hinted she would be going on a break since then and has not updated anything.
Break to be whole again. https://t.co/cpEBb8OsfZ

— Sarah Huffman (@shuffman14) April 20, 2016
You can follow her to know about her updates
Twitter: 13.8K followers
Sarah Huffman | Popularity Graph
After having a brilliant career with different soccer teams and also with the national team, she indeed has gained thousands of fans and well-wishers from all around the world.
Sarah Huffman was a professional soccer player who played for Portland Thorns at the time of her retirement. She was searched most for her relationship with Abby Wambach.
Sarah Huffman | FAQs
Why did Sarah Huffman and Abby Wambach get a divorce?
According to some sources, Abby's addiction to alcohol and substance use and her inhumane treatment toward Sarah led their relationship to drift apart.
Their divorce was finalized in 2016.
Who is Sarah Huffman dating currently?
As of 2023, Sarah is not seeing anybody.
She was in a relationship with former soccer player Abby Wambach.
Where does Sarah live?
Sarah's Twitter bio reads her address as Portland, Oregon, but since she has not posted anything on the handle for a long time, we are not entirely sure where the former soccer star dwells.