Scott Hartnell is a professional ice hockey player who played in the National Hockey League. He has served as a left-winger for many prominent NHL teams.
Moreover, the athlete started his journey in the league with the Nashville Predators.
He also played for the Philadelphia Flyers in 2007. Before playing for the Nashville team again, he was a part of the Columbus Blue Jackets.
He eventually retired after playing a season for the Predators. Furthermore, Hartnell is from Canada and represents the Canadian National Team.
Besides that, the player is quite known for his odd behaviors and time to time, temper tantrums.
Scott has received a penalty for throwing his glove at an opponent player. Nevertheless, he does have a sweet and kind side to him.
He showed his sportsmanship when a fan ridiculed him with a jersey that said Fartsmell. However, instead of being upset, he signed the fan's jersey and gave him his hockey stick.
The left-winger also started a Hartnell Down Foundation contributing to charities that support hockey, children, and communities.
Before getting into detail about the NHL left-winger's life and career, here are some quick facts about him.
Quick Facts:
| | |
| --- | --- |
| Full Name | Scott Wesley Hartnell |
| Birth Date | April 18, 1982 |
| Birth Place | Regina, Saskatchewan, Canada |
| Nick Name | Bird Dog |
| Religion | Christian |
| Nationality | Canadian |
| Ethnicity | White |
| Education | Not Available |
| Horoscope | Aries |
| Father's Name | Bill Hartnell |
| Mother's Name | Joy Hartnell |
| Siblings | Three |
| Age | 40 Years Old |
| Height | 6 feet 2 inches |
| Weight | 215 lb (98 kg) |
| Hair Color | Brown |
| Eye Color | Blue |
| Build | Athletic |
| Profession | NHL Player |
| Recent Team | Nashville Predators |
| Position | Left Winger |
| Active Years | 2000-2018 |
| Marital Status | Married |
| Wife | Katie Hartnell |
| Kids | Two: Wesley and Molly Hartnell |
| Net Worth | $30 million |
| Social Media | Instagram, Twitter |
| Merch | Flyers Classic Signed Puck, Flyers Autographed Photo |
| Last Update | September, 2022 |
Scott Hartnell | Early Life, Family, And Education
Scott Wesley Hartnell was born in Regina, Saskatchewan, Canada. His parents are Bill Hartnell and Joy Hartnell.
Furthermore, both of his parents were teachers in a reputed school in Lloydminister, Alberta. Aside from that, Bill taught his son to play ice hockey.
As the NHL player recalls, he was a great coach and a father. Bill never pushed the sport to his child.
Moreover, he reminded Scott to always have fun while playing. Hence, the athlete credits his father for his success.
He is also grateful for his father, who provided a healthy environment for him to grow as a player.
Similarly, Hartnell learned kindness and positivity from his dad, who loved including everybody.
He was a school administrator and incorporated disabled kids into hockey games and other activities. Correspondingly, he instilled good morals and values in his kids.
Besides that, the left-winger is the youngest of four kids. He has an elder sister named Kyla Hartnell.
Together with her, he is the creator of a children's book called HartnellDown. The book inspires young kids to pick themself up when they fall.
The Canadian player attended school in Canada, where he played ice hockey for different clubs. Not to mention, he played in junior leagues and was a huge success.
After that, he attended Prince Albert Campus and played for two seasons. Thereafter, he chose to weigh out his chances in the 2000 NHL Draft.
How old is Scott Hartnell? Age, Height, And Weight
The NHL player turned [calculate years datestring= "04/18/1982"] years old as of March 2022.
As a former athlete, he is quite fit and takes excellent care of his health. Hence, he is in great shape despite approaching his 40s. The left-winger is 6 feet, 2 inches tall.
Furthermore, he weighs 215 lb, i.e., 98 kg. Additionally, Scott Hartnell is fair-skinned and has long, bushy hair, which is dark brown in color.
Not to mention, he has dark brown eyes too. Besides, he is nicknamed "Bird Dog" for his style of play on the ice.
Scott Hartnell | Ice Hockey Career
Junior League Career
Prior to his career in the National Hockey League, the left-winger played in the Junior League.
He played in the Canadian Junior Hockey League (CJHL) and was a part of the Lloydminster Blazers.
Moreover, the athlete was in the Western Hockey League, playing for the Prince Albert Raiders.
He was also the Most Valuable Player in the WHL. Furthermore, CHL picked him to play for the greatest of all time Bobby Orr in the Top Prospect Game.
NHL Career
Nashville Predators
Following a successful career in the junior leagues, he entered the 2000 NHL Draft. The Predators selected him in the first round as the 6th pick overall.
Furthermore, he was the youngest player to play for Nashville in the league's history. Hartnell was also the youngest player in the 2000 season.
He debuted as a Predator left-wing in a game against Pittsburgh Penguins held in Japan.
The player showed his true potential to the team and proved his value. However, his game-winning plays halted when the NHL was on lock-out.
Nevertheless, he played for a Norwegian Ice Hockey team. Moreover, he helped them win the Norwegian Championship title.
In his last season with the Predators, he set records for career penalty minutes and the fastest two goals by an individual.
After that, he broke his foot, resulting in him missing a chunk of the season.
Learn More About Former Predator Left Wing: <<Paul Kariya: Mighty Ducks, Jersey, NHL, Retire, Wife & Net Worth >>
Philadelphia Flyers
For the 2007 season, the Predators traded the left winger to the Flyers. Shortly after, he signed a six-year contract worth $25.2 million with the team.
His start in the group was relatively slow, and he scored his first goal in the 16th season.
Nevertheless, the 2008-09 season's success overshadowed his previous average career.
The athlete had a career-high in all offensive categories and scored two hat-tricks nine days apart. Besides that, he assisted the Flyers to their first Stanley Cup Final in 1997.
Back in his 2008 game, Scott Hartnell had a dumb play over Tampa Bay; however, he portrayed himself as a folk hero. Thanks to his glove throw!
Apparently, during the gameplay, as Tampa's Ryan Malone went in for the score, he quickly threw in his glove to distract them.
As the glove went past Malone, he couldn't be left brazen for a moment.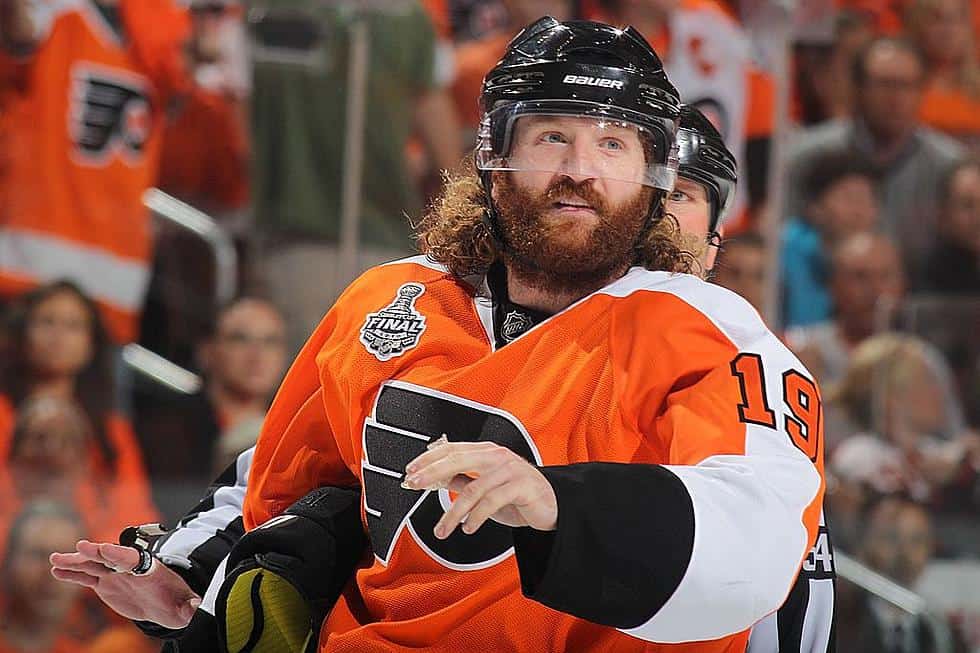 Although Scott struggled a bit at the start of the 2010-11 season, he quickly pulled himself together. He scored his 200th goal in a game against the Washington Capitals.
However, his career with the Flyers from there on was downhill. The 2012-13 season remains one of his worst seasons in the hockey league.
The athlete was unable to get a score in 25 out of the 32 games he played. On top of that, he was unable to play 16 games because of an injury.
Columbus Blue Jackets
Following a disappointing season, the Flyers traded Hartnell to the Jackets. The athlete had a successful career with the team and scored 28 goals in his first season.
However, as the Jackets were looking for additional cap space, he returned to Nashville.
The left-winger served the Predators for a season after signing a contract worth $1 million. After 17 seasons in the NHL, he retired from ice hockey on October 1, 2018.
You Might Be Interested In NHL Player: <<Jake Muzzin Bio – Early Life, NHL, Personal Life & Net Worth >>
Summary Career Stats
Let's have a look at the summary career stats of Scott Hartnell.
| | | | | | | | | | | | | |
| --- | --- | --- | --- | --- | --- | --- | --- | --- | --- | --- | --- | --- |
| SUMMARY | GP | G | A | PTS | +/- | PS | PIM | SH | GWG | TOI | CF% | oZS% |
| Career | 1249 | 327 | 380 | 707 | 66 | 81.4 | 1809 | 2777 | 54 | 15:38 | 51.1 | 51.1 |
Scott Hartnell | Television Route
Besides featuring in the games and playing for his team, Hartnell is also an announcer and a broadcaster by profession.
As a matter of fact, he made his debut on the NHL Network as an analyst in 2018, initially with loads of guest appearances.
Indeed, he has appeared in many NHL shows, including NHL Tonight.
As he opens up, Sportsnet hockey reporter Elliotte Friedman was the first one to help him commence in the broadcasting arena.
During the initial phase, as his interest grew, he even consulted former Flyers teammate Jody Shelley for tips.
Back then, Jody was working as a color analyst on Columbus Blue Jackets broadcasts on FOX Sports Ohio.
Following it, Hartnell started working on the NHL Network's pre-game coverage alongside his studio role.
Recently, he has commenced working for NBC Sports Philadelphia and started first through the Flyers season opener against the Penguins.
To elaborate, Hartnell has commenced working with Katie Emmer and Taryn Hatcher.
Scott Hartnell and Dion Phaneuf
All in his career, Scott Hartnell has had peaceful games, however, not considering his times with Dion Phaneuf.
Although their fights were in total of three times in the NHL, the media made it seem like it was something of a regular basis.
In fact, Scott and Dion are quite alike. To illustrate, they are both high draft picks out of the WHL. Likewise, they started first with the Western Conference before joining the Eastern Conference.
Despite both being polarizing figures in the ice ring, they never got along. Initially, they first had a fightback in the 2012 NHL All-Star Game.
During the tenure, Hartnell had assisted a score for his team and made comments past Dion before moving to his bench.
Following it, Scott had another ruckus not less than a week later.
Likewise, the recent fight between them was in 2018, when Hartnell was back on the Nashville Predators and Phaneuf was with the Ottawa Senators.
Indeed, Scott terms his relationship with Dion as "bad blood." However, they have no bold grudges between them.
"He was a leader. He was a big catalyst played on some good teams. Well, we fought about a half a dozen times him and me, so there was always some bad blood."
-Scott Hartnell
Turning Criticism Into Positivity
As a player, Scott often fell on the rink while playing. When an analyst decided to count how many times he fell, the #HartnellDown started trending on Twitter.
Instead of getting offended, the athlete joined the Twitter users in the counting.
Furthermore, he started selling merchandise with the slogan on and donated the proceeds to charity.
He also started a Hartnell Down Foundation that supports hockey, children, and communities.
Moreover, he donated $1,000 to charity for every #HartnellDown mention in the 2012 All-Star game.
Scott Hartnell | Injury
Hartnell has taken his fall many times in his career and has injured himself. Some of the injuries during his career are discussed in brief.
At first, Scott Hartnell suffered from a broken nose back in July 2008, due to which he had missed two professional games.
Furthermore, on February 3, 2009, Hartnell was out for four to five days due to a bruised shoulder. In the meantime, he had again missed two games.
Moving on, Hartnell underwent bruised knee on September 19, 2012, and was out for a few days. Thus, he missed a game.
Additionally, Hartnell had a charley horse on April 25, 2016, followed by a thigh injury on July 24, 2017.
During his tenure, he missed three games in total. Altogether, Scott Hartnell had missed nine games in total during his whole career.
Who is Scott Hartnell married to?
Marriage, Divorce, And Kids
The NHL player is married to Katie Hartnell, who is a teacher in a reputed school.
Moreover, the two dated a while before getting married on July 22, 2017. However, the couple is entirely private about their personal life.
Therefore, there is very little information available about their life and marriage. Nevertheless, they had a beautiful beach wedding.
The pair celebrated the wonderful day with loved ones, family, and close friends. Besides that, they are parents to two precious children.
The couple welcomed their first child, Wesley Hartnell, in May of 2018. Furthermore, their daughter, Molly Hartnell, was born in May of 2020.
Divorce
The former Flyers was previously married to Lisa Renneke. The former couple went through a rough and messy divorce.
Moreover, his marriage problems even took a toll on his games. In an interview, he mentioned that it was tough seeing someone you love entirely change.
He accused her of calling him and his family every bad name under the sun. There were rumors that Lisa had affairs with Scott's teammates.
However, they didn't turn out to be fruitful. Nonetheless, those rumors affected their relationship a lot. Hence, in 2006 they officially separated.
A few years later, the athlete congratulated his ex-wife on the divorce. He welcomed her to the real world, where you pay your own bills.
One of his former teammates, Michael Richards, also advised Lisa to get a job and stop taking money from other people.
Don't Forget To Check out Canadian NHL Player: <<Mark Scheifele Bio: Age, Career, Social Media & Net Worth >>
Scott Hartnell | Net Worth And Salary
The player has built an impressive wealth amount through all his years in the NHL.
In the entirety of his career, the player has earned over $57 million in salary. Although sources claim his net worth to be $30 million, many believe Hartnell is worth more.
Moreover, he earned $5 million annually in 2015. He had an attractive contract worth $25.2 million with the Flyers.
After that, he signed a $28.5 million contract with the Columbus Blue Jackets for six years. Furthermore, he signed a $1 million contract for a year with the Nashville Predators.
Besides that, he earns a decent amount through endorsements and sponsorships.
Many well-known brands and companies sponsor him. Furthermore, Hartnell has recently built his own house in Kelowna.
Social Media Presence:
The hockey player is quite active on social media platforms. Moreover, he has an Instagram account with 39.9k followers.
He usually shares pictures of his family and friends in his account. Furthermore, he has shared adorable photos of his kids.
Besides that, he has pictures of him in the ice rink and with his fellow teammates.
Following retirement, the player has taken up a new sport. He likes to golf from time to time. The former athlete also loves to pose alongside his pet cat.
Likewise, he has a Twitter account with 310.6k followers. He is relatively more active on this account.
He tweets and shares a lot of NHL-related content and activities. Correspondingly, he appeared in NBC Sports' Pre Game Live, where he talked about the hockey league.
Aside from that, he loves being a dad. Recently, Hartnell shared an adorable video of his son scoring his first goal.
He enjoys teaching his kids the sport he loved growing up. On top of that, he likes spending his time with his family and cherishes these moments.
>> 38 Bobby Orr Quotes that will inspire you <<
Some FAQs:
Did Scott Hartnell date Sheena Parveen?
Scott Hartnell was rumored to be the boyfriend of Sheena Parveen in 2013 as the duo were frequently spotted having drinks together and spending time. But, the duo never confirmed their affair.
What team does Scott Hartnell play?
Scott Hartnell does not play for any team right now. After playing 17 seasons, he retired on October 1, 2018. Nashville Predators drafted him in the NHL in 2000.
Furthermore, he was left-wing for the Philadelphia Flyers before playing for the Columbus Jackets. Finally, he returned to the predators and retired after playing a season.
What is Scott Hartnell's playoff beard?
Back in 2014, Scott Hartnell and Jakub Voracek dyed their beard black during the playoff games to match their hair with the jerseys.
How much does Scott Hartnell's falling down children's book cost?
Scott Hartnell's falling down children's book titled "Hartnell Down" is worth $19.
Why did fans create Scott Hartnell's Hogan T-shirt?
During a game against Philadelphia Flyers and Pittsburgh Penguins, Hartnell derided a Penguins fan dressed as Hulk Hogan sitting directly behind the Flyers bench.
As a reason for which Flyers organization created a special T-shirt with Hartnell's "Hogan" gesture on it and gave it to every fan in attendance for Game 3 of the Eastern Conference Quarterfinals.