Many young fighters have amassed success in the world of martial arts; among them, Sergio Pettis is also the one.
Sergio stepped into the field at a young age and has become a rising star and favorite fight lover. He gained fame and has astonished everyone by being the winner of almost every match.
UntiHe played 20 matches, out of which he has won 17 games. PlusHealso a one-time NAFC Bantamweight Championship, RFA Flyweight Championship, and two times Fight of the Night.
Let's check out the quick facts to know Sergio's personal life, early life, career, net worth, and more.
Quick Facts
| | |
| --- | --- |
| Full Name | Sergio Jerome Pettis |
| Nick Name | The Phenom |
| Age | 29 years old |
| Height | 5 ft 6 in (1.68 m) |
| Weight | 125 lb (57 kg; 8 st 13 lb) |
| Horoscope | Leo |
| Date Of Birth | August 18, 1993 |
| Birth Place | Milwaukee, Wisconsin, United States |
| Religion | Unknown |
| Nationality | American |
| Ethnicity | Hispanic |
| Hair Colour | Black |
| Eye Colour | Dark Brown |
| Skin Colour | Fair |
| Tattoos | Yes |
| Sexual Orientation | Straight |
| Beard | Often keeps goatee beard |
| Marital Status | Unmarried |
| Girlfriend | Carmen Lopez |
| Kids | None |
| Father's Name | Eugene Pettis, Jr |
| Mother's Name | Annette Garcia |
| Siblings | Two brothers ( Anthony Pettis and Rey Pettis) |
| High School | Pius XI High School |
| University | Unknown |
| Graduated Year | June 2012 |
| Profession | Mixed Martial Artist |
| Active from | 2009-present |
| Division | Flyweight, Bantamweight |
| Current Team | Roufusport |
| Total match /Fights | 20 |
| No of the Matches won | 17 |
| Style | Taekwondo, Kickboxing, Brazilian Jiu-Jitsu |
| Achievements | RFA Flyweight Championship (One time, First), NAFC Bantamweight Championship (One time), and Fight of the Night (Two times) vs. Alex Caceres, Matt Hobar. |
| Net Worth | Unknown |
| Salary | $171,000 per Fight |
| Social Media | Instagram, Twitter: |
| Last Update | March, 2023 |
Sergio Pettis Personal Life | Dating Status
Per the information obtained from his Instagram post, Sergio is dating a woman named Carmen Lopez. His girlfriend is an artist and is the owner of Carmen Beauty.
Being very confidential regarding his love life, Sergio had not stated the exact date when he started a relationship with her.
Looking at his Instagram, We can assume that they have fallen for each other since 2018.
Sergio Pettis Bio | Early Life, Age, And Education
Sergio was born as Sergio Jerome Pettis on August 18, 1993, in Milwaukee, Wisconsin, United States. As of 2020, he is 27 years old.
Education
The American mixed martial artist went to Pius XI Catholic High School in Milwaukee, Wisconsin. And he graduated in June 2012.
Sergio Pettis Body Measurement | Height And Weight
Sergio's height is 5 feet, 6 inches (1.68m). Talking about his weight, he is 57 kg.
Sergio Pettis Family Background | Parents and Siblings
He was born as a younger son to his late martial artist father, Eugene Pettis Jr., and his Mexican mother, Annette Garcia.
Besides Sergio's parents, he has two siblings: Anthony Pettis and Ray Pettis.
Sergio's Father Details
His father was a former mixed martial artist.
Unfortunately, Sergio's father, Eugene, was murdered in 2003 as the robber stabbed him.
Sergio was left without a father after his death, whereas his mother was shattered.
But, his mother, Annette, pulled herself together after sobbing tears for her beloved husband for almost two years.
Though she and her three sons, Sergio, the youngest one, had to suffer the pain, they all have come far. Also, they all live a good life as a mixed martial artist has succeeded.
Who Is Anthony Pettis?
Anthony is their big brother of Sergio, who looked after him after the demise of their father.
Anthony is known for his defensive and fighting skills in the Ultimate Fighting Championship (UFC).
Also, Anthony is famous for competing as the UFC Lightweight Champion.
By the nickname, Showtime, he began taking taekwondo training and boxing when he was five years old. And, when he got enrolled at the college, he started wrestling.
Sergio's brother, Anthony, has created history by competing in different fighting rings since his professional MMA debut in December 2007 by defeating Tom Erspamer.
Later, he joined World Extreme Cage fighting (WEC) in 2009.
World Extreme Cage fighting (WEC) merged with the Ultimate Fighting Championship (UFC) the following year.
And many fighters of World Extreme Cage fighting (WEC) were expected to be transferred to the UFC; among them, Anthony was also.
Another UFC Champion: Benson Henderson Bio: Net Worth, Wife, Bellator, Toothpick, Weight Wiki
Anthony, the holder of the time UFC Lightweight Championship, has fought against many fighters like Stephen Thompson, Max Holloway, Jim Miller, Dustin Poirier, and more.
On January 18, 2020, Anthony faced Carlos Diego Ferreira in a lightweight bout, but he lost in the second round due to a rear-naked choke.
In January of the same year, Anthony competed against Donald Cerrone in a rematch and won the Fight unanimously.
Net Worth Of Anthony Pettis
Sergio's brother, Anthony, has accumulated a considerable fortune through a mixed martial artist's profession.
As of 2020, Anthony has a net worth of $3 million.
Sergio Pettis Carrer Highlights
He commenced his professional career on September 10, 2011, by fighting against Kyle Vivian at Canadian Fighting Championship 7. In the Fight, he won the first round via TKO.
The following January, Sergio faced Mike Lindquist at Madtown Throwdown 26. And he defeated Mike via submission in round one.
Before being signed by UFC, the mixed martial artist fought with many fighters, including Tom McKenna at LFC 53, Tony Zelinski at NAFC: Unleashed, Chris Haney at NAFC:
Colosseum, and Jimmy Jones at RFA 4-Griffin vs. Escudero. Also, Sergio defeated all of them.
Ultimate Fighting Championship Highlights | From 2013 – 2016
He started it compellingly by talking about Sergio's experience in the Ultimate Fighting Championship.
For instance, he fought against James Porter for the NAFC Bantamweight Championship at NAFC: Battle in the Ballroom on September 28, 2013.
He won the Fight via first-round submission and was. As a result, the mixed martial artist got selected by the Ultimate Fighting Championship.
Similarly, Sergio made his debut on November 16, 2013, at UFC 167. Initially, he was expected to face Vaughan Lee on his first promotional debut.
His opponent, Vaughan, got injured a week before, and Vaughan was out of the bout.
So, Sergio had to fight against Will Campuzano and defeated him via unanimous decision.
Likewise, in his second UFC bout, the mixed martial artist faced Alex Caceres at UFC on Fox 10 on January 25, 2014, but he lost the Fight.
Though Sergio didn't win the battle, he did get the Fight of the Night bonus award for the bout.
In the same year, Sergio ruled inside the ring against the fighters like Yaotzin Meza and Matt Hobar. Plus, he received the Fight of the Night bonus award.
You Might Want to Check This: 99 motivating Max Holloway Quotes.
Furthermore
The following year, he used his fighting skills against Ryan Benoit in a flyweight bout at UFC 185.
Sergio dropped by a left hook and finished with a flurry of ground and pound from Benoit in Ryan's second round.
After a year, the mixed martial artist faced Chris Kelades at UFC 197 and won the Fight.
The same year, Sergio was also expected to fight against Louis Smolka at UFC Fight Night 96. But, due to his minor injury, he was replaced by Brandon Moreno.
From 2017-2018
Like his 2014-2016 season, 2017-2019 was also an extraordinarily heart-racing and successful season.
On January 15, 2017, Sergio won the Fight against John Moraga unanimously. First, he was supposed to face Jussier Formiga; instead, he fought with John Moraga.
On August 5, 2017, at UFC Fight Night 114, Sergio confronted Brandon Moreno via unanimous decisions.
Correspondingly, on June 9, 2018, at UFC 225, the mixed martial artist brawled with Joseph Benavidez. As always, he defeated Joseph via split decision.
On October 6, 2018, UFC 229 fought against Jussier Formiga, but he lost the battle.
After the Fight, Sergio's coach announced Sergio's return to the bantamweight division.
After returning, the mixed martial artist faced Rob Font, but he lost the first match since his comeback.
Highlights of Sergio PettPettis's9 season
In June 2019, there was news that Sergio was supposed to oppose Ricardo Ramos at UFC on ESPN 3. But Sergio couldn't as he was injured.
Similarly, in September 2019, Sergio fought against Tyson Nam at UFC on ESPN+ 17 and won the unanimous decision.
Bellator MMA
Sergio made his promotional debut at Bellator 238 on January 25, 2020, against Alfred Khashakyan; he signed a multi-fight deal with Bellator MMA on October 24, 2019. He won the Fight via first-round technical submission.
Also, he fought with Ricky Bandejas on July 24 at Bellator 242 and was victorious via unanimous decision.
Until now, he has competed in 25 matches.
Sergio Pettis | Viewpoints on rumors
He got a little nervous when reports recently surfaced that the UFC had considered selling its flyweight division wholesale or folding it.
"I was a little scared about that," Pettis said in an edition of The MMA Hour. He mentioned he liked the UFC, enjoyed being a part of it, and for him, it's the best organization in the world.
And hearing that was a little scary to Pettis. Further, he added, he started eating right away and thinking, "I'm going up to '35. But yeah, man, I was defied."
Yet, not only has the division's existential peril crossed, but Pettis headlined a UFC card for the first time in his career in 2017.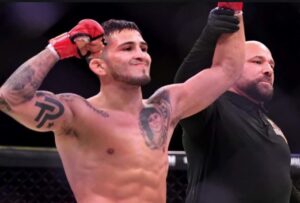 The man who used to essentially be known as former UFC and WEC lightweight champ Anthony Pettis' little brother was staking his part in the fight world.
And he, too, had a headline UFC Fight Night 114 in Mexico City in 2017 against Brandon Moreno.
Pettis mentioned that he was thrilled out here in Mexico City doing the press and everything and how everything was new to him, but he still loved it.
He talked about being fed off the energy, and being surrounded by such hard-working individuals made him want to work that harder.
Adding up
Pettis comes into a matchup on a three-fight win streak, with five victories in his past six bouts.
The one he lost in that range is the one he feels was most valuable to his growth.
Pettis lost a second-round TKO to Ryan Benoit at UFC 185, after which he deliberately chose to change his passageway.
"After the Benoit loss, I think of going TKO'd, and I want to go back home," Pettis said.
"And I took a break from training and training, and I just trained my mindset and my maturity and myself, and I knew that I deserved better and that I am better than that."
"So, I got back to the drawing board and made some changes, and mentally I would say it was something I needed to access."
He concluded that how rumors had him go crazy and had set a scary mindset in his head.
He feared being trapped in a rumor he couldn't have even thought of. But, now, he doesn't care a bit about them.
Sergio Pettis Income | Net Worth And Salary
The mixed martial artist has collected enormous fortune from the day he joined the fighting champion until the date.
But, his net worth unknown until now.
However, Sergio makes around $171,000 per Fight.
Social Media Presence
Instagram: 214k followers
Twitter: 25.7k followers
Common Queries
Are Sergio Pettis and Anthony Pettis related?
Yes, they are related; Anthony is Sergio's big brother.
Exciting Facts About Sergio Pettis
Sergio is a brown belt holder in Brazilian Jiu-Jitsu.
He also has a Black belt in Roufusport Kickboxing.
The mixed martial artist has a 2nd-degree black belt in Taekwondo.