The American-born Shabazz Napier is a Puerto Rican professional basketball player who last played for the Zenit Saint Petersburg of the VTB United League.
Before moving to Russia, he played in the NBA for six different clubs in seven NBA seasons.
Tyler had started his NBA journey when the Charlotte Hornets picked him in the 2014 NBA draft.
Before his professional career, he played collegiate basketball for the UConn Huskies.
While at UConn, Shabazz led his team to two national championship victories. Moreover, they won the Big East Conference Championship in 2011.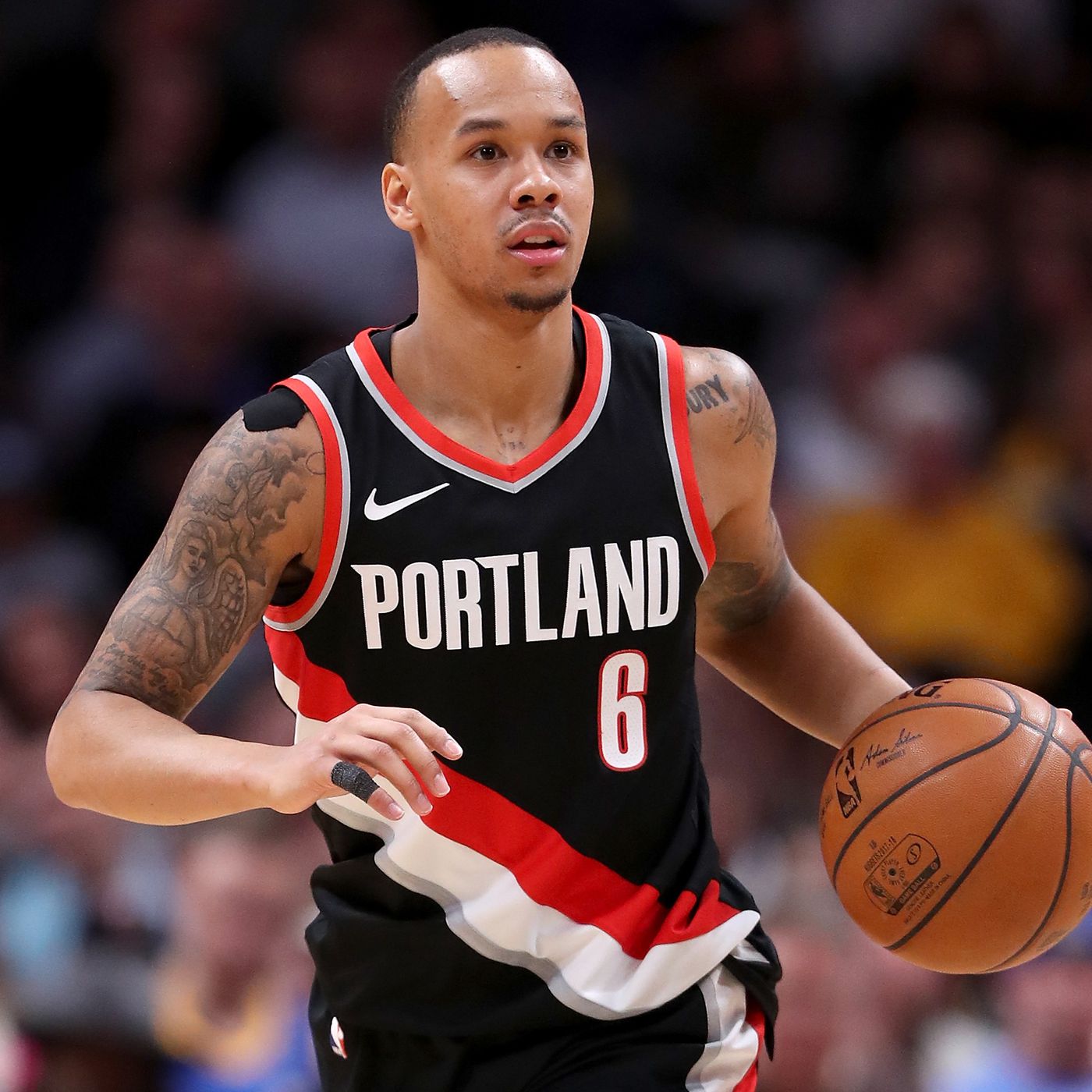 Viewing his NBA career stats, his performance declined after entering the NBA. Except for his last NBA league season, he never scored points in double digits.
Recently, the player has returned to America as the Russian invasion of Ukraine hampered his career in the Russian league.
He had signed with the Petersburg in 2020 after failing to continue his career in the NBA.
With the recent development in Europe, his career has unfortunately come to a stake. However, his fans have hoped that he would soon return to the court as the player still has some energy in his game.
Let's explore more about Napier's early life, his journey from college to NBA to a short-lived career abroad, his personal life, etc.
But before moving into the details, here are some quick facts about Shabazz Napier.
Quick Facts
Full Name
Shabazz Bozie Napier
Known As
Shabazz Napier
Date of Birth
July 14, 1991
Birth Place
Roxbury, Massachusetts, the USA
Nick Name
Not available
Religion
Christianity
Nationality
Puerto Rican/ American
Zodiac Sign
Cancer
Age

32

years old
Height
2.06 m (6 feet 9 inches)
Weight
175 lb (79 kg)
Hair Color
Brown
Eye Color
Dark brown
Build
Athletic
Father's Name
Alex Napier
Mother's Name
Carmen Velasquez
Siblings
A brother and a sister (both older)
Siblings' Name
Timmie Barrows, Titania Velasquez
Education

Charlestown High School (Charles, Massachusetts)
Lawrence Academy (Groton, Massachusetts)
University of Connecticut (Storrs, Connecticut)

Marital Status
Unmarried
Sexual Orientation
Straight
Girlfriend
None
Kid
None
Food Habit
Non-vegetarian
Profession
Basketball player
NBA Draft
2014
Position
Point guard
League

National Basketball Association (NBA)
VTB United League
EuroLeague

Active Years
(2014 – present)
Net Worth
$1-$5 million
Currently Plays for
None
Jersey Number (recent)
13
Social Media
Instagram, Twitter
Merch
Autographed Photo
Last Update

September 2023
Early Life, Family & Education
On July 14, 1991, Shabazz Napier was born in Roxbury, Massachusetts, United States. His father, Alex Napier, left his family when he was still very young.
His mother, Carmen Velasquez, had an adamant time raising her three children. Shabazz was her youngest, and one son and daughter were born before him.
He has an older sister named Titania and an elder brother, Timmie.
After their father left, Carmen alone had to work to feed her family. Moreover, the suburb of Roxbury was very dangerous to live in at that time.
The streets were full of violent gangs and drug peddlers, so she feared that her children might join them. However, that never happened.
Napier's love for basketball sprouted very early when she gifted him a basketball when he was just around five. Since then, the player has amused himself with the sport.
Shabazz initially attended the Charlestown High School in Boston. He studied there until he finished two years of high school.
But as the situation in his hometown grew even more dangerous, his mother sent him to live with her close friend.
After shifting near Groton, Napier joined the Lawrence Academy there. He had already begun playing high school basketball at his previous high school. He continued playing for his new school from exactly where he had stopped.
Shabazz rightly thinks that his mother is his everything. Even though there were times when they had less food on their table, Carmen used to sit hungry so that her children would not remain hungry.
She kept aside all her wishes and prioritized her son's dream. As a result, her son is now a professional athlete.
Shabazz Napier | Career
High School Career
Shabazz Napier played high school basketball in two different schools as he had to leave his house at Charlestown due to the risky environment there.
Nappier was not tall enough, so he preferred to play in the point guard position. Despite the disadvantage, he did well in his first two seasons for the Charlestown school team.
Shifting to the Lawrence Academy as a junior, his shooting and stealth skills considerably improved. Consequently, he led his team to win the 2010 New England Prep Class C title.
Napier was one of the top scorers in that event averaging 23.0 points per game. Moreover, he finished high school as the 98th best player in the nation.
Brad Wanamaker Bio: Awards, Career & Net Worth >>>
College Career
Following high school, Shabazz decided to join the University of Connecticut at Storrs to pursue his college career.
The UConn Huskies trusted in his skills and allowed him to play in all 41 matches of the season. Even though his points per game on the scorecard were quite average in his first season, his contribution proved to be decisive in the most important matches.
Consequently, the Huskies won the Big East Conference Championship and the NCAA championship in 2011.
The defending NCAA champion was nominated for the Bob Cousy Award even before the season had started, and that had pumped him up.
However, his team went trophyless that season but Shabazz improved his stats. He averaged 13.0 points and 3.5 rebounds per game that season.
Shabazz decided to play two more remaining seasons and finished his college career with more improved numbers. He averaged his career-best 18.0 points and 5.9 rebounds per game in his senior year.
Likewise, he led the Huskies to one more NCAA championship win in 2010, where he was declared the Most Outstanding Player for his performance throughout the tournament.
Professional Career
NBA Career
After a successful college career, Shabazz Napier went for the 2014 NBA draft. The Charlotte Hornets picked him as the draft's first-round 28th pick.
However, the club soon transferred him to the Miami Heats on draft night. He began playing for them as a part of the 2014 NBA Summer League team, performing exceptionally well.
In the meantime, he was briefly assigned to the NBA Development League club, Sioux Falls Skyforce.
Napier began his regular-season NBA with the Heat with excellent performance. He scored a season-best 18 points against the New York Knicks on February 20, 2015.
Sadly, he soon suffered from a sports hernia, after which he missed all the remaining matches of the season.
Soon after his recovery, the Heat transferred him to the Orlando Magic before the 2015-16 season. He mostly remained on the bench and got very little playtime.
The next few NBA seasons became very tough for Napier. The teams began to lose interest in him due to frequent injuries and declining performance, which troubled him for quite a while.
He signed with the Brooklyn Nets in 2018 to start afresh after spending two seasons with the Portland Trail Blazers.
He had shown signs of improvement in the second season with the Blazers, but that was not enough.
Shabazz had a relatively good season with the Nets in 2018-19. However, he could not fit in, and the club traded him to the Minnesota Timberwolves in 2019.
Afterward, he played one more NBA season in 2010. After that, however, he could not be consistent and regularly switched between the clubs in the same season, which he felt was tiresome.
Brief Career in Russia & The National Team
Shabazz Napier had signed a one-year contract with the Russian club Zenit Saint Petersburg in the July of last year.
The player had already played a few preseason matches for the Zenit before an ankle injury.
He was recovering and was set to return to the court for the upcoming EuroLeague and the VTB United League.
However, everything changed on February 24, 2022, when Russia attacked Ukraine. As a result, he changed his plans suddenly and unilaterally ended his contract with the club three days later.
While he is still recovering from his injury, it is still unclear which club he will join next.
Apart from his professional career, he plays for the Puerto Rican national team. The national squad finally deemed him eligible to play for them around 2012.
He recently secured his place in the Puerto Rican squad to participate in the 2022 FIBA tournament qualifiers.
Shabazz Napier | Awards & Achievements
Some of his awards and achievements include:
NCAA champion (2011, 2014)
Bob Cousy Award (2014)
NCAA Final Four Most Outstanding Player (2014)
AAC Player of The Year (2014)
First-team All-Big East (2013)
Net Worth, Salary & Career Earnings
The estimated net worth of Shabazz Napier is around $1 to $5 million. However, he could not earn much due to infrequent game appearances throughout his NBA career.
However, his chief source of earning has always been the league games. Playing for six different clubs for seven seasons, he collected just around $10 million from his overall NBA career.
You can learn about his past salaries in detail on HOOPSHYPE.
Even though there is no reliable information about his salary while playing for the Zenit in recent years, one can easily assume that he was one of the best-paid athletes in the Russian league.
Anyways, he has earned enough to lead a comfortable life, and all his family members are happy that he could achieve so much through his basketball career.
Tim Hardaway Jr.: Injuries & Net Worth >>>
Age, Weight & Height
As of 2023, the Roxbury native is 32 years old, and his zodiac sign is Cancer, as he was born on July 14.
His body measurements show that he stands 1.83 meters (6 feet) tall and weighs around 175 lb (79 kg).
Furthermore, he is a regular gym-goer and has maintained his body well. However, frequent injuries have somehow slowed him down.
Shabazz Napier | Personal Life
Even though Napier is open about his family matters and is a freely talking person, he has never said anything about his love life.
On top of that, he is never seen being intimate with any girl in all these years. So, he is single and has not been dating anyone.
He suffered from an injury at the start of his career and, since then, has never really returned to his original form.
So, maybe he is working on becoming a better athlete and does not want to get entangled in affairs yet.
Anyway, it is his life, and he can enjoy it the way he likes.
We will let you know as soon as we learn something of value about the topic in the days to come.
Social Media
Shabazz Napier has accounts on a few social media platforms, but he seldom uses them. Even though he is a player with a good fan following, he mostly prefers in-person interactions.
He has posted very little on his Instagram account. Shockingly for his fans, he recently made his Insta account private and has since kept himself distant from his fans on the Internet.
Likewise, he has a Twitter account to tweet his thoughts, quotes, and memorable clips from past and present matches. However, it has been quite dry these days.
You can access his social media handles by going through the links below:
Instagram: @shabazznap13r
Twitter: @ShabazzNapier
Jose Calderon Bio: NBA & Net Worth >>>
Frequently Asked Questions (FAQs)
What is Shabazz Napier doing?
Shabazz Napier is not associated with any professional league clubs and is looking forward to the upcoming FIBA AmeriCup 2022 with his national team.
Does Shabazz Napier have tattoos on his body?
Yes, Shabazz Napier has inked some tattoos on his body, especially his arms and legs. He says the Serenity quote is his favorite one among his various tattoos.