The American professional basketball player Skylar Diggins is the eldest daughter of her parents, Tige and Renee. Born into a family of sports enthusiasts, Skylar delved into the world of games at a young age.
At 6, she had already started playing basketball with the boys at the YMCA.
Additionally, when she was a kid, her mom had signed her up for various sports, including tumbling, gymnastics, cheerleading, and softball.
Eventually, Skylar's dedication, mixed up with her parents' constant support, helped her become of the most successful point guards in the WNBA.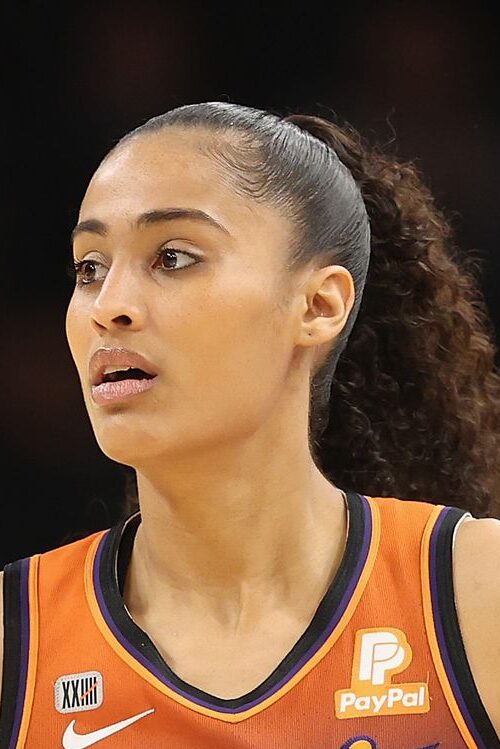 Skylar Diggins debuted in the WNBA in 2013 after the Tulsa Shock picked her as the 3rd overall pick in the draft.
Aside from her debut season, Diggins has posted over 15.0 ppg in all the seasons. In addition, she has appeared in six All-Star matches since 2014.
Similarly, Skylar has won several honors for her performances in the league, including the WNBA Most Improved Player.
Prior to her professional career, she played basketball at Washington High School and was a four-year varsity letter winner.
During high school, Skylar won many national honors, including Naismith Prep Player of the Year, Gatorade National Player of The Year, and Miss Indiana Basketball.
Moreover, the Notre Dame alumna was part of the U.S. national teams that won gold medals at numerous international championships.
Skylar Diggins's Parents, Tige And Renee
Skylar Diggins was born as the eldest child to her parents, Tige and Renee, on August 2, 1992, in Indiana, United States.
Besides her, Tige and Renee gave birth to four other children, one daughter and three sons.
Her mom, Renee, was a gymnast and Skylar's primary inspiration. Similarly, her dad, Tige, was a basketball player in his youth.
When Skylar was a kid, Renee realized her daughter was into sports and, thus, made her practice several sports like softball, tumbling, and cheerleading.
However, her parents are not together and on top of that, she is not very close to her biological dad.
After divorcing her husband, Diggins' mom, Renee, married another man named Maurice Scott.
Maurice Scott acted as a camp instructor when Skylar had a 14-city basketball tour for young kids named "Shoot 4 The Sky" in 2015.
Skylar's Mom Raised A Outspoken Daughter
Everyone following Skylar in the WNBA knows of her fiery attitude and aggressiveness on the court.
Complimenting her on-field attitude, she is outspoken in her criticism against injustices and unfair treatment of marginalized groups. One such thing is her stance on unequal pay among athletes.
Although she is one of the highest-paid athletes in the WNBA, she has expressed her dissatisfaction regarding the wide pay gap between the NBA and WNBA athletes.
In addition, she is one of the very few players in the United States who is vocal about sensitive issues in basketball without hesitation.
Skylar believes her upbringing has so much to do with her attitude toward different aspects of life.
Since childhood, her mom, Renee, taught her to believe in her caliber and do whatever she feels right.
Similarly, her parents have taught her about work ethics, dedication, and a regular work routine.
In 2018, she played almost all the games of the season without giving the slightest hint that she was pregnant.
Skylar often says, "If the trainer tells me to do 10 exercises, I'll do 20. Reining in that thinking is as important as anything in the recovery."