WWE star Sonya Deville is preparing to embark on a new chapter of her life as she plans to walk down the aisle with her to-be wife, Toni Cassano.
Sonya Deville, the first woman on WWE to come out as LGBTQ, and her partner Toni Cassano got engaged in February 2023.
The couple are very excited about their upcoming wedding. In fact, they have already started discussing and making plans for their special day.
Daria Rae Berenato, professionally known as Sonya Deville, is an accomplished American professional wrestler and mixed martial artist.
Currently signed to WWE and performing on the Raw brand, Deville has made a significant impact in the world of wrestling.
She performs both as a singles competitor and as one-half of the reigning WWE Women's Tag Team Champions alongside Chelsea Green.
Despite her fame as a pro wrestler, she is also famous for her relationship with fitness model Toni Cassano.
Deville and Cassano's love story began after one of Deville's WWE matches, where Cassano drove three hours to meet her and watch her perform.
The connection was immediate, and they spent the night getting to know each other, leading to a deepening bond.
The couple feels incredibly fortunate to have found each other, and their love continues to grow every day.
Sonya Deville And Toni Cassano Are Engaged
Deville and her lover, Toni, got engaged on February 15 in front of their loved ones in New Jersey.
The engagement was an emotional moment, as both Deville and Cassano had rings to exchange.
Deville surprised Cassano with a custom-designed ring, while Cassano revealed that she had been carrying her own engagement ring in her purse for four months, waiting for the perfect moment to propose back.
What made the proposal even more special was the presence of Cassano's two daughters, whom Deville holds dear to her heart.
Deville explained that it was essential for her to show Cassano and her daughters how much they mean to her and to blend their worlds together.
Cassano also expressed her gratitude for the proposal, describing it as a fairytale that symbolized the unity of their families.
Sonya Deville Wife Toni Cassano: Wedding Date
Deville and her fiancée, Toni, are planning the wedding for next year. The couple is excitedly looking forward to their wedding day.
Although they have not shared a specific wedding date, Deville has shared that the wedding will likely take place in the Northeast to accommodate their friends and family.
The upcoming wedding ceremony will reflect Deville's signature style, incorporating black tones to create an edgy and moody aesthetic.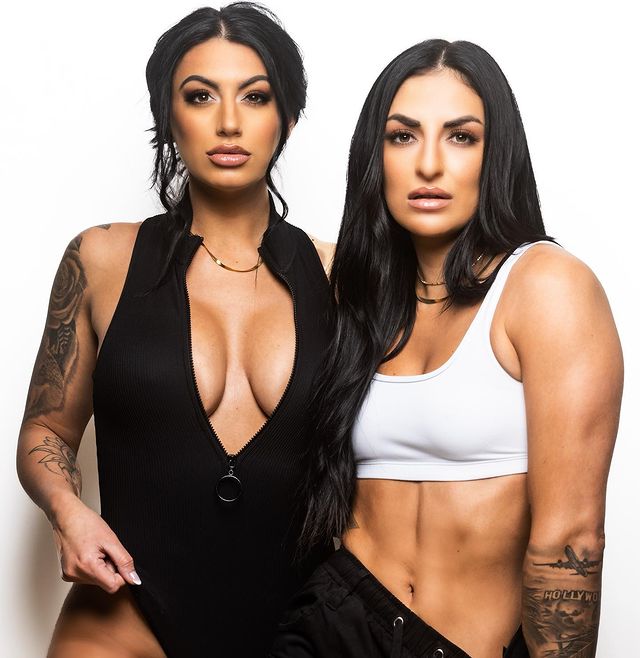 During the 34th Annual GLAAD Media Awards in Los Angeles, Deville shared her eagerness to say "I do" and her excitement about planning the wedding.
She mentioned that the couple had already begun discussions and that they were in the process of finding their forever home before diving into detailed wedding preparations.
Deville emphasized the importance of keeping the planning process fun and stress-free, intending to take the help of a wedding planner to bring their vision to life.
As the couple continues to plan their wedding, Deville and Cassano want to ensure that their special day will be full of joy, champagne, and dancing.
They aim to create an atmosphere where everyone can have a fantastic time and enjoy the celebration to the fullest.
Deville's strong connections with the WWE community ensure that numerous WWE Superstars, along with their closest friends and family members, will attend as guests.
Beyond the wedding, the couple has also considered expanding their family, as Cassano is already a mother to two daughters.