Steven Funaki Adams, famous as Steven Adams, is a professional basketball player from New Zealand who plays in the National Basketball Association (NBA).
He currently plays as a center for the Memphis Grizzlies of the NBA.
Playing only one NBL season in New Zealand, he helped the Wellington Saints to lift the championship in 2011.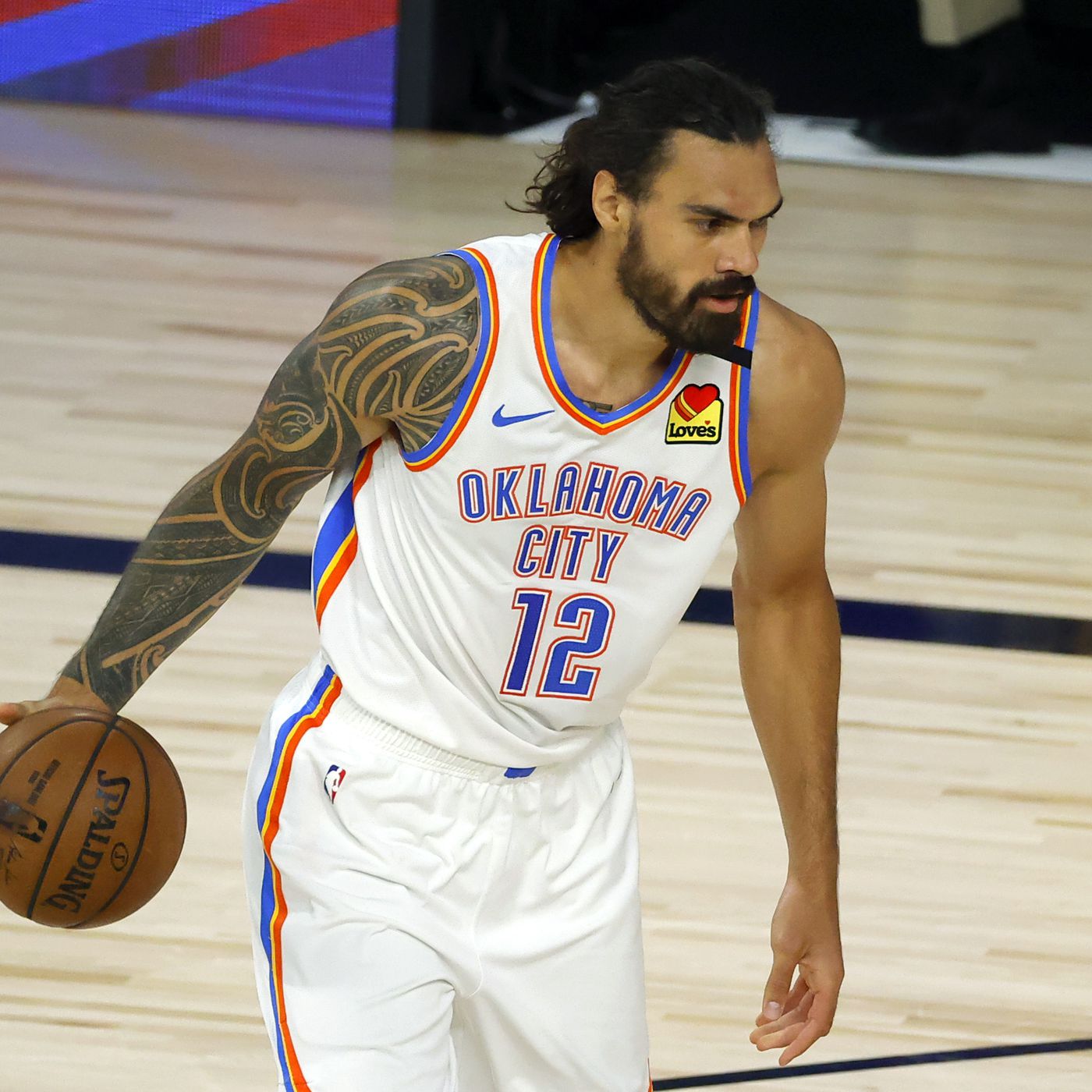 Steven is a massive guy of nearly seven feet who has good stats in all aspects of the game. His physical strength provides him the ability to outperform his opponents easily.
Moreover, he has a stunning pace for such a tremendous player. The New Zealand native has earned a lot of fans over the years with his consistent rebounds and blocks.
In March 2022, the former Thunder center returned to Oklahoma's court to play for his new team after so long.
While there, he received a warm welcome and a standing ovation from the OKC supporters. That's how loyal his fans are.
This article will take you through this Kiwi player's tragic early life, his professional career, achievements, and much more.
But before getting into the details, here are some quick facts about Steven Adams.
Quick Facts
Full Name
Steven Funaki Adams
Known As
Steven Adams
Date of Birth
July 20, 1993
Birth Place
Rotorua, New Zealand
Nick Names
Kid Kiwi, Lord Adams, Funaki
Religion
Christianity
Nationality
New Zealand
Zodiac Sign
Cancer
Age

29

years old
Height
2.11 m (6 feet 11 inches)
Weight
265 lb (120 kg)
Hair Color
Dark brown
Eye Color
Dark brown
Build
Athletic
Father's Name
Sid Adams
Mother's Name
Lilika Ngauamo
Siblings' Names
Warren, Ralph, Sid Jr., Valerie, and Lisa Adams
Education

Rotorua Lakes High School ( Rotorua, New Zealand)
Scots College (Wellington, New Zealand)
Notre Dame Preparatory School (Fitchburg, Massachusetts)
University of Pittsburgh (Pittsburgh, Pennsylvania)

Marital Status
Unmarried
Sexual Orientation
Straight
Girlfriend
None
Kid
None
Food Habit
Non-vegetarian
Profession
Basketball player
NBA Draft
2013/ Round 1/ 12th pick overall
Position
Center
League
•National Basketball League (NBL)

•National Basketball Association (NBA)

Active Years
(2011 – present)
Net Worth
$20 – $25 million
Currently Plays for
Memphis Grizzlies
Jersey Number (recent)
4
Social Media
Instagram, Twitter, Facebook
Merch
My Life, My Fights (Kindle)
Last Update

March 2023
Steve Adams | Early Life, Family & Education
On July 20, 1993, Steven Adams was born in Rotorua, New Zealand. His father, Sid Adams, was an Englishmen who formerly served in the Royal Navy.
Sid and Steven's mother married later after he settled in New Zealand.
His father had 18 children altogether with five different women. So, Adam's family was large, and he had 17 siblings.
His two siblings, Lisa and Valerie, are world-famous athletes.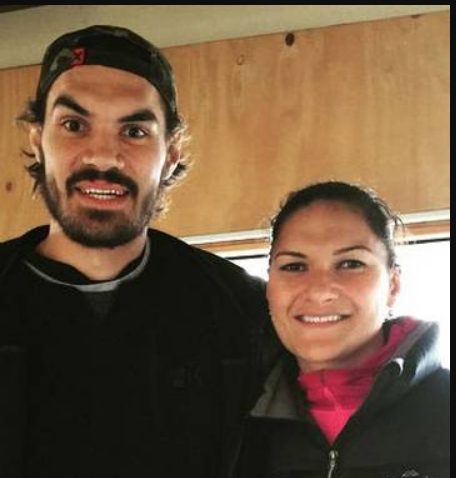 Born and brought up in Rotorua, he attended the Rotorua Lakes High School and did his early schooling there.
Since childhood, he was pretty athletic and playful, so he had great memories with his siblings.
However, that was short-lived. Unfortunately, when Steven was 13, his father died of stomach cancer, which devasted him. As a result, he started to bunk classes and became restless.
With many children in the household and no father to look after, his mother, too, felt it hard to raise them. So, Steven began to spend more time in the streets of Rotorua than his home.
However, at that time, his elder brother, Warren, had already shifted to Wellington and used to work there. Feeling sorry for his little brother, he took him with him.
Steven then enrolled in Scots College in Wellington and began studying there.
Moreover, his brother made him join the basketball academy run by the former professional player, Kenny McFadden.
Like everyone else in his family, Adams was quite taller, even as a kid. So, he did very well in the academy and soon became McPhaden's favorite.
Along with practicing basketball, he regularly attended his studies and eventually graduated from Scotts college in 2011.
Steven Adams | Career
Pre-NBA Career
When he was still in the basketball academy in Wellington, many basketball spectators were aware of his basketball skills.
So, they were pretty sure that he would make it to the professional league.
However, he had already started developing an interest in playing in the world's biggest basketball league, the NBA.
But before that, he had to qualify for the NCAA, which he did in December 2011.
But, in the meantime, the Wellington Saints of the NBL wanted him to play for them.
To remain eligible to participate in the NCAA tournament in America, he played one season for free.
He helped the Saints lift the NBL title that year, to everyone's surprise.
Eventually, in 2011, he left New Zealand for the USA. He then enrolled at the Notre Dame Preparatory School located in Massachusetts. Adams stayed there for just a semester.
After all, he had admitted to being eligible to attend a university later to play in the NCAA tournament. In 2012, he began playing for Pittsburgh's college team, the Pittsburgh Panthers.
He played there for a year before going for the NBA draft in 2013.
Playing 32 matches, he started all of them and finished the season with an average of 7.2 points and 6.3 rebounds per game.
Moreover, he won big honors, namely the Big East All-Rookie Team and the Big East Preseason Rookie of the Year at the end of his season.
Sim Bhullar Bio: Career, Awards & Net Worth >>>
NBA Career
The Oklahoma City Thunders chose Steven as the draft's first-round 12th pick. With that selection, Adams became the first-ever Kiwi player to get drafted in the draft's first round.
He signed his rookie scale contract with the club on July 12, 2013.
However, he debuted for the Thunders two months later against the Utah Jazz, where he posted two points and three rebounds, playing around 18 minutes.
Steven remained fit throughout his rookie season and played all 81 games. However, he did not score many points on his stats table, which he compensated with frequent blocks and rebounds.
He averaged 3.3 points and 4.1 rebounds per game in his first NBA season.
New Zealand native gradually improved his game and came out better in the following seasons. He averaged over 7.0 in both points and rebounds per game in the second season.
He kept up with similar performances in other seasons as well. Moreover, he worked upon his shooting skills, and he has scored over 10.0 points per game in his fourth season.
Impressed with Steven's improvement and performance, the team management decided to keep him longer, so he played seven NBA seasons with the Thunder. Out of seven, he helped them reach six playoffs.
The club eventually transferred him to the New Orleans Pelicans in 2020. He played just one season with the club, where he had an outstanding rebounding record of 8.9 per game.
The Pelicans decided to trade him after the 2020-21 season, so they eventually transferred him to the Memphis Grizzlies on August 7, 2021.
He has already appeared for more than 60 matches for the Grizzlies in the 2021-22 season, in which he is averaging over 9.0 rebounds per game.
Steven Adams | Awards & Achievements
Some of his awards and achievement include:
NBA All-Rookie Second Team (2014)
Big East Preseason Rookie of the Year (2013)
NBL Rookie of the Year (2011)
NBL champion (2011)
Big East All-Rookie Team (2013)
Steven Adams | Net Worth
One of the highest-paid players in the Grizzlies, Steven Adams, has an estimated net worth ranging from $20 to $25 million. However, some sites even mention it to be over $25 million.
The overseas player's primary source of earning is the league games. Signing with the Oklahoma City Thunders in 2013, he received about $2 million for his rookie season alone.
The club was paying him a similar amount of money with regular-season bonuses until his salary enormously increased in the 2017-18 season.
After performing exceptionally well in all areas of the sport in the previous season, the club decided to pay him a gigantic sum.
He has always been offered contracts worth $25 million except for the ongoing season since then. He is currently playing with the Grizzlies, where his annual salary is around $17 million.
Likewise, he has already accumulated wealth worth up to $111 million from his NBA career to date.
You can discover more about his salary records at HOOPSHYPE.
Moreover, he earns through brand endorsements and tv commercials as well. Popular brands such as Adidas and Powerade have sponsored him.
Shabazz Napier Bio: Net Worth & Career >>>
Steven Adams | Exterior Features
The youngest among 18 children, Steven was born on July 20, 1993, and according to his birthdate, he is
His zodiac sign is Cancer.
About his physical features, he is exceptionally tall and stands at 2.11 meters (6 feet 11) inches. His brothers are nearly 6 feet 9 inches, and his sisters are 6 feet on average.
Adams' father, Sid, was also a tall guy, so apparently, they inherited such height from him.
Likewise, he weighs around 265 lb (120 kg).
Moreover, the player has dark brown hair and eyes. He usually keeps his hair long and pairs it with a thick beard.
Looks-wise, he somehow resembles the famous actor Jason Momoa, so many people call him the Aquaman of the NBA.
However, he has other nicknames such as Kid Kiwi, Lord Adams, etc.
The Kiwi athlete has engraved a tattoo that extends from his right arm to his chest. It has a Polynesian design which he says he inked to show his connection with his mother's culture.
Steven Adams | Personal Life
Steven Adams has earned many loyal fans who have been following him for years now. Not only has he earned them with his incredible gameplay but also because of his good looks.
So, the player gets many proposals from his women fans. But, he has not been dating anyone in recent years and is currently single.
However, his name was previously linked with two different girls.
The first one was Kayla Kiriau, who hails from New Zealand. She also played basketball during his academic years and played for Sheridan College in Wyoming.
They used to appear together on social media around 2014.
After that, his name was associated with another girl from New Zealand named Ezel Kokcu. That was in 2017, but he has not appeared with anyone now.
He is enjoying his professional life happily, and he is happily single. However, you can know intimately about his life from his autobiography, My Life, My Fights.
It was published in 2018.
Social Media Presence
Instagram: @stevenadams
Twitter: @RealStevenAdams
Facebook: Steven Adams (Official fan page)
Jose Calderon Bio: NBA & Net Worth >>>
Frequently Asked Questions (FAQs)
What ethnicity is Steven Adams?
Steven Adams is of mixed ethnicity. His father is a British White, and his mother belonged to the Tonga community, a Polynesian group living in New Zealand.
Which NBA player has 18 siblings?
Steven Adams of the NBA club, Grizzlies has 18 siblings. However, except for five of them, the rest 12 are children of his four stepmothers.