Stewart Cink has two children, both sons, Connor and Reagan. Reagan has previously caddied his dad in several PGA Tour events.
The golfing family of Stewart Cink has contributed massively to his success on the green. He had broken his drought of not winning a competition for 11 years when his son caddied for him.
Now at Kaulig Companies Championship, he has his wife, Lisa caddying for him. Last week speaking to the media, Stewart said it's up to his wife whether she wants to continue caddying for him.
But there's no denying Stewart has played some of his best golf in years with his wife as a caddy. So, it's his loss if Lisa says goodbye to her job.
Stewart stands in the third position at Kaulig Companies Championship and has Harrison Frazer and Steve Stricker ahead of him.
Stewart Cink Children: Reagan, And Connor Cink
Stweart Cink's children Reagan, and Connor Cink, have chosen lives either away from golf or in golf.
The two sons of the famous golfer have either accompanied him as a player or as a caddie. But golfing life entertained only one brother.
Connor Cink Is A Product Manager At BitPay
Connor Cink, the older son of Stewart Cink, graduated from Clemson University with an industrial engineering degree in 2016.
While he was a freshman at Clemson, Connor had taken part in the PNC Father/Son Challenge with his dad. The father-son duo won the competition making two eagles in their final five holes for a three-stroke victory.
After graduating from Clemson, Connor joined ENERCON Services as a project management intern. His first full-time job was at Red Ventures as an associate software engineer.
In 2019, Connor began working with Capital One, the American bank holding company, where he joined as a senior associate software engineer. A year later, he was promoted to Senior Associate Product Owner.
But the promotion only kept Connor for one more year, as he left Capital One to work as a Product Manager for BitPay.
The oldest son of Stweart Cink tied the knot with his longtime partner Jess Cink in 2021 and previously shared a snap of their beautiful wedding ceremony on Instagram.
Connor is available on Instagram with the username @connorcink, where he has shared several family photos.
Reagan Cink Worked As A Caddie
Reagan Cink, the youngest son of Connor Cink, graduated from the Georgia Institute of Technology with an industrial engineering degree in 2020.
Before graduating from Georgia, Reagan worked as an industrial engineering intern at Sunland Logistics Solution. He then joined Delta Air Lines in 2018, but two years later, Reagan began caddying for his dad.
It hadn't started as a full-time gig. Stewart only wanted to spend more time with his son before he began working full-time at Delta. So, he made Reagan caddy him for one time.
But the partnership of the father-son duo proved to be the best match. In 2020, Reagan won a golf tournament for the first time in 11 years.
A week later, Cink finished T12 at Sanderson Farms, and in another event, Cink finished T4. Then Stewart decided to keep his son full-time, which meant saying goodbye to Kip Henley, his former caddy.
Reagan went on to caddy his dad in 52 PGA Tour Events and stepped down from his job in 2022. Reagan is available on Instagram with the username @cink_
He has shared several snaps of him working as a caddy for his dad on his Instagram. The youngest son of Connor Cink tied the knot in July 2021, only two months before his brother.
Stewart Cink Wife, Lisa Cink
Stewart Cink's wife, Lisa Cink, has been garnering all the media attention, even more than her husband.
After all, her brilliant caddy performance might be why Stewart has played so well on the golf course.
Lisa and Stewart first crossed paths at Florence High School, and the two teenagers quickly fell in love. But there was a moment in their relationship Lisa and Stewart thought it could be over.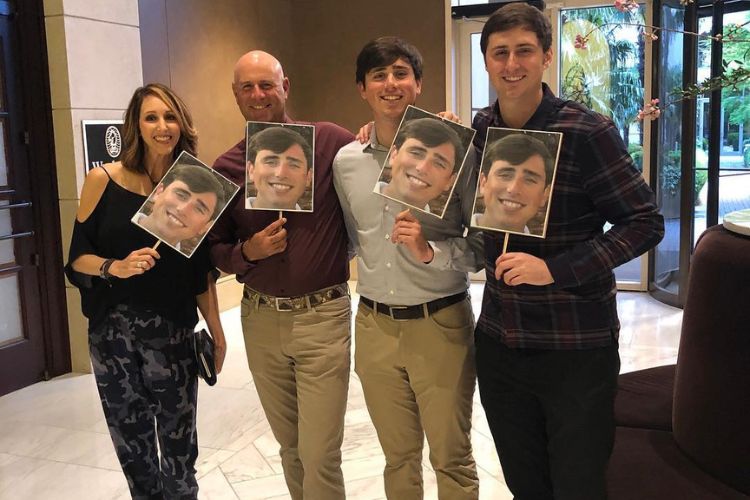 The two went to separate colleges. Stewart enrolled at Georgia Tech, and Lisa at Auburn. But even long-distance couldn't come between them, and they kept their relationship going.
The couple tied the knot in 1993, right after their sophomore year, as Lisa called with the news that she was pregnant. In his interview with Golf magazine, Stewart said the added responsibility made him mature faster.
The Cink family faced a health scare in 2016, as Lisa was diagnosed with Stage IV breast cancer. On Twitter, Stewart wrote he had decided to step away for a while from golf.
But since 2021, Lisa has been in remission and looks healthy while caddying for her husband.