No other heavyweight in UFC's history had successfully defended the belt three times in a row until Stipe Miocic arrived.
Not only has the two-time heavyweight champion defeated his opponents, but he has also completely dominated them.
As a result, Miocic is the "baddest man on the planet" who can not only put his competitors to sleep with his unbelievable punching power but also outwrestle them on the mat.
Therefore, due to this lethal combination, Stipe is now the UFC's heavyweight champion and face.
Furthermore, the UFC's heavyweight champ also works as a part-time firefighter during his free time and plans to the job full-time after his retirement. Is there anything that this man can't do?
Well, let's find out in this article in which I guide you through his early life, career, UFC days, wife, and social media. So without wasting a second, let's start with some quick facts.
Quick Facts
| | |
| --- | --- |
| Full Name | Stipe Miocic |
| Birth Date | 19 August 1982 |
| Age | 40 Years Old |
| Birth Place | Euclid, Ohio, U.S |
| Nickname | Stone Cold, The Silencer |
| Religion | Not Available |
| Nationality | American |
| Education | Not Available |
| Horoscope | Leo |
| Father's Name | Bojan Miocic |
| Mother's Name | Kathy Miocic |
| Siblings | Jonathan (step-brother) |
| Height | 6'4″ (193 cm) |
| Weight | 230.5 lb (104.6 kg) |
| Build | Muscular |
| Shoe Size | Not Available |
| Eye Color | Grey |
| Hair Color | Brown |
| Marital Status | Married |
| Spouse | Ryan Marie Carney |
| Children | Ryan Marie Carney |
| Profession | Mixed Martial Artist |
| Stance | Orthodox |
| Reach | 80 in (203 cm) |
| Years active | 2010– Present |
| Team | Strong Style Fight Team |
| Net Worth | $15 million |
| Style | Wrestling, Boxing |
| Social Media | Instagram, Twitter, Facebook |
| Merch | T-Shirt, Gloves, Shorts |
| Last Update | March, 2023 |
Stipe Miocic | Early Career & Life
The two-time UFC heavyweight champion was born to his father, Bojan Miocic, and mother, Kathy Miocic, in Euclid, Ohio. The couple moved to America from Croatia due to political instability in their home country.
However, Miocic's parents separated when he was still a child. As a result, Stipe was raised by Kathy with the help of his grandparents. Under their guardianship, he competed in various sports such as football, baseball, and wrestling.
Following his excellent performances in every sport he played, Cleveland State University offered Stipe a sports scholarship.
Also, the Clevelander spent some time at Trevecca Nazarene University, where he graduated with a degree in Marketing and Communications.
As the saying goes, "great athletes are born, not made." It applies to Stipe Miocic perfectly, as not only was he good in wrestling but also baseball. As a result, teams from MLB showed interest in the two-time UFC heavyweight champ.
You might be interested in Gabriel Martinelli Bio: Stats, Transfer Market, Country, Instagram Wiki >>
But he was always destined to be a fighter and a great one at that. So, he put all his efforts into mixed martial arts and boxing during his early years.
In the following years, Miocic spent time in the gym practicing and honing his god-gifted skills. However, his big break in the MMA scene came when he got invited to the Strong Style MMA training center as a training partner for Dan Bobish.
He quickly gained a reputation for himself as Stipe won his first six bouts via knockout. What's even more extraordinary is that Miocic had trained for only eight months before becoming a professional fighter.
Furthermore, the Clevelander won the NAAFS Heavyweight Championship during his time with the company. Consequently, many bigger fighting promotions wanted to sign the prodigy, but it was the lure of UFC that won in the end.
Stipe Miocic | Ultimate Fighting Championship
The Ultimate Fighting Championship a.k.a. UFC signed the Clevelander in June 2011. No one would have imagined the impact the then 28-year-old would have on the heavyweight division and the UFC as a whole.
Stipe's first fight in the UFC was against Joey Beltran, which he won via a decision.
Although he could not continue the norm of knocking out his opponents as he did in the past, Miocic impressed many fans along with the president of UFC, Dana White.
But in his next fight against Phil De Fries, everything was back to normal as he knocked out Fries in the first round. As a result, Stipe won the "Knockout of the Night" award.
Finally, the future two-time UFC Heavyweight Champion made his mark in the UFC. Over the next five years, Miocic would amass a record of eight wins and two losses, with five of those eight wins coming via knockout.
At this time, everyone was starting to take notice of the heavyweight's striking power along with his wrestling skills, which he acquired during his collegiate days.
Therefore, when Cain Velasquez got injured and needed a replacement in a title bout against Fabricio Werdum, Stipe Miocic was the name on everyone's lips. The UFC finally rewarded Miocic for his six years of grafting.
Check out Damian Lillard Bio: Career, Stats, Contract, Endorsements Wiki
Unfortunately, Werdum pulled out of the fight citing back injury as the reason. As heartbroken as Stipe was, Miocic knew that he would get his shot at the title soon.
UFC 198 and Later Career
Eventually, that is what happened as Dana White announced that Miocic would face the Brazilian Jiu-Jitsu black belt, Fabricio Werdum at UFC 198.
Staying true to his style, Stipe knocked out the champion early in the first round with a short right hook.
In doing so, the Clevelander had achieved his goal of becoming the UFC Heavyweight Champion. At last, he realized his ambition of becoming the best. Also, Stipe earned the "Performance of the Night" bonus.
Following his championship win, the two-time UFC Heavyweight Champion defended his belt against Alistair Overeem, Junior Dos Santos, and Francis Ngannou.
According to sherdog Stipe won via knockout against Overeem and Dos Santos while he dominated the fight against Ngannou, eventually winning the bout via a unanimous decision.
As a result, Miocic received praise from the Prime Minister Of Croatia Andrej Plenkovic and President Kolinda Grabar-Kitarovic.
By this time, the Clevelander gained a celebrity status, which only propelled his fear and image amongst the fans and fighters alike.
However, Newton's law of averages caught up with the collegiate wrestler as Daniel Cormier defeated Miocic via a knockout.
It was not without controversy as just before his knockout, Cormier poked Stipe in both eyes, which played a significant part in his defeat.
The two-time UFC Heavyweight Champ, along with his millions of fans, got enraged at Cormier and the referees and the judges because they thought that Daniel won the fight by unfair means.
Revenge was in the air for Miocic as he vowed to beat Cormier in their rematch. And that is precisely what Stipe did at UFC 241 as he knocked out his nemesis Daniel Cormier in the fourth round after landing a flurry of clean left hooks to the body and following it up with hard punches to the head.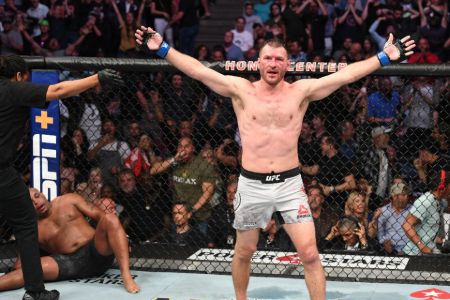 Consequently, the collegiate wrestler received the "Performance of the Night" award. Although it came with a consequence, Stipe suffered retinal damage due to multiple eye pokes he received during the fight.
At the time of writing, Miocic has successfully recuperated from the injury and wants to fight Jon Jones, UFC's Light Heavyweight Champion, or have a third bout with Cormier.
Being the champion and UFC's face, Stipe can fight whoever he wants as he has earned that privilege.
Whether it be Jones or Cormier, one can have full faith in Miocic and his abilities to come out on top and retain his belt. Following his fight with Cormier, he was up against Francis Ngannou.
The fight time was at 6:15 p.m. ET and it ended with Ngannou winning the fight via a knockout.
The Firefighter
On the one hand, the two-time UFC Heavyweight Champion is extremely dangerous inside the Octagon, he can knock you out instantly.
On the other hand, he is also a lifesaver as he works part-time for the firefighter-paramedic in Oakwood and ValleyView, Ohio.
Even though he is a celebrity with a lot of money in the pocket, the Clevelander stays grounded as he considers firefighting as a full-time job after his retirement from MMA.
If only the world had people like Stipe Miocic, we would not have the problems present in today's world. So, god bless Miocic and his family for all the hard work he is doing for the community.
Stipe Miocic | Coaches, Trainers & Guides
Stipe Miocic has had several coaches and trainers in his life. Head Coach Marcus A. Marinelli majorly trained Miocic. Marinelli owns the strong Style MMA and Training Centre and hails from the same place as Miocic.
He once praised his beloved student stating, "Stipe is so strong. And no one works harder."
Similarly, Stipe's head boxing coach is Joe Delguyd. Co-trainer Alex Cooper assists Delguyd.
Likewise, Pablo Castro, Steve Kinas, and Dave Weilbacher provided Stipe with the American's grappling, jiu-jitsu, and wrestling training respectively.
Apart from that, Dr. Paul Biondich takes care of Miocic's diet. The team of these great people also makes Miocic one of the greatest fighters ever.
Stipe Miocic | Weight, Height, Age
At the time of writing, Stipe stands at 6 feet and 4 inches and weighs 230.5 pounds. It is the perfect body measurement for a heavyweight, as suggested by the 37-year-old's outstanding record.
His relatively small height makes him fast and agile, which helps in dodging the one punch knock-out power of other fighters.
Also, his sturdy, muscular build helps to knock down even the most robust heavyweights out there.
Stipe emphasizes it further by his outstanding record of 19 wins and three losses in the heavyweight division, with 15 of those wins coming from knockouts. In his most recent fight, Miocic knocked out Daniel Cormier in the fourth round to regain his UFC Heavyweight Championship.
Stipe Miocic | Net Worth, Career Earnings, and Payouts
Everyone knows that combat sports like boxing and wrestling offer big bucks. But, in the last few years, mixed martial arts has slowly grown and held its own in the combat sports market.
As a result, Stipe, one of the biggest draws for the UFC, has accrued a net worth of $15 million, mainly through MMA activities.
In like manner, the Clevelander's three title defenses in the UFC pocketed him over a million dollars each time.
Check out Ante Rebic Bio: Career, Net Worth, Stats, Transfer market, Instagram Wiki >>
In Miocic's most recent title fight against Cormier, the two-time UFC Heavyweight Champion earned $750,000. Also, Stipe received a $50,000 bonus for the performance of the night.
Also, Miocic received $30,000 from his share of Reebok's deal with the UFC. In total, the Clevelander earned $830,000, but it did not include any undisclosed bonuses, such as his share of the pay-per-view buys.
If we factor in those bonuses, I am reasonably confident that the UFC Heavyweight champion earned over a million dollars for his title bout with Cormier in UFC 241.
It only fits that the greatest heavyweight in the history of the UFC earns millions for each fight. On top of that, he is also one of the highest-paid MMA fighters in the world currently.
Stipe Miocic | Fiancee, Wife, and Family
I have always believed that God always rewards you when you help others without expecting anything in return.
This was the case with Stipe Miocic because, during one of his firefighting duties, Miocic found his soulmate and his future wife, Ryan Marie Carney.
The two lovebirds solidified their relationship by marrying in the summer of 2016. Furthermore, the couple had their wedding in Divine Catholic Church in Stipe's hometown in Kirtland, Ohio.
Subsequently, the two lovers welcomed their first child, Meelah Grace Miocic, on 24 July 2018.
The couple has remained happily ever since without any controversies. In fact, the love has grown even stronger with the birth of their daughter.
Stipe Miocic | Social Media Presence
Instagram: 1 million followers
Twitter: 487.9K followers
Facebook: 3,44,192 followers
Common Queries about Stipe Miocic
What does Stipe Miocic's back tattoo mean?
Stipe has a tattoo in the center of his back that has "Strong Style Fight Team" written in Chinese.
How long does Stipe Miocic train?
Stipe trains for five to six days a week, often with double daily sessions.
What was the result of Stipe Miocic Vs Mark Hunt?
Miocic won his fight against Hunt in the fifth round via a Technical Knockout.
What division is Stipe Miocic?
Stipe fights in the Heavyweight Division.
What belt is Stipe Miocic?
Currently, Miocic holds the UFC heavyweight belt.
Where does Stipe Miocic's family originally come from?
Stipe Miocic's family is originally from Croatia. They emigrated to the United States of America.