Sviatoslav "Svi" Yuriyovych Mykhailiuk is a Ukrainian professional basketball player who plays shooting guard/small forward for the Charlotte Hornets of the National Basketball Association (NBA).
The Ukrainian started his NBA journey after the Los Angeles Lakers drafted him in the 2018 NBA draft.
Besides the Lakers, he has played for Detroit Pistons, Oklahoma City Thunder, Toronto Raptors, New York Knicks, and Charlotte Hornets.
In his collegiate career, Svi performed impressively for all four years, averaging 8.7 points, 2.5 rebounds, and 1.5 assists per game.
He played for the Ukrainian U16 team in the 2013 FIBA Europe Under-16 Championship and U20 team in the 2016 and 2017 FIBA Europe U-20 Championships.
He was also named to the All-Tournament Team for his performance with the national team in 2013.
Mykhailiuk quickly rose to fame after making it to the Ukraine National Team.
We will learn more about this player later in the article, including his early life, college career, professional career, and personal life.
But first, let's look at the quick facts table;
Quick Facts
| | |
| --- | --- |
| Full Name | Sviatoslav Yuriyovych Mykhailiuk |
| Birth Date | June 10, 1997 |
| Birthplace | Cherkasy, Ukraine |
| Age | 25 Years Old |
| Nick Name | Svi |
| Nationality | Ukrainian |
| Horoscope | Gemini |
| Height | 6'7″/2.01 m/201 cm |
| Weight | 93 kg/205 lb. |
| Father | Iurii Mykhailiuk |
| Mother | Inna Mykhailiuk |
| Siblings | None |
| Alma Mater | University of Kansas |
| Bachelors degree | Liberal Arts |
| Profession | Basketball player |
| Current Affiliation | Charlotte Hornets |
| Position | Small forward |
| Jersey Number | 19 |
| Salary | $1,300,805 |
| Net Worth | $2 million |
| Girlfriend | Anise Havili |
| Social Media | Instagram, Twitter |
| Last Update | March 2023 |
Early Life
Sviatoslav Mykhailiuk was born as an only child to his proud parents, Inna and Iurii, on June 10, 1997.
Svi was born into a family of intellectuals, as his father is a college professor and his mother is a high school biology teacher.
Moreover, he is not the only athlete in his family. Inna played basketball during her school days, and Iurii was an amateur soccer and volleyball player.
Svi grew up in Cherkasy, and as an only child, he would have all kinds of toys all over the house, but he always wanted to play with a ball.
With the growing basketball craze in his country, he found himself more inclined towards it.
Young Svi not only excelled in basketball but also in soccer, chess, and table tennis.
Early Career
Growing up, he played high school basketball while attending Cherkasy First City Gymnasia. At the age of 6 or 7, he decided to pursue a career in basketball.
Setting his eyes on the NBA, Sviatoslav learned English in his school. During his school days, his teacher set up a small basketball hoop inside the class to keep him from escaping.
Svi had the habit of escaping to the gym classes between classes. He would shoot paper wads inside the dustbin when bored.
At the age of 16, he joined a local professional team, and his name started echoing throughout the continent.
A longtime observer of young European basketball stars, Michael Lelchitski, said that he was given the highest compliments from scouts. From the year 2012 to 2014, he played for Cherkaski Mavpy.
After receiving offers from different universities, Mykhailiuk enrolled at the University of Kansas and graduated with a Bachelor's degree in Liberal Arts and Sciences in 2018.
When asked why he chose Kansas over Virginia in an interview, he said Kansas offered a lot that could help him develop his skills. Besides that, they have a great team and people.
After his junior year, he decided to enter the 2017 NBA draft but opted to return to complete his remaining college eligibility.
College Career
Starting his collegiate career at 17, Svi became the youngest player in Big 12 history.
As a freshman, he played 26 games and started six games, averaging 2.8 points, 0.7 assists, and 0.3 steals per game.
During his sophomore year, the small forward played 35 games and averaged 5.4. points, 1.3 rebounds, and 0.9 assists per game.
With every game played, he gained confidence and performed well, and in his junior season, he put up an average of 9.8 points, 1.3 assists, and 0.9 blocks in 36 games.
He decided to enter the 2017 NBA draft but did not hire an agent. So, he returned for his senior year.
When asked why he chose college basketball instead of pro ball, he replied it was easier to go to the NBA through college than from Europe.
In 2017, Mykhailiuk scored his career-high of 27 points against San Diego state and finished his senior year averaging 14.6 points, 2.7 assists, and 0.3 blocks per game.
Moreover, in his four years of a collegiate basketball career, he played a total of 136 games, starting 70 of them and averaging 8.7 points, 1.5 assists, and 0.2 blocks per game.
Professional Career
Svi began his professional career at the age of 16 when he played for Cherkaski Mavpy of the Ukrainian Basketball Super League from 2012 to 2014. He started his NBA journey after he was drafted in the 2018 NBA draft.
Los Angeles Lakers (2018-2019)
The Los Angeles Lakers drafted the small forward in the 2018 NBA draft as the 47th overall pick and signed a three-year/$4.6 million rookie contract on July 10.
The deal was announced by Rob Pelinks, General Manager of the team. However, the terms and conditions of the deal were not made public.
The Ukrainian basketball player made his NBA debut in October 2018, wearing jersey number #47.
Moreover, as a rookie, he helped the team reach the Las Vegas Summer League finals.
The small forward was traded mid-season to Detroit Pistons on February 6, 2019, along with a future second-round draft pick in exchange for Reggie Bullock.
For the Lakers, Svi played 39 games and averaged 3.3 points and 0.8 assists per game.
Detroit Pistons (2019-present)
In Pistons, Mykhailiuk was ranked fifth in the NBA for his three-pointers with a 44.5 percent mark.
Pistons Exercise Option On Svi Mykhailiuk
Sviatoslav Mykhailiuk has had his $1,663,861 third-year option for the 2020-21 season.
The move didn't promise him his salary but assured him his place in the active rosters list.
In the 2019-20 season, Svi appeared in 56 of possible 66 games for the Pistons.
He put up a score of 9.0 PPG, 1.9 APG, and 1.9 RPG – all career highs – in 22.6 MPG, knocking down 40.4% of his three-point attempts.
In the 2020-21 season, the small forward averaged 6.9 points, 2.1 rebounds, and 1.6 assists per game.
[Fun fact: Mykhailiuk has also played an under-20 team for the 2017 FIBA Europe under-20 championship.]
Teams After The Pistons
After his contract with the Pistons expired, Svi played with different teams like Oklahoma City Thunder, Toronto Raptors, and New York Knicks.
He could not make an impression with all these teams and was unable to feature for more than a season with any team.
Charlotte Hornets
On February 9, 2023, the Ukrainian player was traded to the Charlotte Hornets in a four-team trade involving the Portland Trail Blazers and Philadelphia 76ers.
His debut for the Hornets came in a 120-110 win over the San Antonio Spurs, where he logged 12 points and 2 rebounds.
National Team
Before joining Kansas, Svi participated in the 2014 FIBA Basketball World Cup, where he played for the senior national basketball team.
Svi has represented Ukraine in the FIBA Europe Under-16 Championship in Kiev.
Although they did not win the title championship, he was selected to the All-Tournament Team as he had averaged 25.2 points with eight rebounds and 3.4 assists per game.
Mykhailiuk also played for his national team in the 2016 FIBA Europe Under-20 Championship, held IN Helsinki. With a score of 14.9 points per game, he led his team in seven tournament games.
Svi again represented his country in the 2017 FIBA Europe Under-20 Championship in Greece.
Unsurprisingly, he was the lead scorer at the tournament, with an average point of 20.4 points per game.
Girlfriend
Although Mykhailiuk has been very secretive when it comes to his personal life, it is reported that he is dating Ainise Havili. The beautiful couple met at the University of Kansas.
Moreover, Havili herself is an athlete. Standing 5 feet 10 inches (1.77 meters) tall, she is a volleyball player who played for the Jayhawks volleyball team and currently serves as an assistant volleyball coach for Miami Hurricanes Volleyball.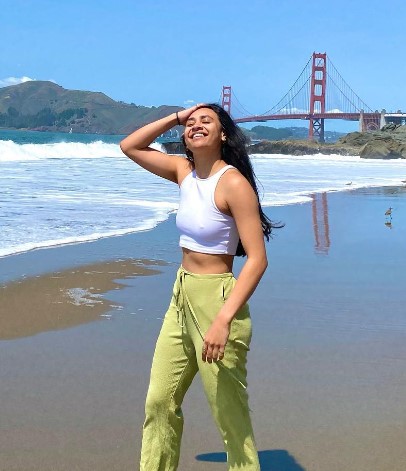 Havili pursued her major in sports management at KU under the School of Education.
Furthermore, Havili has also competed in China as a member of the 2016 US Collegiate National Team.
Regarding her accolades, she was named the Big 12 Offensive Player of the Week in 2017.
Net Worth
Initially, the small forward signed a two-year/$2.9 million rookie deal with the Lakers. And with the Pistons, he played two and a half seasons, earning $2,789,323.
Per spotrac, his total career earnings so far in the NBA is around $10 million.
Although his net worth has not been disclosed to the public, Svi's net worth is estimated to be around $2 million.
Without a doubt, Mykhailiuk is bound to earn more, and his net worth will increase in the coming future.
Personality
Svi is known to be a silent guy who prefers not to be in the spotlight and puts his heart and soul into basketball.
Being a Gemini, he is, in fact, quite sarcastic and witty but is partly reserved.
Although being a shy kid, this Ukrainian player takes pride in his talent.
People close to him describe him as a "workhorse." He is always up for learning new things and is frequently found in the gym after the games.
Jason Washburn even called then-16-year-old Svi "James LeBron of Cherkasy."
Social Media Presence
Mykhailiuk is pretty active when it comes to social media. He regularly posts and updates his whereabouts to his fans through Instagram and Twitter.
He is available on Instagram under the handle @sviat_10 and Twitter @Sviat10.
Instagram: 118k followers
Twitter: 46.5k followers
Popularity
Svi has gained fans from all around the world after playing for different teams in the NBA; however, failing to win any significant titles.
The above graph gives brief information about Svi Mykhailiuk based on Google searches in the United States over a year.
Frequently Asked Question
How to pronounce Sviatoslav Mykhailiuk?
Sviatoslav is pronounced as see-AT-uh-slave and Mykhailiuk as mee-high-luke.
What's Svi rating in NBA 2K23?
Sviatoslav has an overall 2K rating of 72 with a 3-Level Scorer Build.