USA Olympian Tara Davis and her husband, Hunter Woodhall, tied the knot on October 16, 2022, after dating for almost five years.
Tara Davis and Hunter Woodhall's love story sounds like a plot of a romantic comedy you'd find in a movie.
These two professional athletes will attend the Olympic and Paralympic Games this summer. However, their journey began in 2017, when they first met at a track.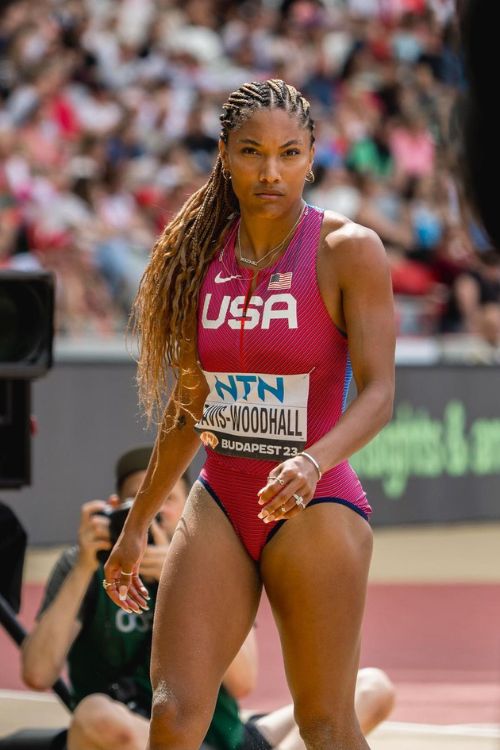 Tara Davis-Woodhall is a talented American track and field athlete. In 2017, she achieved a remarkable feat by setting the American junior women's record in the indoor long jump.
Continuing her success that year while competing for Agoura High School, she achieved remarkable victories at the CIF California State Meet.
Furthermore, she set a new state record in the long jump, covering a distance of 22 feet 1 inch (6.73 meters).
Her skills brought her to the global stage when she finished 6th in the women's long jump final at the 2020 Summer Olympics.
Tara's accomplishments continued as she secured the national title in the women's long jump in February 2023.
Beyond her long jump prowess, Tara Davis-Woodhall excels as a hurdler, showcasing her versatility and talent in multiple track and field areas.
Tara Davis Husband: Hunter Woodhall
Tara David's husband, Hunter Woodhall, is a remarkable three-time Paralympic medalist. Despite facing numerous challenges, Hunter's journey has been marked by his determination to succeed.
Hunter was born with fibular hemimelia, which restricted the development of his lower legs. At the age of 11 months, Hunter underwent surgery to amputate his lower legs below the knees.
Despite early predictions that he might never walk or run, Hunter proved those doubts wrong. With strong determination, he learned to walk and run, a feat that symbolizes his indomitable spirit.
Hunter's path to becoming a Paralympian wasn't without obstacles. He was homeschooled until the fifth grade and encountered bullying when he entered public school.
In later years, he faced criticism from those who questioned whether his prosthetic blades provided an advantage in track races.
Nevertheless, Hunter focused on his passion for running, using it as a tool to overcome life's challenges.
Hunter debuted on the global stage in 2015, earning a silver and a bronze medal at the 2015 IPC Athletics World Championships.
His journey of success continued as he claimed a bronze and a silver medal at the 2016 Summer Paralympics.
Moreover, Hunter became the first double amputee to secure an NCAA Division I scholarship.
Tara Davis's Married Life
On October 16, 2022, Tara and Hunter tied the knot in an enchanting ceremony at D'Vine Grace Vineyard in McKinney, Texas.
Tara Davis and Hunter Woodhall, known for their impressive track and field skills, have a beautiful love story that began during high school.
It all started when they met six years ago at a track meet in Pocatello, Idaho. Tara still remembers the moment she saw Hunter for the first time and how his good looks struck her. She was determined to find out who he was.
On the other hand, Hunter was immediately captivated by Tara's beauty and boldness. They hugged without any hesitation, and he knew she was someone special.
Since then, their love for each other and their sport has grown stronger.